Digital-savvy startups are disrupting markets and threatening conventional businesses.  They are doing this by utilizing technology to offer new products and services and providing tailored yet uncomplicated experiences for their customers.
Likewise, large traditionally-run firms will have to keep evolving their Customer Experience approaches to secure additional avenues of revenue and to stay competitive.  To accomplish this, they will need to develop capabilities to effectively utilize insights on customer preferences and design offerings as per the customers' preferences.
Many organizations, today, are undertaking Digital Transformation programs to improve their Customer Experiences.  However, a majority of these Digital Transformation initiatives fall short of securing their maximum value potential due to focusing only on improving specific touchpoints instead of confronting the entire customer journeys—spanning across several departments and channels.
To make their Customer Experience sustainable and to become Customer-centric Organizations need to clearly transform their ways of doing business, operations, and employee behaviors.  It is critical to improve these fundamental support processes before embarking on initiating any Customer Experience optimization initiatives.
Customer Experience optimization facilitates in gaining more satisfied/paying customers, additional value, and better retention rates.  Research reveals that the companies that have higher Customer Satisfaction levels can achieve four times growth in value compare to those that rank lower in Customer Satisfaction.
Customer Experience (CX) Approach to Value Creation
The following pragmatic 5-phase approach to Customer Experience Management and Value Creation is of great benefit to organizations aspiring to enrich their Customer Experience, achieve clear-cut differentiation, and capture the most potential value:
Understand What Customers Value
Simplify and Streamline Offerings
Link Customer Value to Operational Drivers
Focus on Most Important Customer Journeys
Adopt Continuous Improvement (CI) Thinking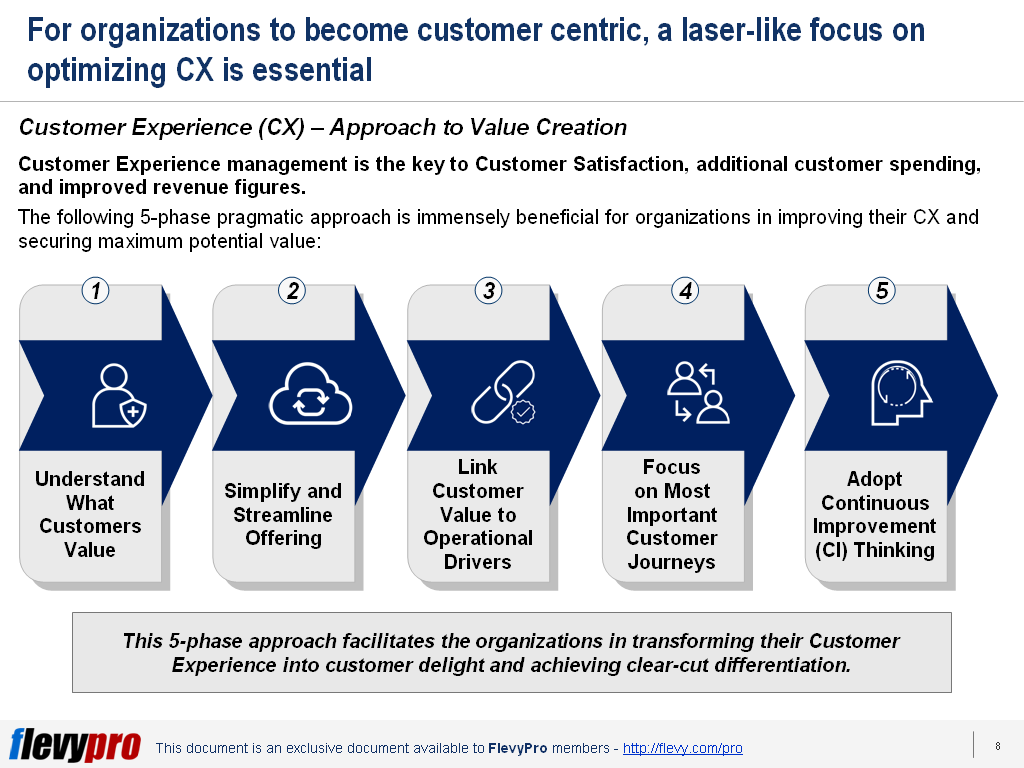 Let's now delve deeper into the first 3 phases of the approach.
Understand What Customers Value
Ascertaining the key drivers of Customer Satisfaction is the foremost step in improving Customer Experience.  A flawed approach—that many companies still employ—at the onset of a Customer Experience optimization initiative is to reduce costs associated with internal processes and exploring customer pain points.  This doesn't assist in maximizing Value Creation.
Customer-centric organizations, on the other hand, devote their time in developing a clear understanding of what really matters to their customers.  This helps in deciding where to focus, rationalizing their processes, and creating new experiences for the customers to generate additional value.
Great Customer Experience necessitates much more than just satisfactory interactions.  Customer Satisfaction should be mapped along the entire customer journey—spanning multiple functions and channels—as customers use various channels to communicate with companies before making a transaction.
Simplify and Streamline Offerings
Alongside rationalizing the processes, it is equally important to carry out a detailed analysis of the brands, offerings, and price structures is essential to tap value from Customer Experience.  After all, even the most pleasing Customer Experience cannot offset an unpredictable or exorbitantly expensive product.
Once these fundamentals are in order, organizations should investigate which interactions and Customer Journeys carry the most significance in a Customer Experience; evaluate how the organization is rated in each journey; identify and focus on the operations that need to be overhauled to improve the overall Customer Experience.
Link Customer Value to Operational Drivers
Technology and customer input provides the stimulus to streamline offerings and Customer Experience.  However, the real value comes from linking the Customer Experience to core operational processes.  Seeing journeys from the customer perspective aids in focusing on what they need and linking internal processes, structures, and KPIs to customer facilitation.
This necessitates deeper insights on elements that are of most value to the customer across a journey, pinpointing drivers of business costs and revenues, and—most importantly—inculcating the right mindsets across the organization.  This detailed evaluation of customer journeys facilitates in determining operational improvements that bear the most positive effect on Customer Experience.
Interested in learning more about the other phases of the approach to managing Customer Experience?  You can download an editable PowerPoint on the Customer Experience (CX) Approach to Create Value here on the Flevy documents marketplace.
Are you a Management Consultant?
You can download this and hundreds of other consulting frameworks and consulting training guides from the FlevyPro library.
Subscribe to our Newsletter

PowerPointing Templates

Error: Twitter did not respond. Please wait a few minutes and refresh this page.