For many companies, developing new products is a hit-or-miss proposition. Successful innovation–the kind that leads to customer engagement
and profits–is rare and hard to achieve. Some have tried investing intensively in research and development.
In a recent study conducted by booz&co. on public companies representing almost 60% of global R&D expenditures, it was found out that there is generally no correlation between R&D spending and financial metrics such as sales or profit growth. Open innovation has been resorted to by some companies but this, too, does not necessarily lead to higher innovation returns. A strategy of tacit benchmarking has also been pursued. Near the average amount of R&D spending has been invested but this led to a greater number of minor product line extensions with often diminishing returns.
On the other hand, there are companies that do best at dreaming up great new products while spending less to do it. One of these is Apple, which commits 5.9% of sales to R&D, less than its industry's average of 7.6%. This shows that, when it comes to innovation investment, the key question is not how much to spend but how to spend it.
Indeed, innovation success depends on mysterious factors. But there are companies that can overcome these hurdles and regularly product high-yield innovations. The answer is the use of the best approach in determining which innovation success and why others fail.
What is Innovation Effectiveness Curve
The Innovation Effectiveness Curve is the marginal return on innovation investment. It represents the individual innovation profile of the company. It is the value and quality of a company's innovation portfolio.
The Innovation Effectiveness Curve is done on a project-by-project basis. It contains data about every active project in the pipeline of the company. Each point represents a return on innovation investment for a particular project.
Organizations must be able to understand their project portfolio and diagnose their innovation practices and capabilities to be able to create an Innovation Effectiveness Curve. This is essential as the height of the curve provides a definitive verdict on the power of the innovation capability to drive returns and generate growth.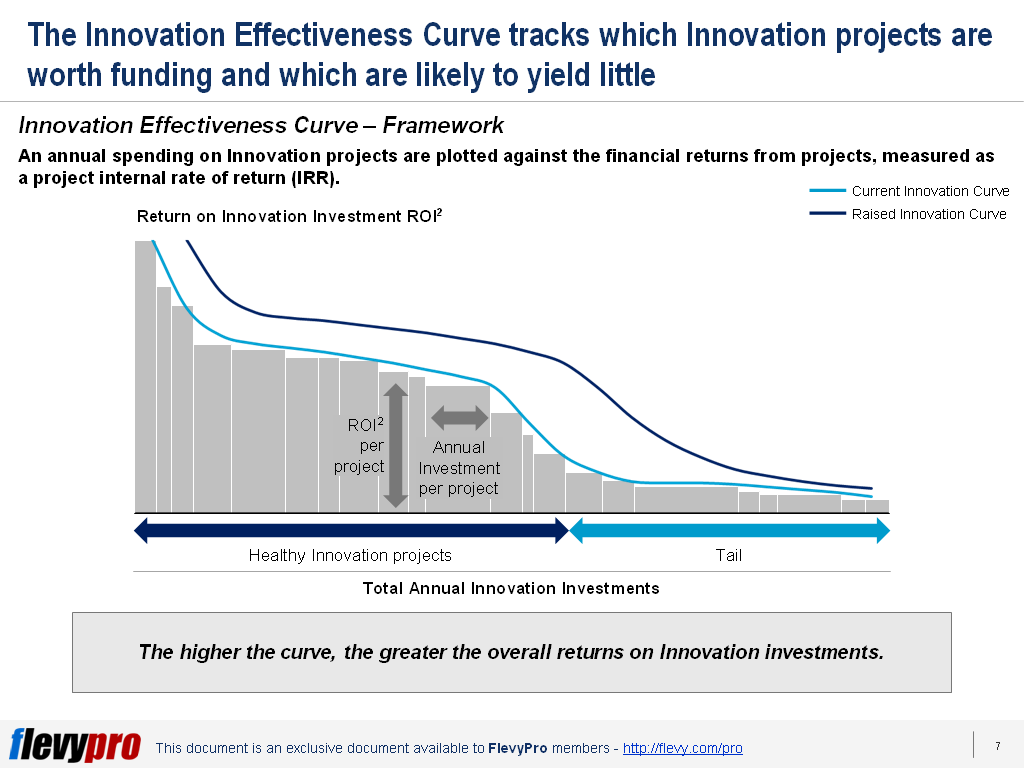 An Innovation Effectiveness Curve must be Comprehensive, Stable, and correlates with Growth.
Comprehensive
An Innovation Effectiveness Curve that is comprehensive has a holistic view of R & D, marketing, strategy, and operations. These are activities that directly bear upon the creation and launch of new products.
Stable
When the Innovation Effectiveness Curve is stable, it remains consistent over time. The overall shape of the curve remains the same despite changes in innovation projects.
Correlated to Growth
An Innovation Effectiveness Curve must correlate to growth. There should be an established connection between the effectiveness of innovation efforts and the growth of the company.
When the 3 Core Properties are in place, this makes the Innovation Effectiveness Curve a very powerful analytical tool. On the other hand, when these core properties are not in place, the Innovation Effectiveness Curve falters. This is a signal that growth is slow or may slow down. This is one occurrence not one organization would like to happen.
Interested in gaining more understanding of Innovation Effectiveness Curve and how your organization can strategically use it as a powerful analytical tool? You can learn more and download an editable PowerPoint about Innovation Effectiveness Curve here on the Flevy documents marketplace.
Are you a management consultant?
You can download this and hundreds of other consulting frameworks and consulting training guides from the FlevyPro library.
Subscribe to our Newsletter

PowerPointing Templates

Error: Twitter did not respond. Please wait a few minutes and refresh this page.