Business Transformation initiatives are typically undertaken to solve a pressing issue, bring about improved performance, or to serve customers better.  A critical element of the success of such initiatives entails transforming the existing behaviors of the employees across the organization.  However, this isn't a straightforward task.
Attitudes and practices get reinforced in people by following established routines day in and day out.  Such practices become a part of an Organizational Culture over time.  These ingrained behaviors and practices aren't considered burdening until the organization's performance keeps declining considerably over time.  That's when the leaders think about changing these beliefs and habitual actions.
Psychology and Neuroscience can help enterprises change the deeply embedded attitudes and practices of people and replace those with new beliefs and practices.  Leading organizations are using psychology and brain research to induce successful Organizational Transformation.
The practices that these organizations employ to engender Transformation are based on the following 6 core Principles of Neuroscience:
The brain is hardwired to hold on to habits, making it difficult to change them.
Connections in the brain—even deeply embedded thoughts—are quite flexible to transform.
Concentrating on new ways of thinking can overhaul individuals thinking habits.
Don't tell people what is wrong, just focus on drawing their attention to the positives.
Encourage the ability to reject negative cerebral impulses.
The competence to focus attention has to be created bit by bit.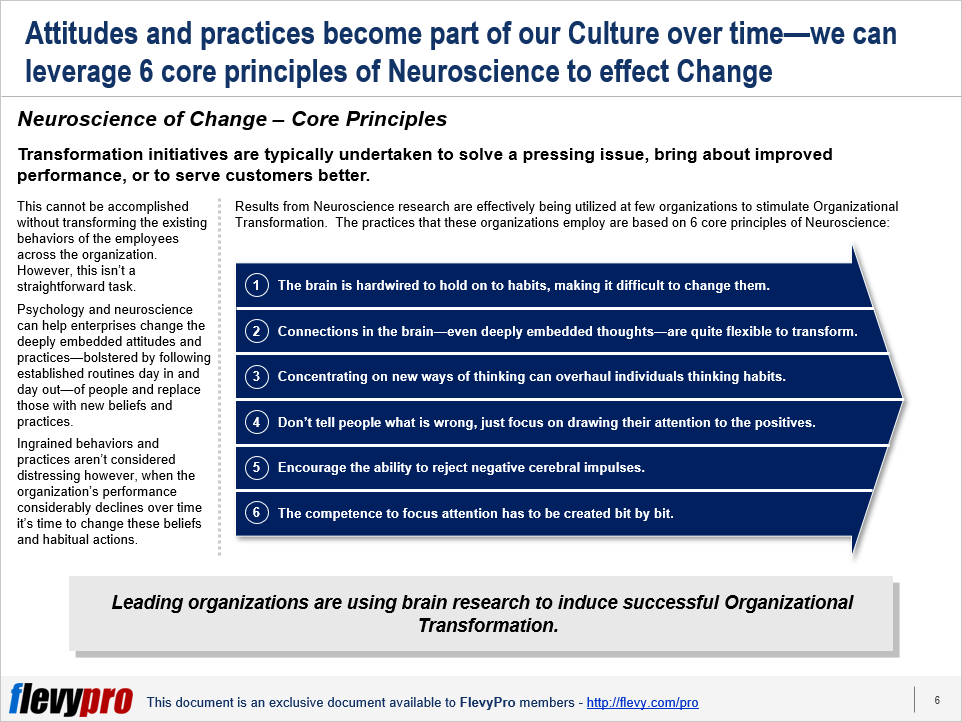 Let's dive deeper into these first 3 principles of Neuroscience.
Principle 1 – The brain is hardwired to hold on to habits, making it difficult to change them.
Our thinking patterns are stored in circuits by brain parts—including the habit center (basal ganglia), amygdala (emotion center), and hypothalamus (which manages hunger, thirst etc.).  These brain parts, especially the basal ganglia, process info unconsciously and the activity feels rewarding to the individual.  This activity makes stronger neuronal connections with other areas and gets the activity reinforced.
For the desired behaviors and practices to get embedded, the organization need to make stronger connections with the entire workforce's' basal ganglia to enable deep rooted neuronal circuits.  The practices ingrained this way are difficult to remove.
Principle 2 – Connections in the brain—even deeply embedded thoughts—are quite flexible to transform.
People with obsessive compulsive disorder keep deliberating on their impulse to wash hands to ensure cleanliness.  This fortifies brain circuits in the basal ganglia, which takes over their behaviors.  However, Neuroscience reveals that even the most well-established notions can be altered.  This can be done by making the individuals aware of what they are thinking and where their focus is in a given moment.
Training and directing people to think about their thoughts can make them conscious of their undesired behaviors, disengages brain areas notable for causing distraction, and adopt new behaviors.
Principle 3 – Concentrating on new ways of thinking can overhaul individuals thinking habits.
The 3rd principle highlights that persistent focus on unfamiliar, desired thoughts and objectives activates the habit center of the brain, which turns these desired thoughts into habits.  The mechanism according to Neuroscience is such that basal ganglia's caudate nucleus region processes…
Interested in learning more about the other principles of Behavioral Transformation?  You can download an editable PowerPoint on 6 Core Principles of Neuroscience here on the Flevy documents marketplace.
Do You Find Value in This Framework?
You can download in-depth presentations on this and hundreds of similar business frameworks from the FlevyPro Library.  FlevyPro is trusted and utilized by 1000s of management consultants and corporate executives.  Here's what some have to say:
"My FlevyPro subscription provides me with the most popular frameworks and decks in demand in today's market.  They not only augment my existing consulting and coaching offerings and delivery, but also keep me abreast of the latest trends, inspire new products and service offerings for my practice, and educate me in a fraction of the time and money of other solutions.  I strongly recommend FlevyPro to any consultant serious about success."

– Bill Branson, Founder at Strategic Business Architects
"As a niche strategic consulting firm, Flevy and FlevyPro frameworks and documents are an on-going reference to help us structure our findings and recommendations to our clients as well as improve their clarity, strength, and visual power.  For us, it is an invaluable resource to increase our impact and value."

– David Coloma, Consulting Area Manager at Cynertia Consulting
"FlevyPro has been a brilliant resource for me, as an independent growth consultant, to access a vast knowledge bank of presentations to support my work with clients.  In terms of RoI, the value I received from the very first presentation I downloaded paid for my subscription many times over!  The quality of the decks available allows me to punch way above my weight – it's like having the resources of a Big 4 consultancy at your fingertips at a microscopic fraction of the overhead."

– Roderick Cameron, Founding Partner at SGFE Ltd
Subscribe to our Newsletter

PowerPointing Templates

Error: Twitter did not respond. Please wait a few minutes and refresh this page.