Currently viewing the tag: "Area"
Business and technology elements are aligned by means of Enterprise Architecture (EA) so as to attain strategic results, augment organizational performance, and drive departments to deliver their central missions more efficaciously.
Federal Enterprise Architecture Framework (FEAF) achieves this for any U.S. federal agency and assists systems go beyond interagency boundaries.
We discuss here 1 of the 6 interconnected reference models of the Federal Enterprise Architecture Framework—the Infrastructure Reference Model (IRM).
IRM takes care of definition of infrastructure technology elements, as well as provides direction for promoting favorable results across technology implementations.
IRM implementation aids in:
Reduction of lifecycle costs through sharing and reuse, also helps in exploiting economies of scale.
Increased interoperability throughout the government including its partners by identification and endorsement of demonstrated industry standards and associated platforms and products.
Detection of pragmatic design-patterns as clusters of technology packets or blends of technologies that work well collectively to sustain efficient acquisition and deployment.
Efficient control and sustainment of IT assets/resources through contribution to the delivery of consolidated and measurable infrastructure services and service levels as envisaged in Enterprise Architecture Management Maturity Framework (EAMMF).
Supplying of realistic use cases and methods corresponding to IT capabilities to facilitate business initiatives and better access to information across enterprises.
Common Approach to Federal EA as well as Purpose and Outcome of IRM are, respectively, the root of IRM Guiding Principles.  IRM guiding principles are:
IRM ought to be a robust-enough taxonomy and approach to fulfill future requirements and adjust new technologies.
IRM must be defined with regard to technology infrastructure services put forward.
IRM has to be expounded as a hierarchy of IT infrastructure components.
IRM should be developed in such a way to promote usability, convenience, and reporting.
IRM should simplify interoperability and shared services.
IRM ought to be criteria-based, both international and national, concurrence-driven standards organizations, with numerous levels of abstraction.
IRM has to be accommodating of the Application Reference Model (ARM) and Data Reference Model (DRM) by touch points.
Enabled by the Common Approach to Federal Enterprise Architecture and supported by the IRM, 4 primary outcomes of IRM include the following:
Service Delivery
Functional Integration
Authoritative Reference
Resource Optimization
IRM scope encompasses hardware, platforms, networks, and the facilities that house the infrastructure.  The 3 levels of the model include:
Level 1—Domain comprises of Platform, Network, and Facility.
Level 2—Area covers 13 areas, each belonging to 1 of 3 domain elements.
Level 3—Category consists of 90 total categories and each linked to 1 of 13 areas.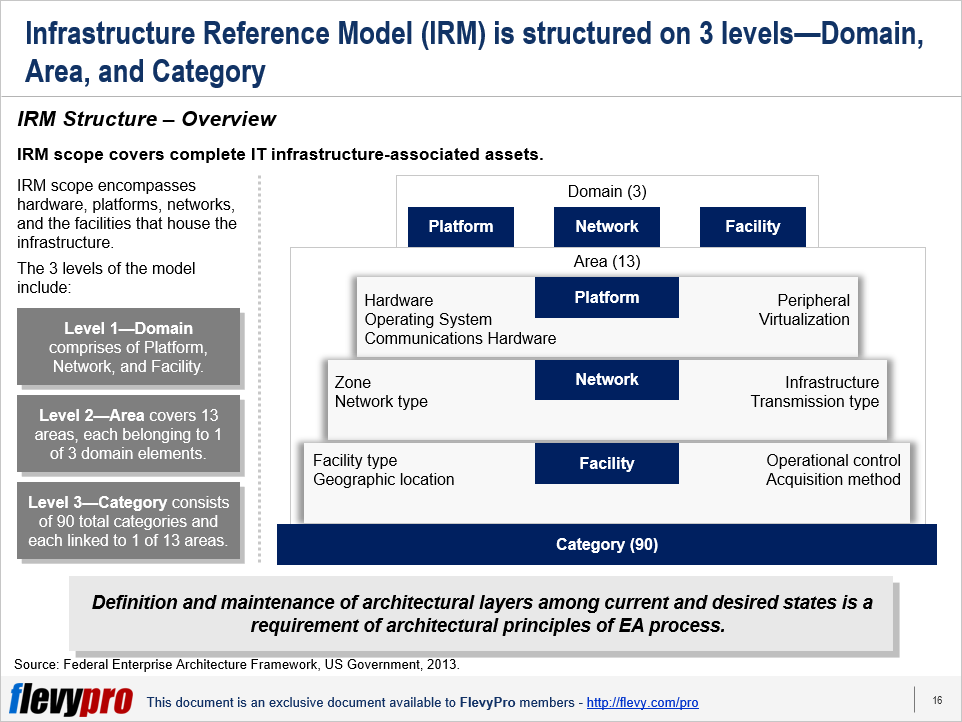 The interconnectedness of the IRM domains allows analysis of IT assets throughout the 3 dimensions.
For an implementation of an IRM-based categorization of assets to be useful, additional data points should be captured.  These data points include:
Manufacturer of the asset.
Cost
End-of-life/end-of-support date
Mapping to the Security Reference Model (SRM) 
Data points classified by IRM are relevant to detecting prospects of sharing services, decreasing redundancy, and stimulating consolidation.
IRM classification can be embraced, as part of implementation, by the ensuing extensively recognized best practices, guidance, and standards, both in the public and private sectors.
Interested in learning more about the FEAF: Infrastructure Reference Model (IRM)?  You can download an editable PowerPoint on the Infrastructure Reference Model (IRM) here on the Flevy documents marketplace.
Do You Find Value in This Framework?
You can download in-depth presentations on this and hundreds of similar business frameworks from the FlevyPro Library.  FlevyPro is trusted and utilized by 1000s of management consultants and corporate executives.  Here's what some have to say:
"My FlevyPro subscription provides me with the most popular frameworks and decks in demand in today's market.  They not only augment my existing consulting and coaching offerings and delivery, but also keep me abreast of the latest trends, inspire new products and service offerings for my practice, and educate me in a fraction of the time and money of other solutions.  I strongly recommend FlevyPro to any consultant serious about success."

– Bill Branson, Founder at Strategic Business Architects
"As a niche strategic consulting firm, Flevy and FlevyPro frameworks and documents are an on-going reference to help us structure our findings and recommendations to our clients as well as improve their clarity, strength, and visual power.  For us, it is an invaluable resource to increase our impact and value."

– David Coloma, Consulting Area Manager at Cynertia Consulting
"FlevyPro has been a brilliant resource for me, as an independent growth consultant, to access a vast knowledge bank of presentations to support my work with clients.  In terms of RoI, the value I received from the very first presentation I downloaded paid for my subscription many times over!  The quality of the decks available allows me to punch way above my weight – it's like having the resources of a Big 4 consultancy at your fingertips at a microscopic fraction of the overhead."

– Roderick Cameron, Founding Partner at SGFE Ltd
Subscribe to our Newsletter

PowerPointing Templates

Error: Twitter did not respond. Please wait a few minutes and refresh this page.