Currently viewing the tag: "Business"
Corporate Social Responsibility (CSR) is an organization's commitment to produce an overall positive impact on society.  CSR encompasses sustainability, social and economic impact, and business ethics.  It makes a company socially accountable of its operations, stakeholders, and the public.  Businesses undertake CSR programs to benefit society while boosting their own brands.
CSR affects every aspect of business operations and functions.  Encouraging equal opportunities; partnering with organizations practicing ethical business methods; putting part of earnings back into environment, health, and safety initiatives; and taking care of communities and charity are all examples of CSR initiatives.
Communities, customers, employees, and media consider CSR vital and gauge companies based on these initiatives.  Executives of leading companies consider CSR as an opportunity to deal with critical issues innovatively, reinforce their organizations, and serve the society simultaneously.
The Need for CSR Implementation
Organizations need to come up with a robust approach to unlock potential benefits and value from CSR for them and for the society.  The organizations practicing Corporate Social Responsibility do that with one of the following 4 objectives in mind:
Philanthropy:  These initiatives (e.g. corporate donations) make the companies and society feel good, but produce low value for the business—questionable repute building benefits to companies, but offer much to society.
Propaganda:  These CSR initiatives are predominantly geared towards promoting a company's standing, but offer little real value for the society.  This form of CSR is more of advertisement and becomes risky if there are any gaps between the firm's commitments and actions.
Pet Projects:  Some companies engage in CSR initiatives that support the personal interests of senior executives.  These initiatives are much touted about, but are actually of little value to the business or community.
Smart Partnering:  These initiatives concentrate on common themes between the business and the community.  Organizations, in this case, create innovative solutions by drawing synergies from partnerships to tackle major issues concerning all stakeholders.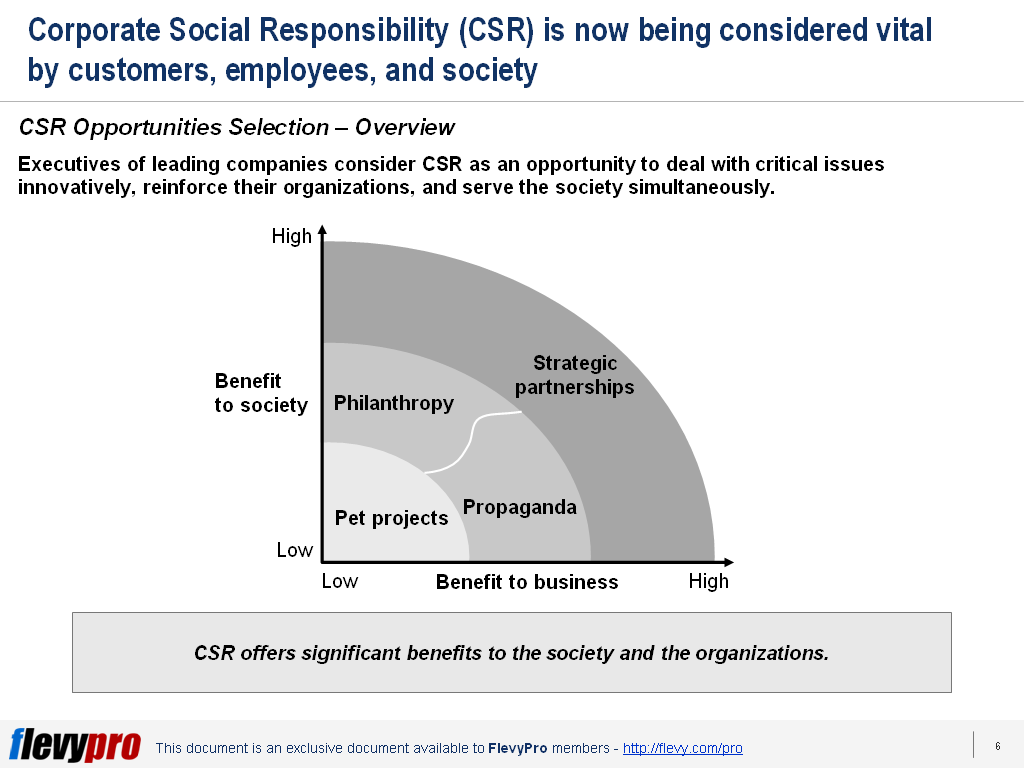 Among these objectives, Smart Partnering offers maximum opportunities for shared value creation and finding solutions to crucial business and social challenges.  Whereas for the society, smart partnering helps create more employment opportunities, improve livelihoods, and enhance the quality of life.
Guiding Principles for CSR Initiative Selection 
An effective way for the companies to maximize benefits of their CSR efforts is to map the current initiatives; identify the objectives, benefits, and resources responsible for realizing value from those initiatives; and define the projects valuable for addressing key strategic challenges.
Pet projects, philanthropy, or propaganda are easy to plan and execute.  However, the real issue is to implement CSR opportunities that bring value for the business as well as society (smart partnering).  This goal can be achieved by applying these 3 guiding principles:
Focus on the right segments
Real opportunities lie in the segments where the business collaborates with and influences the society the most.  These segments help the business interpret mutual dependencies and uncover maximum mutual benefit.
Recognize challenges and benefits
After finalizing the opportunity segments, it is imperative to appreciate the potential for mutual benefit.  The key is to find the right balance between the business and community and recognize the challenges that both sides face.
Find the right partners
Collaboration with right partners—who benefit from business endeavors and capabilities of each other—creates a win–win situation for both sides and motivates them to achieve mutual value.  Sustainable collaboration demands long-term alliances and deeper insights on the strengths of each other.
These principles are helpful in selecting appropriate CSR opportunities, identifying societal and business needs to be addressed, and the required resources and capabilities.
The Case for CSR Benefits 
The goal of unlocking mutual benefits—associated with CSR (specifically Smart Partnering)—is critical for long-term success of the program.  As required by any other strategic initiative, the mutual value creation objective needs to be carefully assessed based on the true value-creation potential, prioritized, designed, staffed, and audited.
The next step is to outline the list of potential benefits for the business and community.  A well-defined business case and a compelling story immensely helps involve and gain commitment from the senior leadership, investors, and employees.
Interested in learning more about how to tap CSR opportunities effectively? You can download an editable PowerPoint on Corporate Social Responsibility (CSR) Opportunities here on the Flevy documents marketplace.
Are you a Management Consultant?
You can download this and hundreds of other consulting frameworks and consulting training guides from the FlevyPro library.
Takeovers can turnaround companies in a short period of time, but there is a significant degree of risk to be anticipated and mitigated prior to undertaking such transactions. Lack of careful deliberation of the potential risks, insufficient planning, weak execution, and lack of focus on Post-merger Integration are the major reasons why many Merger & Acquisition deals fail to achieve their desired goals.
The course of an M&A transaction has to be set at an early stage, way before the actual deal closure. The period prior to the deal approval by the regulatory authorities and while due diligence is being done is most critical, and should be utilized by the leadership to clearly define the goals of integration, the potential risks, and a layout for the execution of the actual integration process. It is the right time to perform a structured evaluation of 3 core pre-merger considerations associated with such deals, i.e.:
Strategic Objectives
Organization & Culture
Takeover Approach
Understanding these PMI Pre-merger considerations helps the stakeholders ascertain the unique challenges and constraints related to M&A transactions and make informed decisions. These considerations assist in developing a systematic approach to undertaking a Post-merger Integration (PMI) — which is devoid of any "gut decisions," and ensures realization of synergies and value. These considerations set the direction and pace of the post-merger integration process.
Now, let's discuss the 3 core considerations in detail.
Strategic Objectives
Organizations undertake Mergers and Acquisitions as a way to accelerate their growth rather than growing organically. The foremost core consideration associated with an M&A transaction is the strategic objectives that the organizational leadership wants to achieve out of it.
M&A deals take place to fulfill one or more of these 5 strategic objectives:
Reinforcement of a segment
Extension in new geographies
Expansion of product range
Acquisition of new capabilities
Venturing into a new domain
The PMI approach needs to be tailored in accordance with the desired strategic objectives of the deal.
Organization & Culture
The senior management should be mindful of the significance of organizational and cultural differences in the two organizations that often become barriers to M&A deals. Small companies, typically, have an entrepreneurial outlook and culture where there aren't any formal structure and the owner controls (and relays) all the information and decision making. Whereas, large corporations typically have formal structures and well-defined procedures.
A takeover of a small firm by a large entity is bound to stir criticism and disagreement. M&A process often faces long delays between the offer, deal signing, and closing — due to antitrust reviews or management's indecisiveness — triggering suspicion among people. This should be mitigated during the PMI process by orienting the people of the small firm with the new culture and giving them time to transition effectively.
For M&A deals to be effective, leadership needs to carefully evaluate the behavioral elements of the organizational culture and contemplate the overriding principles guiding a company.
Takeover Approach
Integrating the operations of two companies proves to be a much more difficult task in practice than it seems theoretically. Organizations have the option of selecting the takeover approach most suitable for them from the following 4 methodologies — based on their organizational structures, people, management, processes, and culture:
Direct Hit
Hiatus
Deferred Decisions
Quick and Unsympathetic Disposal
Interesting in learning more about the takeover approach and the pre-merger considerations in detail? You can download an editable PowerPoint on Post-merger Integration: Pre-merger Considerations here on the Flevy documents marketplace.
Are you a Management Consultant?
You can download this and hundreds of other consulting frameworks and consulting training guides from the FlevyPro library.
Stiff market competition, expansion into new territories, product portfolio extension, and gaining new capabilities are the prime reasons why more and more organizations are seriously looking into the prospects of—and carrying out—Mergers and Acquisitions. However, only a few M&As achieve their desired revenue objectives.
Revenue Synergies are a decisive factor in closing such deals. However, identifying precisely where these Revenue Synergies lie and then capturing them isn't as easy as it sounds.
A McKinsey study comprising of 200 M&A executives from 10 different sectors revealed that all the respective organizations of the respondents remained short of achieving their Revenue Synergy targets (~23% short of the target on average). Securing Revenue Synergies is a long-term game. The companies that succeed in securing Revenue Synergies achieve the target in or around 5 years.
Leaders aspiring to achieve Revenue Synergies should first clarify the objectives from and the schedule of the revenue synergies, lay out the organizational priorities and go-to-market strategies, remove obstacles from realizing value, and gain across the board readiness and commitment for the initiative. Organizations that are most successful in securing revenue synergies pay close attention to these 7 guiding principles during the Post-merger Integration process:
Source of Synergies
Leadership Ownership
Customer Insight-driven Opportunities
Salesperson Driven Strategy
Ambitious Targets and Incentives
Sufficient Support
These 7 guiding principles to capturing Revenue Synergies are critical for effective integration of two firms after a merger and unlocking potential benefits from the deal. Let's discuss the first 3 principles in detail now.
1. Source of Synergies
The inability of the leadership of the acquiring company to spot major sources of revenue that integration brings in results in losing significant pools of opportunity and failure of M&As. Realizing Revenue Synergies demands a thorough methodology to ascertain and qualify revenue prospects along markets and channels, Go-to-Market Strategies, and developing commercial capabilities. This entails:
Evaluating customers and markets, selling offerings of the combined firms utilizing existing and additional channels, and adequately training and rewarding the sales teams.
Coming up with innovative new products and bundles utilizing combined R&D capabilities.
Sharing best practices and commercial capabilities that mergers offer.
2. Leadership Ownership
Organizations that accomplish their Revenue Synergy objectives guarantee that their top management and employees commit themselves fully to the initiative from the onset. They identify potential value pockets from the integration, examine the assumptions about securing value, and get them endorsed by the senior management and front-line staff. The potential Revenue Strategies are regularly evaluated by inter-departmental experts.
3. Customer Insight-driven Opportunities
Accurate estimation of Revenue Synergies demands top-level estimates—assumptions on market share gain, revenue enhancement, or improved penetration—alongside comprehensive bottom-up customer insights, and evaluation of customer relationships. Other important elements to consider include analyzing the offerings being offered to customers, discerning other potential products and services required by the customers, and assessing the ability of the sales team and brands in terms of the potential they offer to the clients.
Interested in learning more about the other guiding principles of securing PMI revenue synergies? You can download an editable PowerPoint on Post-merger Integration (PMI): Securing Revenue Synergies here on the Flevy documents marketplace.
Are you a Management Consultant?
You can download this and hundreds of other consulting frameworks and consulting training guides from the FlevyPro library.
Subscribe to our Newsletter

PowerPointing Templates

Error: Twitter did not respond. Please wait a few minutes and refresh this page.