Currently viewing the tag: "cost reduction"
Organizations that have survived over time have had to reinvent themselves over and over with the changes in the environment.  These Business Transformations almost always include Cost Reduction that tend to lean towards Headcount Reduction.  Headcount Reduction is typically achieved using 2 approaches:
Downsizing
Restructuring
Downsizing keeps the fundamentals of the roles same with only fewer people performing those roles.  Whereas, Restructuring creates new roles, as well as modify existing roles, requiring a new mix of skills or altogether new resources to perform them.
Restructuring presents a more challenging task in that a new mix of skills has to be identified for each role, an Assessment Process has to be set up to assess existing employees against new competencies, and Redeployment after Restructuring (or new recruitment) done.
The important question in both scenarios is:  Who should we eliminate and who should stay?
The question can be answered by devising and using key criteria to evaluate and then choose the most relevant assessment method.
Assessment of employees is key in both Downsizing as well as Restructuring.  The Assessment Process has to be vigorous enough to identify the right employees to keep and lay off.  A broader assessment process ensures coverage of more aspects of a new role which in turn makes the assessment process fairer.  Measures, in this regard, may include:
Covering a broad range of competencies in the interview process rather than concentrating on a few specific competencies.
Using a mix of relevant performance data from the last role as well as some elements of future-oriented assessment, such as role plays or OPQs.
Taking input from Line managers.
Linkage of the entire assessment process to the requirements of the job is the crucial part of this phase.
As with any assessment system, the content and design will be settled through consideration of various factors, some practical like cost, logistics and some more about safeguarding the output like instrument validity.  When taking into account assessment tools for incorporation in the process it is beneficial to examine them against following criteria:
Coverage of range
Accuracy
Relevance
Freedom from bias
Acceptability
Practicality
The tools, based on the above criteria, help in various assessment methods that gather information on different aspects pertaining to the elements of the new roles.  The most widely used Assessment methods include:
Existing Performance Management Data
Line Manager Performance Ratings
Competency Based / Behavioral Interviews
Personality Measures (OPQ) Linked to Competencies
Simulation Exercises
Pertinent Employee Data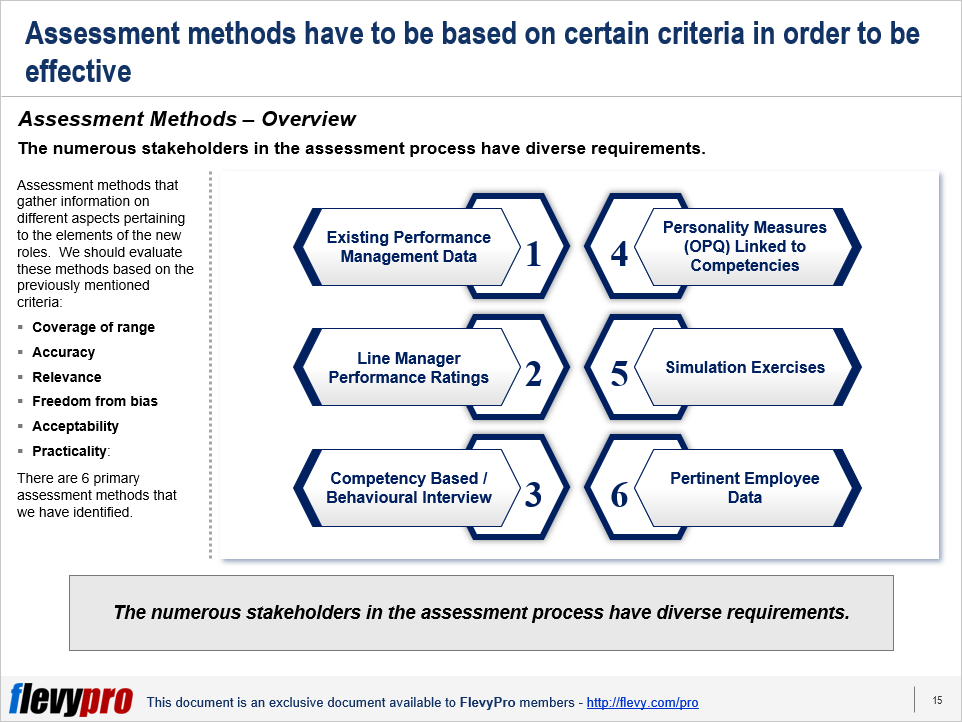 Let us examine the methods in a little more detail.
Existing Performance Management Data
There are various benefits of using this employee assessment method, such as:
No additional data gathering is required since the data is already in place.
Such existing data can be obtained speedily and effortlessly.
Existing performance data is perceived as pertinent.
There are some drawbacks associated with the existing Performance Management data method that executives should be mindful of:
The data is often inconsistent and may vary in quality.
Does not provide clear distinction between people.
Does not reflect behavior therefore difficult to base decisions on.
Usefulness depends on extent of overlap with the new role.
Such data although convenient and easy to obtain, has to be augmented from other sources—and through other assessment methods—for a complete picture to base the employee selection decision on.
Interested in learning more about Redeployment Assessment Process & Methods?  You can download an editable PowerPoint on Restructuring: Redeployment Assessment Process & Methods here on the Flevy documents marketplace.
Want to Achieve Excellence in Business Transformation?
Gain the knowledge and develop the expertise to become an expert in Business Transformation. Our frameworks are based on the thought leadership of leading consulting firms, academics, and recognized subject matter experts. Click here for full details.
"If you don't transform your company, you're stuck." – Ursula Burns, Chairperson and CEO of VEON; former Chairperson and CEO of Xerox
Business Transformation is the process of fundamentally changing the systems, processes, people, and technology across an entire organization, business unit, or corporate function with the intention of achieving significant improvements in Revenue Growth, Cost Reduction, and/or Customer Satisfaction.
Transformation is pervasive across industries, particularly during times of disruption, as we are witnessing now as a result of COVID-19. However, despite how common these large scale efforts are, research shows that about 75% of these initiatives fail.
Leverage our frameworks to increase your chances of a successful Transformation by following best practices and avoiding failure-causing "Transformation Traps."
Learn about our Business Transformation Best Practice Frameworks here.
Do You Find Value in This Framework?
You can download in-depth presentations on this and hundreds of similar business frameworks from the FlevyPro Library.  FlevyPro is trusted and utilized by 1000s of management consultants and corporate executives.  Here's what some have to say:
"My FlevyPro subscription provides me with the most popular frameworks and decks in demand in today's market. They not only augment my existing consulting and coaching offerings and delivery, but also keep me abreast of the latest trends, inspire new products and service offerings for my practice, and educate me in a fraction of the time and money of other solutions. I strongly recommend FlevyPro to any consultant serious about success."

– Bill Branson, Founder at Strategic Business Architects
"As a niche strategic consulting firm, Flevy and FlevyPro frameworks and documents are an on-going reference to help us structure our findings and recommendations to our clients as well as improve their clarity, strength, and visual power. For us, it is an invaluable resource to increase our impact and value."

– David Coloma, Consulting Area Manager at Cynertia Consulting
"FlevyPro has been a brilliant resource for me, as an independent growth consultant, to access a vast knowledge bank of presentations to support my work with clients. In terms of RoI, the value I received from the very first presentation I downloaded paid for my subscription many times over! The quality of the decks available allows me to punch way above my weight – it's like having the resources of a Big 4 consultancy at your fingertips at a microscopic fraction of the overhead."

– Roderick Cameron, Founding Partner at SGFE Ltd
Cost-based Pricing is fast becoming a relic of the past and being substituted by the concept of Target Costing.  Target Costing is referred to as an organized process to determine the cost at which a proposed product must be developed so as to generate profits at the product's anticipated selling price in future.
In highly competitive markets such as FMCG, construction, healthcare, and energy, prices are determined by market forces.  Producers cannot effectively control selling prices.  The only control, to some extent, is over costs, so management's focus has to be on influencing every component of product, service, or operational costs.
Target Costing is a proactive Cost Planning, Cost Management, and Cost Reduction practice.  Costs are planned and managed out of a product and business early in product life-cycle, rather than during the later stages.  The fundamental objective of Target Costing is to make the business profitable in any competitive marketplace.  Target Costing is widely used in several industries e.g. manufacturing, energy, healthcare, construction, and a host of others.
Some key features of Target Costing are:
Seller is a price taker rather than a price maker.
The target selling price incorporates desired profit margin.
Product design, specifications, and customer expectations are built-in while formulating the total selling price.
Cost reduction and effective cost management is the corner stone of management strategy.
Target Cost has to be achieved through team collaboration during activities such as designing, purchasing, manufacturing, marketing, and other activities.
Target Costing presents the following advantages over other product pricing techniques:
More value delivered to customer since the product is created keeping in mind the expectation of the customer.
Approach to designing and manufacturing products is market driven.
Competitive Advantage gained through process improvement and product innovation.
Drastic Process Improvement, which creates economies of scale.
New market opportunities converted into real savings to achieve the best value for money rather than to simply realize the lowest cost.
The Target Costing process comprises 3 main phases.
Market-Driven Target Costing
Product-Level Target Costing
Component-Level Target Costing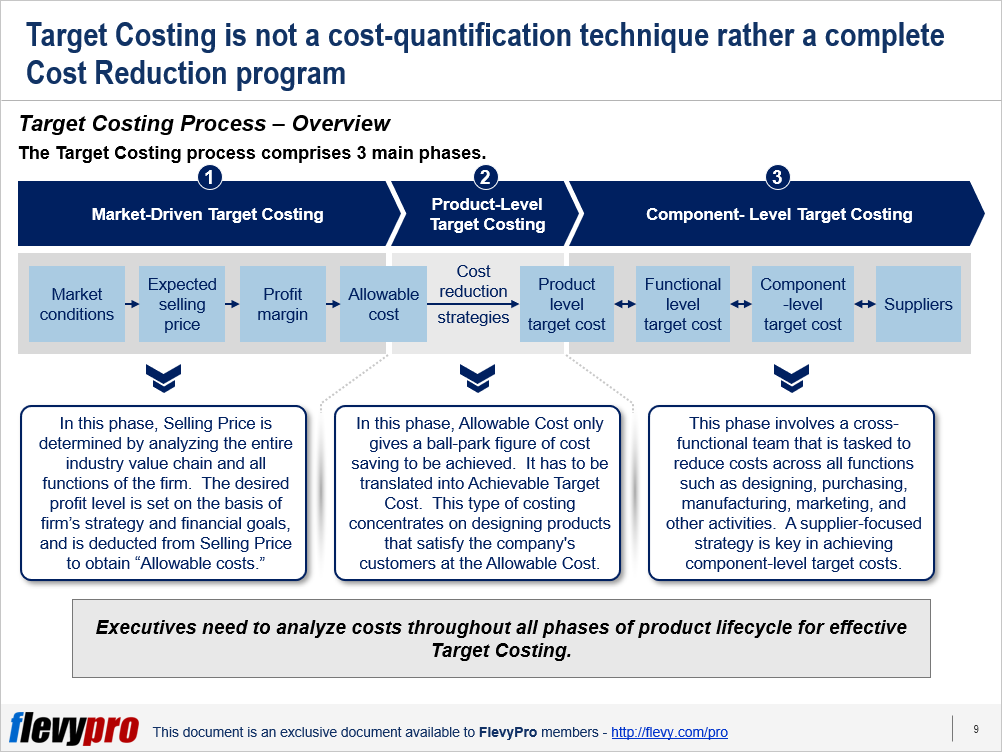 Let's discuss the 3 phases briefly.
1. Market-Driven Target Costing
In this phase, Selling Price is determined by analyzing the entire industry value chain and all functions of the firm.  The focus of this costing phase is on analyzing market conditions and determining the company's Profit Margin in order to identify the "Allowable Cost" of a product.
In this phase, the desired profit level is set on the basis of firm's strategy and financial goals, and is deducted from Selling Price to obtain Allowable costs.  Intensity of competition, nature of customers, similar product introduction by competitors, and level of customer sophistication are the key factors influencing Market-driven Target Costing.
2. Product-Level Target Costing
In this phase, Allowable Cost only gives a ball-park figure of cost saving to be achieved.  It has to be translated into Achievable Target Cost.  This type of costing concentrates on designing products that satisfy the company's customers at the Allowable Cost.  The cardinal rule of Product-level Target Costing is to never exceed the Target Cost.
The objective of this Target Costing phase is to create intense but realistic pressure on the product designers to reduce costs.  Product Strategy (number of products in the line, frequency of redesign, degree of innovation) and product characteristics (complexity, magnitude of up-front investments, and duration of product development) are the key factors affecting Product-level Target Costing.
3. Component- Level Target Costing
The Component-level Target Costing settles the price at which a firm is willing to purchase the externally-acquired components being used in its product.  This phase involves a cross-functional team that is tasked to reduce costs across all functions such as designing, purchasing, manufacturing, marketing, and other activities.
The components cost history serves as the starting point for estimating the new component-level target costs alongside optimal selection of suppliers.  A supplier-focused strategy is the key factor that influences Component-level Target Costing.
Interested in learning more about how the Target Costing process works and its key steps? You can download an editable PowerPoint on Target Costing here on the Flevy documents marketplace.
Are you a Management Consultant?
You can download this and hundreds of other consulting frameworks and consulting training guides from the FlevyPro library.
There is a general belief among organizations that a large percentage of a product's costs are locked in by design.  It is assumed that little can be done once the
design is set.  This assumption has influenced cost management programs across diverse products' life cycles. As a result, the focus during the design phase is Cost Reduction and Cost Containment during the manufacturing phase.
Yet, organizations that operated in a highly competitive market and demanded aggressive cost management showed that costs can be aggressively managed throughout the product life cycle.  Various cost management strategies or techniques may be used to increase the program's overall effectiveness. One of them is the Integrated Cost Management.
A Purview on Integrated Cost Management
Integrated Cost Management is every organization's prescription for lower cost and higher profits. It is the 21st business approach to achieving Cost Management efficiency.
Integration is necessary for Strategy Development as it can promote the achievement of the company's profit objectives. In fact, there are major benefits to Integrated Cost Management. One of which is lowering of overall costs throughout the product life cycle.
Integrated Cost Management can facilitate a steady decrease in costs all the way to discontinuance.  In fact, it can result in an annual cost reduction of about 17% during manufacturing, savings that exceed 30$%, and a designed-in cost of below 70%.
Achieving this requires an understanding of the Integrated Cost Management Approach.
The Integrated Cost Management Approach
The Integrated Cost Management Approach focuses on the integration of cost management techniques which can lead to higher levels of cost reduction and superior overall performance.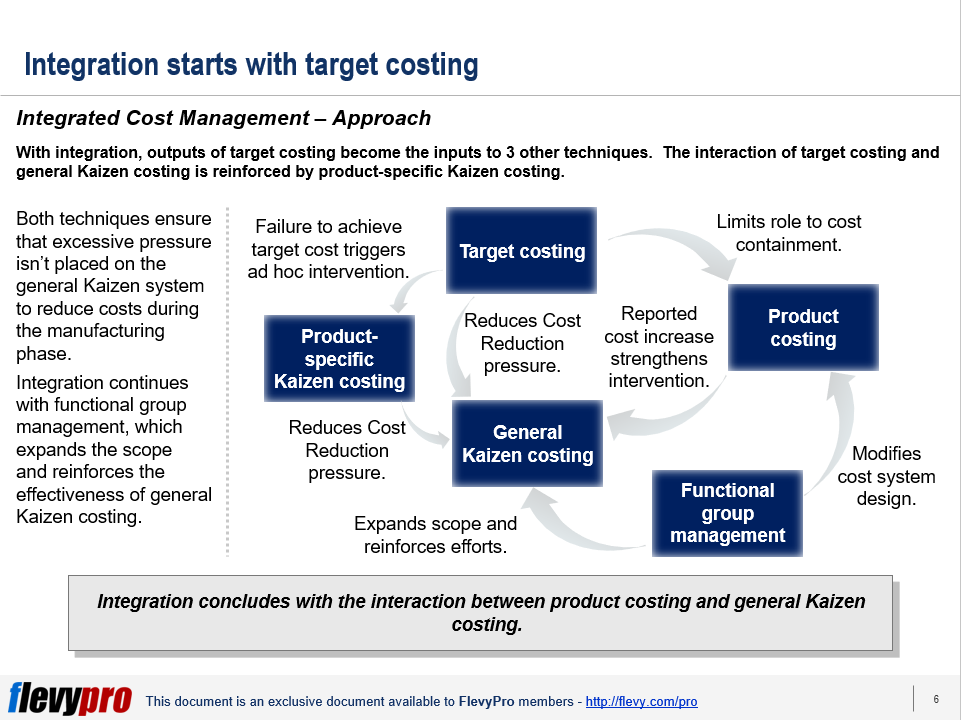 The Integrated Cost Management Approach takes into consideration 5 Cost Management Strategies.
Target Costing. This is the technique used or applied during the design stage.  It is a feed-forward mechanism that enables the retooling of the design of new products to reduce costs while maintaining the desired level of product functionality and quality.
Product-Specific Kaizen Costing. This is a technique that enables the rapid redesign of a new product during the early stages of manufacturing to correct any cost overruns.  (Note: Kaizen is the general term for Continuous Improvement and often associated with Lean Management.)
General Kaizen Costing. General Kaizen Costing is a technique that focuses on the way a product is manufactured with the assumption that the product's design is already set. It is generally effective in addressing manufacturing processes that are used across several product generations.
Functional Group Management. This is a technique that is used to break down the production process into autonomous groups and treat each as a profit center.
Product Costing. Product Costing is a technique that coordinates the efforts of the other four (4) techniques by providing important, up-to-date information.
The 5 Cost Management Strategies enable organizations to better manage costs throughout the product life cycle, with just one (1) technique taking place during the product design and the rest during manufacturing.
The Key Takeaways
The application of the 5 Cost Management strategies has its key takeaways. These can be used as a guidepost in its application and a model of general concepts that organizations may consider.
One key takeaway is significant savings can still be achieved with short life cycle products and aggressive cost management focused on product design.   Taking to note this key takeaway, we have to consider that as the length of the manufacturing phase of the product's life cycle increases, the opportunity for cost reduction increases.  Further, there is a need to explore the value of integrating multiple cost management during manufacturing.
Interested in gaining more understanding of Integrated Cost Management? You can learn more and download an editable PowerPoint about Integrated Cost Management here on the Flevy documents marketplace.
Are you a management consultant?
You can download this and hundreds of other consulting frameworks and consulting training guides from the FlevyPro library.
Through this Sunday, learnPPT is having a promo for the Cost Reduction Toolkit.  This detailed document identifies over 45+ cost cutting initiatives across the Value Chain.  For each initiative, examples are provided, along with projected potential savings.
The Cost Management opportunities are broken down into the areas of:
Enterprise-wide - These opportunities are cross-functional, meaning they can affect multiple functions within an organization.  The impact is largely to SG&A costs.
Asset Management - These opportunities target the improvement of fixed assets efficiency and decreasing net working capital.  The impact is largely capital efficiency.
Function-specific - Opportunities in this category are specific to primary and support functional activities.  These are operational and transactional in nature.
This toolkit also explains the levers and challenges to profitability, as well as the formula identifying cost reduction opportunities.
Here's a partial preview of the PowerPoint presentation.
Questions, thoughts, concerns?  Go to my site (learnppt.com) and shoot me an email.
For pre-made PowerPoint diagrams used in business presentations and other powerpointing needs, browse our library here: learnppt.com/powerpoint/.  These diagrams were professionally designed by management consultants. Give your presentations the look and feel of a final product made by McKinsey, BCG, Bain, Booz Allen, Deloitte, or any of the top consulting firms.
Subscribe to our Newsletter

PowerPointing Templates

Error: Twitter did not respond. Please wait a few minutes and refresh this page.