Currently viewing the tag: "Customer-centric design"
Most of us have experienced a uniqueness in some organizations.  These organizations stand out, exude fervor and zeal.  Their customers are pleased with the Customer Centric Design of the company, Employee Engagement is high, and investors and shareholders take pride in being part of it.  It is not their exceptional product or service that is the base of Value Creation rather the Purpose that makes organizations unique—their reason for existence and the resulting impact it makes on the world.
Stakeholders identify with organizations that genuinely follow their Purpose.  Leadership allocates resources in-line with the Purpose.  Employees keep the Purpose front and center while making decisions for the company.  On the other hand, in-genuine Purpose may harm the reputation of the company by turning away the stakeholders.
In order to be genuine, Purpose has to be embedded in the company's DNA, which is no mean task.  The "5 Ps of Purpose Framework" shows how this can be successfully achieved.  The 5 Ps Framework identifies 5 areas of focus:
Product Portfolio Strategy
People & Culture
Processes & Systems
Performance Metrics
Positions & Engagement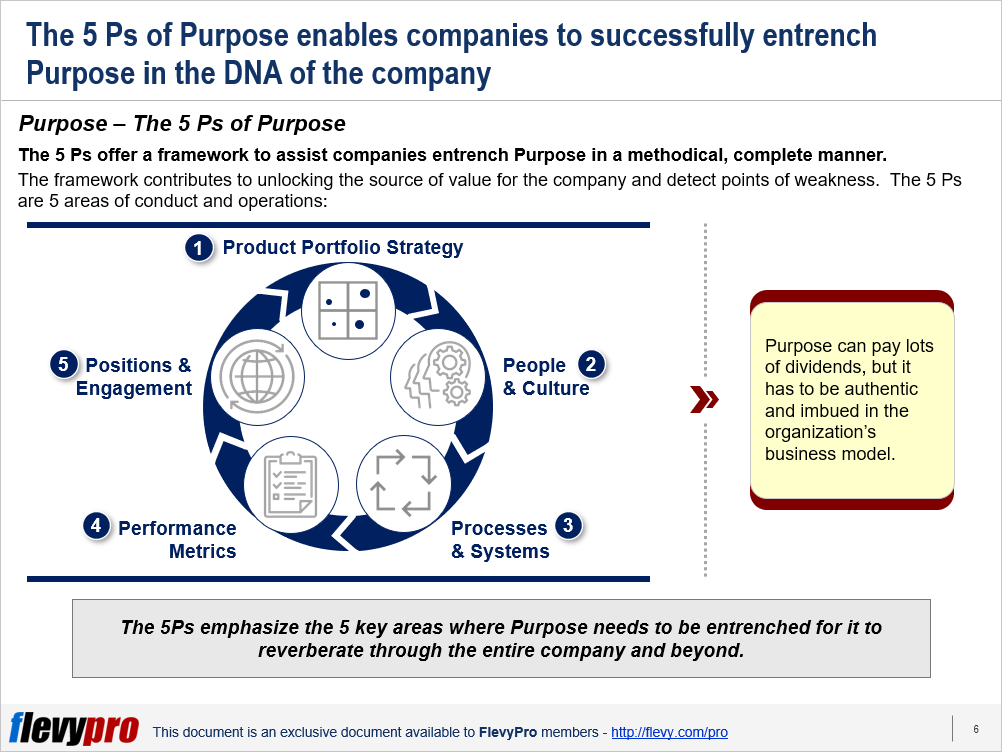 There are numerous benefits to transforming into a Purpose-driven Organization.  The 5 Ps Framework contributes to unlocking the sources of value for the company and detect points of weakness.  Purpose can pay lots of dividends, but it has to be authentic and imbued in the organization's business model.
Let us delve a little deeper into the first P of the 5 Ps of Purpose.
Product Portfolio Strategy
An organization's Product / Service offerings and the associated modalities of market and position planning that best cater to the target market ought to imbibe the Purpose of the company in order to appeal to the stakeholders.
The 1st step for achieving this objective has to be the alignment of business portfolio with the company's Purpose–i.e. we need to integrate Purpose with our Portfolio Strategy.  Companies already in existence may not be able to start afresh but they can surely reshape their business mix in a dynamic and resolute manner.
In step 2, the business portfolios are filled out with Products or Services that match the Purpose, and the ones that do not are rooted out.  Certain key actions are needed to embed Purpose into the Product or Service offering, they include:
Rethinking product portfolio — for example pulling out certain products, launching new products.
Modifying pricing in line with Purpose.
Re-evaluating portfolio and testing rationale of individual assets in light of common criteria.
A case example is an energy company in the extractive industries, founded 85 years ago, which has proved successfully that Purpose can be reinvented.  Being in the extractive business for such a long time has not restricted the company from reexploring what an energy company may look like in the transforming environment of the future.
The company has significantly transformed its Purpose — "reimagining energy for people and planet."  In line with its Purpose, the company has divested from its petrochemicals businesses and plans to reduce its legacy oil and gas business by 40% by the year 2030.  The company will instead augment its low-carbon energy businesses such as bioenergy, hydrogen, electric vehicle charging businesses, and aims to be a net-zero carbon emitter by the year 2050.
Interested in learning more about 5 Ps of Purpose Framework?  You can download an editable PowerPoint on 5 Ps of Purpose here on the Flevy documents marketplace.
Do You Find Value in This Framework?
You can download in-depth presentations on this and hundreds of similar business frameworks from the FlevyPro Library. FlevyPro is trusted and utilized by 1000s of management consultants and corporate executives. Here's what some have to say:
"My FlevyPro subscription provides me with the most popular frameworks and decks in demand in today's market. They not only augment my existing consulting and coaching offerings and delivery, but also keep me abreast of the latest trends, inspire new products and service offerings for my practice, and educate me in a fraction of the time and money of other solutions. I strongly recommend FlevyPro to any consultant serious about success."

– Bill Branson, Founder at Strategic Business Architects
"As a niche strategic consulting firm, Flevy and FlevyPro frameworks and documents are an on-going reference to help us structure our findings and recommendations to our clients as well as improve their clarity, strength, and visual power. For us, it is an invaluable resource to increase our impact and value."

– David Coloma, Consulting Area Manager at Cynertia Consulting
"FlevyPro has been a brilliant resource for me, as an independent growth consultant, to access a vast knowledge bank of presentations to support my work with clients. In terms of RoI, the value I received from the very first presentation I downloaded paid for my subscription many times over! The quality of the decks available allows me to punch way above my weight – it's like having the resources of a Big 4 consultancy at your fingertips at a microscopic fraction of the overhead."
– Roderick Cameron, Founding Partner at SGFE Ltd
Organizations typically focus on Customer-centric Design in their Strategic Planning and overlook the critical driver of Performance, Growth, and Operational Excellence—their employees.  With cut-throat competition now the norm the realization has become clearer that employees are:
The face of the business and create lasting—or perishing—brand impression.
Sources of innovation and organizational knowledge.
Representation of the company's service philosophy.
Expected to live by its Organizational Culture and values.
Employee Engagement has emerged as one of the significant pillars on which the Competitive Advantage, Productivity, and Growth of an organization rests.  What, exactly, does it mean when an employee is engaged?  Employee Engagement, over the years, has been thought of in terms of:
Personal engagement with the organization.
Focus on performance of assigned work.
Worker burnout.
Basic needs (meaningful work, safe workplace, abundant resources).
Attention on Cognitive, Emotional and Behavioral components related to an individual's performance.
Although Employee Engagement is widely seen as an important concept, there has been little consensus on its definition or its components either in business or in the academic literature.
Kumar and Pansari's 2015 study define Employee Engagement as:
"a multidimensional construct that comprises all of the different facets of the attitudes and behaviors of employees towards the organization".
The multidimensional construct of Employee Engagement has been synthesized into the following 5 components (or dimensions).
Employee Satisfaction
Employee Identification
Employee Commitment
Employee Loyalty
Employee Performance
The 5 dimensions of Employee Engagement have been found to have a direct correlation with high profitability, as substantiated by a number of research studies: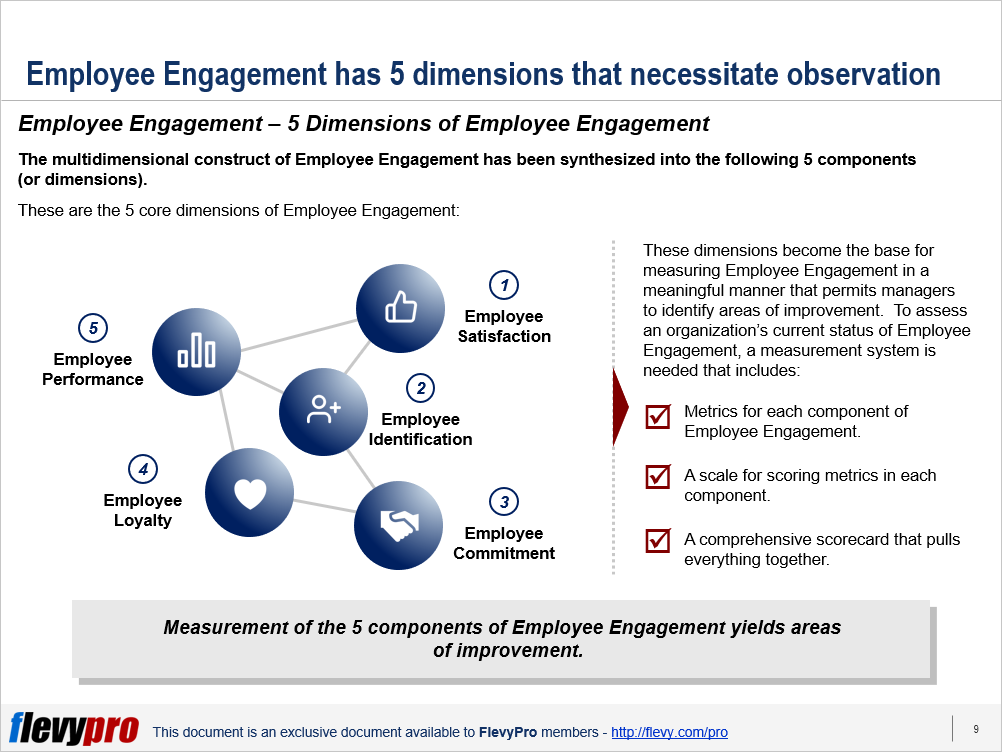 For instance, a study of 30 companies in the airline, telecom and hotel industries shows a close relationship between Employee Engagement and growth in profits.  After controlling other relevant factors—i.e., GDP level, marketing costs, nature of business, and type of goods, the study found:
Highest profitability growth—10% to 15%—in companies with highly engaged employees.
Lowest level of profitability growth—0% to 1%—in companies with disengaged employees.
Research reveals that Employee Engagement affects 9 performance outcomes; including Customer Ratings, Profitability, Productivity, Safety Incidents, Shrinkage (theft), Absenteeism, Patient Safety Incidents, Quality (Defects), and Turnover.
The differences in performance between engaged and actively disengaged work units revealed:
Top half Employee Engagement scores nearly doubled the odds of success compared with those in the bottom half.
Companies with engaged workforces have higher earnings per share (EPS).
These 5 dimensions become the base for measuring Employee Engagement in a meaningful manner that permits managers to identify areas of improvement.  To assess an organization's current status of Employee Engagement, a measurement system is needed that includes:
Metrics for each component of Employee Engagement.
A scale for scoring metrics in each component.
A comprehensive scorecard that pulls everything together.
Let us delve a little deeper into the first 2 dimensions of Employee Engagement.
Employee Satisfaction
Definition
Employee Satisfaction is the positive reaction employees have to their overall job circumstances, including their supervisors, pay and coworkers.
Details
When employees are satisfied, they tend to be:
Committed to their work.
Less absent and more productive in terms of quality of goods and services.
Connected with the organization's values and goals.
Perceptive about being a part of the organization.
Metrics
The 5 metrics that gauge Employee Engagement in terms of Employee Satisfaction include:
Receiving recognition for a job.
Feeling close to people at work.
Feeling good about working at the organization.
Feeling secure about the job.
Believing that the management is concerned about employees.
We take a look at another dimension central in significance.
Employee Commitment
Definition
Signifies what motivates the employees to do more than what's in their job descriptions.
Details
Employee Commitment is much higher for the employees who identify with the organization.  This element:
Develops over time and is an outcome of shared experiences.
Is often an antecedent of loyalty.
Induces employees to guard the organization's secrets.
Pushes employees to work for organization's best interests.
Research has found that employees with the highest levels of commitment:
Perform 20% better.
Are 87% less likely to leave the organization.
Metrics
The 3 metrics that gauge the Employee Commitment dimension of Employee Engagement include:
Commitment to deliver the brand promise along with knowledge of the brand.
Very committed to delivering the brand promise.
Feels like the organization has a great deal of personal meaning.
Interested in learning more about these foundational pillars to Employee Engagement? You can download an editable PowerPoint on 5 Dimensions of Employee Engagement here on the Flevy documents marketplace.
Are you a Management Consultant?
You can download this and hundreds of other consulting frameworks and consulting training guides from the FlevyPro library.
Supply chain thinking used to be limited to the managers of a few global companies—companies that were struggling to coordinate internal information and
materials. This, however, led to an exciting boom in cross-business coordination based on Supply Chain Management concepts.
Today, the field has broadened and shifted over time. Current supply chain trends—differentiation, outsourcing, compression, and collaboration—are being used to restructure supply networks and improve coordination. As more companies integrate their networks, capabilities are improving. The levels of product customization and business complexity are also increasing. As this continues, Supply Chain Management is being used in new ways to create uniquely defined customer relationships anchored on appropriate Customer-centric Design.
The field of Supply Chain Management will continue to influence companies. The best way to understand the impact of a long-term trend is to examine how the trend has changed the way executives view their businesses and what issues they choose to focus on.
Rationale Behind Supply Chain Management
Supply Chain Management is the design, planning, execution, control, and monitoring of supply chain activities. It is the management of the flow of goods and services. Essentially, Supply Chain Management addresses the fundamental business problems of supplying products to meet demand in a complex and uncertain world.
Conceptually, Supply Chain Management draws on the value chain concept of business strategist, Michael E. Porter. It conveys the idea of looking at the supply chain issue at the multi-company level.
As the global business environment becomes more complex and competitive, there have been shorter product life cycles and greater product variety. Due to this, it has increased supply chain costs and complexity. The birth and growth of outsourcing, globalization, and business fragmentation has resulted in a crucial need for supply chain integration. Coupled with advances in information technology, this has led to the creation of greater opportunity for Supply Chain Management.
Why is Supply Chain Management essential at this time? There is now an increasing need to create net value, build a competitive infrastructure, leverage worldwide logistics, synchronizing supply with demand, and measure performance globally. Only Supply Chain Management has a systematic process to satisfy these increasing demands.
With the increasing application of Supply Chain Management, there have been shifts in the view of management and influencing Strategy Development.
The 6 Core Pillars of Supply Chain Management Thinking
The 6 Core Pillars of Supply Chain Management Thinking are the major shifts that have redefined management's view which is far different from traditional Supply Chain thinking.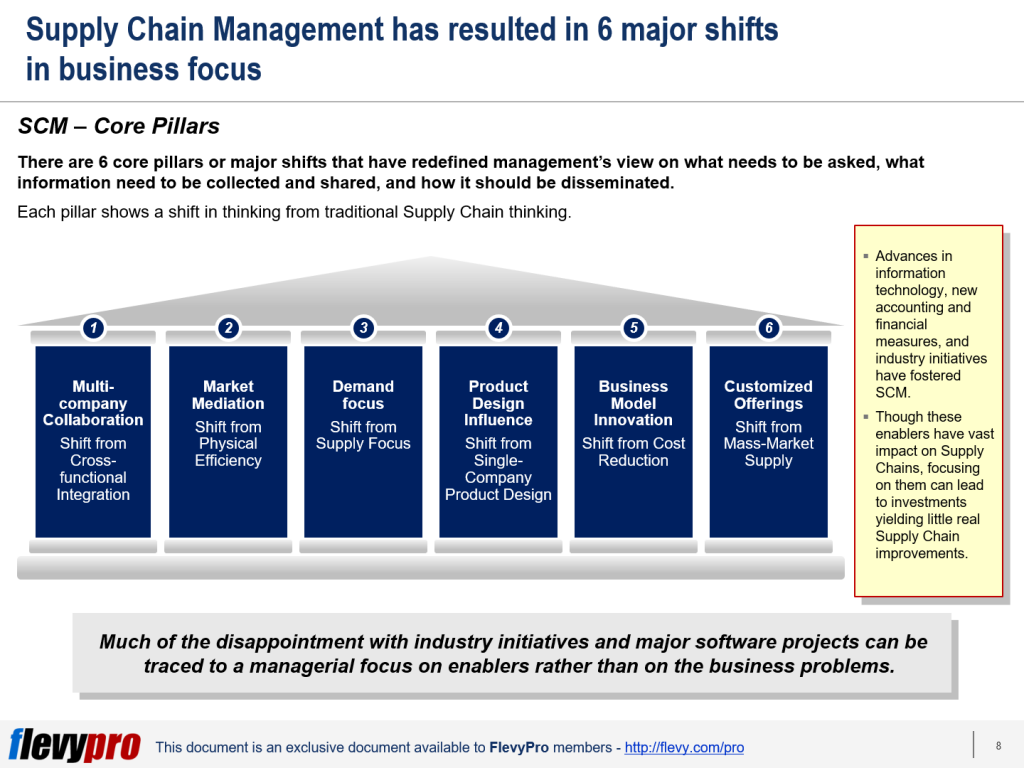 The first Core Pillar is Multi-company Collaboration. This is the shift from cross-functional integration to multi-company collaboration. Traditionally, Supply Chain thinking was focused on integrating within their companies. But with the new Supply Chain Management perspective, the focus now is on integrating across companies to coordinate and improve supply.
With the shift in thinking, what is asked now is how do we coordinate activities across companies, as well as across internal functions, to supply products to the markets. This is a great deviation from the traditional thinking which ask how do we get the various functional areas of the company to work together to supply product to our immediate customers.
With the first Core Pillar, we get to achieve significant breakthroughs. There are lower supply chain-related costs and improved responsiveness within a chain of companies.
The very essence of Multi-company Collaboration is rethinking how organizations align goals and make decisions.
The other Core Pillars are Market Mediation, Demand Focus, Product Design Influence, Business Model Innovation, and Customized Offerings. Each core pillar is considered an enabler that has a vast impact on Supply Chains.
Interested in gaining more understanding of the 6 pillars of Supply Chain Management (SCM) thinking? You can learn more and download an editable PowerPoint about the 6 Pillars of Supply Chain Management (SCM) Thinking here on the Flevy documents marketplace.
Are you a management consultant?
You can download this and hundreds of other consulting frameworks and consulting training guides from the FlevyPro library.
Nowadays, sales reps who get to close the sale are those sales reps who get to discover the customer's real problems. With life getting more hectic and people always
on the rush, customers only prefer to spend more on the phone with sales teams who "gets it." These are the sales reps who do not only get to discover the customer's real problem but also get to help them problem-solve in new ways.
Yet, a great number of salespersons miss closing the sale and reaching their quotas. In fact, in 2018, Salesforce found that more than 57% of sales representatives are expected to miss quotas for the year. This can be a challenge more so with organizations developing resolutions that revolve around increasing sales metrics and implementing new technologies.
The traditional method of selling is not enough anymore today. The first thing a client needs or wants does not necessarily solve the core problem. A new method is now necessary that will require salespeople to first diagnose the real problem before coming up with the solution. This comes with a new Customer-centric Design.
The Future of Sales: The Upcoming Trends Salespeople Must Watch Out For
A survey was conducted on more than 2,900 sales professionals worldwide. As a result of the survey, 5 Top Trends were revealed that are shaping up the world of sales. Two of these Top 5 Trends are changing sales mandate and the emergence of a Data-driven Sales Playbook.
Trend 1: As sales mandate change, teams are falling short of rising customer expectations. Technology is changing expectations on how companies should interact with consumers. It is now the salespeople who are on the frontline who are carrying the onus to deliver when customers demand more personalized consultative engagement. As a result, customer satisfaction has become the most-tracked sales Key Performance Indicator.
Trend 2: A Data-driven Sales Playbook is emerging. The ingenuity of salespeople with data-driven insights have been amplified. With the richness of data available, this has led to more effective methods of lead prioritization and forecasting.  There is now an increasing need for sales reps to prioritize leads based on data analysis rather than on intuition.
The effect of these Top 5 Trends has further been amplified with the increasing number of missed sales. Today, the traditional method of selling just does not work anymore.
A New Approach  to Selling: A Problem-centric Selling
The traditional method of selling is focused on determining the prospects' needs. This does not work anymore as the first thing a client needs or wants does not necessarily solve their core problems. There is now the need to shift to Problem-centric Selling.
Problem-centric Selling is an approach that diagnoses problems with as much specificity as possible. Often, the real problem is not well articulated by the potential buyer. With Problem-centric Selling, the specific customer needs are well identified thus enabling salespeople to better offer the right product or service.  It is thus important to integrating the philosophy of Problem-centric Selling into your Sales Management approach.
The Problem-centric Selling is anchored on 5 core elements.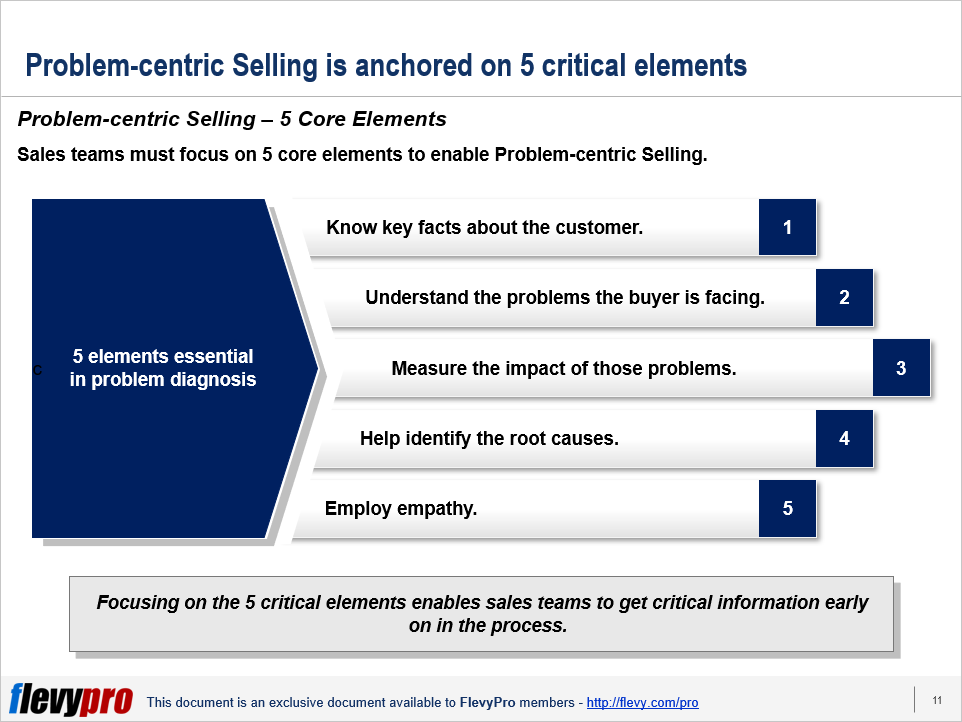 Problem diagnosis starts with knowing and understanding your customer and their problems. This is where the first core element is centered on: Know the key facts about the customer.
Salespeople must be able to get a description of the environment of which the buyer works, the processes they use, the structure of the organization, the tools they have, the current goals of the business, and other information about the buyer and the business. The facts gathered must go beyond the basic name, size of the company, and the industry the business is in. This way, the salesperson can get to establish the context for where the customers' problems lie.
The other 4 Core Elements are essentially important in guiding every salesperson to master the Problem-centric Approach and hit that sale with a successful deal.
Interested in gaining more understanding of Problem-centric Selling? You can learn more and download an editable PowerPoint about Problem-centric Selling here on the Flevy documents marketplace.
Are you a management consultant?
You can download this and hundreds of other consulting frameworks and consulting training guides from the FlevyPro library.
Organizations today are spending money on the latest technologies and working hard to solve problems as they arise. Yet, sad to say,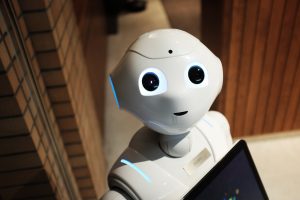 this is simply not enough.
Today, to get on top of today's fiercely competitive business environment, organizations need to take a strategic move: Develop an Innovation Mindset. What is an Innovation Mindset? What does it take to develop an Innovation Mindset? Often, this can be mindboggling as we get confused as to understanding what is an Innovation Mindset. Developing an Innovation Mindset is never the mere act or intent of investing in technology. It goes beyond spending money on the latest technology.
Developing an Innovation Mindset is to undergo the transformation from an innovation-averse to a forward-thinking organization.
Understanding an Innovation Mindset: What It Takes to Develop One
Developing an Innovation Mindset requires scaling innovations repeatedly and making it grow as fast as others. Companies need to depart from adopting technologies as point solutions to evolving future systems. This can be achieved by cultivating the mindset and methods of the top 10%.
The top 10% are the Leaders in Innovation Management that are already enjoying a considerable head start and are not standing still. The systems they have put in place are specifically designed to not only accommodate innovations but also scale them across the enterprise.
Developing an Innovation Mindset Starts with the Right Tools
To foster than Innovation Mindset, we need to put in place 5 key principles.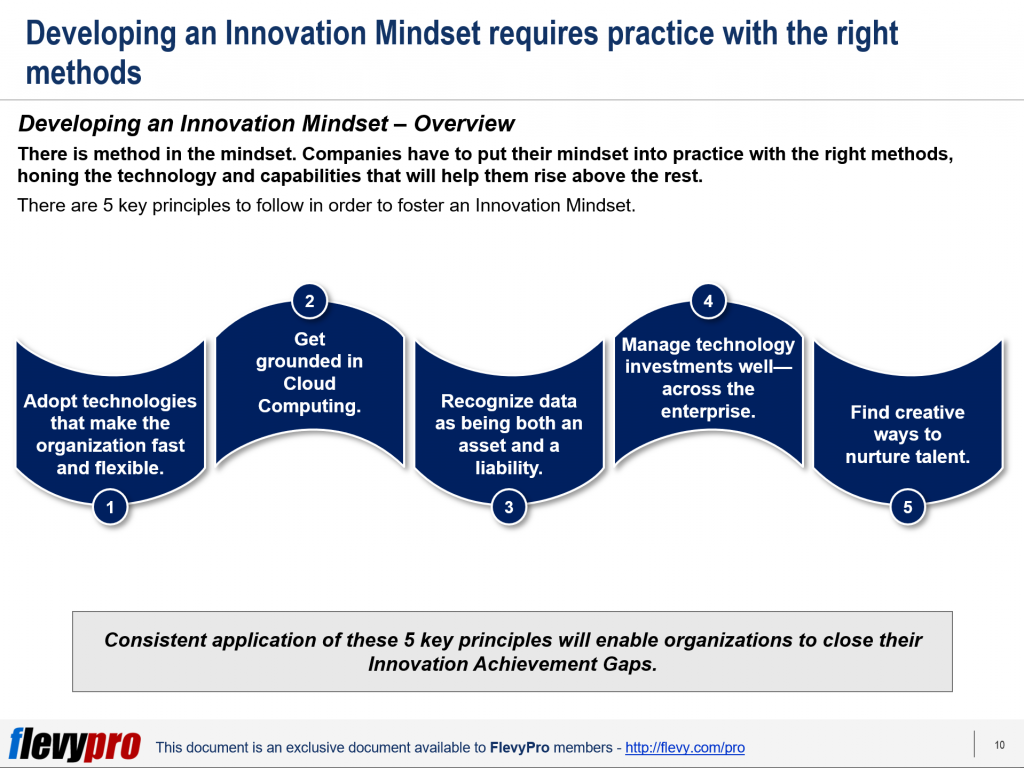 These 5 principles can provide organizations the foundation on developing Innovation Mindsets.  There first 2 are defined as:
Adopt technologies that make the organization fast and flexible. Consumers now demand that companies are fast and flexible. The market is getting impatient when there are delays and so structured that it ceases to be an organization with a Customer-centric Design. Principle 1 focuses on making organizations fast and flexible. Achieving this call for efficient use of decoupling data, infrastructure, and applications to achieve greater flexibility and a faster-moving IT culture.
Get grounded in cloud computing. This principle is focused on catalyzing innovation. Adopting this principle will enable organizations to maximize the use of the cloud to successfully utilize other technologies, including Artificial Intelligence and analytics.
There are 3 other principles that organizations must take notice of and focus on. The other 3 principles are recognizing data as being both an asset and a liability, managing technology investments well across the enterprise, and finding creative ways to nurture talent.
Integrating these principles in the organization's journey towards Digital Transformation will promote the development of an Innovation Mindset. When this happens, we can expect our organization to keep up with the pace and catch up.
What Does It Take to Have an Innovation Mindset
Developing an Innovation Mindset has led leaders to take command and be in-charge of market demands. Leaders are adopting DevOps, automation, and continuous integration/continuous deployment at a faster rate than Laggards. Let us take a look at a Travel Industry disruptor. The company migrated its platform to microservice as part of decoupling initiatives.
As a result of taking this initiative, rapid response to change was achieved. This also enhanced its capability to add new features as the company experiences explosive growth.
Let us take a look at a more internationally recognized company: Ant Financial (formerly known as Alipay), the Alibaba Group's financial arm. The organization embedded cloud services and AI across multiple processes and product lines. Furthermore, AI capabilities were offered to external ecosystem partners.
Today, Ant Financial can instantly assess the credit risks of underserved people who may not have bank accounts and even target them with loan offers. The overall cost was reduced by 50% and the company experienced a 10-fold increase in daily visitors.
Developing an Innovation Mindset is key.
Interested in gaining more understanding of developing an Innovation Mindset? You can learn more and download an editable PowerPoint about Developing an Innovation Mindset here on the Flevy documents marketplace.
Are you a management consultant?
You can download this and hundreds of other consulting frameworks and consulting training guides from the FlevyPro library.
More sophisticated managers explicitly use Key Performance Indicators (KPIs) to promote cross-functional–not just vertical–alignment. For
them, KPIs are the means and methods for rigorously defining and measuring the fundamentals that matter.
Why are KPIs important? If used effectively, KPIs can clearly track value creation and deliver value for its stakeholders – customers, employees, and investors.
KPIs are being used by organizations in different ways. Yet, there are clear and measurable differences that exist in terms of how it is being used. There are organizations that use KPIs to monitor and assess performance while there are those that use KPIs to guide and drive performance improvements. Data-driven and customer-oriented leaders use KPIs in practicing Customer-centric Design, while those more concerned with hitting their numbers remain focused on efficiencies.
There are 4 primary best practices for Key Performance Indicators that organizations should follow. These best practices are every organization's guide to using KPIs to drive performance improvements.
The 4 KPIs Best Practices
The 4 KPI Best Practices can demonstrate the effective use of KPIs to reflect and illuminate the strategic priority of organizations.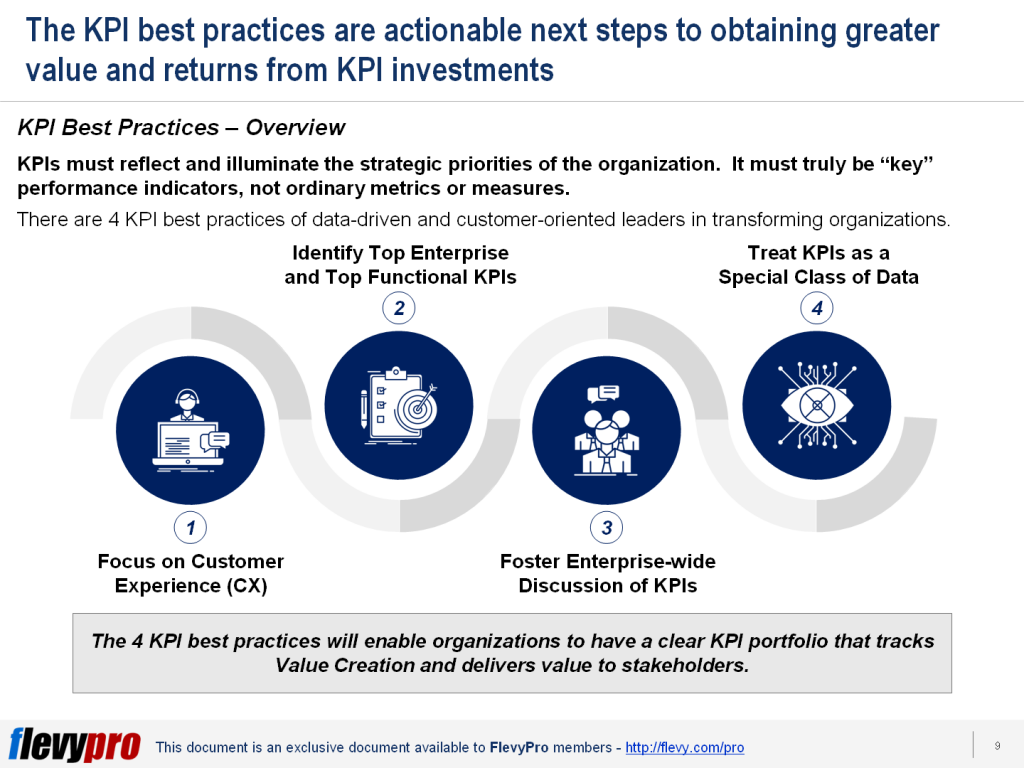 Focus on Customer Experience (CX). The first KPI Best Practice, Focus on Customer Experience is focused on an increased understanding of customers' wants and needs. There is a renewed emphasis on learning more about users of products. The main objective of focusing on customer experience is turning customers into brand advocates and evangelists. When KPIs are focused on customers beyond the sales funnel, this encourages an organization to realign itself around sharing, coordination, and collaboration.
Identify Top KPIs. When top KPIs are identified, it is basically identifying the priority KPIs. Doing this requires identifying the appropriate number of KPIs to prioritize. There are guide questions than can help organizations in the prioritization of the KPIs. One of the questions can be "Is there a consensus on how KPIs affirm and support strategy? Another significant question can be one that points to how directly the functional KPIs contribute to enterprise success. When going through this process, it is important that leaders understand how KPIs interrelate and align.
Foster Enterprise-wide Discussion of KPIs. A very critical Best Practice, the third KPI Best Practice is focused on reinforcing the company's culture. In fostering enterprise-wide discussion of KPIs, KPIs must be central to leadership conversations around driving organizational behavior and change. It is not merely an assessment tool. If KPIs are not front and center at a management meeting, there is something wrong with the meeting, the management, or the KPIs.
Treat KPIs as Special Class Data. Treat KPIs as Special Class Data is the fourth KPI Best practice that is essential in process transformation and automation. Organizations must understand that data and analytics are the raw ingredients of KPIs. KPIs special class as a data asset will become even more important as they become an input to ML algorithm and process automation. In the years to come, organizations can expect that data capability that supports more complex KPIs will become a source of competitive advantage.
What Matters Most
It is very clear that KPIs play a vital role in directing the priorities of organizations. With the changing global economy, organizations have been recognizing the importance of Customer Focus. In fact, it has taken a priority seat and identified as the top KPI by executives.
But does this hold true to all organizations? Identifying top KPIs is important but organizations must know the right way to identify the appropriate number of KPIs and prioritize them. It is important to note that KPIs must align well with the organization's internal processes with its external customer behaviors.
Customer Focus is a priority, but is it also your priority KPI?
Interested in gaining more understanding of the KPI best practices? You can learn more and download an editable PowerPoint about Key Performance Indicators (KPIs) Best Practices here on the Flevy documents marketplace.
Are you a management consultant?
You can download this and hundreds of other consulting frameworks and consulting training guides from the FlevyPro library.
The use of the Internet and other online tools have turned consumers to be more empowered and are now shopping differently. Customers are
becoming more demanding and accustomed to getting what they want.
With greater access to reviews and online rating, customers are better equipped to switch to new products and services. Consumers now want to buy products and services when, where, and however they like. They expect companies to interact with them seamlessly, in an easy, integrated fashion with very little friction across channels.
As customer expectation continues to evolve–accelerated by the amplifying forces of interconnectivity and technology–markets are becoming increasingly fragmented with demand for greater product variety, more price points, and numerous purchasing and distribution channels.
Companies should be able to adapt to these increasingly disparate demands quickly and at scale. Staying close to the Customer Experience across an increasingly diverse customer base changing over time is no longer a matter of choice. It is a business imperative and a matter of corporate survival.
The Age of the Customer now calls for companies to be a Customer-centric Organization. Successful ones have discovered that driving customer-centricity depends, first and foremost, on building a Customer-centric Culture.
The Case for Customer-centricity
In the Age of the Customer, business as usual is not enough. Customers expect companies to interact with them seamlessly. Customers want companies to anticipate their needs and technology must have lowered barriers to entry to allow unorthodox competitors to disrupt markets.
The Age of the Customer has made it imperative for companies to have a customer-centric culture. A Customer-centric Culture can empower and control employee behavior. It is a culture that prioritizes the common understanding, sense of purpose, emotional commitment, and resilience. It is a culture where leaders and employees understand the company's brand promise. Finally, and most importantly, a customer-centric culture is a culture that is committed to delivering exceptional customer experience.
Companies with a Customer-centric Design must integrate, within its core, primary and secondary cultural attributes essential to complete its customer-centric culture framework.
The Corporate Culture Framework: Its Primary and Secondary Cultural Attributes
In a customer-centric Corporate Culture framework, the primary cultural attributes are critical in building a customer-centric culture. It also has 4 Secondary Cultural Attributes to complete that transformation.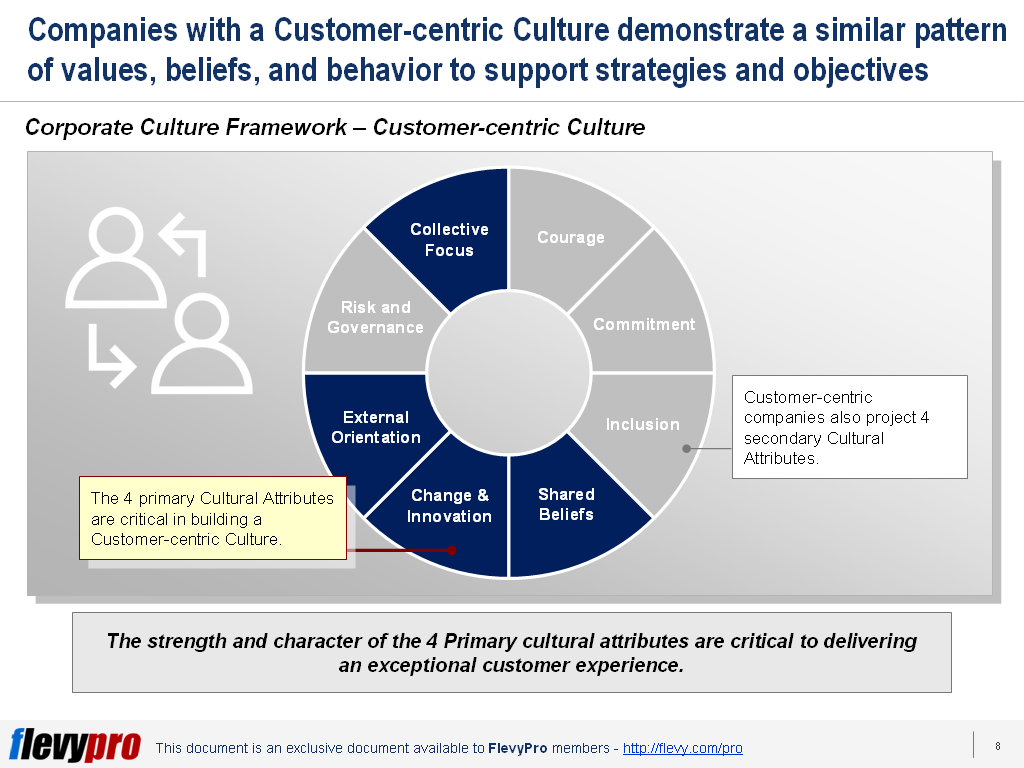 The 4 Primary Cultural Attributes
Collective Focus
This is a shared vision articulated on what it means to deliver great customer service. Significant resources are devoted to communicating the customer value and all employees understand their role in delivering value.
External Orientation
External Orientation is having a full understanding of the company through the customer's eyes. Outside-in perspectives are taken, seeing themselves as customers see them.
Change and Innovation
In Organizational Change and Innovation, the corporate value system is in place that values failing fast and learning quickly. The notion that mistakes are learning opportunities is embedded in the organization.
Shared Beliefs
Shared Beliefs is an attribute where employees share a common ideology and commitment to core values. The company strongly encourage strong service mentality and the desire to help others.
The 4 Secondary Cultural Attributes
Risk and Governance
In Risk Management and Governance, the company must have a strong collective focus and shared beliefs about the boundaries of acceptable risk and appropriate behavior.
Courage
A Customer-centric Culture with this secondary attribute has the resilience to bounce back when things don't go as planned.
Commitment
Commitment is the third secondary attribute where employees show dedication to the customer-centric ethos.
Inclusion
Inclusion, the fourth secondary attribute, is one attribute that reinforces values diversity, authenticity, and uniqueness.
Inculcating these attributes has become imperative to achieve a successful transformation towards a Customer-centric Culture. Strategy Development now requires organizations to master the necessary practices to instill these attributes and the essential reinforcement to ensure that it is sustained.
Interested in gaining more understanding of Customer-centric Culture? You can learn more and download an editable PowerPoint about Customer-centric Culture here on the Flevy documents marketplace.
Are you a management consultant?
You can download this and hundreds of other consulting frameworks and consulting training guides from the FlevyPro library.
Today's customers are better informed, better connected, and more demanding than ever before. CEOs are now concerned about Customer
Loyalty and they recognize that mastery of the customer agenda is essential. In fact, global leaders of successful businesses recognize that creating a customer-centric, digitally-transformed business is a top priority.
In this age of digital disruption, how can organizations engage customers, increase Customer Loyalty, and achieve profitable growth? What is most appropriate when it comes to Customer-centric design?
Almost every market is experiencing a fundamental change. Consumer expectations have shifted and digital technologies are making the biggest impact on businesses large and small since the start of the information age. Ultimately, businesses need to navigate the challenges of digital disruption and find new ways to create economic value and drive growth.
The challenge today is what it takes for organizations to be a Customer-centric Organization.
Unraveling the 6 Core Capabilities of a Customer-centric Organization
A Customer-centric Organization must have 6 Core Capabilities to compete in the Digital Age. In this global time, customer-centricity ceases to be a differentiator. It has become a matter of survival.
The first 2 Core Capabilities are Customer-directed. These are Customer Strategy and Customer Experience (CX).
Customer Strategy. The first core capability, Customer Strategy is focused on addressing changing customer needs and behavior. It involves the development of a clear view of customer behavior and intentions using data and analytics. Customer Strategy can be applied in several ways. It can be used to refine and develop a proposition or even inform major investments in new media content.
Customer Experience (CX). Customer Experience (CX) is that core capability that generates a significant competitive advantage – a double revenue growth against industry counterparts. It is being able to respond to customer needs balanced with understanding the values customers bring to the enterprise. The world's most advanced customer businesses often undertake customer journey mapping and experience design which are critical to executing customer-centric change.
The second 2 Core Capabilities focus on front office capability and across the enterprise value chain. These are Sales & Service Transformation and Connected Enterprise.
Sales & Service Transformation. As the third core capability, Sales & Service Transformation is essential to becoming a customer-responsive business. This is a newly digitized and fully integrated front office capability that can attract, engage, acquire, and continually engage with customers. With the modernization and transformation of front office functions, Marketing, Sales, and Service teams get to have better ideas on how to work together more effectively. This leads to a full end-to-end Business Transformation.  A core concept to Service Transformation is the development of Service 4.0 capabilities.
Connected Enterprise. Focused on delivering differentiated Customer Experiences, Connected Enterprise is an architecture of fundamental capabilities that work across the Enterprise Value Chain, from back office operations through customer-facing interactions. The application of Connected Enterprises has led to companies experiencing an increase in annual revenue and a positive return on investment.
The third 2 Core Capabilities are Data & Analytics and Digital Transformation — your company's response to a highly demanding digital market.
Data & Analytics. The fourth core capability is Data & Analytics. This core capability is focused on creating actionable insights that drive profitable growth. With the use of Data & Analytics, it can uncover patterns of customer behavior, relevant social media influencers, and channel preferences. It is useful in personalizing propositions, channels, marketing communication, and the experiences offered to customers.
Digital Transformation. The sixth core capability, this is the core capability that can power new ways to engage customers, optimize operations, and transform products. Digital Transformation is delivering the right customer and digital technology. With the advent of virtual reality, augmented reality headsets, the Internet of Things, AI, and cognitive computing, it has changed the way customer-centric companies engage customers. Digital Transformation is not an overnight event. This is a series of incremental steps, each delivering a concrete business advantage.
Developing the 6 Core Capabilities is no easy task. It can be pretty challenging. Companies need to have a good handle of its key challenges and the right approaches to mastering the 6 Core Capabilities. When this is achieved, the high road to global competitiveness is achieved.
Interested in gaining more understanding of these 6 core Capabilities of a Customer-centric Organization? You can learn more and download an editable PowerPoint about the 6 Core Capabilities of a Customer-centric Organization here on the Flevy documents marketplace. There is a series of 3 presentations – Part I, Part II, and Part III that discusses all 6 Core Capabilities.
Are you a management consultant?
You can download this and hundreds of other consulting frameworks and consulting training guides from the FlevyPro library.
Subscribe to our Newsletter

PowerPointing Templates

Error: Twitter did not respond. Please wait a few minutes and refresh this page.