Currently viewing the tag: "Customer Engagement"
Product Managers are responsible for defining the features or functions of a Product and for overseeing the development of the Product.  The role of Product Managers spans many activities from developing Product Strategy to tactical plan and can vary based on the organizational structure of the organization.
Typically, Product Leaders are involved with the entire Product Lifecycle.  However, the Product Management's primary focus is on driving New Product Development.  To successfully execute these roles, it's important for Product Management to collect and synthesize proper, relevant data to make informed Product decisions.
Product Managers need to evaluate 10 categories of Key Performance Indicators (KPIs) to determine the most appropriate KPIs relevant to their work:
Product Stickiness
Product Usage
Feature Adoption
Feature Retention
Leading Indicators
Top Feature Requests
Product Delivery Predictability
Product Bugs
Product Speed and Reliability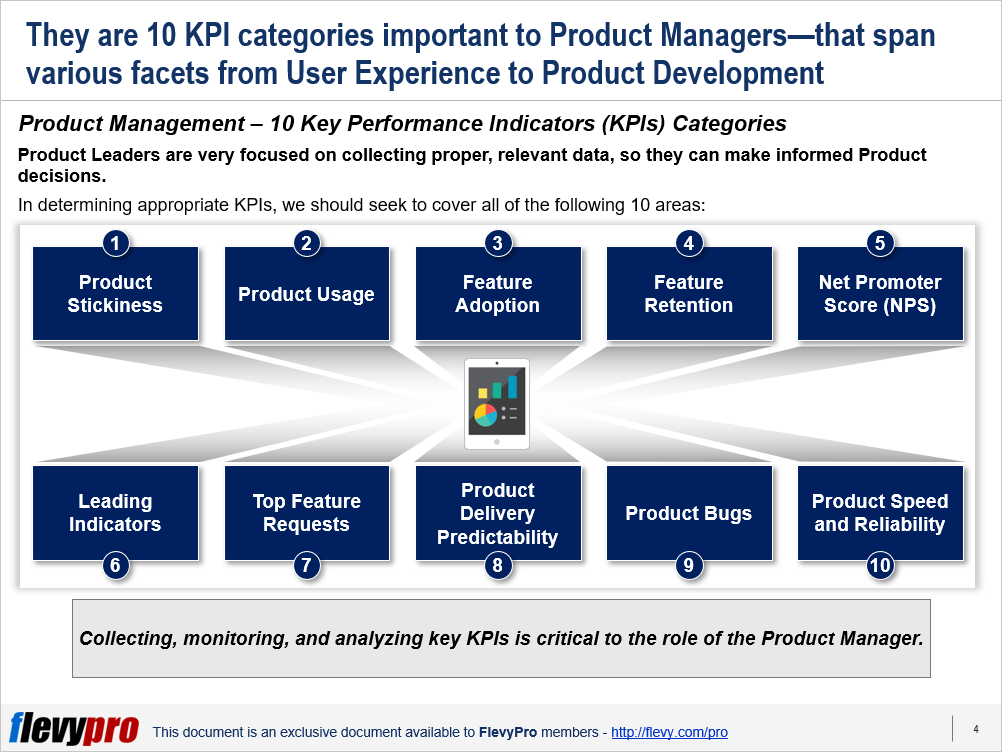 Let's discuss these Product Management KPIs in a bit detail.
Product Stickiness
KPIs around Product Stickiness determine whether users are re-engaging with our product.  If a product is successful, it exhibit "stickiness."  That means users don't just sign up and forget about it.  They continuously live inside the product, such that it becomes part of their daily routine.  A good product should not long attract new users, but to also continuously re-engage with its users.
Product Stickiness is often measured by taking the ratio of our Daily Active Users (DAU) to Monthly Active Users (MAU): i.e., DAU/MAU.  This metric calculates the percentage of our monthly users who engage with our product on a daily basis.
Product Usage
It is inevitable that not all features of a product will be utilized the same.  Some features are more heavily used, whereas others are not.  The only way to know what product features are important to users is by measuring how our product is being used.  Measuring user engagement across the product allows us to answer what features should we enhance, which ones to eliminate, and which features to promote to increase users awareness of the product functionality.
Product usage is measured by using 3 key metrics—Breadth: refers to the number of active users for a given client within the last 90 days.  Depth: Captures whether users are using key features that make the product sticky.  Frequency: e.g., number of logins across all devices within the last 90 days.
Feature Adoption
These KPIs seek to understand and set feature adoption goals.  Key question to clarify these KPIs is whether users are adopting the newly released features.  Feature adoption data of recent feature launches is critical to determine appropriate feature adoption goals.  It is important to look at feature adoption at both the user level and account level.  For instance, different customer groups with an account may exhibit different levels of adoption for different feature sets.
The key metric to measure feature adoption is the percentage of users using the feature.  This should be evaluated across multiple features on a timescale (typically for at least 30 days following the feature release).
Feature Retention
Feature retention KPIs reveal true adoption of features vs. the initial promotion-driven adoption.  Feature Adoption seeks to measure initial use of a feature, whereas Feature Retention seeks to measure the long-term, persistent usage of a feature.  Measuring feature retention helps us identify at-risk users who have started to disengage from the product after the initial promotion is over.  We can then take action to re-engage these users.
Feature retention can be measured across different customer segments, e.g., by pricing (Free vs. Paid), by organization size (Startups vs. Enterprises), by position (Analyst vs. Manager).
Interested in learning more about the other KPIs critical to manage and develop a Product Portfolio?  You can download an editable PowerPoint presentation on Product Management KPIs here on the Flevy documents marketplace.
Do You Find Value in This Framework?
You can download in-depth presentations on this and hundreds of similar business frameworks from the FlevyPro Library. FlevyPro is trusted and utilized by 1000s of management consultants and corporate executives. Here's what some have to say:
"My FlevyPro subscription provides me with the most popular frameworks and decks in demand in today's market. They not only augment my existing consulting and coaching offerings and delivery, but also keep me abreast of the latest trends, inspire new products and service offerings for my practice, and educate me in a fraction of the time and money of other solutions. I strongly recommend FlevyPro to any consultant serious about success."

– Bill Branson, Founder at Strategic Business Architects
"As a niche strategic consulting firm, Flevy and FlevyPro frameworks and documents are an on-going reference to help us structure our findings and recommendations to our clients as well as improve their clarity, strength, and visual power. For us, it is an invaluable resource to increase our impact and value."

– David Coloma, Consulting Area Manager at Cynertia Consulting
"As a small business owner, the resource material available from FlevyPro has proven to be invaluable. The ability to search for material on demand based our project events and client requirements was great for me and proved very beneficial to my clients. Importantly, being able to easily edit and tailor the material for specific purposes helped us to make presentations, knowledge sharing, and toolkit development, which formed part of the overall program collateral. While FlevyPro contains resource material that any consultancy, project or delivery firm must have, it is an essential part of a small firm or independent consultant's toolbox."

– Michael Duff, Managing Director at Change Strategy (UK)
Product managers, marketers, and designers are often confused as to what they should do to increase the chances of customers' engagement and uptake of their offering.  Changing individuals' behavior to enhance engagement, productivity, innovation, and happiness isn't straightforward.
It takes a lot of effort, time, and resources to execute initiatives aimed at transforming behaviors and Organizational Culture.  However, most people aren't interested in changing and like the status quo to prevail.  This is where Behavioral Economics can help to know how customers behave, interpret their decision-making methods, and create solutions targeting those behaviors.
Product designers and marketers aspiring to drive acceptance of their products can make use of the 3 Bs of Behavioral Change to change understand consumer behavior. The 3 Bs of Behavioral Change classify the 3 elements essential to change behaviors, i.e.:
Behavior
Barriers
Benefits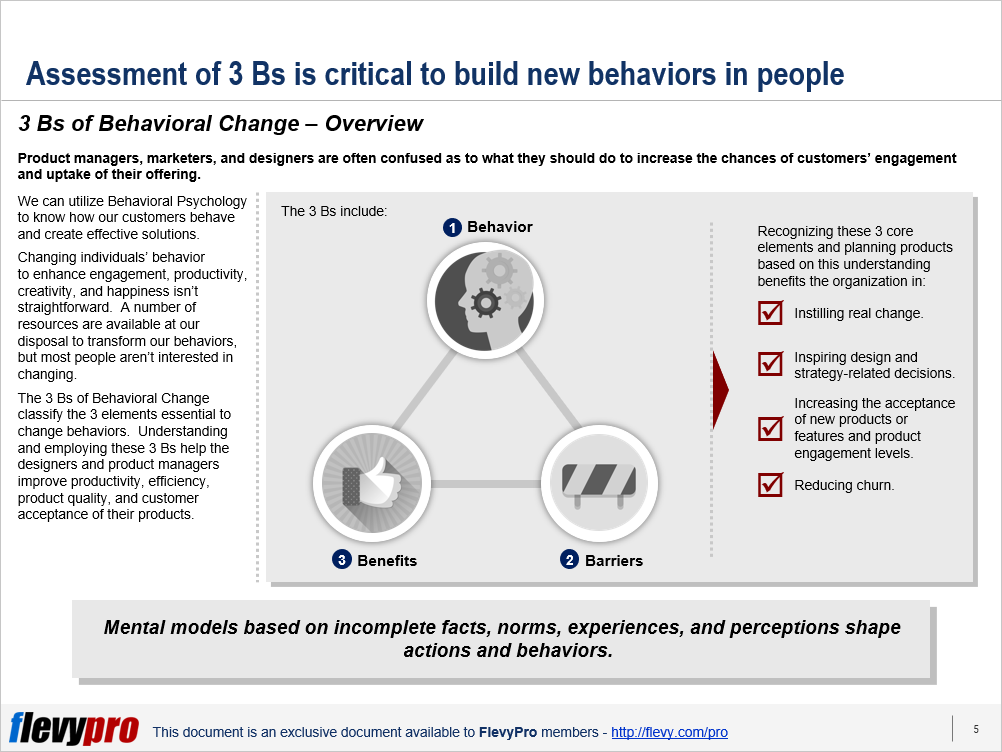 Understanding and employing these 3 Bs helps the designers and product managers instill change, inspire design and strategy-related decisions, increase the acceptance of new products / features and product engagement levels, and build new behaviors in people.
Let's discuss the first 2 elements in detail.
Behavior
People have an inherent tendency to maintain the status quo.  Behavioral change necessitates:
Identifying individuals' existing attitudes.
Assessing and tackling psychological biases affecting individuals' decisions.
Carefully tracking behaviors that need to be changed.
Ascertaining the most important desired behavior and exact action that is imperative to drive results.
Getting the buy-in from all stakeholders on the key behavior.
Deciding if the behavior should be permanent or transient.
Examples of key actions to change behaviors include spending 30 minutes thrice weekly doing cardio exercises and consuming salad at lunch daily to stay healthy.
Barriers
Understanding the barriers in behavior adoption assists in creating effective solutions to improve uptake of key behavior.  The second step to induce behavioral change is to reduce barriers in its adoption.
Every decision that a product user has to make, no matter how negligible, increases resistance in the likelihood of completing a specific behavior.
These actions and decisions an individual has to take in order to achieve the desired behavior create points of friction in embracing key behaviors.  For instance, people often find it difficult to decide when presented with complex choices. They tend to procrastinate or become a victim of decision paralysis.
Removing the points of friction and resistance from any key behavior necessitates documenting and streamlining all decisions. The path of least resistance leads to desired key behaviors.
Examples of barriers include the thought process involved in the decision to select where to have dinner.  This thought process is, in fact, a psychological barrier in actually going out and having dinner.  Likewise, the decision to walk or drive to a restaurant is a logistical barrier and a point of friction that warrants making a decision.
To eliminate these barriers, we can either remove barriers entirely or just simplify the decision.  For instance, elimination of a non-critical, open text field from a sign-up form—that probed the users about their business, which requires significant time to think and answer—can increase page-over-page conversion.  In case choices are helpful for the users and cannot be eliminated, then it is best to simplify the decision process by giving fewer options instead of many, or by suggesting "recommended option" to the users.
Interested in learning more about the details of the 3 Bs of Behavioral Change?  You can download an editable PowerPoint presentation on 3 Bs of Behavioral Change here on the Flevy documents marketplace.
Are you a Management Consultant?
You can download this and hundreds of other consulting frameworks and consulting training guides from the FlevyPro library.
Subscribe to our Newsletter

PowerPointing Templates

Error: Twitter did not respond. Please wait a few minutes and refresh this page.