Currently viewing the tag: "Customer Journeys"
"All you need is your own imagination
So use it that's what it's for (that's what it's for)
Go inside, for your finest inspiration
Your dreams will open the door (open up the door)" Madonna
Madonna is a perfect example of reinvention. A very versatile actress, Madonna has the ability to adapt to new trends; someone that can send a lesson to companies struggling with their own digital revolution.
In this digital age, change is rewarded while being static is being punished. Companies must be open to Digital Transformation; a radical reinvention to find new, significant, and sustainable sources of revenue.  Incremental adjustments or building something new outside of the core business can provide real benefits and, in many cases, are a crucial first step for a digital transformation. But if these initiatives do not lead to more profound changes to the core business and avoid the real work of re-architecting how the business makes money, the benefits can be fleeting and too insignificant to avert a steady march to oblivion.
Discovering Digital Reinvention
Reinvention is a rethinking of the business itself.  Based on a Digital Quotient Research, reinvention requires significant commitment. First, the investment must be aligned closely with strategy at a sufficient scale. And second, digital leaders must have a high threshold for risk and must be willing to make bold decisions.
Digital Reinvention is not a throw-it-all-out approach. If you look at Apple when it moved from a computer manufacturer to music and lifestyle brand, it has reinvented itself while continuing to build computers.  Likewise, this is the case with John Deere.  John Deere is the brand name of Deere & Company that manufactures agricultural, construction, forestry machinery, and others. It continued to sell tractors and farm equipment while reinventing itself into a creator of online services for farmers.
Digital Reinvention is an innovative approach to laying the foundation for future growth while continually pushing improvement targets. Digital Reinvention is Business Transformation in action.
Approaching Digital Reinvention
Digital Reinvention will put new demands on leadership. Hence, an organization must have a strategic approach to Digital Reinvention: The 4Ds of Digital Reinvention.
Discover. The primary goal of Discover is to develop a tight business case for change based on facts. Organizations must discover what your digital vision is based on where the value is. This will shape your digital ambition, strategy, and business case.
Design. Designing, creating, and prototyping breakthrough experiences is the main focus of Design. It is reinventing and developing new capabilities and breakthrough Customer Journeys.
Deliver. This is the third phase where organizations need to gather speed and scale necessary for reinvention. Its primary focus is to deliver and develop a network of partners who can rapidly scale your ambition. There is a need to activate an ecosystem to rapidly deliver at scale.
De-risk. The 4th D, it is focused on structuring the change program, resources, and commercial model to reduce operational and financial risk. It is essential for senior leaders to focus on structural and organizational issues that can hamper the organization's ability to manage cyber risk.
Having a good handle of the 4Ds of Digital Reinvention will prepare leaders towards Digital Transformation and new challenges.  It will be able to come up with the right answers to key questions that will arise in preparation for Digital Reinvention. Coming up with the proper answers to these crucial questions can guide companies to reinvent themselves ad stay in the game.
Interested in gaining more understanding of Digital Reinvention? You can learn more and download an editable PowerPoint about Digital Reinvention here on the Flevy documents marketplace.
Are you a management consultant?
You can download this and hundreds of other consulting frameworks and consulting training guides from the FlevyPro library.
With startups ready to disrupt traditional players, established firms need to form an even stronger bond with their customers instead of waiting for customers to reach out to them.
The traditional Customer Experience model—referred to as the "acquire what we make" model—is characterized by occasional interaction between the companies and the customers, once a customer ascertains her/his needs and looks for products or services to fulfill them.  In this model, companies do all they can to offer quality products or services at a competitive price, while their marketing and operations are based only on brief engagement with the customers.  Because of the occasional connection with the customer in this approach, the vendor has little knowledge of the difficulties a customer faces to procure a product or service.
With each passing day the tactics that organizations use to connect with their customers are undergoing rapid transformation.  Technology and customized digital interactions provide companies the means to build deeper relationships with customers.  Organizations pursuing Customer-centric Design, today, are addressing customers' needs the moment they occur—or even before that by virtue of "Connected Customer Strategies."
Connected Customer Strategies call for the companies to maintain customer relationships round the clock (24×7).  These strategies demand from the organizations to develop an assortment of new capabilities (e.g., invest in Big data and Analytics), connect with the customers on a regular basis, track their activities, and offer customized experiences and offerings.  These strategies are not about using modern technology, rather the methods companies should adopt by using technology in creating delightful experiences and long-standing associations with the customers.
There are 4 distinct Connected Customer Strategies that are instrumental in developing exceptional Customer Journeys:
Fast Response
Personalized Recommendations
Proactive Recommendations
Automatic Execution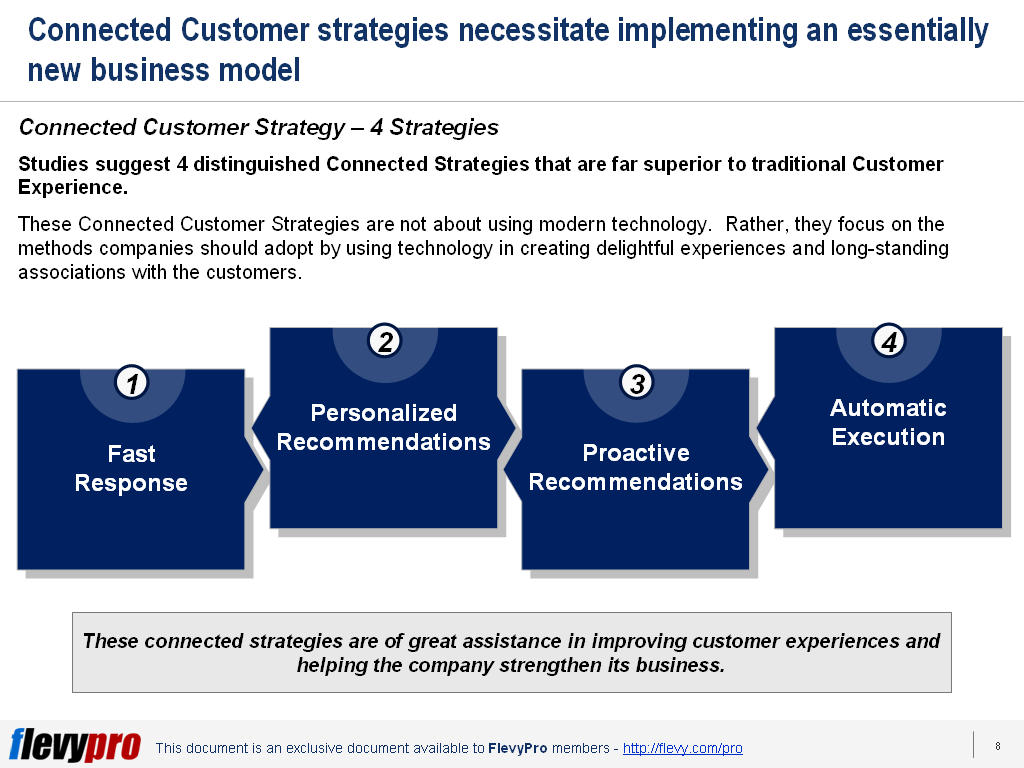 Let's discuss the first 2 strategies in detail now.
Fast Response
Organizational Leadership needs to carefully consider adopting the most suitable connected customer strategy.  The Fast Response strategy, as the name suggests, is about prompt and flawless delivery of required services and products to the customers.  To adopt Fast Response strategy, organizations need to ascertain the customer requirements carefully and simplify their purchasing process.
The core capabilities needed to implement this strategy include prompt delivery, minimal friction, flexibility, and precise execution.  This strategy is appropriate for knowledgeable yet authoritative customers who dislike disclosing their personal information.  Using this strategy, a prompt response to a customer needing replacement of a product should be a simple yet accurate, couple-of-click online ordering process and the order should be delivered a few hours later.  The aim of the Fast Response strategy is to reduce the amount of time and energy the customers spend on procurement as much as possible.
Personalized Recommendations
Organizations using Personalized Recommendations strategy help customers identify their needs by presenting various options to them.  The strategy involves active involvement of firms in assisting their customers by offering a menu of customized offerings—as soon as the customers have finalized their requirement but before their decision on how to fulfill it.
This strategy is suitable for customers who are willing to share their data with the company and value advice but still hold the final say.  With the Personalized Recommendations strategy at work, the journey for a customer needing a product replacement could simply involve the customer's visiting a company's website, automatic suggestions to customer about the correct product based on her/his prior shopping history, the customer ordering the suggested product, and receiving the delivery a few hours later.
Interested in learning more about the other Connected Customer Strategies?  You can download an editable PowerPoint on Customer Experience: Connected Customer Strategies here on the Flevy documents marketplace.
Are you a Management Consultant?
You can download this and hundreds of other consulting frameworks and consulting training guides from the FlevyPro library.
Businesses are getting increasingly complex and so are customers' expectations.  Digital organizations are digitizing their critical Customer Journeys at scale to outperform competition.  These organizations are using Digitization to create streamlined journeys, which result in more agile IT units, quick delivery of new products, and improved Customer Experiences and Engagement.
But before embarking on digitization and streamlining Customer Journeys, organizations need to transform their products, processes, legacy systems and technology, and culture to become truly digital businesses.
Streamlining multiple Customer Journeys concurrently requires integration of existing systems, building new capabilities, and deploying existing competences in a different way.  Specifically, it entails embracing the following 5-phase Omni-channel Customer Journey Design approach that is critical for improving Customer Experiences and accomplishing higher Customer Engagement:
Develop Enterprise Customer Experience Story
Prioritize Technology Transformation Projects
Develop a Flexible Ecosystem of Technologies and Platforms
Adapt Principles of Strong, Agile, and Lean
Be Adaptive in Performance Management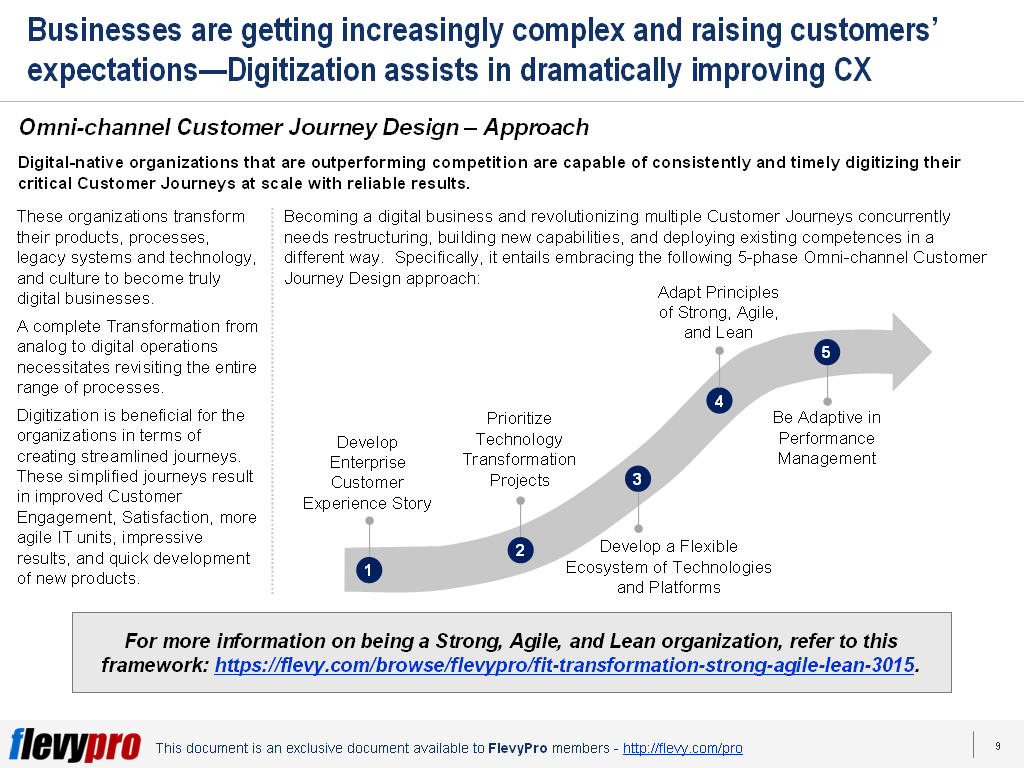 Now, let's talk about the first 3 phases of the Omni-channel Customer Journey Design approach.
Phase 1 – Develop Enterprise Customer Experience Story
Creating a Customer Experience Story calls for setting up a Customer Experience team.  The Customer Experience team begins by identifying the critical factors and main concerns in their customer relationships.  Around these themes, they, then, carefully outline the experiences customers may come across during each and every interaction they have with the company in the form of a story.  The Enterprise Customer Experience Story is unique to every company and provides a summary of the strategy, brand, and positioning in workable terms.
Next, the team identifies the journeys that are able to effectively deliver the factors and features critical for the customers utilizing digitization.  Each journey should be critically analyzed to assess its significance, cost advantages associated with scaling it, the governance and technical impediments, and the availability of adequate financial and leadership resources to manage it.  Thorough analysis of Customer Journeys yields a plan of action that aids in creating prioritized journeys.
Phase 2 – Prioritize Technology Transformation Projects
IT Transformation is typically the most challenging and resource hungry among other change initiatives.  For instance, designing a mobile app is simple, however, it's the linkage of the app to all the channels customers use and its integration with the back-end systems that is complicated.
To undertake Digitization, companies should avoid digitizing each journey separately—as it fosters internal silos—and investing heavily in Internet or mobile-channel IT.  A better approach for the organizations is to rather prioritize the IT initiatives to enable smooth transformation of IT architecture with the addition of more customer journeys.  Standard IT components are reusable across different journeys.
Phase 3 – Develop a Flexible Ecosystem of Technologies and Platforms
An important consideration for digitizing core journeys and scaling digitization is to link your IT systems with the technologies and platforms working outside the firm.  These external systems provide the organization several advantages, including quick access to new customers, data pools, and capabilities.
Next-generation integration architecture should be designed in such a way that it should support open standards, dynamic interaction models, and curtail security threats.  Progress in cloud computing and technology infrastructure has made quick and easy access, management, and operations of infrastructure resources possible—including networks, servers, databases, programs, and services.  The skills needed to manage these technology ecosystems include DevOps experts to supervise integration of development and operations, enterprise architects, cloud engineers to manage software and cloud-computing, data scientists, and automation engineers.
Interested in learning more about the other key phases of the Customer Journey Design approach?  You can download an editable PowerPoint on Omni-channel Customer Journey here on the Flevy documents marketplace.
Are you a Management Consultant?
You can download this and hundreds of other consulting frameworks and consulting training guides from the FlevyPro library.
Subscribe to our Newsletter

PowerPointing Templates

Error: Twitter did not respond. Please wait a few minutes and refresh this page.