Currently viewing the tag: "Leadership Development"
The introduction of emerging, digital technologies has ushered in the Fourth Industrial Revolution.  To keep the competitive advantage in this era of Digital Transformation, leveraging contemporary technology is an absolute necessity.  Using cutting-edge technology means not just augmenting, but in fact, revamping the whole Quality outlook.
Quality 4.0 is the complimentary Quality approach to the Industry 4.0 era.   Quality 4.0 is about transforming and improving Organizational Culture, collaboration, competency, and Leadership Development among other things through the application of technology.
Quality 4.0 is characterized by:
Transforming and improving culture, collaboration, competency, and leadership through the application of technology.
Digital Transformation of Management Systems and compliance.
Enabling technology and processes necessary to maximize value, resolve customary Quality impediments, and provide innovative solutions.
Quality 4.0 is not just about Digitalization, but more importantly about the impact of that Digitalization on Quality technology, processes, and people.
Companies can use the 11 pillars of Quality 4.0 Framework to identify how the existing capabilities and initiatives can be transformed and then educate, plan, and act accordingly.  The framework uses the traditional Quality methods to build upon and improve them.  The 11 pillars of Quality 4.0 include:
Data
Analytics
Connectivity
Collaboration
App Development
Scalability
Management Systems
Compliance
Culture
Leadership
Competency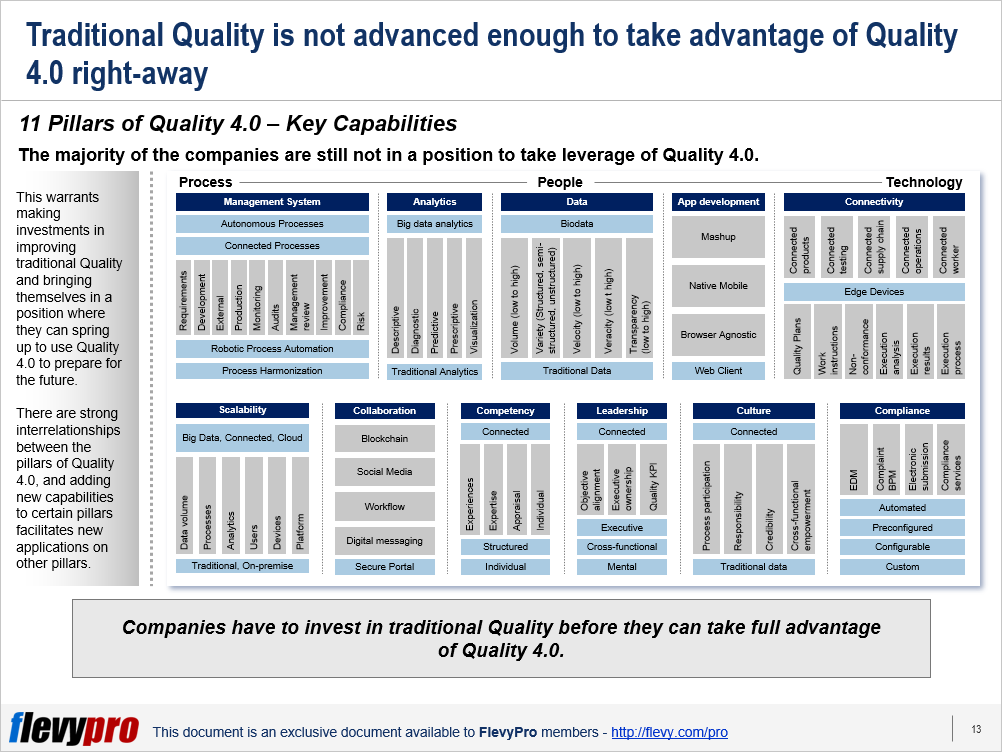 The majority of the companies are still not in a position to take leverage of Quality 4.0.  This warrants making investments in improving traditional Quality and bringing themselves in a position where they can spring up to use Quality 4.0 to prepare for the future.
There are strong interrelationships between the pillars of Quality 4.0, and adding new capabilities to certain pillars facilitates new applications on other pillars.  Let us delve a little deeper into a few of these pillars
1. Data and 2. Analytics
Data and Analytics form the first 2 pillars.  Data is key to informed decision making.  Most companies are still using fragmented data while the innovating market leaders have progressed to taking leverage of Big Data.  Data can be better understood by understanding its 5 components:  Volume, Variety, Velocity, Veracity, and Transparency.
Analytics help reveal the insights contained within raw data.  Correct metrics are key to uncovering correlations and patterns—meaningful information.  Big Data Analytics using Machine Learning and Artificial Intelligence is beneficial if the Analytics Framework—comprising Descriptive, Diagnostic, Predictive, and Prescriptive Analytics—is understood clearly.
3. Connectivity
Connectivity encompasses the link between Business Information Technology—e.g., Enterprise Quality Management Systems (EQMS), Product Life-cycle Management (PLM), Enterprise Resource Planning—and Operational Technology that is used in Manufacturing, Labs, and Services.  Connectivity is achieved through abundant and inexpensive sensors providing real-time feedback from Connected People, products, edge devices, and processes.
4. Scalability
Scalability creates uniformity in Quality.  It is the ability to harmonize processes, best practices, competencies, and lessons learnt across the organization, be it global.  Cloud Computing has played a pivotal role in harnessing scalability by providing Software as a Service (SaaS), Infrastructure as a Service (IaaS), Platform as a Solution (PaaS), and connection of databases.
The reality of the future is Quality 4.0.  It is being adopted very swiftly.  Those who remain unfamiliar with it or are slow to adopt run the risk of being marginalized very quickly.
Interested in learning more about Quality 4.0? You can download an editable PowerPoint on Quality 4.0 here on the Flevy documents marketplace.
Do You Find Value in This Framework?
You can download in-depth presentations on this and hundreds of similar business frameworks from the FlevyPro Library.  FlevyPro is trusted and utilized by 1000s of management consultants and corporate executives. Here's what some have to say:
"My FlevyPro subscription provides me with the most popular frameworks and decks in demand in today's market. They not only augment my existing consulting and coaching offerings and delivery, but also keep me abreast of the latest trends, inspire new products and service offerings for my practice, and educate me in a fraction of the time and money of other solutions. I strongly recommend FlevyPro to any consultant serious about success."

– Bill Branson, Founder at Strategic Business Architects
"As a niche strategic consulting firm, Flevy and FlevyPro frameworks and documents are an on-going reference to help us structure our findings and recommendations to our clients as well as improve their clarity, strength, and visual power. For us, it is an invaluable resource to increase our impact and value."

– David Coloma, Consulting Area Manager at Cynertia Consulting
"FlevyPro has been a brilliant resource for me, as an independent growth consultant, to access a vast knowledge bank of presentations to support my work with clients. In terms of RoI, the value I received from the very first presentation I downloaded paid for my subscription many times over! The quality of the decks available allows me to punch way above my weight – it's like having the resources of a Big 4 consultancy at your fingertips at a microscopic fraction of the overhead."

– Roderick Cameron, Founding Partner at SGFE Ltd
For Post-merger Integration (PMI) to be successful, it is critical that we have clearly defined, appropriate, and comprehensive roles and responsibilities.
Post-merger Integration is a highly complex process. It requires swift action as well as running the core business activities simultaneously.  There is no one-size-fits-all approach to a successful PMI Process. However, careful planning focusing on the strategic objectives of the deal and the identification and capturing of synergies will help maximize deal value.
While it may be a highly complex project, a successful PMI may be achieved and greater deal value can be expected. Right from Day One of PMI, it is already important that the Buyer and Target have the right people in place.  The success of the integration project depends on leadership, project management capabilities, and selection of the right personnel to the work in teams/streams.
Roles & Responsibilities in PMI: Why the Need for Emphasis
So, what are the requisite PMI roles and responsibilities?  Clearly defined roles and responsibilities are a fundamental factor that can make a big difference between gaining deal success or failure.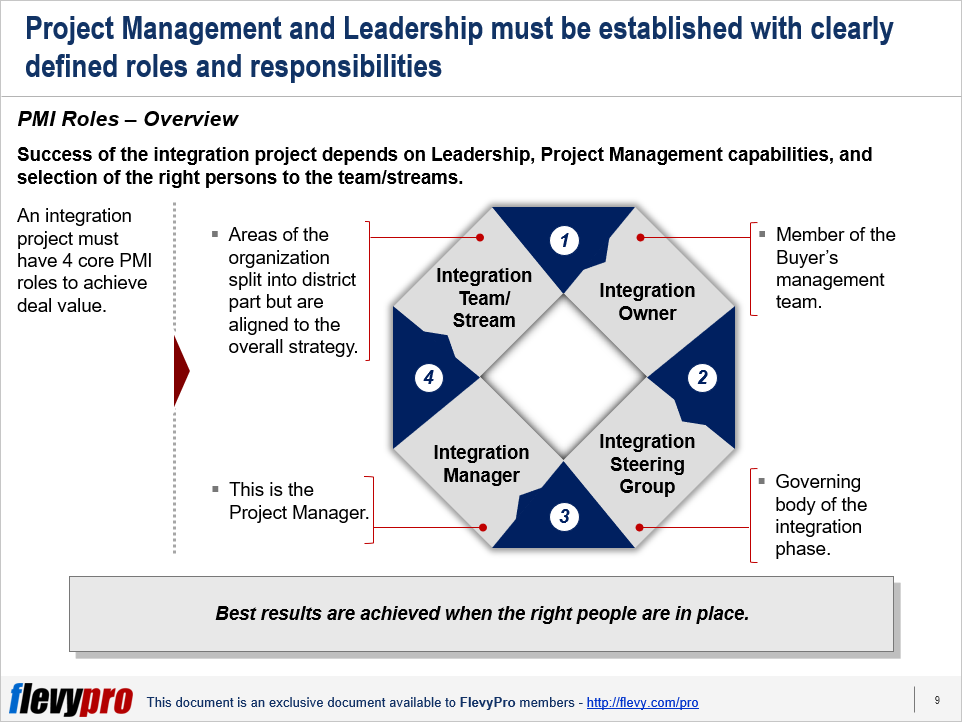 The Integration owner, together with the Integration Steering Group plays a critical role in defining the integration path of the organization. In Leadership Development, their role in the First 100 Days is a fundamental factor in achieving success or failure.
Integration Owner. The Integration Owner is a member of the Buyer's management team. He/she is basically the owner of the integration phase. It is the responsibility of the Integration Owner to oversee the integration phase, as well as the transaction/purchase phase.
Integration Steering Group. The Integration Steering Group is the governing body of the integration phase. The specific role of the Integration Steering Group is to supervise the work of the Integration Project Manager and the Integration Team.
Integration Manager. The Integration Manager is the Project Manager. He/she is the one in charge of the day-to-day management of the integration. If the Integration Manager has little or no project management experience then active hands-on support is required from the M&A Project owner.
Integration Team/Stream. The Integration Team/Stream consists of an Integration Manager and its members. Streams are areas of the organization split into district parts but which are aligned to the overall strategy. Integration streams are often decided after the first appointment of the Integration Manager. Each stream is often headed by the Integration Stream Manager.
The Critical Role of the Integration Stream Manager
The Integration Stream Managers are selected from among the Buyer's managers. They play a vital role as they are responsible for the development and implementation of detailed plans.
The Integration Stream Managers act as the team builder and introduce the team members to each other.  They ensure that the team members have all the information and tools needed for the task. They clarify goals, targets, timetables, reporting, and other important matters relative to the integration.  As Integration Stream Managers, they are expected to ensure that everyone in the team understands the goals the same way and is committed to making it happen.
In certain circumstances, it is possible that the Integration Stream Manager may also be Target's manager.  This happens when Target's manager has specialized knowledge or attributes necessary for the integration.
Undertaking the Post-merger Integration Process the right way can maximize deal value. On the other hand, it can result in the greatest potential loss of value when not done right. Being able to select the right people is the key.
Interested in gaining more understanding of the various Roles and Responsibilities within PMI? You can learn more and download an editable PowerPoint about Post-merger Integration (PMI): Roles & Responsibilities here on the Flevy documents marketplace.
Are you a management consultant?
You can download this and hundreds of other consulting frameworks and consulting training guides from the FlevyPro library.
"Leadership is not about titles, positions, or flowcharts. It is about one life influencing another." – John C. Maxwell
Many people in a position of authority struggle with their Leadership Presence. They have adopted the kind of persona that they assume a leader is supposed to have: a TED Talk cadence, authoritative body language, studied informality, and a package of carefully curated slides. Yet, in adopting this stance it showed that you are not authentic and people will assume your message is not either.
The biggest challenge of leaders and aspiring leaders is to inspire and motivate people to take the right action on behalf of themselves and the group. This is the challenge of Leadership Development today. Leadership Presence has become the face of today's leadership. An authentic leader does not mean just "winging it" or saying whatever you feel. Being an authentic leader now requires an ability to transform impulse into insights, articulate these insights to fulfill a purpose, and to build the needed relationship. Authentic leadership must be able to build trust. And an authentic leader must have Leadership Presence.
What is Leadership Presence?
Leadership Presence is the ability to communicate what needs to be said in a way that inspires people to join their leaders.
Leaders or aspiring leaders at any level must inspire and motivate people so that they can take the right action on behalf of themselves and their group. Hence, it is important that a leader must have a strong presence and not just at conferences but in every interaction. As a leader, every aspect of your presence – your physical self, your intellect, your voice, and your emotions – is intimately bound up with your message.
Sharpening our Core: The 10 Core Principles of Leadership Presence
To have Leadership Presence, a leader needs to inculcate within themselves the 10 Core Principles of Leadership Presence. These are the principles that will enable the authentic leader to raise the bar of excellence when it comes to inspiring and motivating people to reach their greatest potential.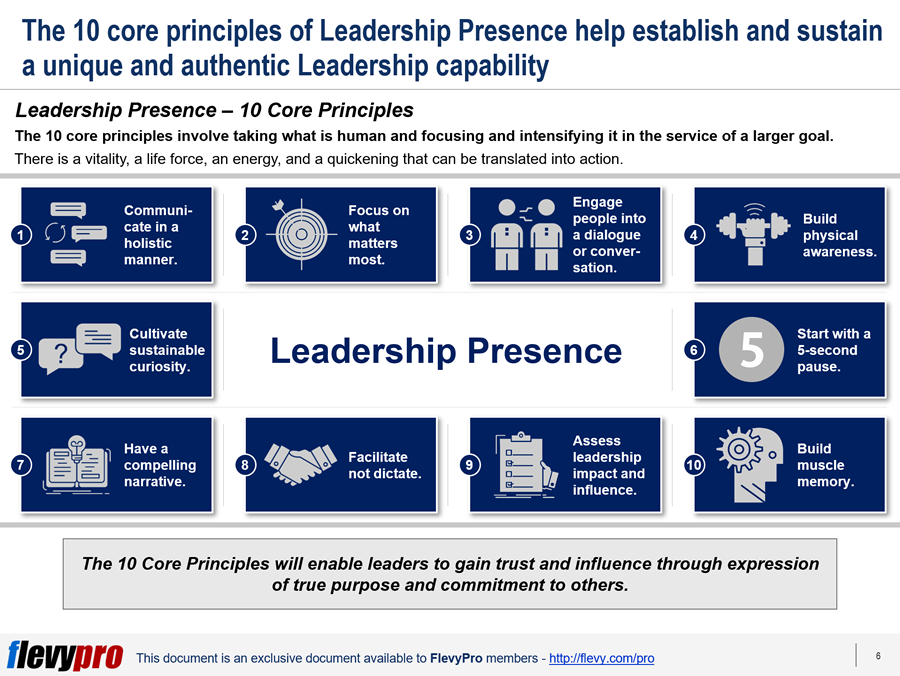 There are 10 Core Principles. Let us take a look at 2 of the 10 Core Principles.
Communicate in a holistic manner. Principle 1 is focused on forming a single impression of the leader and their message. To communicate in a holistic manner, one needs to think of the intellect, emotions, and body as one. Often, people evaluate integrity and veracity together with the person's posture, tone of voice, and mood. Never has it happened that people gauge a person only on one specific aspect; often, it is the entirety of the whole being. This is why there is a need to emphasize the importance of communicating in a holistic manner. When a leader communicates in a holistic manner, this will increase the recognition of emotions, reasoning, and actions. It will also lead to more honesty and authenticity. You can just imagine the impact it will have on your people.
Focus on what matters most. The second principle is focusing on what matters most. It is speaking only what is important. Focusing on what is important means focusing on what needs to be accomplished and what the listeners care about. When leaders start focusing on what matters most, there will be a clearer conviction, willingness to invest time and resources, and greater aspiration for others.
Achieving Leadership Presence: Putting the Principles into Action
Achieving Leadership Presence takes a conscious effort to change and take command of what is important. Leadership Presence is achieved once we start putting the 10 Core Principles into action. Principle 1 requires recognizing connections among our emotions, reasoning, and actions. We need to work out these elements to be able to improve the overall impact. Getting a coach to help us go through the process will help a lot.
Adapting Principle 2 requires figuring out what we care about and why. We need to think about its connection to our purpose and our listeners. And once we do this, we need to commit to it wholeheartedly.
Once we learn Principles 3 to 10, this will further sharpen our leadership capability and build within us the ability to establish a unique sense of Leadership that is unique, authentic, and inspiring.
Interested in gaining more understanding of Leadership Presence? You can learn more and download an editable PowerPoint about Leadership Presence here on the Flevy documents marketplace.
Are you a management consultant?
You can download this and hundreds of other consulting frameworks and consulting training guides from the FlevyPro library.
Organizations are continually searching for innovative ways of enhancing competitiveness. This is brought about by evolving external factors
such as changing demographics, globalization, and technology. Because of changing dynamics, it has required managers to rapidly rethink and retool their organizational management strategies.
Coming up with the appropriate strategies calls for an increasing need for organizational diagnosis in developing and maintaining a competitive advantage. Researchers believe that in conducting organizational diagnosis, organizational effectiveness must be viewed from a systems perspective using a multidimensional approach in assessing the factors affecting enterprise performance management.
At this point wherein the role of organizational climate in business performance has become significant, there is a need for a business model that is most influential. To date, the Burke-Litwin Change Model is the best known and most influential model suitable when it comes to organizational climate.
A Quick Look at Burke-Litwin Change Model
The Burke-Litwin Change Model is seen as a conceptual framework that can best describe the relationships between different features of the organization, as well as its context and effectiveness.
According to Burke and Litwin (1992), Change Management models are not meant to be prescriptive. They are meant to provide a means to diagnose, plan, and manage change. Using the Burke-Litwin Change Model will provide organizations an effective diagnostic tool to improve overall organizational performance. It is a useful model for understanding the organizational change process.
The Burke-Litwin Change Model, as a change management tool, assumes 12 organizational elements that determine a change within an organization.
The Burke-Litwin Change Model 12 Drivers
The 12 key drivers of the Burke-Litwin Change Model interact with and affect each other. The change in the 12 key drivers brings about a series of changes in the structure, practices, and the system of the organization.
The 12 key drivers have been organized based on their specific roles within the organization.
Input.
External Environment.  The External Environment is the external influences important fo organizational changes. These are the economy, customer behavior, competition, politics, and legislation.
Throughput: Transformational Drivers. Transformational Drivers are those that make up the fundamental structure of an organization. It relates to the organization as a whole. There are 3 Transformational Drivers.
The 3 key drivers have over-riding importance of dealing with a change that is intended to share up "the way things are done around here."
Throughput: Transactional Drivers
Transactional drivers are drivers that are more easily changed, but rarely have the same kind of impact on organization-wide performance. This concerns daily activities that take place in organizations and their mutual cohesion. There are 7 Transactional Drivers.
Structure
Systems
Management Practices
Work Climate
Task and Individual Skills
Individual Needs and Values
Motivation.
The Transactional Drivers can affect performance.  However, performance can only be long-lasting if these key drivers are aligned. The 7 key drivers are critical in their role of supporting the change process.
 Output
Individual and Organizational Performance is the 12th key driver. It is the outcome of the change.
The 12th Key Driver: The Individual and Organizational Performance
The only thing that is constant is change. As output changes, so does the input and the factors of change. Individual and Organizational Performance is the measure of the effectiveness of the change. It measures the performance levels of both the individual employee and on the departmental and organizational level.
Individual and Organizational Performance can be measured on the basis of turnover, productivity, quality requirements, efficiency, and customer satisfaction. This is the key driver that impacts on the external environment.
Interested in gaining more understanding of the Burke-Litwin Change Model? You can learn more and download an editable PowerPoint about the Burke-Litwin Change Model here on the Flevy documents marketplace.
Are you a management consultant?
You can download this and hundreds of other consulting frameworks and consulting training guides from the FlevyPro library.
Business Process Reengineering (BPR) can be a great success but it can also be a great failure.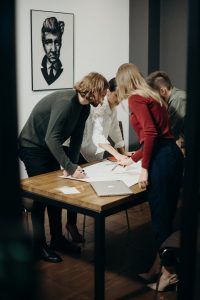 After months or years of careful redesign, organizations can achieve dramatic improvements in individual processes.  However, a paradoxical outcome has become almost a commonplace. Organizations suddenly find themselves watching the overall results decline. Process costs were reduced by 34% yet operating income stalls.  Claims process time cut by 44% yet profits drop. It seems that organizations are squandering management attention and other resources on projects that look like winners but fail to produce bottom-line results for the business unit as a whole.
Reengineering can actually deliver revolutionary process improvements and many organizations have been undertaking major reengineering effort.   However, like any major change program, a reengineering project can produce lasting results only if it is designed and implemented the right way.
 Implementing Business Process Reengineering
BPR implementation is a series of waves that can wash over the organization for years, leaving a system for continuous improvement. It must be undertaken with a clean slate approach to process design. Only then can companies avoid a classic reengineering pitfall of focusing on fixing the status quo.
Implementation of the Business Process Reengineering requires that new infrastructures are planned and built to support this Business Transformation. The full commitment of senior executives on its redesign and implementation must also be present to ensure the success of the reengineering project.
It is essential that organizations have a good understanding of the success factors, as well as root causes of failure.  While reengineering projects can succeed, it can also fail.  There are 4 practices that are the most damaging.
The 4 Root Causes of Failure
The root causes of failure remain a challenge for organizations.  These are 4 causes they must watch out for to achieve a successful BPR implementation.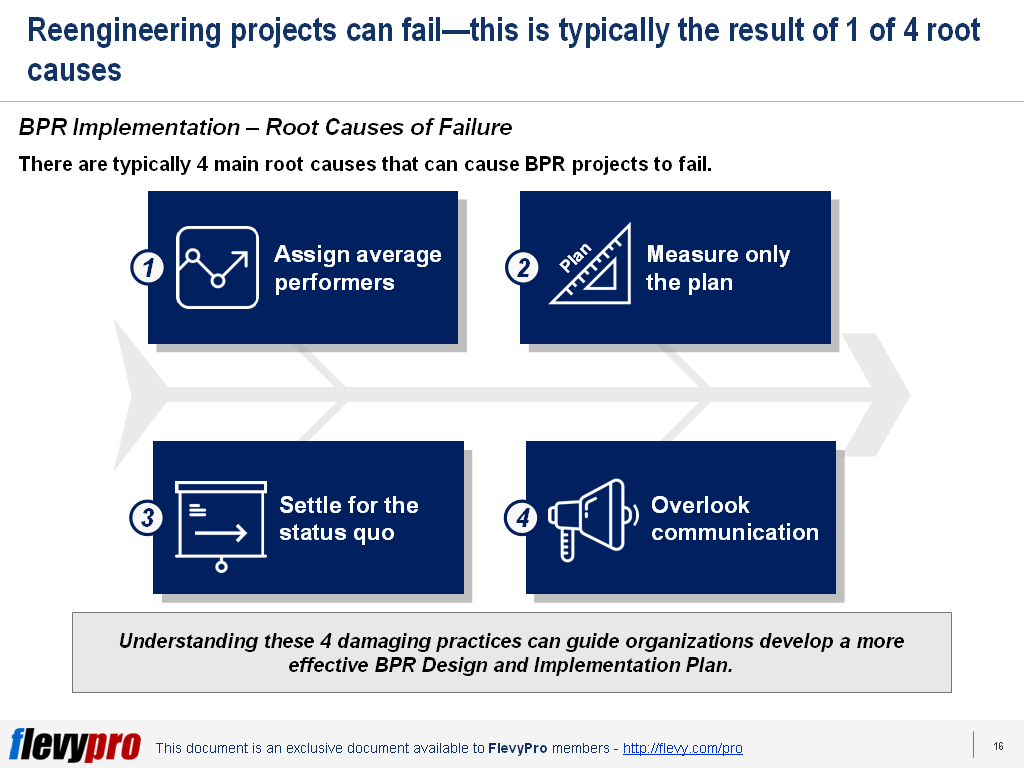 Assign average performers. This is the tendency of organizations to enlist average performers from headquarters. This often happens because of an existing belief that assigning top performers will affect the business unit's performance.
Measure only the plan. Measuring only the plan happens when there is a lack of a comprehensive measurement system.  The organization also fails to track whether the implementation is succeeding or failing.
Settle for the status quo. Settling for the status quo is a very deadly decision or reaction. When this happens, aspirations are never translated into reality. There exists the inability to think outside existing skill levels, organizational structure, or system constraints. Further contributing to this is the existence of political infighting on incentives and information technology during implementation. When this exists, often the decision is to maintain a status quo that could be debilitating to the organization.
Overlook communication. During BPR implementation, there is a tendency to overlook communication.  Probably due to a lack of proper understanding, the level of communication is underestimated during implementation. Often, communication is done using memos, speeches, or PR videos.  While these may have its purpose, at times these methods can be limiting.
BPR implementation requires a small group format where employees can give feedback and air their concerns.  This may be time-consuming but it is important. In fact, organizations must create a comprehensive communication program that uses a variety of methods of communication.  When this is undertaken, the chances of succeeding during the BPR implementation is high.
BPR implementation is most crucial.  Hence, organizations must have a keen eye, as well as strong leadership development and commitment, to pursue it despite its challenges. BPR implementation is a series of waves that can wash over the organization for years. Hence, a system of continuous improvement must be in place.
Interested in gaining more understanding of Business Process Reengineering (BPR) Implementation Guidelines? You can learn more and download an editable PowerPoint about Business Process Reengineering (BPR) Implementation Guidelines here on the Flevy documents marketplace.
Are you a management consultant?
You can download this and hundreds of other consulting frameworks and consulting training guides from the FlevyPro library.
A company can have a team of skilled, talented, and educated professionals where each team member has relevant training and experience, a
good attitude, and a solid work ethic. Members of the team get along well with each other.  When you put all these together, you get to achieve results. The team gets to deliver high-quality projects on time and to spec.
However, the problem is the pieces do not always fall into place.
One teammate promises to deliver and then doesn't. Deadlines are forgotten, meetings are being missed, and important communications being misplaced. We even lose track of our to-dos. As a result, when one person fumbles, the whole team scrambles. This leads to failed projects, frustrated teammates, and financial losses.
A total of 1,160 professionals were interviewed on how individual performance can affect team productivity within the organization. Ninety-four percent of those interviewed revealed that at least one teammate frequently misses deadlines, 85% said that at least one teammate appears busy but fails to complete tasks on time, and 91% said that at least one teammate spends too much time on unimportant tasks. Significantly, the study showed that 9 out of 10 professionals interviewed revealed that when one team commits any of these blunders, the team and organization suffer.
People come to the workplace with various skill sets and backgrounds. They know how to navigate the application, develop programs, oversee communications, manage resources, devise strategies, or lead people. Yet, only a few are well versed in workflow management or even had formal training on it. Yet, nobody gets a degree in Workplace Productivity.
Expertise vs. Effectiveness
Results of a McKinsey Research showed that knowledge and skills cannot make up for low poor productivity practices that can affect morale and results. Expertise is how people work. Effectiveness is what they can do. There is a key difference between the two.
Expertise can refer to people who have good intentions and rich technical backgrounds while effectiveness is the inability to manage workload. Based on the research, as a person's roles and responsibilities increase, productivity begins to fall. To thrive in a world of endless tasks and inputs, it is essential that key productivity practices are developed.
Mastering Key Productivity Practices
In how work is done, even small fumbles have a huge impact. With key Workplace Productivity practices, organizations can move to be smart and strategic.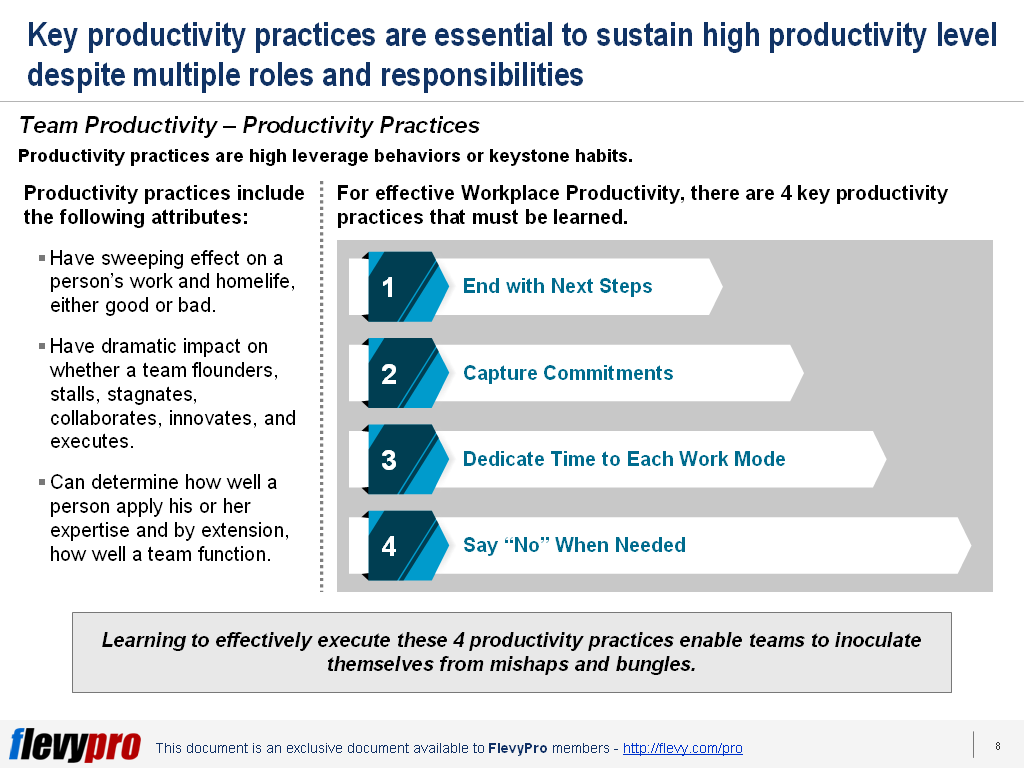 Taking on each of the productivity practices can deliver a great impact on organizations.
End with Next Steps. Undertaking this first productivity practice can result in projects moving forward seamlessly. This can also reduce the need for future meetings.
Capture Commitments. When commitments are captured, team members are more apt to get work done on time and foster trust. A sense of care is communicated to teammates resulting in increased confidence.
Dedicate Time to Each Work Mode. Critical projects and tasks are completed when time is allocated to each work mode. Team members become more effective if time is demarcated.
Saying "No" When Needed is the fourth productivity practice. This will foster a culture where teammates seek real solutions, rather than agree to every request out of a sense of obligation. This behavior will spur focus and engagement. In an organization, it is okay to say "No." A YES mentality will backfire the minute men have too much on their plate.
Organizations will always have top performers as well as average performers. What is important is the ability of organizations to develop their people into top performers. Having a good mastery of the key productivity practices can boost productivity to a high level despite multiple roles and responsibilities. This is also essential in Leadership Development.
Beyond these practices to improve personal productivity, a company can also adopt some Lean Workplace Productivity methodologies, such as Visual Management and 5S for the Office.
Interested in gaining more understanding of Workplace Productivity practices? You can learn more and download an editable PowerPoint of our Workplace Productivity Primer here on the Flevy documents marketplace.
Are you a management consultant?
You can download this and hundreds of other consulting frameworks and consulting training guides from the FlevyPro library.
The Data Analytics Revolution is here. It is transforming how companies organize, operate, manage talent, and create value. In fact, advanced
data analytics is now a quintessential business matter. It is important for CEOs and top executives to be able to clearly articulate its purpose and translate it into action. Yet, this is not so.
CEOs and top executives are finding it difficult to articulate the clarity of purpose and act on it. It must not just stay in an Analytics department but must be embedded throughout the organization where the insights will be used. Leaders with strong intuition do not just become better equipped to kick the tires on their analytics efforts.  Leadership Development now calls for leaders to be capable of addressing many critical top management challenges. It now requires employing a range of tools, employing the right personnel, applying hard metrics, and asking hard questions.
Data Analytics is a means to an end. It is a discriminating tool for identifying and implementing a value-driving answer. It can unleash insights that could be the very core of your organization's approach to improving performance. This, however, cannot be achieved if there is no clarity in the purpose of your data.
Data Analytics Revolution: Are We Ready?
The Data Analytics Revolution is transforming how companies organize, operate, manage talents, and create value. But are we ready for this? A number of companies are reaping major rewards from Data Analytics. But this is far from the norm. More CEOs and top executives are avoiding getting dragged into the esoteric weeds.
Data Analytics have complex methodologies and there is a sheer scale of data sets. Machine Learning is becoming increasingly more important. For us to be ready in the onset of Data Analytics Revolutions, we need to be capable of addressing many critical and complimentary top management challenges. We need to be able to ground even the highest analytical aspirations in traditional business principles and deploy a range of tools and people.
To be properly equipped on the proper use of Data Analytics, we just need to develop a mindset for Purpose-driven Analytics anchored on 4 guiding principles.
The 4 Guiding Principles of Purpose-driven Analytics
Ask Clear and Correct Questions. The first principle focuses on generating impact the soonest. Hence, precise questions are asked based on the company's best-informed priorities. Here, clarity is essential.
 Identify Small Changes for Big Impact. The second principle focuses on generating gains even on small improvements. There is a need to identify small points of difference to amplify and exploit because the smallest edge can make the biggest difference.
Leverage Soft Data. The third principle focuses on getting quality insights and generating sharper conclusions. It is at this point wherein the use of softer inputs such as industry forecasts, predictions from product experts, and social media commentary are given more emphasis. Soft data is essential when trying to connect the dots between more exact inputs.
Connect Separate Data Sets. The fourth principle focuses on capturing the untapped value. This principle emphasizes the need to combine sources of information to make sharper insights. When different data sets are examined, the greater is the probability that problems can easily be fixed.
From Learning to Doing: Connecting the Dots
It is not enough that organizations learn about Purpose-driven Analytics. One also needs to be able to put these into effective use. Companies undergoing Digital Transformation must take a multi-faceted approach to analyze data to minimize overwhelming complexity. There are 4 guiding principles for Purpose-driven Analytics implementation. Using these principles will facilitate the effective use of analytics and transform outputs into action.
Interested in gaining more understanding of Purpose-driven Analytics? You can learn more and download an editable PowerPoint about Purpose-driven Analytics here on the Flevy documents marketplace.
Are you a management consultant?
You can download this and hundreds of other consulting frameworks and consulting training guides from the FlevyPro library.
In the era of the Fourth Industrial Revolution, we are approaching the age of automation. Together with this is the impending penetration of
digital technology into the labor force which can threaten to destabilize crucial aspects of how employees work by. This can undermine the stability companies depend on to be agile.
With the coming transformation, executives can resolidify their companies by developing a robust Digital Transformation Strategy. There is just a need for executives to adjust their leadership behavior, embrace digital workforce platforms, and deepen their engagement with digitally enabled workers.
Facing the Current Digital Landscape
Workforce Digitization and the powerful economics of automation require a sweeping rethinking of organization structures, influence, and control. According to a recent study made by McKinsey Global Institute, most industries have yet to fully digitize their workforce as these are lagging behind the leading digitized sectors. Digital Transformation is just not happening in most industries. Organizations have to realize that in Workforce Digitization, automation can devastate established assumptions on stability.
The hallmark of an agile age is the ability to be stable and dynamic. The McKinsey research further showed that the workers' roles and the processes that support them are the bedrock aspects of stability. These are the first and fourth most important factors that differentiate agile companies from the rest.
However, with the onset of automation, the workforce is destabilized. Jobs are disaggregated into component tasks and companies are forced to reassemble remaining tasks into something that makes a new kind of sense. On the other hand, job destabilization can have a dual-faceted impact. Organizations can either become more agile, healthy, and high performing or it can collapse into internal dysfunction.
The direction organizations will go will depend on how it can utilize Digital Workforce Platforms.
The Workforce Platform: Leading Organizations to Stability
Proper use of Workforce Platforms can help leaders restabilize the workforce and reconceive organizational structures to achieve stability. It has 4 core benefits of achieving stability.
Collaboration. Workforce Platforms can be effective staffing coordinators with a multiplex of roles. It can maximize the visibility and mobility of the best people within the organization.
Retention. It can bring science to talent management through the scientific process of retention. Workforce Platforms can help employees grow and develop as their career progresses.
Succession Planning. Workforce Platforms are effective in increasing employees' engagement in their work through Succession Planning. Through Success Planning, organizations are ensured that strategic capabilities, institutional knowledge, and leadership skills are retained within the organization.
Decision Making. A vital core benefit, it can create conditions where employees feel valued by their organization and are happy in their environment. This is crucial as it can create conditions where employees feel energized and empowered.
Workforce Platforms are effective in leading organizations towards achieving agility. It moves companies to go beyond a one-size-fits-all approach to human resource and talent management.
Maximizing the Benefits of Workforce Platforms.
Benefits gained from Workforce Platforms can further be maximized. This can be achieved when there are appropriate support processes in place. There should be dynamic scheduling and appropriate leadership decisions. Our leaders are our organization's architect. Being able to make the right leadership decisions can lead organizations to successfully maneuver their transformation in this age of automation. At this stage, Leadership Development plays a vital role.
Interested in gaining more understanding of Digital Transformation and Workforce Digitization? You can learn more and download an editable PowerPoint about Digital Transformation: Workforce Digitization here on the Flevy documents marketplace.
Are you a management consultant?
You can download this and hundreds of other consulting frameworks and consulting training guides from the FlevyPro library.
Management processes–everything from how a company manages risk to how it gets supplies
for factories to how it manages and develops people–are some of the primary ways that global companies impose order and consistency on a diverse set of global operations.  Companies believe that processes can help share knowledge across divisions and regions to achieve operational excellence. Likewise, seamless delivery and service processes can be central to meeting customer expectations.
In a world where the pace of competition is increasing faster than ever, best-in-class processes can create competitive advantages when it comes to innovation and risk management. However, researches have shown that companies are particularly poor at managing processes. Often there are just too many processes. Worst, executives often do not know where to begin; a Leadership Development dilemma.
Global Process Optimization is the strategic approach to building a real Competitive Advantage.  However, it can be a challenge and there are pitfalls that organizations must face.
The Pitfalls of Organizations
Global organizations are particularly poor at managing processes. Processes are considered one of the 3 weakest aspects of organizations and strengthening them is crucial.
Based on a McKinsey survey of executives, executives do not know what their processes are.  Inasmuch as there are just too many processes, these processes do not reflect new customer needs. In fact, there exists a resistance to change that can be damaging to an organization.
Organizations have to understand that processes can go wrong on a global scale and it can bring in a lot of challenges to an organization.
The 3 Core Challenges to Global Organizations
Organizations are faced with 3 core challenges when dealing with processes and transforming them to a global scale.
A Plethora of Processes. When there are a plethora of processes, there are just too many processes and too little value.  This happens when executives are unable to differentiate between processes that are essential to creating global value and those that are inessential but offer benefits if these are consistent.  Executives also fail to differentiate between processes that are crucial to customers or those that create value and those that do not. A plethora of processes is also created when the operation is in various locations or as a result of M&A activity.
Overstandardization. How do you know that overstandardization exists? It is when processes are so rigid that they are slow to respond to new growth. As a result, there is a dramatic decrease in local responsiveness. This core challenge often arises because there is just too much concern about maximizing control and reducing risk.
Resistance to Change. This is the third core challenge faced when change is introduced and there is resistance. Resistance to change often occurs when there is difficulty in changing customer-facing processes until the organization is faced with customer backlash. Executives often fail to understand customers' preference for standard global service. The thinking is often directed towards country-specific variations which are not often what customers like.
Overcoming the 3 core challenges can be done. Organizations just need to take on a 3-phase approach that will ensure that all global processes are enabling performance. These are Prioritize, Optimize, and Implement. A 3-phase approach is an effective tool towards approaching Global Process Optimization in a strategic manner where value is maximized at minimal cost and complexity.
Interested in gaining more understanding of Global Process Optimization? You can learn more and download an editable PowerPoint about Global Process Optimization here on the Flevy documents marketplace.
Are you a management consultant?
You can download this and hundreds of other consulting frameworks and consulting training guides from the FlevyPro library.
Technology, Internet, growth, and globalization have metamorphosed the way we work, play, and live.  They have even changed the fundamental laws of economics.  We are living in an economy that is quite different from the old manufacturing-based economy of the 1980s.  Fewer people are now employed in the manufacturing sector, who are anxious about the prospects of being replaced by machines soon.
The "New Economy" is a term economists started using in the 1990s to describe new, high-tech, high-growth industries that have been the driving force of economic growth since that period.  The new economy is also heralded as the Digital Economy, the Knowledge Economy, the Data Economy, or the eCommerce Economy.  Top technology enterprises—including Google, Facebook and Apple—have outpaced traditional firms around the globe by taking advantage of the new economy.
Leadership Development in this age of Digital Economy is a key challenge for most organizations.  More and more organizations, today, are revisiting what they are about and the meaning of leadership for them.  It's not about one person or even those residing at the top anymore.
MIT Sloan Management Review conducted a study of 4,000 executives from 120 geographies around the world to understand what defines a great leader in this changing world.  The study revealed striking results with most executives believed that their leaders lacked the mindset needed to produce the strategic changes essential for leading in the Digital Economy.  Enterprise-level transformation is what majority of leaders feared to embark on.
Mindsets are established set of attitudes held by someone that shape how a person interprets and responds to experiences.  A mindset arises out of a person's view of the world or philosophy of life.  To know about the Digital Economy leadership mindsets (i.e. leadership mindsets critical to survive in this new economy), the MIT Sloan Management Review's global study identifies 4 critical mindsets—based on in-depth interviews from executives worldwide and detailed analysis of data:
The Producer
The Investor
The Connector
The Explorer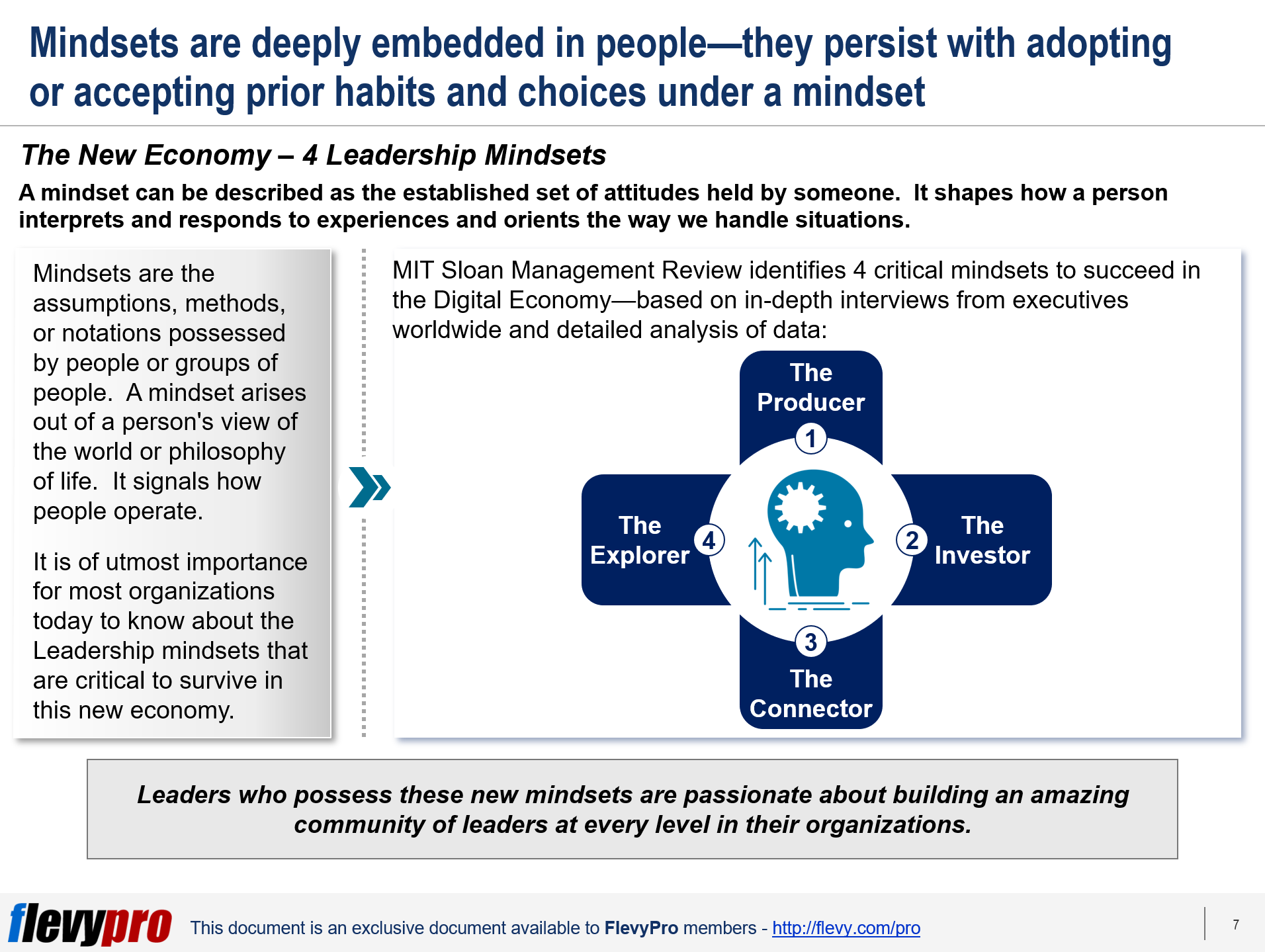 Let's define these first 2 leadership mindsets.
The Producer
Leaders with a producer mindset evaluate each of their customer touch points painstakingly.  These leaders exhibit a passion for producing customer value.  Producers concentrate on analytics, digital know-how, implementation, results, and customer satisfaction.  They focus on analytics to fast-track creativity.  The resulting innovation helps them tackle shifting customer preferences and enhance customer experiences.  The Producers strive to create all the customer journeys enjoyable.
The Investor
The leaders with an investor mindset make people appreciate the higher purpose they serve by their work.  They constantly struggle to instill motivation and teamwork among their teams in order to achieve their overall organizational goals.  The leaders with an investor mindset are concerned about the communities that surround them.  They look after the well-being and constant advancement of their employees, and devote their efforts to improve value for their customers.
Fostering these types of mindsets is critical to building the right Organizational Culture for an organization to be successful in the Digital Economy.
Interested in learning more about the leadership mindsets required to win in the new economy?  You can download an editable PowerPoint on Leadership Mindsets Critical to Succeed in the Digital Economy here on the Flevy documents marketplace.
Are you a Management Consultant?
You can download this and hundreds of other consulting frameworks and consulting training guides from the FlevyPro library.
Subscribe to our Newsletter

PowerPointing Templates

Error: Twitter did not respond. Please wait a few minutes and refresh this page.