Currently viewing the tag: "Organizational Culture"
The single most pressing challenge for an organization in this knowledge economy is attracting and retaining talented people.  This can be a make or break challenge for the organization and warrants careful consideration during Strategic Planning.
Starting on the right foot is absolutely essential to overcoming this challenge.  Organizations, particularly HR, need to have an Organizational Culture that boasts of an effective Employee Onboarding process.  In order to accomplish this, present-day HR needs to be clear regarding the challenges of modern-day Onboarding and develop a strategy to establish an onboarding process that yields a rewarding experience for the employees.
At many organizations the Employee Onboarding process follows a customary theme—a run down on "how things are done here"—with the traditional HR view that if the employee can be made to commit to the Organizational Culture from the get-go, they are easier to retain.
Such an Onboarding process does not help the new employee adjust to the company or the role, become an Engaged Employee, and meet the expectations of the organization.  Experts have identified various challenges with this conventional Onboarding approach.  Here is a list of 8 most frequent challenges:
Poor Socialization of Organizational Values
Lack of Role Clarity
Challenges with Expectations and Results
Managing Change
Issues with Time Management
Issues with the Manager
Navigating the Culture
Handling Personal Transition and Relocation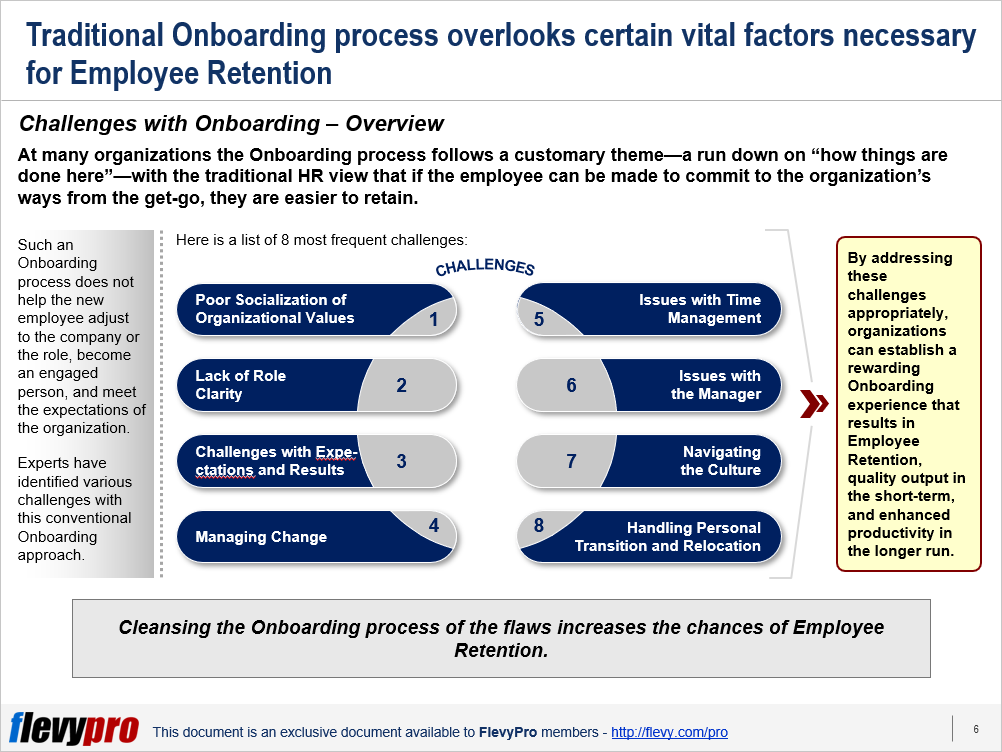 By addressing these challenges appropriately, organizations can establish a rewarding Employee Onboarding experience that results in Employee Retention, quality output in the short-term, and enhanced productivity in the longer run.
Let us delve a little deeper into the challenges.
1. Poor Socialization of Organizational Values
It is presumed that Organizational Values are a thing to be imparted and accepted by the new employee.  This is, indeed, essential knowledge, but it is not sacrosanct.  Studies suggest acceptance of organizational values in contravention of one's own identity may be counter-productive in that it may exhaust the employee psychologically, restrict full engagement, hinder creativity, and create work dissatisfaction.  This can be overcome by allowing employee to express their unique perspective on the job from the beginning and welcoming them to incorporate what they do best in their work.
2. Lack of Role Clarity
Lack of clear understanding of one's role is a widespread problem in organizations.  After spending some time in the new organization, the employee realizes that the expectation of the role is conflicting with what the employee thought he/she accepted.  Encouraging the new employee to identify the gaps in the expectation / perception and discussing it with their managers enables the employees to have a clear perspective and understanding of their roles and responsibilities, enhances employee satisfaction levels, and improves their efficiency and productivity.
3. Challenges with Expectations and Results
New employees are often unable to realize their workload.  In order to meet the perceived expectation of managers or peers, they take on too much of work resulting in overload, which diminishes their performance.  Informal discussions of new employees with managers and peers regarding their expectations eases the pressure and enables them to take on what is manageable and deliver quality results.
Interested in learning more about various aspects of Employee Onboarding, guiding principles, challenges, and approaches?  You can download an editable PowerPoint on Employee Onboarding here on the Flevy documents marketplace.
Are you a Management Consultant?
You can download this and hundreds of other consulting frameworks and consulting training guides from the FlevyPro library.
A job consists of various critical elements that are essential to achieve enterprise outcomes—i.e., talent and behavioral requirements, role, and responsibilities.  Jobs that are configured inadequately bread disputes, negative perceptions, inequality, and frustration.  On the other hand, structured jobs, appropriate distribution of work, justified authority levels, and correct estimation of value of individual jobs are the signs of effective Human Capital Management function.
The lack of a structured job design—or ill-defined jobs—renders the organizations ineffective and burdened with excessive staffing and payroll costs.  This warrants from the leadership to plan and undertake a Job Leveling initiative.  Job Leveling is a disciplined approach to gauge the value of work for individual positions across the organization.  It entails ascertaining the nature of work done by each position, authority levels, and the effect of each job on business results.  The initiative is critical in administering rewards structures.
However, Job Leveling is a concern at most organizations—not many people are satisfied with the value assigned to their roles.  The absence of proper—or inadequate—job levels yields grave consequences for the entire organization.  Jobs valued higher than their actual value lead to wastage of resources, whereas low valued jobs are perceived as offensive and inculcate demotivation.
Job Design and Job Leveling is essential when organizations consistently encounter these issues:
Constant employees complaints and demands to reclassify jobs
Excessive job titles
Widespread dissatisfaction with remuneration
Task / processes redundancy
Financial outflow
Staffing imbalances and top heavy structure
Workforce planners should use a Job Leveling Framework to methodically benchmark the value of jobs at their organizations.  To accomplish this, they need to first analyze all the activities required under each position, the professional competences and demeanor essential to perform those activities, and gauging the effect each position has on business results.
Implementing a Job Leveling Framework simplifies the allocation of jobs in a harmonized job hierarchy, establishes consistency across the HR Initiatives, develops clear paths for growth, and improves decision making.
Human Resources practitioners need to follow these 5 key phases to implement a Job Leveling Framework and structure job levels at their organizations:
Ensure Readiness of Pre-Implementation Groundwork
Engage Business Leaders in Implementation
Set up Clear Governance Structures
Employ User-friendly Job Evaluation Management Tools
Establish Clear Communication Mechanisms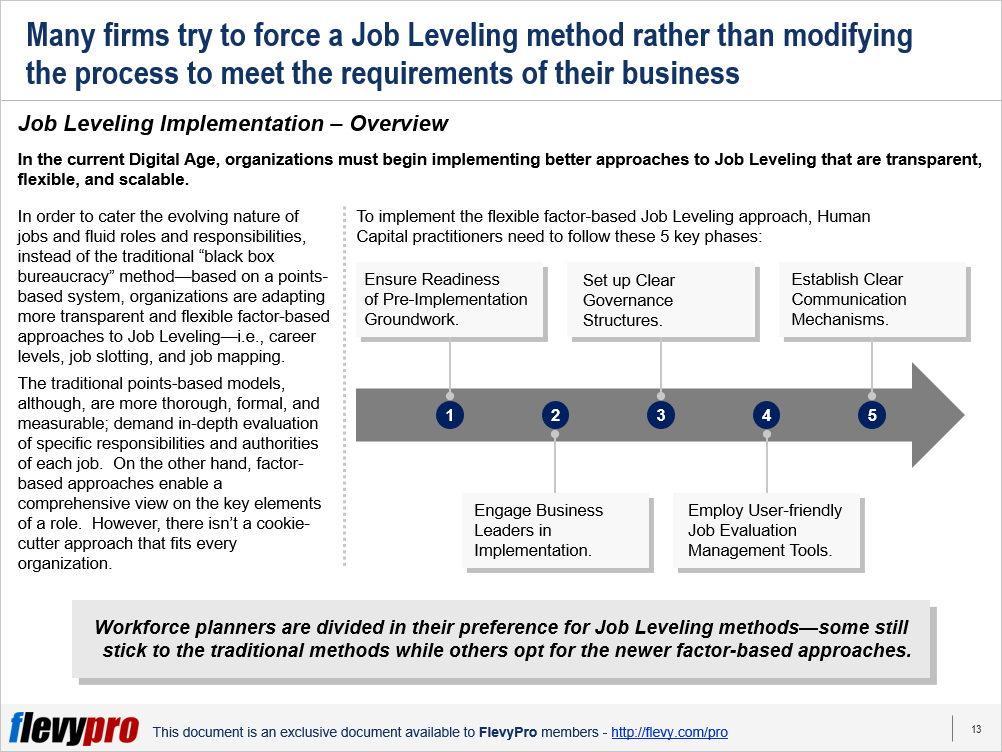 Let's dive deeper into the first 3 phases of the Job Leveling Framework Implementation, for now.
Ensure Readiness of Pre-Implementation Groundwork
Human Resource practitioners should first analyze their existing job architecture, job natures, roles and responsibilities, and Organizational Culture to initiate the Job Leveling process.  Specifically, they have to answer these queries to identify the right Job Levelling method:
What is the key objective to be achieved by implementing the Job Leveling initiative? Is it to improve compensation, shape career paths, or alleviate pay equity concerns?
Who will be the users of the Job Leveling system? Will it be managed by Human Resources experts or business leaders?
The Job Leveling exercise will impact which employees? How many roles, their nature of jobs, locations?
Define the organizational culture and values. Is it hierarchical, centralized, or cost-focused?
Engage Business Leaders in Implementation
Effective Job Levelling Implementation necessitates involvement of business leaders from the onset of the exercise.  Engaging business managers and employees can hold back the pace of implementation because of conflicting views and ideas, but this is essential for the success of Job Leveling.  The right engagement involves:
Getting agreement and support from senior business leaders.
Including business leaders in calibration of key roles for support later during execution phase.
Coaching key line managers and including them in job evaluation sessions to ensure adequate understanding of the roles and to develop program sponsors during implementation.
Including key employees during the design phase of Job Leveling to remove any suspicion and win their agreement.
Set up Clear Governance Structures
Establishing effective control mechanisms is essential to avoid any glitches in implementing coherent job levels.  Job Leveling initiatives in large multinational corporations fail because of dearth of appropriate governance mechanisms in place.  A few organizations adopt centralized controls whereas others employ decentralized, locally-driven governance protocols.  To execute clear yet robust governance mechanisms, organizations should follow these key tenets:
Governance principles should correspond to the organizational culture.
Stakeholders should be held accountable with clear roles.
Authorities should be assigned to ensure proper control mechanisms.
All concerned people should be engaged in the initiative.
Decision making authorities should be clearly defined.
Resources should be effectively deployed.
Promote fairness by applying rules equally, or if not, rationale is clearly explained.
Interested in learning more about the other phases of Job Leveling Implementation and Job Leveling methods? You can download an editable PowerPoint on HR Strategy: Job Leveling Framework Implementation here on the Flevy documents marketplace.
Are you a Management Consultant?
You can download this and hundreds of other consulting frameworks and consulting training guides from the FlevyPro library.
Organizations typically focus on Customer-centric Design in their Strategic Planning and overlook the critical driver of Performance, Growth, and Operational Excellence—their employees.  With cut-throat competition now the norm the realization has become clearer that employees are:
The face of the business and create lasting—or perishing—brand impression.
Sources of innovation and organizational knowledge.
Representation of the company's service philosophy.
Expected to live by its Organizational Culture and values.
Employee Engagement has emerged as one of the significant pillars on which the Competitive Advantage, Productivity, and Growth of an organization rests.  What, exactly, does it mean when an employee is engaged?  Employee Engagement, over the years, has been thought of in terms of:
Personal engagement with the organization.
Focus on performance of assigned work.
Worker burnout.
Basic needs (meaningful work, safe workplace, abundant resources).
Attention on Cognitive, Emotional and Behavioral components related to an individual's performance.
Although Employee Engagement is widely seen as an important concept, there has been little consensus on its definition or its components either in business or in the academic literature.
Kumar and Pansari's 2015 study define Employee Engagement as:
"a multidimensional construct that comprises all of the different facets of the attitudes and behaviors of employees towards the organization".
The multidimensional construct of Employee Engagement has been synthesized into the following 5 components (or dimensions).
Employee Satisfaction
Employee Identification
Employee Commitment
Employee Loyalty
Employee Performance
The 5 dimensions of Employee Engagement have been found to have a direct correlation with high profitability, as substantiated by a number of research studies: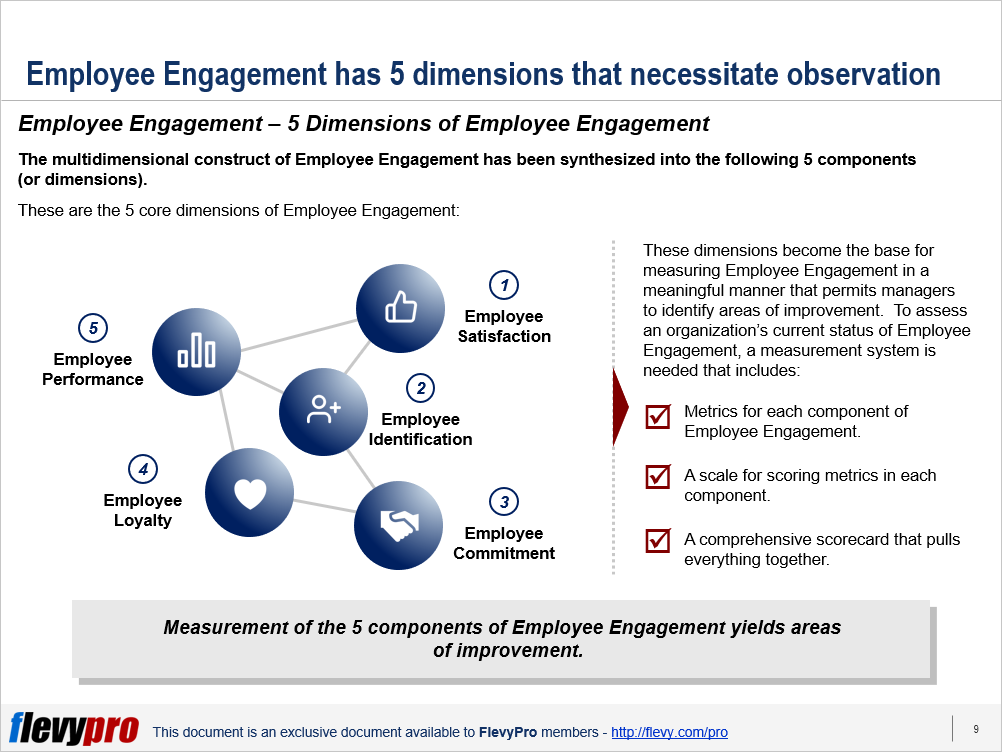 For instance, a study of 30 companies in the airline, telecom and hotel industries shows a close relationship between Employee Engagement and growth in profits.  After controlling other relevant factors—i.e., GDP level, marketing costs, nature of business, and type of goods, the study found:
Highest profitability growth—10% to 15%—in companies with highly engaged employees.
Lowest level of profitability growth—0% to 1%—in companies with disengaged employees.
Research reveals that Employee Engagement affects 9 performance outcomes; including Customer Ratings, Profitability, Productivity, Safety Incidents, Shrinkage (theft), Absenteeism, Patient Safety Incidents, Quality (Defects), and Turnover.
The differences in performance between engaged and actively disengaged work units revealed:
Top half Employee Engagement scores nearly doubled the odds of success compared with those in the bottom half.
Companies with engaged workforces have higher earnings per share (EPS).
These 5 dimensions become the base for measuring Employee Engagement in a meaningful manner that permits managers to identify areas of improvement.  To assess an organization's current status of Employee Engagement, a measurement system is needed that includes:
Metrics for each component of Employee Engagement.
A scale for scoring metrics in each component.
A comprehensive scorecard that pulls everything together.
Let us delve a little deeper into the first 2 dimensions of Employee Engagement.
Employee Satisfaction
Definition
Employee Satisfaction is the positive reaction employees have to their overall job circumstances, including their supervisors, pay and coworkers.
Details
When employees are satisfied, they tend to be:
Committed to their work.
Less absent and more productive in terms of quality of goods and services.
Connected with the organization's values and goals.
Perceptive about being a part of the organization.
Metrics
The 5 metrics that gauge Employee Engagement in terms of Employee Satisfaction include:
Receiving recognition for a job.
Feeling close to people at work.
Feeling good about working at the organization.
Feeling secure about the job.
Believing that the management is concerned about employees.
We take a look at another dimension central in significance.
Employee Commitment
Definition
Signifies what motivates the employees to do more than what's in their job descriptions.
Details
Employee Commitment is much higher for the employees who identify with the organization.  This element:
Develops over time and is an outcome of shared experiences.
Is often an antecedent of loyalty.
Induces employees to guard the organization's secrets.
Pushes employees to work for organization's best interests.
Research has found that employees with the highest levels of commitment:
Perform 20% better.
Are 87% less likely to leave the organization.
Metrics
The 3 metrics that gauge the Employee Commitment dimension of Employee Engagement include:
Commitment to deliver the brand promise along with knowledge of the brand.
Very committed to delivering the brand promise.
Feels like the organization has a great deal of personal meaning.
Interested in learning more about these foundational pillars to Employee Engagement? You can download an editable PowerPoint on 5 Dimensions of Employee Engagement here on the Flevy documents marketplace.
Are you a Management Consultant?
You can download this and hundreds of other consulting frameworks and consulting training guides from the FlevyPro library.
Subscribe to our Newsletter

PowerPointing Templates

Error: Twitter did not respond. Please wait a few minutes and refresh this page.