Currently viewing the tag: "Performance Management"
The pressure on Boards and Directors to raise their game has remained acute. A survey of more than 770 directors from public and private
companies across the industries around the world suggested that some are responding more energetically than others.
There is a dramatic difference between how directors allocate their time among boardroom activities and the effectiveness of the Boards. One in four directors assessed their impact as moderate or lower, while others reported as having a high impact across Board functions.
Today, the call to become more forward-looking and achieving Board Excellence is further highlighted. This is further emphasized when the Board and Management are pressured to find the best answers to global business concerns and issues. In Strategy Development, this becomes invaluable. It does not only lead to clearer strategies but also the creation of alignment essential in making bolder moves.
While these are essential, there is a need to raise the quality of engagement on strategy between the Board and Management for each group to achieve smarter options. This is possible only if organizations have high impact, strategic Boards in place.
High impact, strategic Boards have a greater impact as they move beyond the basics and face increasing challenges.
The Challenges that Today's Board Face
Business is fast-changing and rapidly transforming. The global economy is increasingly pushing businesses, as well as the Board to face a gamut of challenges.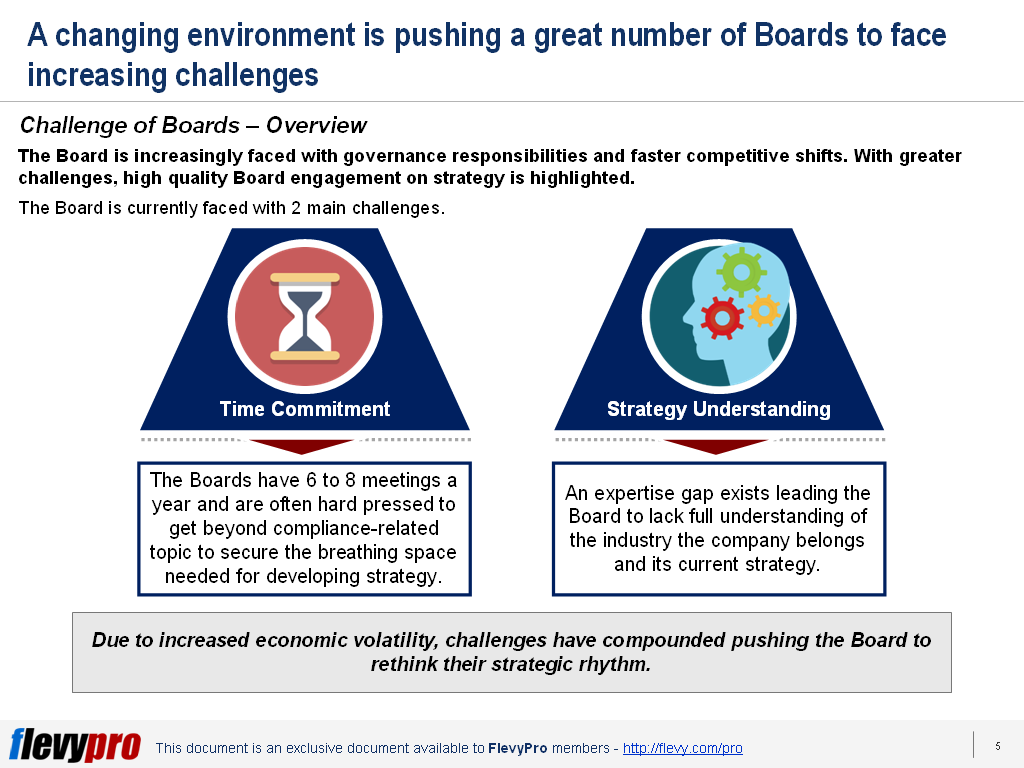 What are the 2 main challenges facing Boards today?
First is Time Commitment. Working at a high level takes discipline – and time. In fact, the greater time commitment is expected on high impact activities. The Board often have 6 to 8 meetings a year. As a result, they are often hard-pressed to get beyond the compliance-related topics to secure the breathing space needed for developing a strategy.
Often, it is the very high impact Directors who invest more time compared to moderate or lower average Directors.
Who are your very high impact Directors? They are those spend a total of 40 days a year working for the Board compared to 19 days of low impact Directors. An extra 8 workdays a year is invested in strategy and an extra 3 workdays a year are spent on Performance Management, M&A, Organizational Health, and Risk Management.
High impact Directors who believe that their activities have greater impact spend significantly more time on these activities compared to low impact Boards.
Second is Strategy Understanding. Why is Strategy Understanding a challenge for the Board? Limited understanding of the organization's strategy can result in the Board's limited engagement with the organization. Based on the survey made, only 21% of the Directors have a complete understanding of the current strategy. Often, Board members have a better understanding of the company's financial position rather than its risks or industry dynamics.
If we look at high impact Directors, they invest more time in dealing with strategic issues. In fact, they invest 8 extra workdays a year on Strategic Planning and discussing strategy compared to low impact Directors. High impact Directors center on Strategy Focus Areas which can, in turn, spur high-quality engagement from the Board on strategy development. The quality of Board engagement on strategy is enhanced, both when the engagement is deep and during the regular course of business.
The Board just needs to focus on 3 areas of discussion for the Board to enhance Strategy Development. One of them is Industry and Competitive Dynamics.
Interested in gaining more understanding of Board Excellence via High Impact, Strategic Boards? You can learn more and download an editable PowerPoint about Board Excellence: High Impact, Strategic Boards here on the Flevy documents marketplace.
Are you a management consultant?
You can download this and hundreds of other consulting frameworks and consulting training guides from the FlevyPro library.
As the last decisive step in customer service, a warehouse ensures cost effective distribution.  Latest technological innovation has turned warehousing into a competitive advantage.  It offers untapped potential for improvement. However, warehousing is a hugely neglected part of global supply chains.  There is inconsistency in picking, packing and shipping orders, storing receipts, and managing inventory and logistics operations.
These and the following roadblocks in the way of smooth warehousing operations and Lean Management exist in every traditional warehouse:
Lack of focus on acquiring technology to facilitate in improving efficiency and quality.
Inability to utilize a structured approach to ascertain the reasons for poor performance.
Lack of a big picture viewpoint pertaining to processes, costs, or external supply chain partnerships.
Absence of a continuous improvement culture to achieve warehouse operations excellence.
Lack of communication, organization, and proper training of resources.
These shortcomings call for implementing Lean Warehousing methodology to unlock improvement opportunities and savings in operational, efficiency, and maintenance related costs.  First initiated by Toyota, the Lean Warehousing approach has a deep emphasis on eliminating 3 basic limitations: waste, variability, and inflexibility. The Lean Warehousing methodology focuses on the following 3 improvement areas:
Cost Reduction
Customer Quality
Service Levels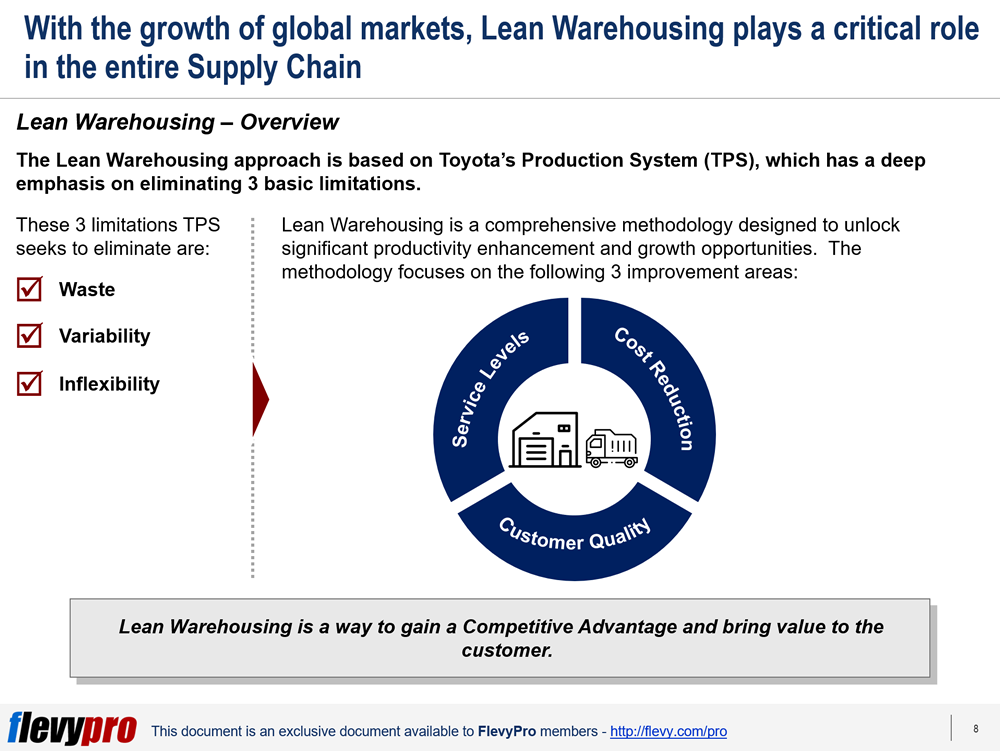 Cost Reduction
The Lean Warehousing methodology concentrates on increasing productivity and reducing operating costs.  This is achieved by:
Cutting undue walking and searching
Preventing needless replenishment, reworks, waiting times, and double handling
Upgrading demand and capacity planning and manpower allocation
Customer Quality
A Lean Warehouse seeks to take the customer quality to the next level by avoiding:
Order deviations
Picking errors
Damaged goods
Service Levels
Improving service levels is at the center of a Lean Warehousing methodology, which involves:
Reducing lead times
Enhancing on-shelf availability
Lean Warehousing Transformation

Lean Warehousing Transformation entails streamlining operations to identify waste, know how to increase service levels, implement standardization and innovative ideas, and learn to evaluate and manage performance.  Such transformation becomes a reality in an experiential learning environment and by developing organizational capabilities in 3 critical areas:
Operating System
Management Infrastructure
Mindset and Behaviors
Operating System
The organizational capability to configure and optimize all company physical assets and resources to create value and minimize losses.  The focus areas under operating systems include eradicating variability, encouraging flexibility, and promoting end-to-end design.
Management Infrastructure                                                                   
The organizational capability to strengthen formal structures, processes, and systems necessary to manage the operating system to achieve business goals.  The focus areas under Management Infrastructure are performance management, organizational design, capability building, and functional support process.
Mindset and Behaviors
The organizational capability to manage the way people think, feel, and act in the workplace individually as well as collectively.  The target areas to focus on here include a compelling purpose, collaborative execution, up-to-date skills, drive to improve, and committed leadership.
Model Warehouse Implementation
Lean Warehousing Transformation necessitates developing a "Model Warehouse," which presents facilities for supply chain people to practically experience state-of-the-art warehouse operations in a modern warehouse and shop-floor environment.  The Model Warehouse incorporates newest technology and systems, and offers real-life conditions for building capabilities—i.e., optimization of storage, pick and pack, and dispatch processes.  Newest technologies—e.g., Smart Glasses and HoloLenses—available at the facility help improve the performance of pickers significantly and execute multi-order picking efficiently.
Such a setting allows people to observe and analyze the performance of an exemplary warehouse and implement this knowledge at their own premises.  Leading organizations organize a week-long rigorous knowledge sharing workshop—in an experiential learning environment of a Model Warehouse—for their people to have a hands-on experience to learn Lean Warehousing, actual picking, packing, root cause analysis, and performance management.  The participants of the Model Warehouse Knowledge Sharing Workshop are excellent candidates for "change agents" to implement Lean Transformation.
Interested in learning more about Lean Warehousing, Model Warehouse Implementation, and Lean Warehousing Transformation?  You can download an editable PowerPoint on Lean Warehousing Transformation here on the Flevy documents marketplace.
Are you a Management Consultant?
You can download this and hundreds of other consulting frameworks and consulting training guides from the FlevyPro library.
Information Technology works best when it is tied tightly to our company's overall business goals.  On the other hand, business unit executives
have remained doubtful about IT's ability to support them in creating value. Despite the best intentions of managers of both sides, companies continue to struggle to integrate IT systems and to determine whether IT actually improves performance.
This problematic tension between the IT departments and business units has inflicted on many companies for years.
One approach to closing this gap is the discipline called Enterprise Architecture (EA).
What is Enterprise Architecture (EA)?
Enterprise Architecture (EA) is a logical framework that establishes the links between business strategy and organizational structures, processes, databases, and technologies.  The goal of EA is twofold. The first goal is to add value through its support of business goals. Second is to enable companies to measure the value added.
If a company wants to capture better customer information in order to energize an effort to sell additional higher margin products and services to existing customers, the company can use an EA system to align its customer relationship management, information retrieval, and sales planning software. EA applications can also be set up for staff training, account management, and frequent assessments of the campaign's efficacy.
Enterprise Architecture (EA) has been known to add value through its support of business goals, improve operational efficiency, and agility.  There are identified changes visible upon the application of Enterprise Architecture on organizations.
The architecture of an enterprise is described with a view to improving the manageability, effectiveness, efficiency, or agility of the business, and ensuring that money spent on IT is justified.
Application of Enterprise Architecture (EA) requires certain levels of maturity. This is necessary for EA to be able to deliver greater impact on bottom lines. The amount of value our company gets depends on the level of maturity of the EA efforts.
There are 4 key elements to Enterprise Architecture Maturity that must be addressed.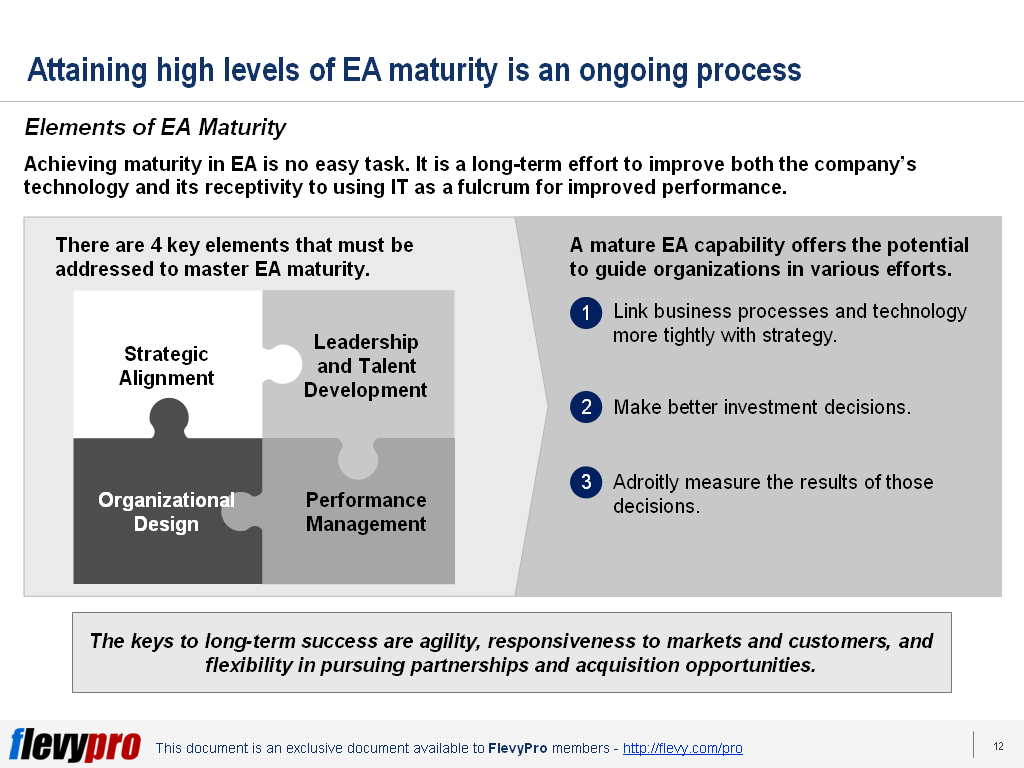 Strategic Alignment. The first key element ensures that the design of EA functions is included in both technology and the strategic planning process.
Leadership and Talent Development. The second key element relies on the training and development of Enterprise Architects who understand the business and can further strengthen the organization's EA capability.
Performance Management. Performance Management accurately measures the results of EA efforts that show an impact on the business.
Organizational Design. Organizational Design is the foundational element of Enterprise Architecture. It involves the frameworks, the tools, and the methodologies necessary in developing a functional capability.
Enterprise Architecture is not an easy task. But, is it worth it?
Based on a survey conducted by Booz & Company (now PwC), executives of 60 financial services companies and government agencies were asked to evaluate EA's effect on performance.
Organizations that had implemented Enterprise Architecture (EA) reported that the approach had impact and value. It has decreased their cost, reduced complexity, reduced risk, and increased agility.
In this world where operational efficiency, risk mitigation, and agility have become essentially important to achieving competitive advantage and business sustainability, companies have no other recourse but take the road to achieve Enterprise Architecture (EA) maturity and readiness.
Interested in gaining more understanding of Enterprise Architecture: Elements of Maturity? You can learn more and download an editable PowerPoint about Enterprise Architecture: Elements of Maturity here on the Flevy documents marketplace.
Are you a management consultant?
You can download this and hundreds of other consulting frameworks and consulting training guides from the FlevyPro library.
Subscribe to our Newsletter

PowerPointing Templates

Error: Twitter did not respond. Please wait a few minutes and refresh this page.