Currently viewing the tag: "Post-merger Integration"
Post-merger Integration is a highly complex process. It requires swift action as well as running the core business activities simultaneously.  There is no one-size-fits-
all approach to a successful PMI Process. However, careful planning focusing on the strategic objectives of the deal and the identification and capturing of synergies will help maximize deal value.
It is inevitable that some elements of information will be withheld from a Buyer pre-deal. Further, not all the synergy benefits originally identified in the deal will prove to be achievable. The foremost challenge for management at the onset of the PMI process is to identify how value can be captured from the newly combined organization via synergies and cost savings.
Understanding Post-merger Integration
Post-merger Integration is the fundamental stage of realizing the value of an M&A deal.  A highly complex process, it entails bringing together 2 companies experiencing change while ensuring that business continues as usual.  A truly challenging undertaking that must never be underestimated.
When 2 companies agree to undertake a Post-merger Integration, its primary objective is to maximize synergies to ensure that the deal lives up to its predicted value. It is a phase during which the results of the Buyer's M&A strategy and expectations for the closed deal start to materialize.
In the entire phase, Closing and Day One of change is the most critical. It is the initial starting point towards the change of ownership and where Strategy Development is at its core.
Closing and Day One
During Closing and Day One, Managers must focus on 3 important areas.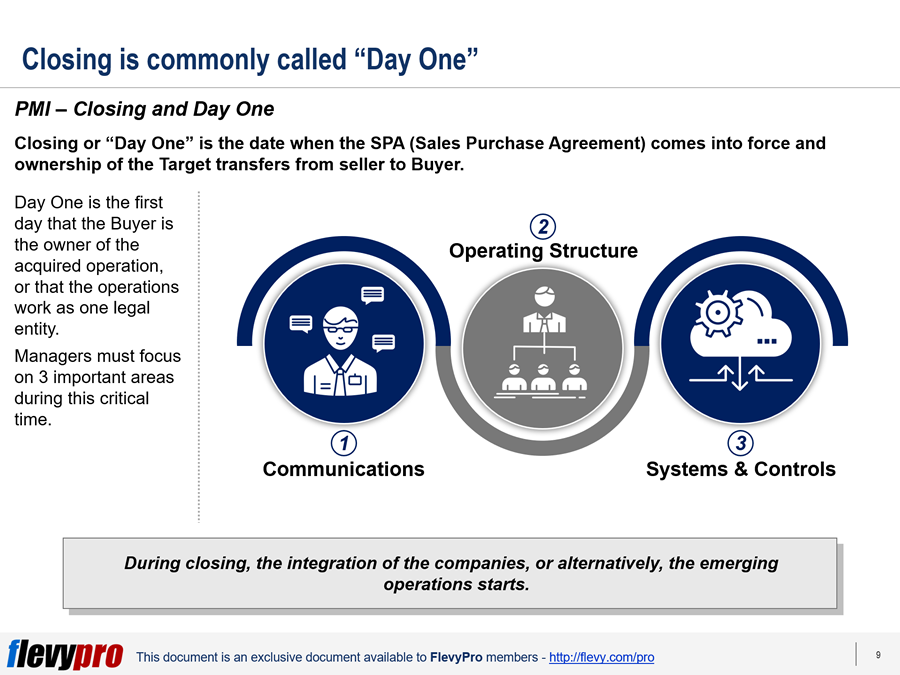 Communications. Corporate Communications must be well planned and well implemented. This is to enable managers to lead an M&A project more effectively. Through structured communication, trust is built, motivation developed, and important information shared. In fact, it can prevent the negative impact of rumors and unify the different parts of the joint company.
Operating Structure. New operating structures and systems are made once the joint company's strategy and goals have been agreed upon. From Day One, it is important that new management and operational structure/reporting procedures are clearly communicated. In the development of the operating structure, it is important that a CEO has been appointed, the key personnel roles decided, and there is already an agreement on operative and statutory structures.
Systems & Controls. A clear and detailed Systems & Controls must be established by Day One. This is essential for management to be able to gain control of the operations of the Target. If operational structures are not finalized at this point, a temporary management system and control need to be established.
The Important Role of a CEO and Key Personnel from Day One
The CEO plays a vital role in the joint business. The CEO or Managing Director is involved in the acquisition process.  Hence, it is important that from Day One, a CEO or Managing Director has already been appointed.
Often the CEO comes from the Buyer or its group or corporate entity.  If an existing CEO of the acquired entity continues the same role, then the Buyer must nominate a controller to ensure financial integration and smooth reporting.
The Key Personnel is also essentially important from Day One.  In fact, there is a need for positions and roles of key personnel during the integration process to be planned in advance and communicated at closing.
Interested in gaining more understanding of PMI Day One Activities? You can learn more and download an editable PowerPoint about Post-merger Integration (PMI): Day One Activities here on the Flevy documents marketplace.
Are you a management consultant?
You can download this and hundreds of other consulting frameworks and consulting training guides from the FlevyPro library.
Takeovers can turnaround companies in a short period of time, but there is a significant degree of risk to be anticipated and mitigated prior to undertaking such transactions. Lack of careful deliberation of the potential risks, insufficient planning, weak execution, and lack of focus on Post-merger Integration are the major reasons why many Merger & Acquisition deals fail to achieve their desired goals.
The course of an M&A transaction has to be set at an early stage, way before the actual deal closure. The period prior to the deal approval by the regulatory authorities and while due diligence is being done is most critical, and should be utilized by the leadership to clearly define the goals of integration, the potential risks, and a layout for the execution of the actual integration process. It is the right time to perform a structured evaluation of 3 core pre-merger considerations associated with such deals, i.e.:
Strategic Objectives
Organization & Culture
Takeover Approach
Understanding these PMI Pre-merger considerations helps the stakeholders ascertain the unique challenges and constraints related to M&A transactions and make informed decisions. These considerations assist in developing a systematic approach to undertaking a Post-merger Integration (PMI) — which is devoid of any "gut decisions," and ensures realization of synergies and value. These considerations set the direction and pace of the post-merger integration process.
Now, let's discuss the 3 core considerations in detail.
Strategic Objectives
Organizations undertake Mergers and Acquisitions as a way to accelerate their growth rather than growing organically. The foremost core consideration associated with an M&A transaction is the strategic objectives that the organizational leadership wants to achieve out of it.
M&A deals take place to fulfill one or more of these 5 strategic objectives:
Reinforcement of a segment
Extension in new geographies
Expansion of product range
Acquisition of new capabilities
Venturing into a new domain
The PMI approach needs to be tailored in accordance with the desired strategic objectives of the deal.
Organization & Culture
The senior management should be mindful of the significance of organizational and cultural differences in the two organizations that often become barriers to M&A deals. Small companies, typically, have an entrepreneurial outlook and culture where there aren't any formal structure and the owner controls (and relays) all the information and decision making. Whereas, large corporations typically have formal structures and well-defined procedures.
A takeover of a small firm by a large entity is bound to stir criticism and disagreement. M&A process often faces long delays between the offer, deal signing, and closing — due to antitrust reviews or management's indecisiveness — triggering suspicion among people. This should be mitigated during the PMI process by orienting the people of the small firm with the new culture and giving them time to transition effectively.
For M&A deals to be effective, leadership needs to carefully evaluate the behavioral elements of the organizational culture and contemplate the overriding principles guiding a company.
Takeover Approach
Integrating the operations of two companies proves to be a much more difficult task in practice than it seems theoretically. Organizations have the option of selecting the takeover approach most suitable for them from the following 4 methodologies — based on their organizational structures, people, management, processes, and culture:
Direct Hit
Hiatus
Deferred Decisions
Quick and Unsympathetic Disposal
Interesting in learning more about the takeover approach and the pre-merger considerations in detail? You can download an editable PowerPoint on Post-merger Integration: Pre-merger Considerations here on the Flevy documents marketplace.
Are you a Management Consultant?
You can download this and hundreds of other consulting frameworks and consulting training guides from the FlevyPro library.
Mergers and Acquisitions (M&A) are unique and complex endeavors.  These initiatives demand tailored solutions keeping in view the varying environments, ways of doing business, culture of the two combining organizations, and internal and external forces influencing the deal.
These transactions necessitate making 8 important decisions based on thorough deliberation and analysis of all relevant factors well before the integration process.  These fundamental decisions and relevant factors form the 8 decision levers of Post-merger Integration (PMI).   These 8 decision levers of PMI are essential for devising an optimal integration approach and, subsequently, the success of an M&A initiative:
Form of Synergy to Be Created: Cost-cutting versus growth
Required Pace of Integration: Quick versus steady
Degree of Integration: Extensive versus partial
Nature of Integration: Buyout versus a merger
Commencement of Integration: Urgent or delayed
Integration Project Team Organization: Clean or shared
Decision Making Style: Implicit and prompt versus lengthy and analysis based
Transaction Change Management: Tacit versus one that requires comprehensive actions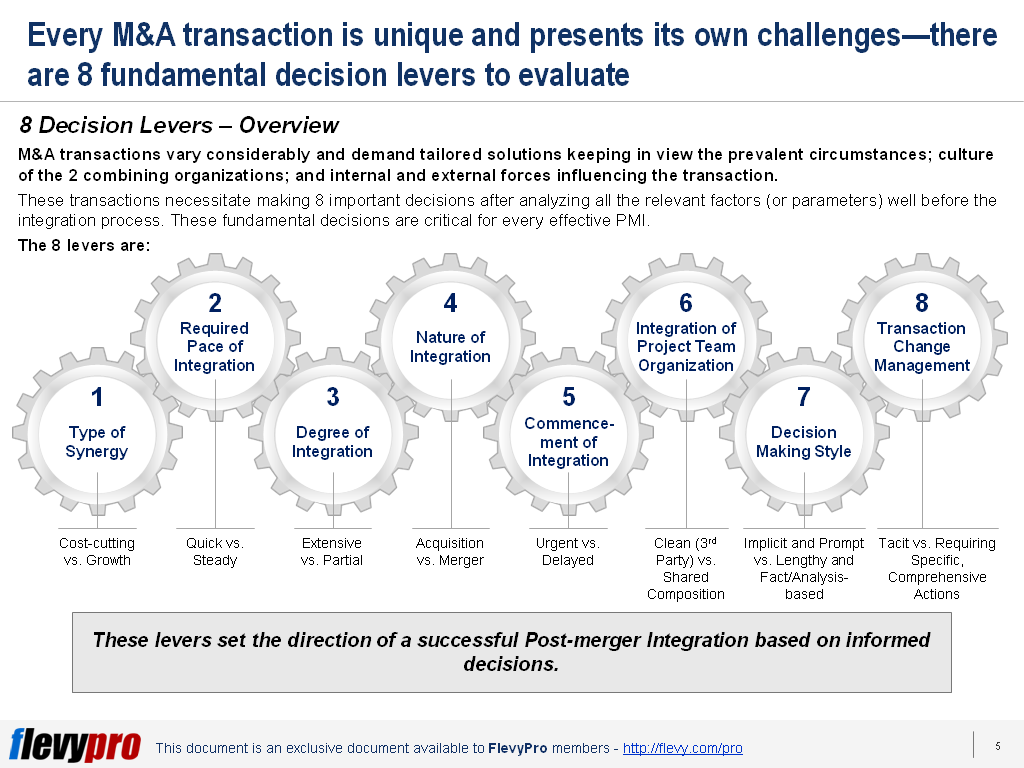 These decision considerations facilitate Post-merger Integration across all industries and organizations of various sizes.  Let's discuss the first 3 decision levers in detail now.
Lever 1 – Form of synergy to be created
The foremost element of a PMI is deciding on the type of synergy to be achieved through integration.  The question is to either focus on achieving cost reduction or growth synergies. If cost cutting is the objective of an M&A then the leadership of the combined organization needs to outline potential costing saving opportunities across the board.  This should be followed by robust communication strategy to convey the implications of the M&A program.  However, if the management's objective is to unlock growth synergies from the acquisition, then the integration is to be treated as a strategic endeavor—e.g., understanding the customer needs, evaluating market potential, generating innovative business ideas, and developing execution plans.
Lever 2 – Required pace of integration
The 2nd lever demands from the senior leadership to determine the pace most appropriate for the integration of their newly combined enterprise—i.e., to choose between a fast track and a steadier integration approach. A majority of executives believe that PMI should be executed as quickly as possible, so that upon completion of the initiative they could divert their center of attention back to business operations.  This approach, however, involves decisions that aren't backed by detailed analysis of facts and data, and is likely to face increased risks and uncertainties. On the other hand, a slower pace of integration is beneficial in case of a friendly takeover or expansion in a new domain.  A steadier pace of integration works well to reduce any apprehensions, cynicism, bottlenecks, and risks due to oversight.
Lever 3 – Degree of Integration
PMI necessitates gauging the appropriate degree of integration beneficial for the organization—i.e., choosing between extensive across the board versus partial integration. An absolute focus on cost synergies warrants an extensive degree of integration across all departments and geographies.  This puts extra pressure on teams in terms of work and risks dwindling enterprise focus on the customer.  Committing more resources and setting the priorities right aids in offsetting the risks associated with an extensive degree of integration. A partial integration, on the other hand, is simpler, less controversial, and predominantly warrants consolidation of sales or alignment of mission-critical processes.  This typically works well in takeovers requiring new products acquisition or addition of new customer segments.
Interested in learning more about the other 5 decision levers of PMI?  You can download an editable PowerPoint on Post-merger Integration (PMI): 8 Levers here on the Flevy documents marketplace.
Are you a Management Consultant?
You can download this and hundreds of other consulting frameworks and consulting training guides from the FlevyPro library.
Subscribe to our Newsletter

PowerPointing Templates

Error: Twitter did not respond. Please wait a few minutes and refresh this page.