Currently viewing the tag: "project management"
In 2012, Ron Leeman was awarded Change Leader by the World HRD Congress. He has published over 10 frameworks to Flevy, including a Comprehensive Guide to Change Management.
This 191-slide deck contains everything (well almost) you would ever want to know about Change Management. It includes What is Change Management, Change Management vs Project Management, The Challenge of Change, Change Management Models, Ways of Implementing Change, People and Change, Managing Change Resistance, Change Behaviours, The head/Heart/Soul of Change, Change Agents, The Tools & Techniques of Change (inc. Sponsorship, Stakeholder Management and Engagement, Communication, Process Change, Organisational Change, Training, Adoption and Business Readiness, Business Benefits & Continuous Improvement), A Change Story and Success and Failure.
Here is a partial preview.
His other documents on Flevy include:
View all of Ron's documents on Flevy here.
Here are 4 powerful tools and frameworks for Project Management available on Flevy.
PRINCE2 Project Management Overview
https://flevy.com/browse/business-document/prince2-project-management-overview-287
This document is a 77-slide PowerPoint presentation that provides a Project Management Overview based on the PRINCE2 methodology that has been recognised world-wide as the leading Best Practice framework for successful project execution. The document is easily customisable, content can be removed (or simply skipped over during presentation), and additional slides can be added to provide more subject depth.
Project Management Social
https://flevy.com/browse/business-document/project-management-social-921
Helps project management practitioners as well as project management companies to understand the value of social media and how to integrate it onto projects. This document is full of examples based on research, training about different social media platforms and tools and very practical advice that can be applied immediately to compile your own customized strategy for how to use social media on your projects. This 32-page deck also includes an accompanying Social Media Strategy template (Word document).
Consulting Project Management Survival Guide
https://flevy.com/browse/business-document/consulting-project-management-survival-guide-648
A guide to Project Management for management consultants. Includes a breakdown of Key Success Factors and KPIs for project managers.
Project Management Workbook (Excel)
https://flevy.com/browse/business-document/project-management-workbook-436
This Excel workbook is an alternate to using the often-too-cumbersome MS Project. Allows you both to track and monitor project activities.
Looking for tools and resources for any other business project?  Take a look at Flevy's 40+ end-to-end Business Toolkits:
Project topics include Balanced Scorecard, Cost Reduction, Six Sigma, Pricing Strategy, Value Chain Analysis, among others.
Project Management can be a headache.  It involves keeping track of deadlines, status updates, risks, urgent issues, resources, timelines, competing priorities, budgets, among other things.
Microsoft Project is the software used by most project managers. Unfortunately, MS Project is difficult software to work with, due to its slow speed, lack of compatibility with other Office products, and poor user interface.
This past week, an Excel-based Project Management Tool has been released on Flevy.  This new Excel project management model presents numerous benefits over MS Project.  It's a better and easier way of performing the cumbersome task of project management.
The creator of the tool is a seasoned consultant from a Big 4 consulting firm.  He states that "about a year ago, I got so frustrated with Microsoft Project, I decided to start working with Excel.  It more than sufficiently satisfies the basic requirements of any project management tool. Excel is also far more customizable and compatible than Microsoft Project, allowing me to build reports and share my work more easily with others."
View and download the tool here:
https://flevy.com/browse/business-document/Project-Management-Tool-in-Excel-212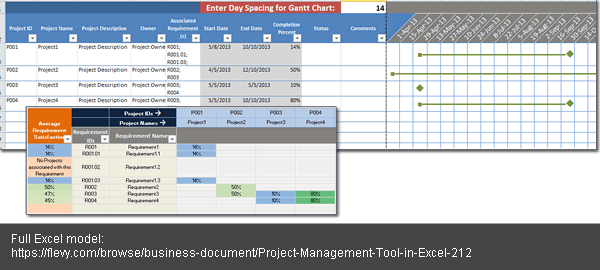 This model has the following features:
Overview of a project management framework used by top tier consulting firms.
The ability to document and connect requirements, projects, and tasks.
Fully functional and automatic Gantt Chart.
Built in program level completion and heat map reporting functionality.
It can be said the biggest benefit of this Excel project management tool over Microsoft Project is the ability to fully customize the Excel model to fit any project's specific needs.
Flevy is a marketplace for business strategy frameworks, PowerPoint templates, financial models, business presentations, market research reports, and other premium business documents. Download documents to expedite your projects or upload documents to generate passive income.
Questions, thoughts, concerns?  Go to my site (learnppt.com) and shoot me an email.
For pre-made PowerPoint diagrams used in business presentations and other powerpointing needs, browse our library here: learnppt.com/powerpoint/.  These diagrams were professionally designed by management consultants. Give your presentations the look and feel of a final product made by McKinsey, BCG, Bain, Booz Allen, Deloitte, or any of the top consulting firms.
Subscribe to our Newsletter

PowerPointing Templates

Error: Twitter did not respond. Please wait a few minutes and refresh this page.