Currently viewing the tag: "Reorganization"
Reorganization becomes essential at some stage in the lifecycle of any organization.  In order to emerge triumphant through this tumultuous challenge, it is necessary that the focus remains on the challenges impeding the organization, thorough Strategic Planning to tackle the challenges, and prioritizing strategic initiatives to deliver effective Business Transformation.  Strategic Restructuring has the capability to deliver these results.
When the word "Restructuring" pops up, the foremost idea that comes to mind is achieving Cost Reduction by minimizing payroll costs—predominantly by cutting back on the headcount.
Scores of organizations have suffered because, in the melee of headcount reduction, the most competent employees quickly found opportunities elsewhere, leaving inappropriately competent employees behind, resulting in a crippled organization.
The purpose of Restructuring is to make the organization profitable, efficient, and effective.  Headcount reduction should be a consequence of the Restructuring initiative and not the prime objective.
To avoid an outcome that debilitates the organization as a result of Restructuring, it is absolutely essential to keep an eye on the Critical Success Factors (CSFs) while the organization moves through the 4 phases of Strategic Restructuring.  Strategic Restructuring's 5 CSFs include:
Strategic Focus
Continuous Communication
Participative Focus
Positions before People
Focus on Competency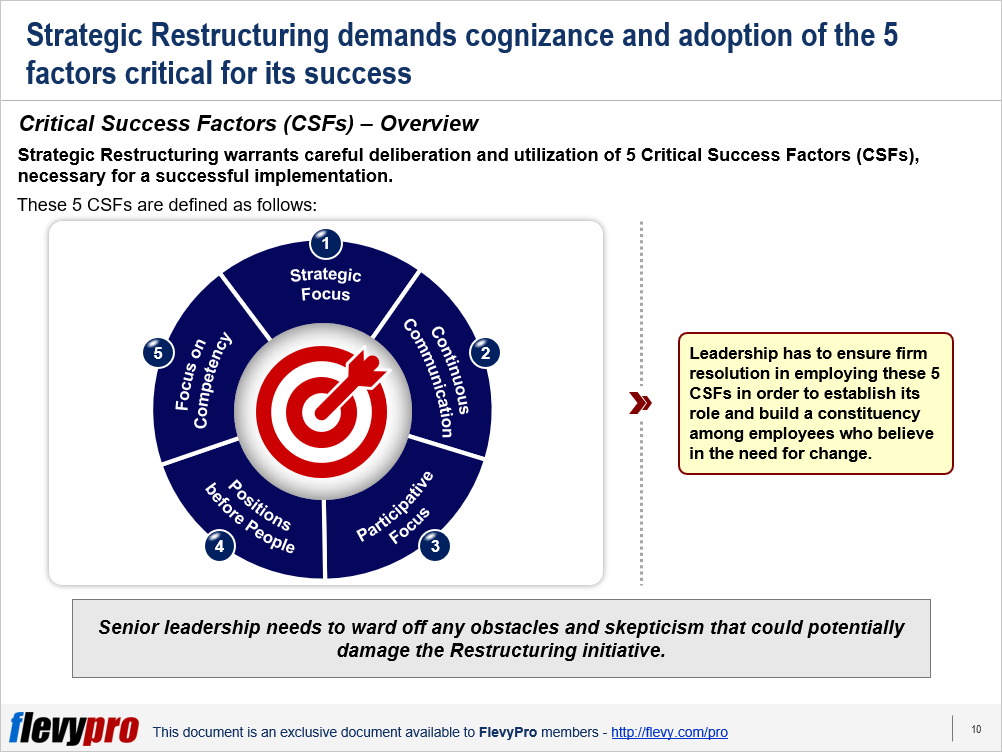 Experts suggest envisioning a "Future State" for the organization, to be achieved through a robust Strategy that includes Change Management, implemented by the most competent employees who are redeployed.  The rest of the employees either severe ties voluntarily or are laid off—ideally with a good severance package or a job placement, with the organization's help, somewhere else.
Leadership has to ensure firm resolution in employing these Critical Success Factors in order to establish its role and build a constituency among employees who believe in the need for change.  Let's dig deeper into the 5 CSFs of Strategic Restructuring.
1. Continuous Communication
Communication is a decisive factor in Strategic Restructuring. Pitfall in this factor is the "need to know" approach.  Top-level leadership should be communicating with the whole organization quite frequently.
Immediate and full disclosure of information builds trust in the management's actions.
Repetition is key in getting the message across. Believing that enunciating once is enough, will be erroneous on the leadership's part.
2. Participative Focus
Redesign of structure is a bottoms-up job because the information and expertise are dispersed throughout the organization.
Employees in the thick of the action are in the best position to undertake this effort.
The management develops the organizational framework and keeps apprising the employees regarding the overall strategy in order to keep the direction true.
A participative approach to Restructuring assists in building employee morale and engagement levels.
Interested in learning more about the Restructuring's Critical Success Factors, Transformation Phases, and a Case Study on Restructuring?"  You can download an editable PowerPoint on Strategic Restructuring: Critical Success Factors on the Flevy documents marketplace. 
Want to Achieve Excellence in Business Transformation?
Gain the knowledge and develop the expertise to become an expert in Business Transformation. Our frameworks are based on the thought leadership of leading consulting firms, academics, and recognized subject matter experts. Click here for full details.
"If you don't transform your company, you're stuck." – Ursula Burns, Chairperson and CEO of VEON; former Chairperson and CEO of Xerox
Business Transformation is the process of fundamentally changing the systems, processes, people, and technology across an entire organization, business unit, or corporate function with the intention of achieving significant improvements in Revenue Growth, Cost Reduction, and/or Customer Satisfaction.
Transformation is pervasive across industries, particularly during times of disruption, as we are witnessing now as a result of COVID-19. However, despite how common these large scale efforts are, research shows that about 75% of these initiatives fail.
Leverage our frameworks to increase your chances of a successful Transformation by following best practices and avoiding failure-causing "Transformation Traps."
Learn about our Business Transformation Best Practice Frameworks here.
Do You Find Value in This Framework?
You can download in-depth presentations on this and hundreds of similar business frameworks from the FlevyPro Library.  FlevyPro is trusted and utilized by 1000s of management consultants and corporate executives. Here's what some have to say:
"My FlevyPro subscription provides me with the most popular frameworks and decks in demand in today's market. They not only augment my existing consulting and coaching offerings and delivery, but also keep me abreast of the latest trends, inspire new products and service offerings for my practice, and educate me in a fraction of the time and money of other solutions. I strongly recommend FlevyPro to any consultant serious about success."

– Bill Branson, Founder at Strategic Business Architects
"As a niche strategic consulting firm, Flevy and FlevyPro frameworks and documents are an on-going reference to help us structure our findings and recommendations to our clients as well as improve their clarity, strength, and visual power. For us, it is an invaluable resource to increase our impact and value."

– David Coloma, Consulting Area Manager at Cynertia Consulting
"FlevyPro has been a brilliant resource for me, as an independent growth consultant, to access a vast knowledge bank of presentations to support my work with clients. In terms of RoI, the value I received from the very first presentation I downloaded paid for my subscription many times over! The quality of the decks available allows me to punch way above my weight – it's like having the resources of a Big 4 consultancy at your fingertips at a microscopic fraction of the overhead."

– Roderick Cameron, Founding Partner at SGFE Ltd
Business environment has transformed drastically from what it was a century ago.  It has become immensely challenging due to competition, disruptive technologies, laws, and globalization.  These challenges warrant better performance to address customer needs and to survive—and outpace—intense competition.  Consequently, organizations have become complex.
The work that individuals perform in an organization has also shifted from manual labor and clerical jobs to knowledge-based experiential tasks.  Traditional workforce was required to adhere to commands and stick to routines, whereas today's workforce needs to be more empowered, innovative, able to adapt to varying circumstances, and render sound judgment.
Adapting with the constantly changing business environment is essential for organizations aspiring to succeed in today's competitive markets.  In order to stay competitive, more and more organizations across the globe are undertaking Business Transformation programs to reorganize their businesses.  However, a large percentage of such programs fail to achieve the desired outcomes.
For the Organizational Design to be successful, leaders need to be mindful of the revolutionized work settings and business environment of this age.  One of the major factors attributed to these failure rates is utilizing traditional approaches to reorganization, which are proving ineffective in this digital age.  These traditional approaches appreciate "level of control" and power, and underestimate the significance of employee autonomy and innovation. 
The Smart Design Approach to Organization Design
Today's Knowledge Economy necessitates the employees to be more empowered to decide on their own than merely following commands.  People act in ways that are best for their own interests.  The new approach to reorganization—termed Smart Organizational Design—aligns the workforce's best interests with the organizational mission rather than seeking control over the employees.  The focus is on changing the environment (context) and mindsets of employees willingly and instilling team work and cooperation, thereby enhancing organizational performance considerably.
The Smart Organizational Design approach entails classifying the existing workforce behaviors, ascertaining the desired behaviors critical to improve performance, and providing environment (context) favorable to develop new behaviors.  The approach encompasses 3 main steps:
Define why reorganization is necessary (objective)
Determine the behaviors critical to support reorganization
How to execute the Smart Organizational Design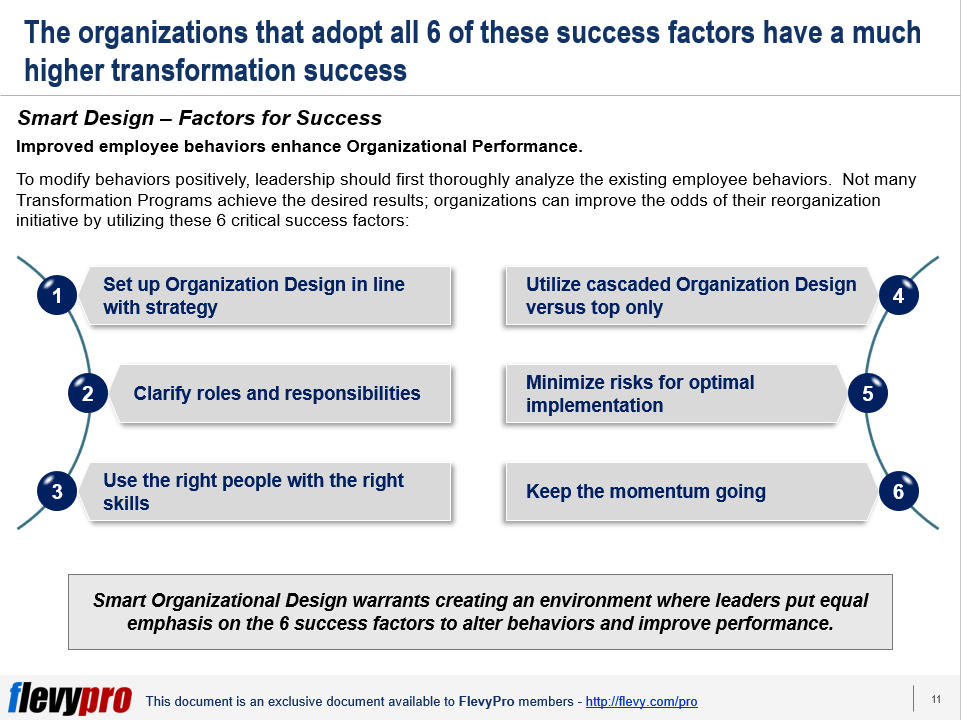 Let's dig deeper into the second step.
Determine the behaviors critical to support reorganization
The next step involves the leadership to determine the "what" element of the Smart Organizational Design approach—i.e., definition of certain behaviors critical to achieve the transformation purpose.  Determining the desired behaviors necessitates thinking through the following 4 critical Smart Organizational Design aspects.  These 4 design aspects work in tandem to shift the environment (context) for the workforce and motivate them to embrace the new behaviors crucial for improved performance:
The Roles and Responsibilities aspect interprets individual and shared accountabilities to cultivate teamwork and cooperation.
The Individual Talent aspect specifies the right skill set and motivation to perform responsibilities of each role effectively.
The Organizational Enablers aspect outlines the elements necessary for creating the right context (environment) for embracing the desired behaviors, i.e., decision processes, performance management, and talent management.
Interested in learning more about the other step of the Smart Organizational Design approach and the factors critical for its success?  You can download an editable PowerPoint on Smart Organizational Design here on the Flevy documents marketplace.
Are you a Management Consultant?
You can download this and hundreds of other consulting frameworks and consulting training guides from the FlevyPro library.
Subscribe to our Newsletter

PowerPointing Templates

Error: Twitter did not respond. Please wait a few minutes and refresh this page.