Currently viewing the tag: "Supply Chain"
In today's digital age, organizations are faced with the changing nature of the demand curve and the element of uncertainty in the supply chain. For operations
teams, the challenge and competitive advantage have become: How well do you respond and execute against ongoing uncertainty.
With the world being so unpredictable, chaos is now the new normal. Timetables and priorities have shifted. A supplier fails to deliver. Demands on supply chains are increasing exponentially. A few years ago, supply chain performance was all about batch quantities, timetables, and lead times. Today, millions of packages are shipped in a day, with many with just only a few items.
In the face of this upheaval, supply chains try to predict what will happen, then optimize performance against plan. Most often, those plans are not met. The path forward demands a bold leap in supply chain performance.
Business in the Midst of the Digital Age.
Chaos is the new normal. This is the central challenge companies have to contend with today. Demand on the Supply Chain is increasing exponentially whereas Supply Chain performance before used to be all about batch quantities, timetables, and lead times. Today, times have changed.
Business Transformation has become pertinent. Timetables and priorities have shifted and, in fact, suppliers are now finding themselves unable to deliver at the required time demanded by the market. Whereas before deliveries were in batch quantities, today millions of packages are shipped every day with many having just a few items. Customers are now encouraged to order multiple sizes and colors of the same items, choose what they like best and return the rest.
In this upheaval, Supply Chains must respond accordingly. There have been attempts to predict what will happen with performance being optimized against the plan. Companies are increasingly investing in Supply Chain capabilities. Yet, these have triggered nonproductive finger-pointing and disappointing results.
Something is missing. A Supply Chain Strategy, as part of Strategy Development, is now essential to be able to pursue a bold leap in Supply Chain performance.
The Digital Supply Chain Strategy
The Digital Supply Chain Strategy is the new approach to Supply Chain resilience. This is best undertaken using a 2-prong approach.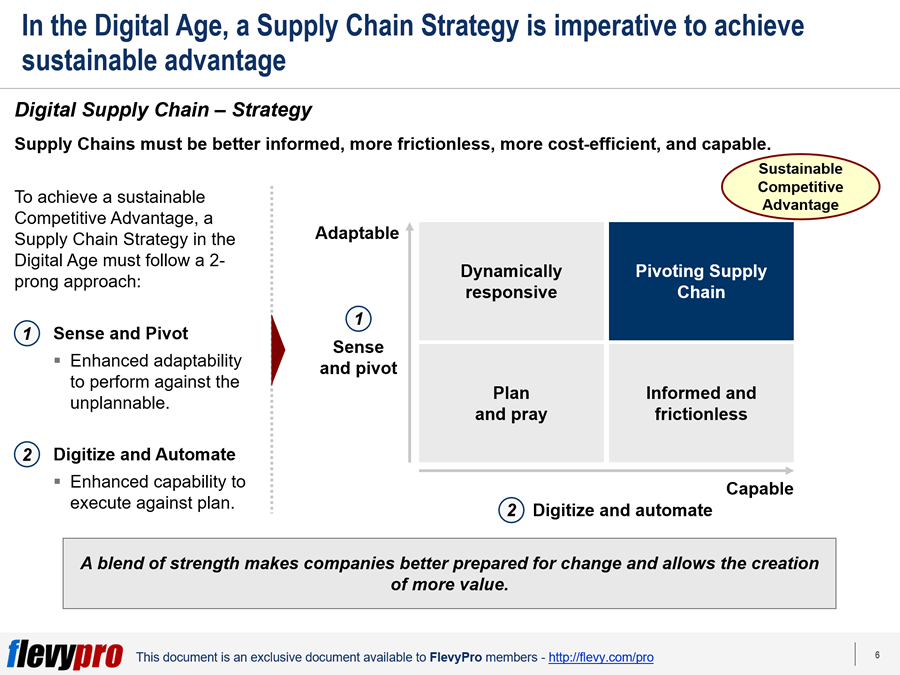 Sense and Pivot. A Supply Chain Strategy, Sense and Pivot focuses on building adaptability of Supply Chains. When this is undertaken, it will allow organizations to create greater flexibility across the Supply Chains. New processes, governance, and ways of working will be developed that will leverage technological capabilities being advanced. Significantly, it will make planning, manufacturing, distribution, and logistics more adaptive toward demand volatility, customer expectations for personalization, and an increasingly unpredictable operation environment.
Digitize and Automate. Digitize and Automate is another Digital Supply Chain Strategy that is focused on building the capability of the Supply Chain to execute against the plan. When this is undertaken and effectively executed and implemented, organizations can expect a better informed, more frictionless, more cost-efficient, and capable Supply Chain. Further, it will enable organizations to undertake more informed Strategic Planning as more accurate forecasts are achieved.
The Digital Age calls for a new approach to Supply Chain Resilience.
The Importance of Supply Chain Resilience
Why is Supply Chain Resilience important today? In today's digital age, companies can expect to encounter potential disruptions. These potential disruptions can effectively be addressed using the best strategy. Automation and smart software are effective tools for minimizing disruptions on business operations. Embracing digital advancements will provide organizations real-time data for a more reliable supply value chain. Definitely, there will be integration challenges. But the use of Digital Age Supply Chain Strategies will guide companies to counter these potential disruptions and challenges.
Interested in gaining more understanding of Digital Supply Chain Strategy? You can learn more and download an editable PowerPoint about Digital Supply Chain Strategy here on the Flevy documents marketplace.
Are you a management consultant?
You can download this and hundreds of other consulting frameworks and consulting training guides from the FlevyPro library.
The Value Chain concept, first described by Dr. Michael Porter in 1985, is a series of actions that a firm—in a specific industry—accomplishes to produce a valuable product or service for the market.  The value chain notion visualizes the process view of an organization, perceiving a manufacturing or service organization as a system comprised of subsystems of inputs, transformation processes, and outputs.
Another way to define the Value Chain principle is, "transforming business inputs into outputs, thereby creating a value much better than the original cost of producing those outputs."  These inputs, processes, and outputs entail acquiring and utilizing resources—finances, workforce, materials, equipment, buildings, and land.
An industry Value Chain includes the suppliers that provide the inputs, creation of products by a firm, distribution value chains, till the products reach the customers.  The way Value Chain activities are planned and executed determines the costs and profits.
Value chains consist of set of activities that products must undergo to add value to them.  These activities can be classified into 2 groups:
Primary Activities
Secondary Activities
Primary activities in Porter's Value Chain are associated with the production, sale, upkeep, and support of a product or service offering, including:
Inbound Logistics
Operations
Outbound Logistics
Marketing and Sales
Service
 The secondary activities and processes in Porter's Value Chain support the primary activities.  For instance:
Procurement
Human resource management
Technological development
Infrastructure
Value Chain Analysis Benefits
The analysis of a Value Chain offers a number of benefits, including:
Identification of bottlenecks and making rapid improvements
Opportunities to fine-tune based on transforming marketplace and competition
Bringing out the real needs of an organization
Cost reduction
Competitive differentiation
Increased profitability and business success
Increased efficiency
Decreased waste
Delivery of high-quality products at lower costs
Retailers can monitor each action throughout the entire process from product creation to storage and distribution to customers.
Value Chain Analysis (VCA) Approach
Businesses seeking competitive advantage often turn to Value Chain models to identify opportunities for cost savings and differentiation in the production cycle.  The Value Chain Analysis (VCA) process encompasses the following 3 steps:
Activity Analysis
Value Analysis
Evaluation and Planning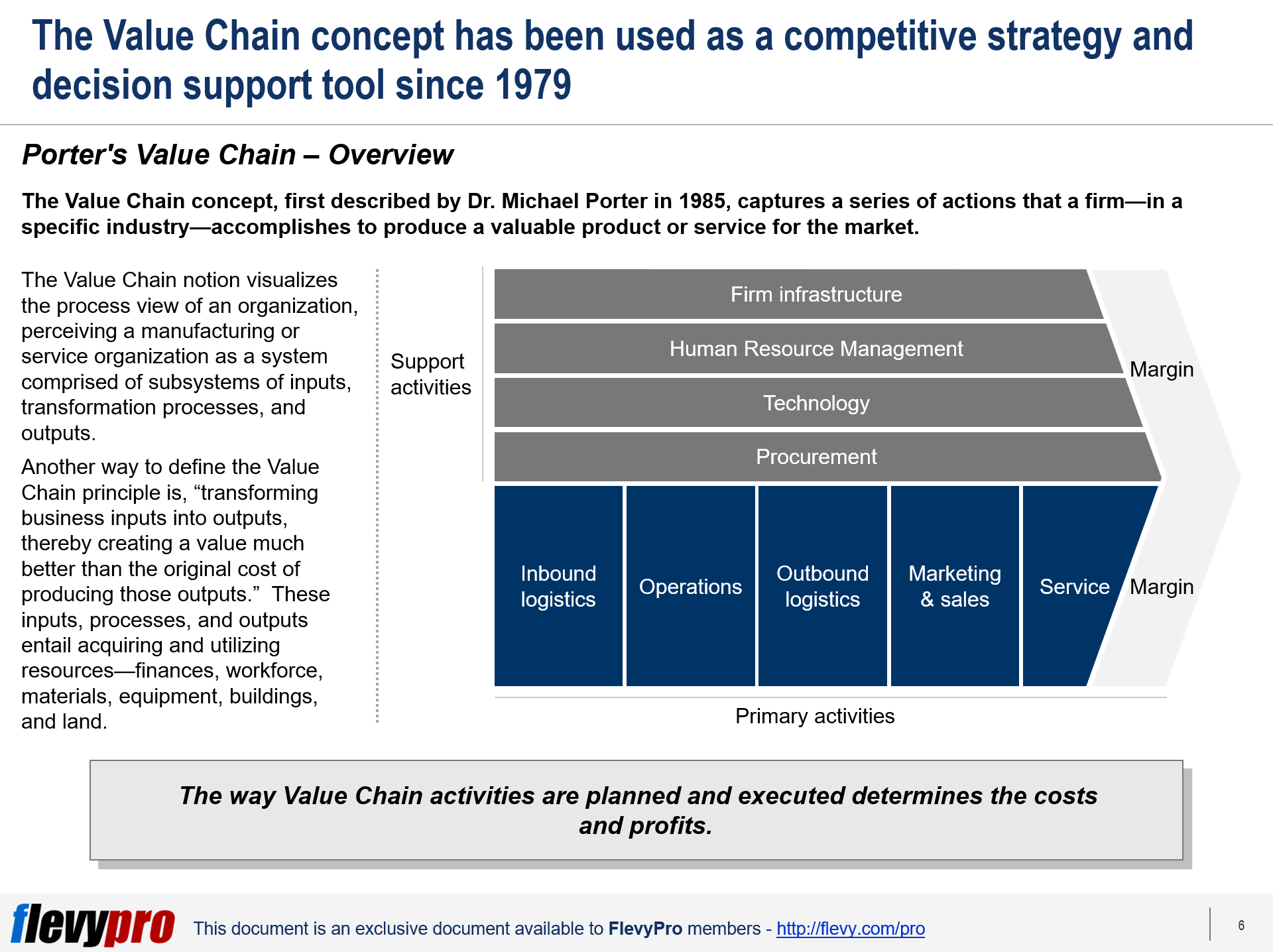 Activity Analysis
The first step in Value Chain Analysis necessitates identification of activities that are essential to undertake in order to deliver product or service offerings.  Key activities in this stage include:
Listing the critical processes necessary to serve the customers—e.g., marketing, sales, order taking, distribution, and support—visually on a flowchart for better understanding.

This should be done by involving the entire team to gather a rich response and to have their support on the decisions made afterwards.

Listing the other important non-client facing processes—e.g., hiring individuals with skills critical for the organization, motivating and developing them, or choosing and utilizing technology to gain competitive advantage.
This stage also entails gathering customers' input on the organization's product or service offerings and ways to continuously improve.
Value Analysis
The second phase of the Value Chain Analysis necessitates identifying tasks required under each primary activity that create maximum value.  This phase is characterized by:
Ascertaining the key actions for each specific activity identified during the first phase.
Thinking through the "value factors"— elements admired by the customers about the way each activity is executed.

For example, for the order taking process, customers value quick response to their call, courteous behavior, correct order entry, prompt response to queries, and quick resolution of their issues.

Citing the value factors next to each activity on the flowchart.
Jotting down the key actions to be done or changes to be made to under each Value Factor.
Interested in learning more about the other phases of the Value Chain Analysis Approach?  You can download an editable PowerPoint on Strategy Classics: Porter's Value Chain here on the Flevy documents marketplace.
Are you a Management Consultant?
You can download this and hundreds of other consulting frameworks and consulting training guides from the FlevyPro library.
As the last decisive step in customer service, a warehouse ensures cost effective distribution.  Latest technological innovation has turned warehousing into a competitive advantage.  It offers untapped potential for improvement. However, warehousing is a hugely neglected part of global supply chains.  There is inconsistency in picking, packing and shipping orders, storing receipts, and managing inventory and logistics operations.
These and the following roadblocks in the way of smooth warehousing operations and Lean Management exist in every traditional warehouse:
Lack of focus on acquiring technology to facilitate in improving efficiency and quality.
Inability to utilize a structured approach to ascertain the reasons for poor performance.
Lack of a big picture viewpoint pertaining to processes, costs, or external supply chain partnerships.
Absence of a continuous improvement culture to achieve warehouse operations excellence.
Lack of communication, organization, and proper training of resources.
These shortcomings call for implementing Lean Warehousing methodology to unlock improvement opportunities and savings in operational, efficiency, and maintenance related costs.  First initiated by Toyota, the Lean Warehousing approach has a deep emphasis on eliminating 3 basic limitations: waste, variability, and inflexibility. The Lean Warehousing methodology focuses on the following 3 improvement areas:
Cost Reduction
Customer Quality
Service Levels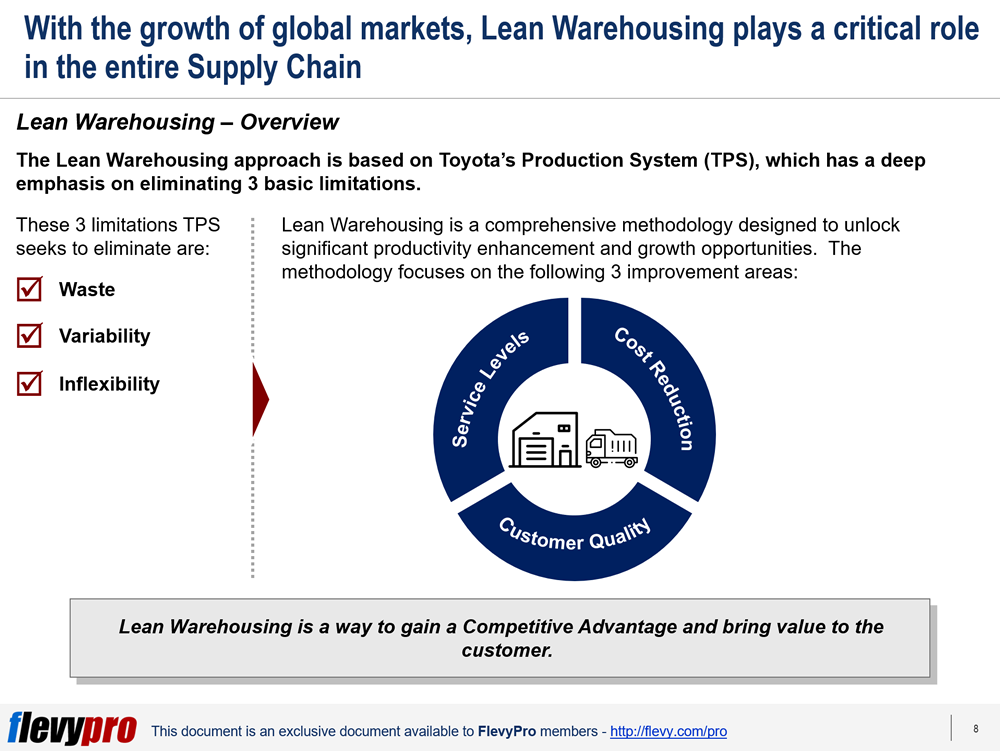 Cost Reduction
The Lean Warehousing methodology concentrates on increasing productivity and reducing operating costs.  This is achieved by:
Cutting undue walking and searching
Preventing needless replenishment, reworks, waiting times, and double handling
Upgrading demand and capacity planning and manpower allocation
Customer Quality
A Lean Warehouse seeks to take the customer quality to the next level by avoiding:
Order deviations
Picking errors
Damaged goods
Service Levels
Improving service levels is at the center of a Lean Warehousing methodology, which involves:
Reducing lead times
Enhancing on-shelf availability
Lean Warehousing Transformation

Lean Warehousing Transformation entails streamlining operations to identify waste, know how to increase service levels, implement standardization and innovative ideas, and learn to evaluate and manage performance.  Such transformation becomes a reality in an experiential learning environment and by developing organizational capabilities in 3 critical areas:
Operating System
Management Infrastructure
Mindset and Behaviors
Operating System
The organizational capability to configure and optimize all company physical assets and resources to create value and minimize losses.  The focus areas under operating systems include eradicating variability, encouraging flexibility, and promoting end-to-end design.
Management Infrastructure                                                                   
The organizational capability to strengthen formal structures, processes, and systems necessary to manage the operating system to achieve business goals.  The focus areas under Management Infrastructure are performance management, organizational design, capability building, and functional support process.
Mindset and Behaviors
The organizational capability to manage the way people think, feel, and act in the workplace individually as well as collectively.  The target areas to focus on here include a compelling purpose, collaborative execution, up-to-date skills, drive to improve, and committed leadership.
Model Warehouse Implementation
Lean Warehousing Transformation necessitates developing a "Model Warehouse," which presents facilities for supply chain people to practically experience state-of-the-art warehouse operations in a modern warehouse and shop-floor environment.  The Model Warehouse incorporates newest technology and systems, and offers real-life conditions for building capabilities—i.e., optimization of storage, pick and pack, and dispatch processes.  Newest technologies—e.g., Smart Glasses and HoloLenses—available at the facility help improve the performance of pickers significantly and execute multi-order picking efficiently.
Such a setting allows people to observe and analyze the performance of an exemplary warehouse and implement this knowledge at their own premises.  Leading organizations organize a week-long rigorous knowledge sharing workshop—in an experiential learning environment of a Model Warehouse—for their people to have a hands-on experience to learn Lean Warehousing, actual picking, packing, root cause analysis, and performance management.  The participants of the Model Warehouse Knowledge Sharing Workshop are excellent candidates for "change agents" to implement Lean Transformation.
Interested in learning more about Lean Warehousing, Model Warehouse Implementation, and Lean Warehousing Transformation?  You can download an editable PowerPoint on Lean Warehousing Transformation here on the Flevy documents marketplace.
Are you a Management Consultant?
You can download this and hundreds of other consulting frameworks and consulting training guides from the FlevyPro library.
Subscribe to our Newsletter

PowerPointing Templates

Error: Twitter did not respond. Please wait a few minutes and refresh this page.