Over the last decade, companies have made greater strides in retooling their innovation
engines. Leaner and faster, products are developed from concept and delivered to customers in record time. But even a Ferrari does not know where to drive.
There are plenty of opportunities to enhance execution. Yet, inspiration and insights are increasingly getting to be a challenge for innovation executives. Innovation executives know that a new approach is needed. To boost performance to the next level, executives need to simultaneously loosen and tighten approaches to innovation management. We must start looking outward and opening ourselves to customers, collaborators, and our own creative side. At the same time, we need to tighten it through continuous improvement by attempting to embed an innovation culture to the organization.
Intelligent Innovation is considered a comprehensive approach that can support the next phase of Innovation Performance Improvement. The practice of Intelligent Innovation must complement the strengths of the current control regime to achieve innovative excellence.
Why Intelligent Innovation
Innovation Performance Improvement has been driven by initiatives that are highly analytical, inward-looking, and focused largely on retooling the innovation engine. There are 3 Stages of Performance Improvement. First is Management Control where innovation was treated like any other process and controlled with traditional management techniques. The second is Cost Control where innovation is redesigned to minimize cost. And the third is Profit Control where innovation was managed as projects with each project needing to be profitable in its own right.
Each successive stage built on the previous one. These stages are called "control regimes." While these have built a critical foundation for future progress, they cannot deliver the desired results on their own.
To boost performance to the next level, Intelligent Innovation must be put in place. Intelligent Innovation completes the 4 Stages of Innovation Performance Improvement.
Intelligent Innovation and its 4 Dimensions
Intelligent Innovation cuts across 4 critical dimensions. It complements the strengths of the current control regime with excellence in 4 dimensions.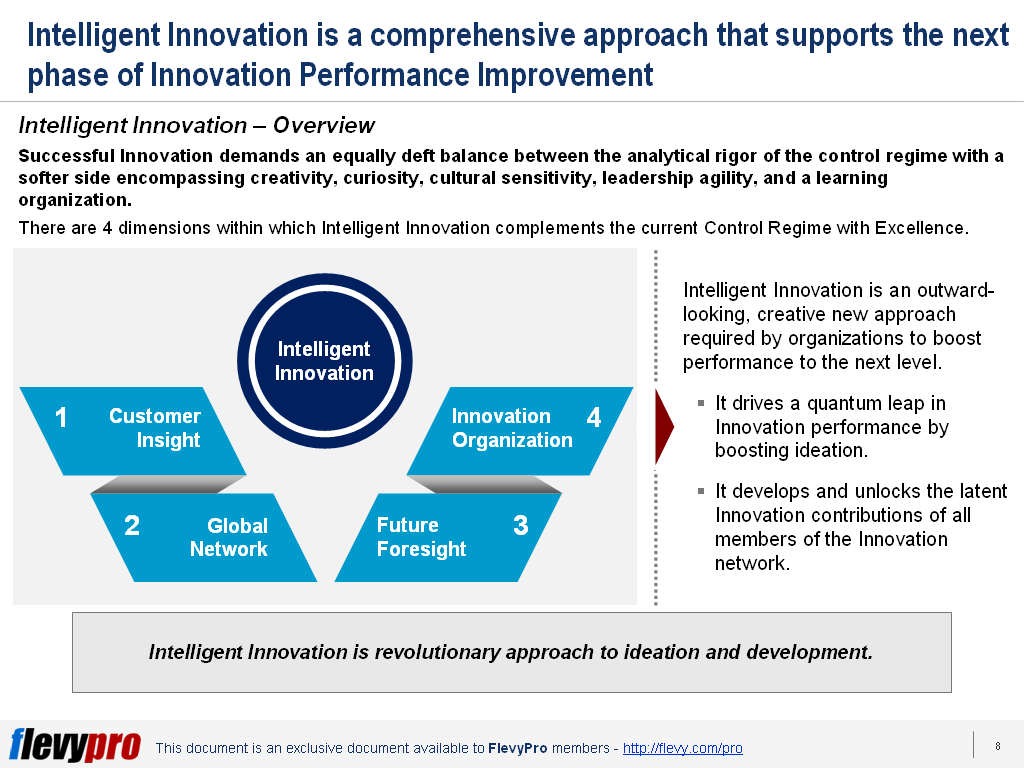 1st Dimension: Customer Insight
Customer Insight is considered the most important performance improvement level. It improves customer understanding with regards the evolving needs and critical priorities of customers. It can also increase customer participation in the innovation process.
Understanding what the customers want is important to drive ideation and execution.
According to Henry Ford, "If I'd only listened to customers, I'd have developed faster horses."
By listening to customers, the more we learn what our customers need or want. And by knowing what our customers want, our organization will be in a better position to uncover tacit priorities that will fuel the most attractive development and innovative options.
2nd Dimension: Global Network
Global Network allows intelligent innovators to leverage dispersed knowledge across the globe. Each site or external partner is integrated into a seamlessly managed innovation network.
By having a Global Innovation Network, our organization will have the impetus to grow faster than its market.
3rd Dimension: Future Foresight
A well-tuned future trends capability can be a powerful strategic and competitive weapon in today's global environment. It can identify tomorrow's market opportunities and risks to drive innovation. Detailed and imaginative, this envisions the future competitive environment which better prepares our organization how to approach it.
4th Dimension: Innovation Organization
A critical element of success is the way organizations foster an innovation culture. An Innovation Organization carries within its DNA the intelligent innovation principles – senior management commitment to innovation, knowledge sharing, cross-functional teaming, freedom to pursue ideas, and innovation-friendly incentives. These are all embedded in the organization.
Intelligent innovators must work hard to unlock the innovation potential within the organization and use the tools available to direct organizations to take advantage of market opportunities. With a clear destination in mind, an innovative organization can accelerate its potential to gaining the winning edge when it comes to innovation, customer excellence, and profit.
Interested in gaining more understanding of the Dimensions of Intelligent Innovation? You can learn more and download an editable PowerPoint about Dimensions of Intelligent Innovation here on the Flevy documents marketplace.
Are you a management consultant?
You can download this and hundreds of other consulting frameworks and consulting training guides from the FlevyPro library.
Subscribe to our Newsletter

PowerPointing Templates

Error: Twitter did not respond. Please wait a few minutes and refresh this page.