Never before has Crisis Management been considered important.  With businesses being exposed to a disruptive environment, the emphasis on
Crisis Management has never been more profound.
"The secret of Crisis Management is not good vs. bad, it's preventing the bad from getting worse."- Andy Gilman of Comm Core Consulting Group
An organization is considered to be undergoing a crisis when there is a sudden and unexpected event leading to major unrest amongst the individuals at the workplace.  It is an emergency situation that disturbs the employees as well as leads to the instability of the organization.  When this occurs, organizations are expected to have critical documentation and process, e.g. Crisis Management Plan, Disaster Recovery Plan, Business Continuity Plan, etc., in place.
Crisis Management is the art of dealing with these sudden and unexpected events which disturb the employees and organization. Yet, often companies are like the metaphorical frog that doesn't notice the water it is in is warming up until it is too late.  There are managers who either do not realize that they are in a crisis or their crisis situation is worsening.  The early signs of distress are often missed.  While they are not bad managers, these are managers that are under a set of paradigms that no longer apply and just let the power of inertia carry them along.
As a result, organizations in crisis find themselves faced with a potential cost that is greatly significant.  This can lead to longer recovery time, a direct impact on downtime, and lost revenue.
First Things First: Taking a Good Handle of Crisis Management
Crisis Management is the application of strategies to enable organizations to deal with a disruptive and unexpected event that threatens to harm the organization or its stakeholders. It is a situation-based management system with clear roles, responsibilities, and processes. In Crisis Management, it requires a crisis mindset. A crisis mindset is the ability to think of the worst-case scenario while simultaneously suggesting numerous solutions.
Being well prepared for a crisis is the epitome of Crisis Management. It ensures a rapid and adequate response to a crisis and maintaining clear lines of reporting and communication in the event of crisis.
Yet, often the organization and communication involved in responding to a crisis in a timely fashion provide the most challenge to business. Responding to crisis in the most effective way can be done by taking the 10 First Steps.
The 10 First Steps to Crisis Management
The 10 strategic First Steps are the organization's guide when in crisis and there is a strong call toward initiating organizational change.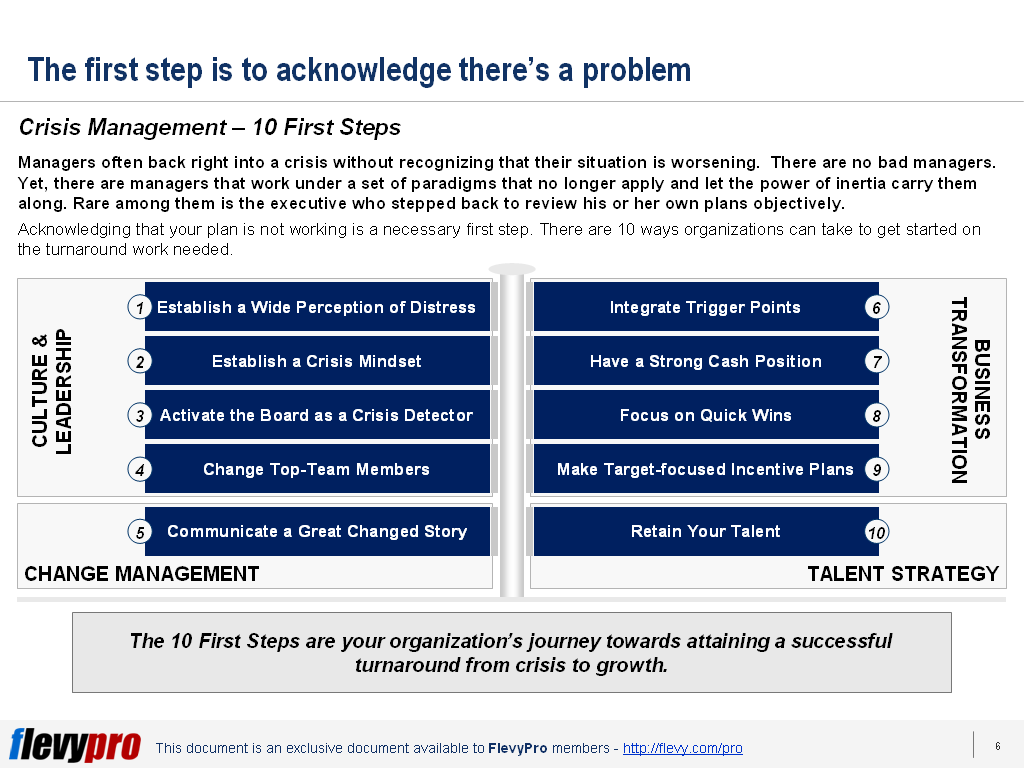 The first 4 steps focus on Culture and Leadership.
Establish a Wide Perception of Distress
Establish a Crisis Mindset
Activate the Board as a Crisis Detector
Change Top-Team Members
The first 4 steps will widen one's understanding of distress and move people to actions at the time of crisis. It is at this stage that the Board will be empowered to see the forest for the trees and can enable organizations to focus on tough movers that can successfully make organizational changes.
The 5th step focuses on Change Management.
Communicate a Great Changed Story
Communicating a Great Changed Story can create positive motivation to spur action towards change. When Change Management starts evolving, the organization is now ready to advance towards Business Transformation.
The 6th to 9th steps focus on Business Transformation.
Integrate Trigger Points
Have a Strong Cash Position
Focus on Quick Wins
Make Target-focused Incentive Plans
Business Transformation starts when trigger points are integrated and a strong cash position is maintained. Management can focus on quick wins to create a trajectory effect to spur actions and develop target-focused Incentive Plans to achieve a successful turnaround.
The 10th and final step is sustaining the gains through effective Talent Strategy.
Retain your Talent
The final step is Retaining your Talent. It is recognizing those that can make a difference and finding the next level of talent that can create and sustain change.
Organizations can build its Crisis Management capability following the 10 first steps.  Crisis Management is not anymore a matter of choice; it has become a necessity.
Interested in gaining more understanding of the first 10 steps to surviving a crisis?  You can learn more and download an editable PowerPoint about Crisis Management: 10 First Steps here on the Flevy documents marketplace.
Are you a management consultant?
You can download this and hundreds of other consulting frameworks and consulting training guides from the FlevyPro library.
Subscribe to our Newsletter

PowerPointing Templates

Error: Twitter did not respond. Please wait a few minutes and refresh this page.