Marketing, these days, is shifting towards developing great ideas and creating customer experiences that consumers discuss further in their circle.  The focus of the marketing effort is on building a brand image.  To supplement this organizations need to develop a culture that lives the brand.
Top brands have been built by communicating their message to the most loyal customers who then shout it out to their friends and a chain starts making the brand a known name.  Leading brands, today, strive to win a place in the minds of their consumers.
Building a brand necessitates a robust Marketing approach.  Prioritizing the main benefits of a product that an organization wants to concentrate on is a critical decision to build a brand.  The Consumer Benefits Ladder (CBL) is one such method that informs the leaders on how to position their customer benefits in their Marketing campaign.  These benefits should be those that are offered to the customers, and are not that the organization gets.  The benefits transferred to the customers bring positive outcomes for the organization as well.
The prime focus of the Consumer Benefits Ladder is to identify the key benefits of a product.  The framework classifies consumer benefits into 4 broad types—symbolized by the rungs of a ladder:
RUNG 1 – Product Availability
RUNG 2 – Product Features
RUNG 3 – Functional Benefits
RUNG 4 – Emotional Benefits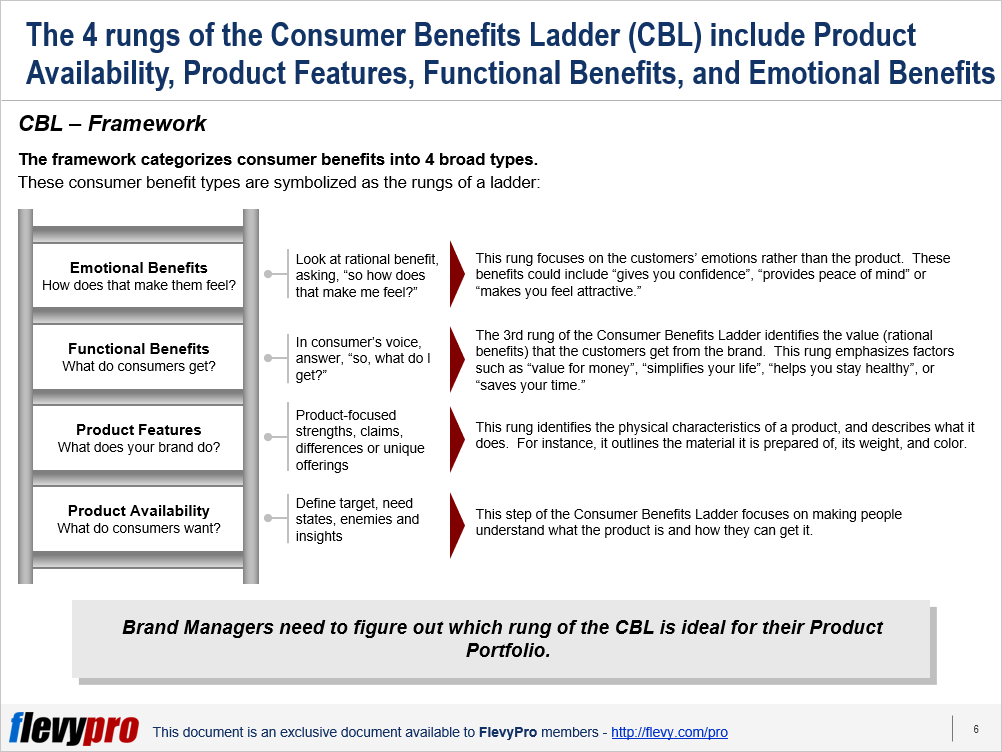 The Consumer Benefits Ladder functions on the principle of developing insights incrementally to build Brand Loyalty in customers.  The concept of the Consumer Benefits Ladder originates from the "Laddering interview" technique used in Psychology and Marketing Research.
Let's dive deeper into the individual rungs of the CBL.
RUNG 1 – Product Availability
The initial rung of the Consumer Benefits Ladder ensures the availability of the product in the target market.  This step of the Consumer Benefits Ladder focuses on making people understand what the product is and how they can get it.  It is a straightforward yet effective approach to Brand Building where leading organizations employing this strategy:
Focus on product availability.
Add some tone and humor in the delivery of their marketing campaigns alongside their simple product availability-centric strategy.
Emphasize on price as a huge driver for its customer base and value creation.
Consistently execute their strategy and strive to win their customer loyalty and repeat business.
Do not side-step to ascend higher on the Consumer Benefits ladder.
RUNG 2 – Product Features
The second rung of the CBL identifies the physical characteristics of a product, its unique offerings, and describes what it does.  Most organizations tend to focus on benefits instead of plain product features.  However, product feature strategy is quite effective when:
The customers are aware of their exact requirements and they do not want organizations translating their product features into benefits.
The product features are quite evident.
The Product Strategy based on product features entails clearly listing all the features, brand assets, and competitive advantages that a product offers.  For instance, it outlines the material it is prepared of, its weight, and color.
RUNG 3 – Functional Benefits
The 3rd step of the CBL Framework identifies the promise you make to the customers and the value (rational benefits) that the customers get from the brand.  A focus on the functional benefits of the Consumer Benefits Ladder necessitates careful deliberation of the brand features, screening them from the consumers' point of view, and their utility for the consumer.
Interested in learning more about the key steps and rungs of the Consumer Benefits Ladder?  You can download an editable PowerPoint presentation on Consumer Benefits Ladder here on the Flevy documents marketplace.
Do You Find Value in This Framework?
You can download in-depth presentations on this and hundreds of similar business frameworks from the FlevyPro Library. FlevyPro is trusted and utilized by 1000s of management consultants and corporate executives. Here's what some have to say:
"My FlevyPro subscription provides me with the most popular frameworks and decks in demand in today's market. They not only augment my existing consulting and coaching offerings and delivery, but also keep me abreast of the latest trends, inspire new products and service offerings for my practice, and educate me in a fraction of the time and money of other solutions. I strongly recommend FlevyPro to any consultant serious about success."

– Bill Branson, Founder at Strategic Business Architects
"As a niche strategic consulting firm, Flevy and FlevyPro frameworks and documents are an on-going reference to help us structure our findings and recommendations to our clients as well as improve their clarity, strength, and visual power. For us, it is an invaluable resource to increase our impact and value."

– David Coloma, Consulting Area Manager at Cynertia Consulting
"As a small business owner, the resource material available from FlevyPro has proven to be invaluable. The ability to search for material on demand based our project events and client requirements was great for me and proved very beneficial to my clients. Importantly, being able to easily edit and tailor the material for specific purposes helped us to make presentations, knowledge sharing, and toolkit development, which formed part of the overall program collateral. While FlevyPro contains resource material that any consultancy, project or delivery firm must have, it is an essential part of a small firm or independent consultant's toolbox."

– Michael Duff, Managing Director at Change Strategy (UK)
Subscribe to our Newsletter

PowerPointing Templates

Error: Twitter did not respond. Please wait a few minutes and refresh this page.