Enterprise Architecture (EA) conveys management best practices for positioning business and technology resources to fulfil strategic goals, enhance Organizational Performance, and guide departments to achieve their core missions more successfully via Operational Excellence.
The Federal Enterprise Architecture Framework (FEAF) realizes this goal for U.S. Federal agencies and assists systems surpass interagency boundaries.  FEAF facilitates through documentation and information, and conveys a summarized outlook of an enterprise at various tiers of scope and detail.
The FEAF comprises of 6 interconnected Reference Models, linked through Consolidated Reference Model (CRM), each relating to a sub-architectural domain of the FEA framework.
Data Reference Model (DRM) is a FEA tool for ascertaining the data that the Federal government has and the process through which that data will be shared when business/mission requirements occur.
DRM is propounded as a theoretical framework from which actual implementations may be derived.
DRM offers a uniform way to describe, categorize, manage, share, and reuse data/information within and across the Federal government.  DRM also enables detection and communication of core information across organizational boundaries.
What DRM is not is static and invariable nor is it a data management manual for how to build and maintain data architectures.  It is neither a pan-government conceptual data model nor an all-embracing / fully attributed logical data model.  DRM is not supposed to be a comprehensive collection of XML schemas or a substitute of prevailing data structures within the agencies.
DRM works in consonance with other reference models in various ways.  For example, it identifies opportunities for strategic coordination through relationships among data sources by linking with Performance Reference Model (PRM) while improving business processes and decision-making performance through data sharing with Business Reference Model (BRM).
Data Reference Model arrangement is demarcated by a 3 layered hierarchy.  The 3-layer arrangement of the Data Reference Model delineates domains, subjects, and topics.
Domains – Uppermost level of the hierarchy comprises of 4 Domains.
Subjects – Central level of the hierarchy covers 22 Subject elements.
Topics – Lowermost level of the hierarchy consists of 144 Topic elements.
DRM refers to data and information required to execute Federal business and mission functions.  In order to assist agencies in consistently categorizing, describing, and exchanging their data, there are 3 fundamental method areas associated with the DRM:
Data Description
Data Context
Data Sharing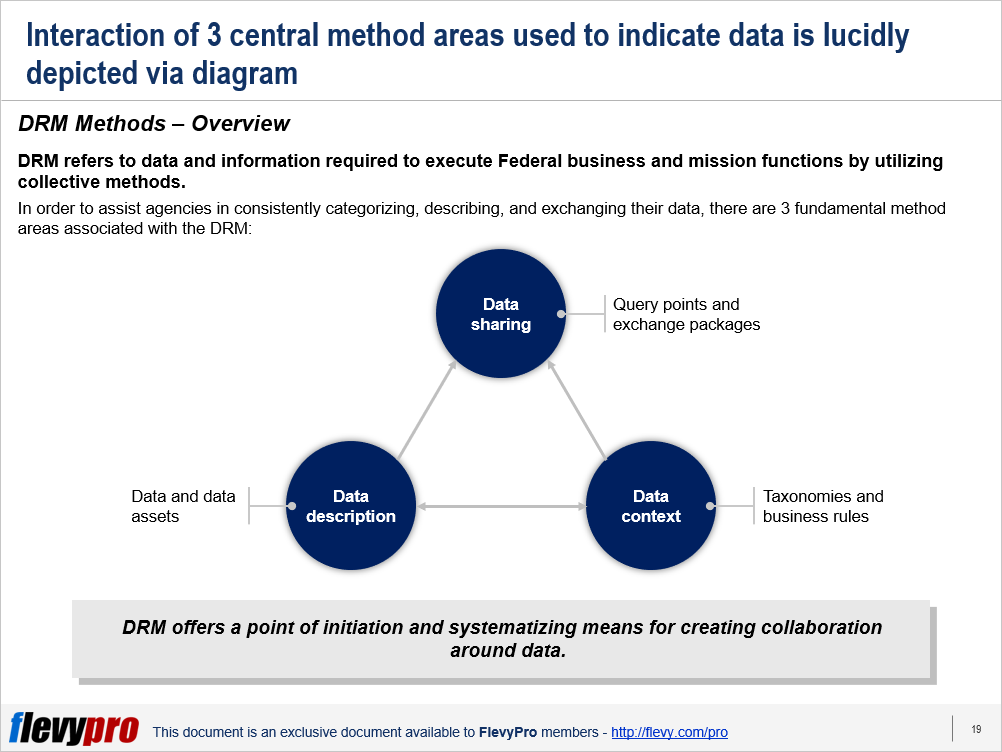 Let us delve a little deeper into the DRM methods.
Data Description
Data Description offers an approach to consistently arrange, portray, and share data.  Customarily, Data Description was exclusively concentrated on arranging and describing structured data.  To tackle the challenge of unstructured data, DRM Data Description section was revised to focus on Metadata.
Metadata is broadly classified into 2 types, business or technical.
Data Context
Data Context is any information that gives added sense to data and a perception of the reason for which it was created.  Data Context permits Data Governance and forms the basis for exhaustive Data Description.  Data categorization methods such as Data Asset Catalog and Information Discovery and Search portray common data architecture artifacts.
Data Sharing
Data Sharing concentrates on architectural patterns for sharing and exchanging data.  Data Sharing assists in retrieving and swapping of data, where access involves supplementary requests and exchange involves permanent, repeating transactions between interest groups.
Interested in learning more about the Data Reference Model?  You can download an editable PowerPoint on FEAF: Data Reference Model (DRM) here on the Flevy documents marketplace.
Do You Find Value in This Framework?
You can download in-depth presentations on this and hundreds of similar business frameworks from the FlevyPro Library.  FlevyPro is trusted and utilized by 1000s of management consultants and corporate executives.  Here's what some have to say:
"My FlevyPro subscription provides me with the most popular frameworks and decks in demand in today's market.  They not only augment my existing consulting and coaching offerings and delivery, but also keep me abreast of the latest trends, inspire new products and service offerings for my practice, and educate me in a fraction of the time and money of other solutions.  I strongly recommend FlevyPro to any consultant serious about success."

– Bill Branson, Founder at Strategic Business Architects
"As a niche strategic consulting firm, Flevy and FlevyPro frameworks and documents are an on-going reference to help us structure our findings and recommendations to our clients as well as improve their clarity, strength, and visual power.  For us, it is an invaluable resource to increase our impact and value."

– David Coloma, Consulting Area Manager at Cynertia Consulting
"FlevyPro has been a brilliant resource for me, as an independent growth consultant, to access a vast knowledge bank of presentations to support my work with clients.  In terms of RoI, the value I received from the very first presentation I downloaded paid for my subscription many times over!  The quality of the decks available allows me to punch way above my weight – it's like having the resources of a Big 4 consultancy at your fingertips at a microscopic fraction of the overhead."

– Roderick Cameron, Founding Partner at SGFE Ltd
Subscribe to our Newsletter

PowerPointing Templates

Error: Twitter did not respond. Please wait a few minutes and refresh this page.