Business Transformation initiatives are typically undertaken to solve a pressing issue, bring about improved performance, or to serve customers better.  A critical element of the success of such initiatives entails transforming the existing behaviors of the employees across the organization.  However, this isn't a straightforward task.
Attitudes and practices get reinforced in people by following established routines day in and day out.  Such practices become a part of an Organizational Culture over time.  Ingrained organizational behaviors and practices aren't considered burdening until the organization's performance starts declining considerably over time.  That's when the leaders start thinking about changing these beliefs and habitual actions.
Psychology and Neuroscience can help enterprises change the deeply embedded attitudes and practices of people and replace those with new beliefs and practices.  Leading organizations are using psychology and brain research to induce successful change.  Specifically, they focus on the right priorities to enable Organizational and Behavioral Change and take the following 6 steps—or 6 Rs of Behavioral Change:
Recognize
Relabel
Reflect
Refocus
Respond
Revalue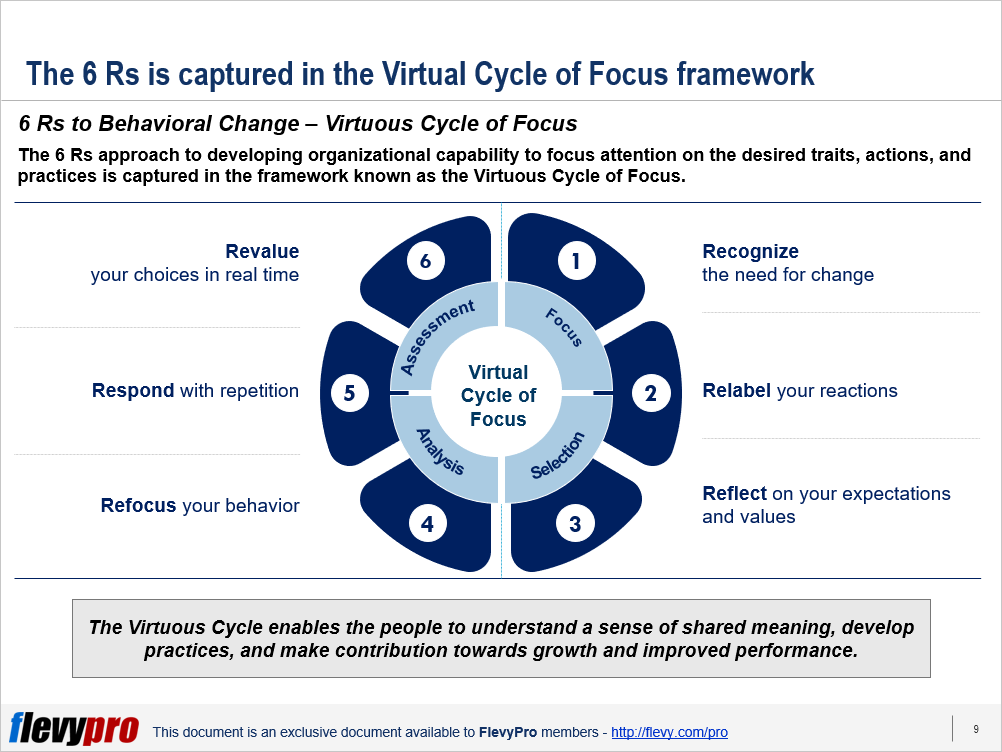 Let's dive deeper into the first 3 steps critical to render behavioral change.
Step 1 – Recognize
The first step involves the leadership reflecting on the behaviors that are required to be transformed.  Leaders are responsible for articulating the future vision of an organization, prioritizing and implementing initiatives to achieve the vision, and take measures to tackle disruption caused by technology and rivals.  Self-Reflection on undesired behaviors by role models (including senior leaders) is essential to make other people ponder over their behaviors.
Leadership behaviors inform the workforce about the Transformation required, assist in championing the agenda, and make these behaviors resonate across the board.  Individuals, in turn, should contemplate on the alignment of their behaviors with their personal / organizational goals, think of new improved ways of doing things, and dump convenient yet unproductive behaviors.
Step 2 – Relabel
The 2nd step of the 6 Rs to Organizational Change necessitates categorizing and naming the flawed or unfit behaviors.  Neuroscience research has revealed that by naming behaviors and understanding that thoughts are merely ideas, persons with Obsessive Compulsive Disorder can disregard useless thoughts and behaviors that trigger them to wash their hands again and again.
Relabeling thoughts allows individuals to stop reflecting on useless thoughts.  Likewise, in an organizational setting leadership needs to evaluate which shared thoughts don't work well, categorize them, and communicate the reasons for their unsuitability across the organization.
Step 3 – Reflect
In this step, senior management replaces outdated beliefs and behaviors and outlines the vision or desired objectives and behaviors.  The outlined desired objectives and behaviors need to be explicit, translated into daily actions, and attractive to the people.  This may warrant training of people to reflect on the desired expectations and behaviors collectively.  Effective communication of benefits of altered objectives and behaviors assists in subsiding the unrest associated with change in people and relaxing their mind and thoughts.  This must include informing people that uncertainties are part of business and that they should keep their focus on organizational values and what matters most during change.  Reflection creates a sense of ownership among employees that is otherwise difficult to be achieved by any cascaded top-to-bottom directives.
Interested in learning more about the other steps or Rs critical to engender Change ?  You can download an editable PowerPoint on 6 Rs to Behavioral Change here on the Flevy documents marketplace.
Do You Find Value in This Framework?
You can download in-depth presentations on this and hundreds of similar business frameworks from the FlevyPro Library.  FlevyPro is trusted and utilized by 1000s of management consultants and corporate executives.  Here's what some have to say:
"My FlevyPro subscription provides me with the most popular frameworks and decks in demand in today's market.  They not only augment my existing consulting and coaching offerings and delivery, but also keep me abreast of the latest trends, inspire new products and service offerings for my practice, and educate me in a fraction of the time and money of other solutions.  I strongly recommend FlevyPro to any consultant serious about success."

– Bill Branson, Founder at Strategic Business Architects
"As a niche strategic consulting firm, Flevy and FlevyPro frameworks and documents are an on-going reference to help us structure our findings and recommendations to our clients as well as improve their clarity, strength, and visual power.  For us, it is an invaluable resource to increase our impact and value."

– David Coloma, Consulting Area Manager at Cynertia Consulting
"FlevyPro has been a brilliant resource for me, as an independent growth consultant, to access a vast knowledge bank of presentations to support my work with clients.  In terms of RoI, the value I received from the very first presentation I downloaded paid for my subscription many times over!  The quality of the decks available allows me to punch way above my weight – it's like having the resources of a Big 4 consultancy at your fingertips at a microscopic fraction of the overhead."

– Roderick Cameron, Founding Partner at SGFE Ltd
Subscribe to our Newsletter

PowerPointing Templates

Error: Twitter did not respond. Please wait a few minutes and refresh this page.