Most people believe that the value and impact of the C-level leadership originates from the number of meetings conducted, having the ability to plan for long term, and make key strategic decisions collectively.  However, in reality, the C-level seldom works in unanimity to make collective decisions.  They often have animosities with each other and lack collaboration and mutual trust.
The real impact and success of the top team emanates from the informal and social networks of its members, their resolve to capitalize on those connections for strategic decision making, and their competency to perform well in subgroups created to solve pressing concerns.
Effective C-level leadership is conscious of the value of their informal / social networks and their ability to deal with serious issues.  They organize themselves in a way to work as the nucleus of the organization, which gives them the leverage to promptly act on adversities or opportunities.
Leadership's Social Network Analysis
C-level's informal social network enables an organization to draw combined capabilities—in-house as well as the extended network.  Top leadership needs to evaluate the strengths of their social network by mapping their informal associations.  This can be done by conducting surveys, analyzing meetings, phone calls, and emails.
The social network analysis reveals that 90% actionable information comes from this informal leadership network rather than through internal reports and datasets.  These linkages aren't distributed evenly; some members may be highly networked commanding a major chunk of two-way interactions across the organization whereas others may have a smaller network and lesser influence accordingly.  The analysis also suggests that poor leadership connections lead to failed decisions—whereas enriched networks cause advancement in Innovation and Organizational Efficiency.
To design—or redesign—an effective Leadership Operating Model, organizations need to incorporate 3 key principles in their operations:
Leverage Focused Subgroups
Improve Networking Effectiveness
Manage Conflicts at the Constituent Level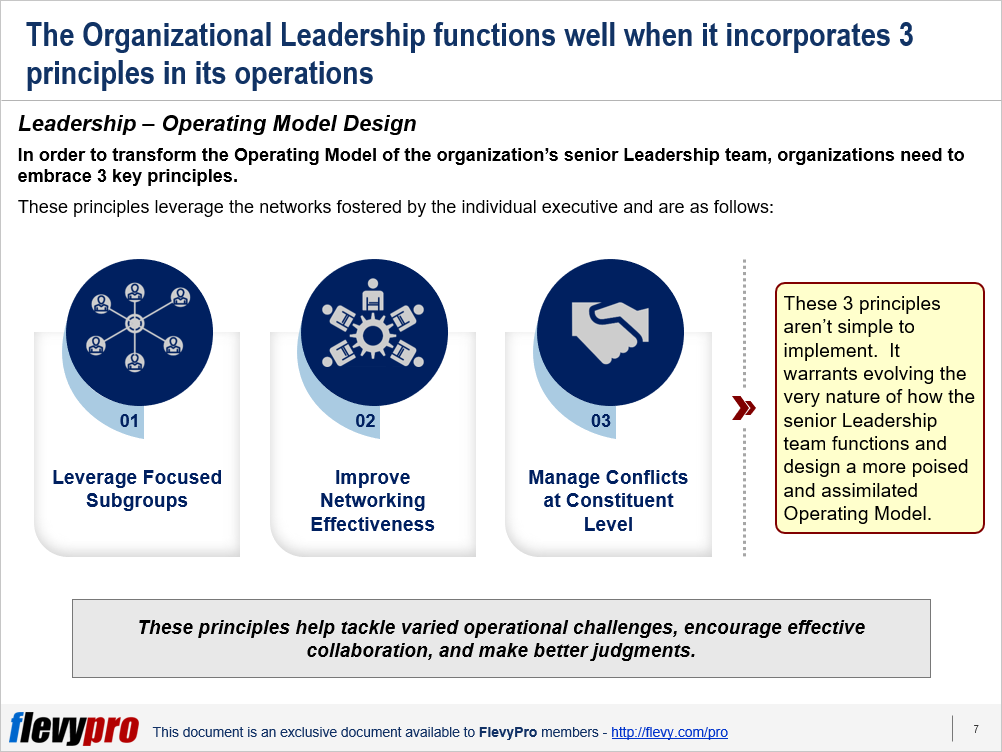 These 3 principles aren't simple to implement.  It warrants evolving the very nature of how the senior leadership team functions and design a more poised and assimilated Operating Model.
Let's discuss these principles in detail.
Leverage Focused Subgroups
Senior leadership's performance cannot be judged solely by its ability to revamp the enterprise's organogram.  Effective top leadership demands from the team a capability to form peer-to-peer, top-down, and bottom-up relationships; and work in discrete yet linked groups, each of which is focused on solving a unique problem or tapping an opportunity.
Depending upon the circumstances, leaders should adopt any of these modes when dealing with networks.  Focused subgroups work best in 3 discrete modes:
Discussion Groups – These groups focus on information flow, comparing notes, and updating each other on progress. The mode does not cater strategic decisions or active leadership.
Single Leader Units – In this mode, every executive of the group has clear responsibilities and is accountable to one boss who has the authority over the others to enable speed and efficiency.
Real Teams – This subgroup includes executives possessing similar capabilities, who are committed under an accommodating leader to achieve shared objectives.
Networking Effectiveness
It is culturally acceptable at many organizations to utilize time on trivial matters—e.g. unnecessary e-mailing, lengthy approval cycles, long-drawn-out meetings, or to schedule events.  These matters cannot be eliminated altogether however, meticulously planned informal networking between the top team enhances efficiency of leaders to a great extent.
Each member of the C-level should connect the right people together, lead and support subgroups, and maintain associations.  Gaps in informal communication between leaders damage the implementation of organizational strategic plans.  Interaction between top executives is often limited to participation in senior level meetings for information sharing purposes only, lacking collaboration to pursue shared objectives.  To make matters worse, they spend too little a time with their direct reports, employees, or customers.  This detachment creates widespread unease and skepticism.
Interested in learning more about the 3 key principles necessary to design a Leadership Operating Model?  You can download an editable PowerPoint on 3 principles key to design a Leadership Operating Model here on the Flevy documents marketplace.
Do You Find Value in This Framework?
You can download in-depth presentations on this and hundreds of similar business frameworks from the FlevyPro Library.  FlevyPro is trusted and utilized by 1000s of management consultants and corporate executives.  Here's what some have to say:
"My FlevyPro subscription provides me with the most popular frameworks and decks in demand in today's market.  They not only augment my existing consulting and coaching offerings and delivery, but also keep me abreast of the latest trends, inspire new products and service offerings for my practice, and educate me in a fraction of the time and money of other solutions.  I strongly recommend FlevyPro to any consultant serious about success."

– Bill Branson, Founder at Strategic Business Architects
"As a niche strategic consulting firm, Flevy and FlevyPro frameworks and documents are an on-going reference to help us structure our findings and recommendations to our clients as well as improve their clarity, strength, and visual power.  For us, it is an invaluable resource to increase our impact and value."

– David Coloma, Consulting Area Manager at Cynertia Consulting
"FlevyPro has been a brilliant resource for me, as an independent growth consultant, to access a vast knowledge bank of presentations to support my work with clients.  In terms of RoI, the value I received from the very first presentation I downloaded paid for my subscription many times over!  The quality of the decks available allows me to punch way above my weight – it's like having the resources of a Big 4 consultancy at your fingertips at a microscopic fraction of the overhead."

– Roderick Cameron, Founding Partner at SGFE Ltd
Subscribe to our Newsletter

PowerPointing Templates

Error: Twitter did not respond. Please wait a few minutes and refresh this page.