Currently viewing the tag: "Capability"
Site Selection is the practice of choosing a new facility location. It involves measuring the needs of a new project against the merits of potential locations. The practice became popular during the 20th century, as operations of many organizations expanded to new geographies on a national and international scale.
Selection of sites has been known to have taken place due to factors such as:
Best required skills being available in a particular city.
Setting up in an off-the-trail location because all operations will be managed remotely.
Following the trend to set up offices and facilities in a particular city because every company is doing so.
Factory facilities of the company being close-by.
Top boss living in the vicinity.
Person tasked with choosing the site liking the area for a particular feature such as restaurants and the like.
Making such significant long-term choices based on haphazard and indifferent reasons is a blunder.  The consequences of the mistake are exacerbated when such sites are being selected in emerging markets.
Site selection, in particular, for R&D, Design, and Engineering, warrants a more serious approach than is given to it.  Employing a formalized selection method aids in eliminating sentiment in the concluding decision.  The orderly selection procedure is also valuable in conveying the ultimate decision to all involved.  Selection criteria and their priority should be agreed to in advance for removal of any partiality from the Site Selection process.
Site Selection, especially when being done in emerging markets, has to be conducted while considering at least 5 factors—or the 5 Cs of Site Selection.  Companies ought to identify which among the 5 factors they deem significant and prioritize the factors accordingly:
Cost
Capacity
Capability
Communications
Culture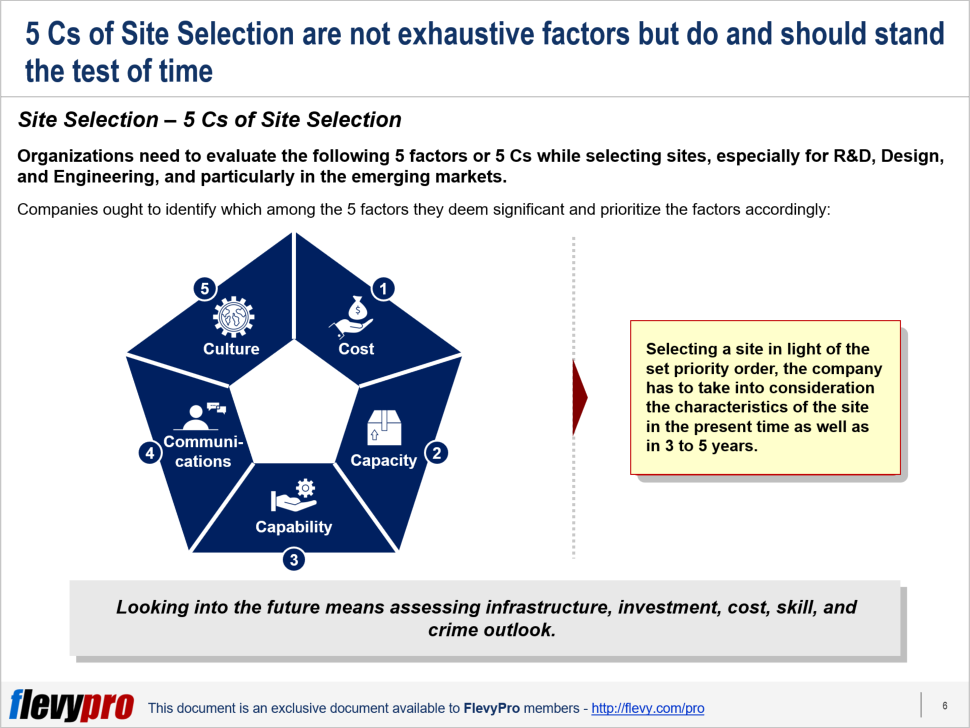 Selecting a site in light of the set priority order, the company has to take into consideration the characteristics of the site in the present time as well as in 3 to 5 years.
Let us delve a little deeper into some of the factors.
Cost
Ideally, Cost Reduction should not be the only factor influencing site selection decisions.  If Cost factor is predominant in the decision, then the local standard of living and the changes there to, have to be taken into consideration.  Costs in setting up a site include items such as:
Buying or leasing land.
Office equipment costs.
Communication infrastructure and operations costs.
IT infrastructure costs.
Employee Training costs.
Companies basing their decisions exclusively on Cost factor rather than what suits their requirements end up paying more than estimated.
Capability
Capability is the ability of the site under consideration to provide the necessary infrastructure, resources, and the work/ operational environment required by the company.  Capability includes existence of exclusive skills and expertise that a company explicitly needs.
Also advantageous to capability are nearby R&D, design, testing, and prototyping centers setup by foreign and local companies. 
Capacity
Capacity refers to the abundance of qualified skill available on the site under consideration.  Capacity comes into play when the company needs rapid scaling up of its operations. 
Although the 5 Cs are of extreme significance, there is an additional factor that cannot be ignored—the Customer.  Recent advances in technology and communication have further empowered the Customer.  The result is that more organizations are seeking to focus on Customer-centric Design.
Interested in learning more about 5 Cs of Site Selection?  You can download an editable PowerPoint on 5 Cs of Site Selection here on the Flevy documents marketplace.
Do You Find Value in This Framework?
You can download in-depth presentations on this and hundreds of similar business frameworks from the FlevyPro Library.  FlevyPro is trusted and utilized by 1000s of management consultants and corporate executives.  Here's what some have to say:
"My FlevyPro subscription provides me with the most popular frameworks and decks in demand in today's market.  They not only augment my existing consulting and coaching offerings and delivery, but also keep me abreast of the latest trends, inspire new products and service offerings for my practice, and educate me in a fraction of the time and money of other solutions.  I strongly recommend FlevyPro to any consultant serious about success."

– Bill Branson, Founder at Strategic Business Architects
"As a niche strategic consulting firm, Flevy and FlevyPro frameworks and documents are an on-going reference to help us structure our findings and recommendations to our clients as well as improve their clarity, strength, and visual power.  For us, it is an invaluable resource to increase our impact and value."

– David Coloma, Consulting Area Manager at Cynertia Consulting
"FlevyPro has been a brilliant resource for me, as an independent growth consultant, to access a vast knowledge bank of presentations to support my work with clients.  In terms of RoI, the value I received from the very first presentation I downloaded paid for my subscription many times over!  The quality of the decks available allows me to punch way above my weight – it's like having the resources of a Big 4 consultancy at your fingertips at a microscopic fraction of the overhead."

– Roderick Cameron, Founding Partner at SGFE Ltd
Subscribe to our Newsletter

PowerPointing Templates

Error: Twitter did not respond. Please wait a few minutes and refresh this page.