Currently viewing the tag: "Customer Centricity"
Most organizations aren't ready to deliver great Customer Experiences across all channels.  Many of them have invested heavily in conventional methods of doing business, backed by in person or over-the-phone customer experience.  This has led to creation of siloed operational structures within companies, where each silo operates individually.
With the advent of digital channels, these organizations set out to use and proffer their services via digital channels.  They did this by creating discrete digital-product groups in their existing operational infrastructure.  However, their siloed infrastructure falls short of meeting customers' requirements in terms of seamless communication and interaction across all channels.  The reason being:
Customers' utilization of multiple channels and touchpoints across Customer Journeys.
Requirements of personalized services / products by the customers.
Anticipation of impeccable coordination and communication by the customers no matter how they interact with the business.
This necessitates the businesses to not only provide great Customer Experiences at each channel, but also make the transitions across these channels simple to improve the overall Customer Experience (CX). However, improving the overall Customer Experience isn't that simple a feat, especially with silo-based operational infrastructures.  Providing consistent amazing Customer Experience warrants:
Creation of a robust operational ecosystem through Transformation of internal operations, to respond quickly to customers' expectations.
Meticulous design and delivery of Customer Experiences.
Most organizations understand the significance of Transforming their Customer Experience—however, they lack the direction and support required to realize this goal. Organizational leadership can make use of the Customer Experience Pyramid to guide their CX Transformation.
The Customer Experience Pyramid is an empirical research based framework, which is quite effective in not only improving individual touchpoints but streamlining the entire Customer Journeys.  The CX Pyramid entails 2 core dimensions:
Focus Areas – the organizational spheres that must change to enable provision of amazing digital Customer Experiences.
Strategic Building Blocks – the strategies that define how this change can take place and made part of the organizational processes to deliver exceptional Customer Experiences.
The 4 Focus Areas crucial in a business to change in order to deliver top-quality Digital Customer Experiences at scale are:
Vision and Strategy
Talent Management
Operations
Technology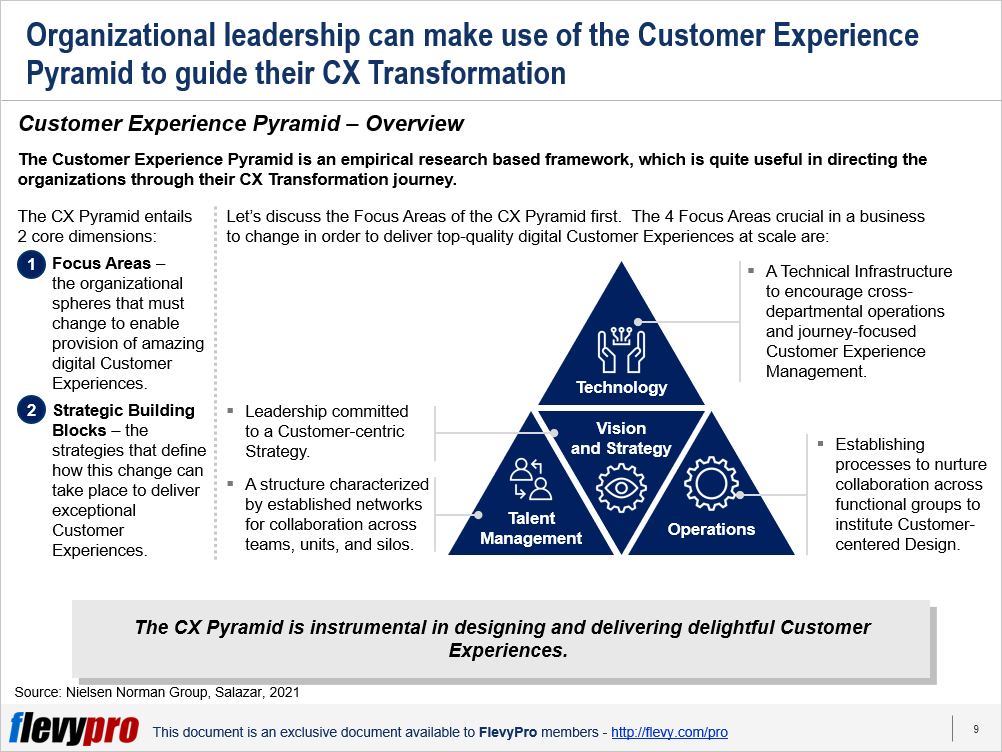 Let's discuss the first 2 individual Focus Areas of the CX Pyramid in detail for now.
Vision and Strategy
Redirecting focus on making Customer Experience a part of the Organizational DNA necessitates creating a Vision statement and Strategy to depict, clarify, and plan out the purpose and objectives of serving the customers.  The senior leadership needs to come up with a short and crisp Vision statement.  The Vision sets out the foundation that reflects the leadership's focus, importance the organization gives to Customer Experience, and the high-level objectives associated with the provision of quality Customer Experiences.
Next, the leadership should work on developing strategies to build fundamental competencies within the 4 CX Building Blocks—i.e., CX operations, metrics, CX-centric culture, systems and governance protocols.
Talent Management
Once the Vision statement has been agreed upon, it's time to work towards carrying out the required actions to produce customer-centric outcomes.  The first step in that direction involves linking all employees who work in discrete silos (in conventional structures).  To align all employees, there is a need to create a Transformation team and define new roles / CX groups.  The Transformation team should train and direct teams responsible for the different stages of the Customer Journey, instill new ideas, and foster desired behaviors in them.
Senior Leadership need to also assign a CX Team to run the CX program.  The CX Team has to lay out processes and yardsticks to foster cross-functional collaboration and coach functional units to adopt customer-centric design practices in their operations.
Interested in learning more about the other focus areas of the CX Pyramid Framework?  You can download an editable PowerPoint presentation on Customer Experience Pyramid here on the Flevy documents marketplace.
Do You Find Value in This Framework?
You can download in-depth presentations on this and hundreds of similar business frameworks from the FlevyPro Library. FlevyPro is trusted and utilized by 1000s of management consultants and corporate executives. Here's what some have to say:
"My FlevyPro subscription provides me with the most popular frameworks and decks in demand in today's market. They not only augment my existing consulting and coaching offerings and delivery, but also keep me abreast of the latest trends, inspire new products and service offerings for my practice, and educate me in a fraction of the time and money of other solutions. I strongly recommend FlevyPro to any consultant serious about success."

– Bill Branson, Founder at Strategic Business Architects
"As a niche strategic consulting firm, Flevy and FlevyPro frameworks and documents are an on-going reference to help us structure our findings and recommendations to our clients as well as improve their clarity, strength, and visual power. For us, it is an invaluable resource to increase our impact and value."

– David Coloma, Consulting Area Manager at Cynertia Consulting
"As a small business owner, the resource material available from FlevyPro has proven to be invaluable. The ability to search for material on demand based our project events and client requirements was great for me and proved very beneficial to my clients. Importantly, being able to easily edit and tailor the material for specific purposes helped us to make presentations, knowledge sharing, and toolkit development, which formed part of the overall program collateral. While FlevyPro contains resource material that any consultancy, project or delivery firm must have, it is an essential part of a small firm or independent consultant's toolbox."

– Michael Duff, Managing Director at Change Strategy (UK)
Digital-savvy startups are disrupting markets and threatening conventional businesses.  They are doing this by utilizing technology to offer new products and services and providing tailored yet uncomplicated experiences for their customers.
Likewise, large traditionally-run firms will have to keep evolving their Customer Experience approaches to secure additional avenues of revenue and to stay competitive.  To accomplish this, they will need to develop capabilities to effectively utilize insights on customer preferences and design offerings as per the customers' preferences.
Many organizations, today, are undertaking Digital Transformation programs to improve their Customer Experiences.  However, a majority of these Digital Transformation initiatives fall short of securing their maximum value potential due to focusing only on improving specific touchpoints instead of confronting the entire customer journeys—spanning across several departments and channels.
To make their Customer Experience sustainable and to become Customer-centric Organizations need to clearly transform their ways of doing business, operations, and employee behaviors.  It is critical to improve these fundamental support processes before embarking on initiating any Customer Experience optimization initiatives.
Customer Experience optimization facilitates in gaining more satisfied/paying customers, additional value, and better retention rates.  Research reveals that the companies that have higher Customer Satisfaction levels can achieve four times growth in value compare to those that rank lower in Customer Satisfaction.
Customer Experience (CX) Approach to Value Creation
The following pragmatic 5-phase approach to Customer Experience Management and Value Creation is of great benefit to organizations aspiring to enrich their Customer Experience, achieve clear-cut differentiation, and capture the most potential value:
Understand What Customers Value
Simplify and Streamline Offerings
Link Customer Value to Operational Drivers
Focus on Most Important Customer Journeys
Adopt Continuous Improvement (CI) Thinking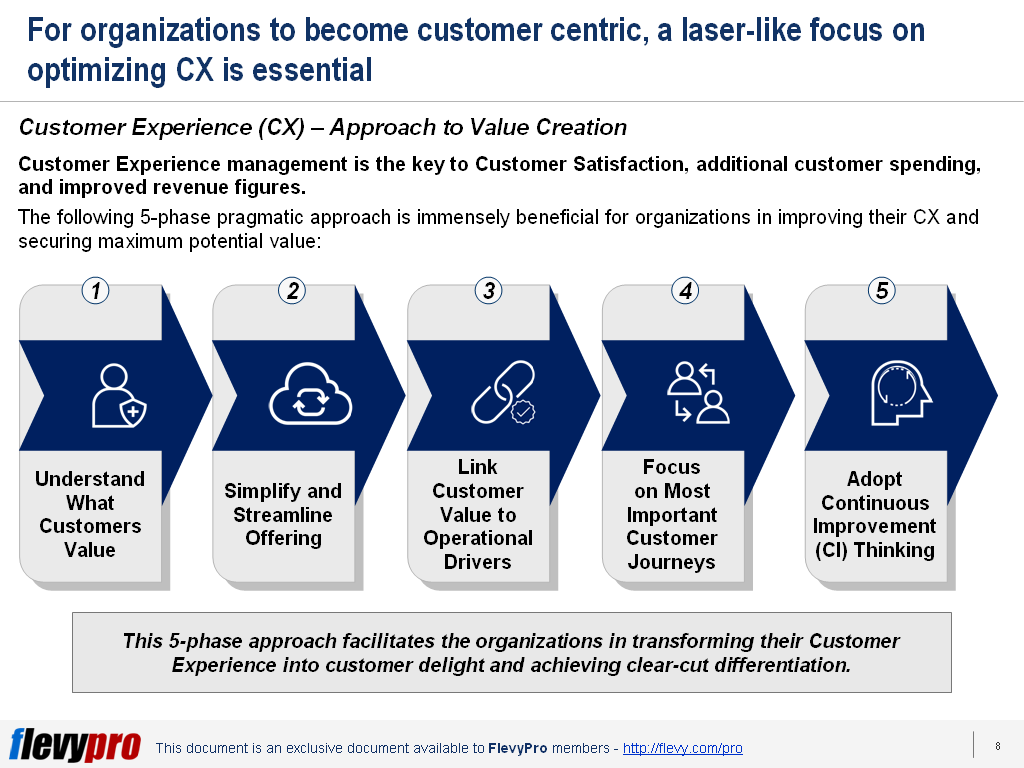 Let's now delve deeper into the first 3 phases of the approach.
Understand What Customers Value
Ascertaining the key drivers of Customer Satisfaction is the foremost step in improving Customer Experience.  A flawed approach—that many companies still employ—at the onset of a Customer Experience optimization initiative is to reduce costs associated with internal processes and exploring customer pain points.  This doesn't assist in maximizing Value Creation.
Customer-centric organizations, on the other hand, devote their time in developing a clear understanding of what really matters to their customers.  This helps in deciding where to focus, rationalizing their processes, and creating new experiences for the customers to generate additional value.
Great Customer Experience necessitates much more than just satisfactory interactions.  Customer Satisfaction should be mapped along the entire customer journey—spanning multiple functions and channels—as customers use various channels to communicate with companies before making a transaction.
Simplify and Streamline Offerings
Alongside rationalizing the processes, it is equally important to carry out a detailed analysis of the brands, offerings, and price structures is essential to tap value from Customer Experience.  After all, even the most pleasing Customer Experience cannot offset an unpredictable or exorbitantly expensive product.
Once these fundamentals are in order, organizations should investigate which interactions and Customer Journeys carry the most significance in a Customer Experience; evaluate how the organization is rated in each journey; identify and focus on the operations that need to be overhauled to improve the overall Customer Experience.
Link Customer Value to Operational Drivers
Technology and customer input provides the stimulus to streamline offerings and Customer Experience.  However, the real value comes from linking the Customer Experience to core operational processes.  Seeing journeys from the customer perspective aids in focusing on what they need and linking internal processes, structures, and KPIs to customer facilitation.
This necessitates deeper insights on elements that are of most value to the customer across a journey, pinpointing drivers of business costs and revenues, and—most importantly—inculcating the right mindsets across the organization.  This detailed evaluation of customer journeys facilitates in determining operational improvements that bear the most positive effect on Customer Experience.
Interested in learning more about the other phases of the approach to managing Customer Experience?  You can download an editable PowerPoint on the Customer Experience (CX) Approach to Create Value here on the Flevy documents marketplace.
Are you a Management Consultant?
You can download this and hundreds of other consulting frameworks and consulting training guides from the FlevyPro library.
Subscribe to our Newsletter

PowerPointing Templates

Error: Twitter did not respond. Please wait a few minutes and refresh this page.