Currently viewing the tag: "Innovation Mindset"
Organizations today are spending money on the latest technologies and working hard to solve problems as they arise. Yet, sad to say,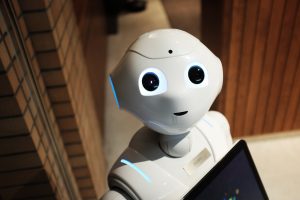 this is simply not enough.
Today, to get on top of today's fiercely competitive business environment, organizations need to take a strategic move: Develop an Innovation Mindset. What is an Innovation Mindset? What does it take to develop an Innovation Mindset? Often, this can be mindboggling as we get confused as to understanding what is an Innovation Mindset. Developing an Innovation Mindset is never the mere act or intent of investing in technology. It goes beyond spending money on the latest technology.
Developing an Innovation Mindset is to undergo the transformation from an innovation-averse to a forward-thinking organization.
Understanding an Innovation Mindset: What It Takes to Develop One
Developing an Innovation Mindset requires scaling innovations repeatedly and making it grow as fast as others. Companies need to depart from adopting technologies as point solutions to evolving future systems. This can be achieved by cultivating the mindset and methods of the top 10%.
The top 10% are the Leaders in Innovation Management that are already enjoying a considerable head start and are not standing still. The systems they have put in place are specifically designed to not only accommodate innovations but also scale them across the enterprise.
Developing an Innovation Mindset Starts with the Right Tools
To foster than Innovation Mindset, we need to put in place 5 key principles.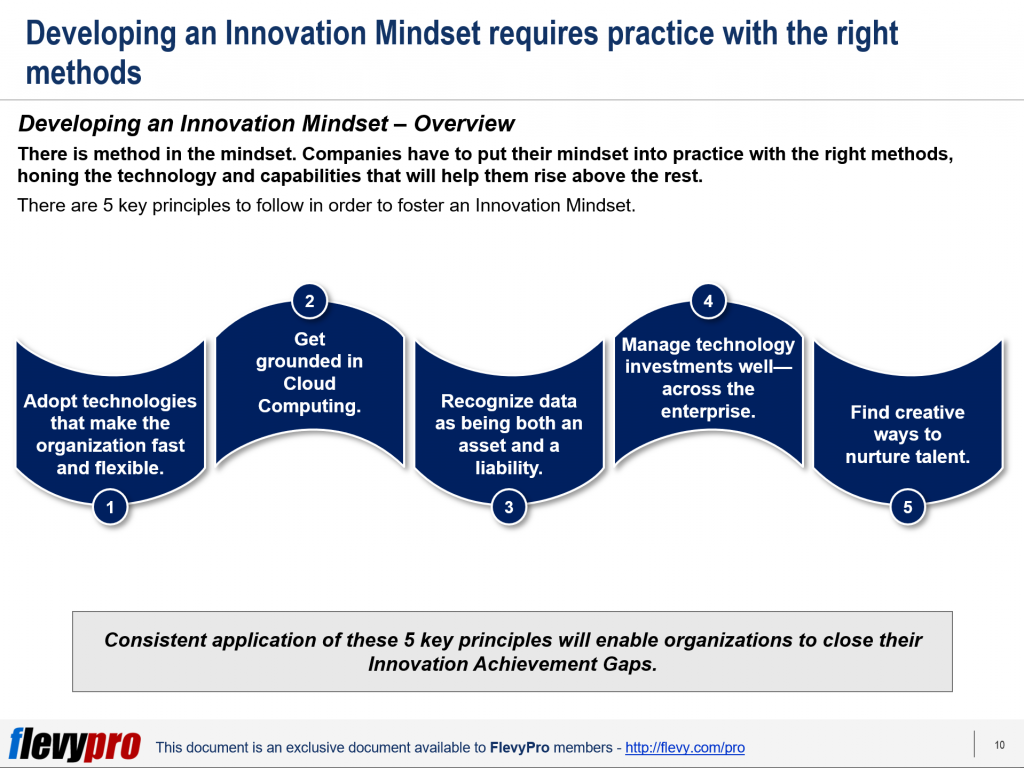 These 5 principles can provide organizations the foundation on developing Innovation Mindsets.  There first 2 are defined as:
Adopt technologies that make the organization fast and flexible. Consumers now demand that companies are fast and flexible. The market is getting impatient when there are delays and so structured that it ceases to be an organization with a Customer-centric Design. Principle 1 focuses on making organizations fast and flexible. Achieving this call for efficient use of decoupling data, infrastructure, and applications to achieve greater flexibility and a faster-moving IT culture.
Get grounded in cloud computing. This principle is focused on catalyzing innovation. Adopting this principle will enable organizations to maximize the use of the cloud to successfully utilize other technologies, including Artificial Intelligence and analytics.
There are 3 other principles that organizations must take notice of and focus on. The other 3 principles are recognizing data as being both an asset and a liability, managing technology investments well across the enterprise, and finding creative ways to nurture talent.
Integrating these principles in the organization's journey towards Digital Transformation will promote the development of an Innovation Mindset. When this happens, we can expect our organization to keep up with the pace and catch up.
What Does It Take to Have an Innovation Mindset
Developing an Innovation Mindset has led leaders to take command and be in-charge of market demands. Leaders are adopting DevOps, automation, and continuous integration/continuous deployment at a faster rate than Laggards. Let us take a look at a Travel Industry disruptor. The company migrated its platform to microservice as part of decoupling initiatives.
As a result of taking this initiative, rapid response to change was achieved. This also enhanced its capability to add new features as the company experiences explosive growth.
Let us take a look at a more internationally recognized company: Ant Financial (formerly known as Alipay), the Alibaba Group's financial arm. The organization embedded cloud services and AI across multiple processes and product lines. Furthermore, AI capabilities were offered to external ecosystem partners.
Today, Ant Financial can instantly assess the credit risks of underserved people who may not have bank accounts and even target them with loan offers. The overall cost was reduced by 50% and the company experienced a 10-fold increase in daily visitors.
Developing an Innovation Mindset is key.
Interested in gaining more understanding of developing an Innovation Mindset? You can learn more and download an editable PowerPoint about Developing an Innovation Mindset here on the Flevy documents marketplace.
Are you a management consultant?
You can download this and hundreds of other consulting frameworks and consulting training guides from the FlevyPro library.
Subscribe to our Newsletter

PowerPointing Templates

Error: Twitter did not respond. Please wait a few minutes and refresh this page.