Currently viewing the tag: "IT projects budgeting"
Customary practice to Capital Budgeting for satisfying needs of Information Technology development and support pursues a fragmented process and considers requests as stand-alone projects, each with its particular business justification.
The approach bases most of the capital allocation on historical expenditure patterns and financial projections.  It handicaps the underlying Enterprise Architecture making it inflexible and layered with unnecessary complexity.  The practice results in inferior outcomes with far greater expenditure.  It also increases the fixed costs of IT operations because of reluctance to retire legacy systems.
Conventional approach to Capital Budgeting for IT projects is too outdated and sluggish for today's Digital Age, where technology has taken a more strategic role.
In the Digital Age, technology needs to be rapidly developed to support not only the operations of the organization, but also to directly support Corporate Strategy.  Thus, we need a faster, more agile approach to IT Strategy.
Capabilities-driven IT Strategy uses an approach where a comprehensive view to IT is adopted based on unique proficiencies of the company.  It shapes an organization-wide justification for Information Technology.  It also puts IT function and business unit together for developing the IT Strategy.  Capabilities-driven approach highlights the strategic worth of visionary IT leadership, particularly in assisting companies comprehend which strategies are most feasible.
The approach presses the company to base judgment on the manner in which the company creates value, on the investment required for distinguishing capabilities, and on the contribution that IT ought to make.  Capabilities-driven approach centers investment on limited distinctive capabilities that set the company apart.
Quite a few companies have employed such strategies, over a short period of time, and have attained a new kind of IT and operational leadership.
Capabilities-driven IT Strategy is achieved through a 4-phase approach:
Determine our Distinctive Capabilities in Relation to IT.
Prioritize our IT Project Portfolio.
Develop Technology Roadmap of IT Investments and Activities.
Develop Culture and Governance to Support IT Strategy.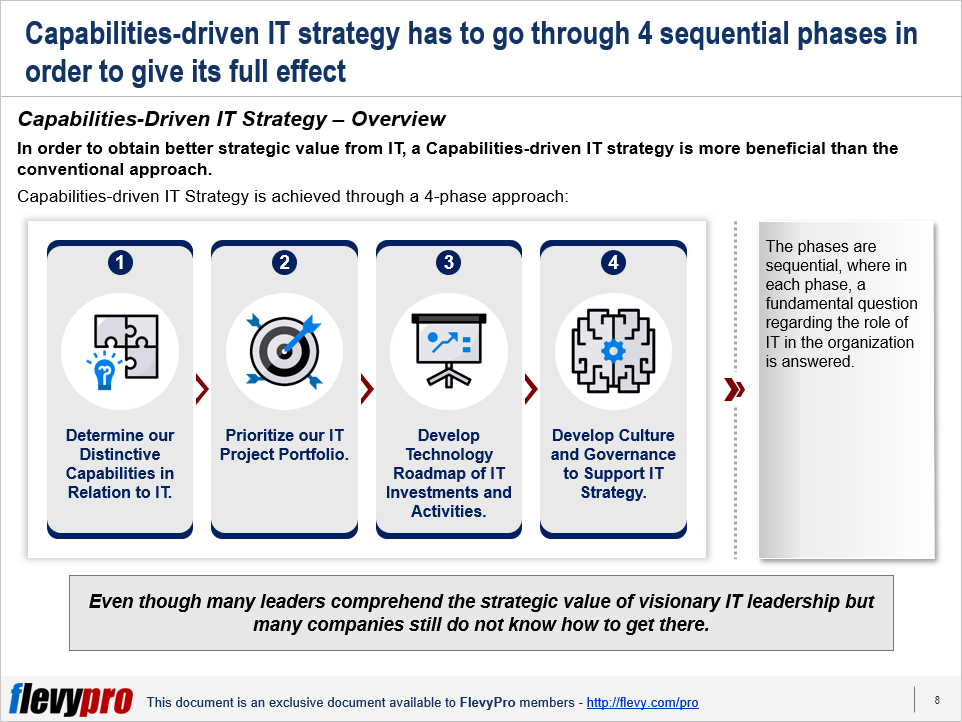 The phases are sequential, where in each phase, a fundamental question regarding the role of IT in the organization is answered.
Let us probe some aspects of the phases a little more deeply.
Determine our Distinctive Capabilities in Relation to IT
The question answered in this phase is regarding Distinctive Capabilities of the company—capabilities that sustain the company's strategic priorities and gives it a Competitive Advantage—and how Information Technology can play a part in improving them. 
Prioritize our IT Project Portfolio
The question answered in this phase is how should the IT projects that will enhance the distinctive capabilities identified in phase 1 be prioritized?
To do this, an IT investment portfolio matrix—based on Strategic Importance and Value Potential criteria—is used that places the IT investment in 1 of the following 4 categories:
Invest to Grow
Invest to Sustain
Invest to Refine
Invest to keep the lights on
Develop Technology Roadmap of IT Investments and Activities
The question answered in this phase is regarding the order of investment and activity that will permit the company to achieve the goals set and fill the gaps that need closing.
Develop Culture and Governance to Support IT Strategy
The issue to tackle in this phase pertains to the nature of Cultural and Governance support needed to put this IT strategy into practice.
Interested in learning complete details of Capabilities-driven IT Strategy and its phases?  You can download an editable PowerPoint on Capabilities-driven IT Strategy here on the Flevy documents marketplace.
Do You Find Value in This Framework?
You can download in-depth presentations on this and hundreds of similar business frameworks from the FlevyPro Library.  FlevyPro is trusted and utilized by 1000s of management consultants and corporate executives. Here's what some have to say:
"My FlevyPro subscription provides me with the most popular frameworks and decks in demand in today's market.  They not only augment my existing consulting and coaching offerings and delivery, but also keep me abreast of the latest trends, inspire new products and service offerings for my practice, and educate me in a fraction of the time and money of other solutions.  I strongly recommend FlevyPro to any consultant serious about success."

– Bill Branson, Founder at Strategic Business Architects
"As a niche strategic consulting firm, Flevy and FlevyPro frameworks and documents are an on-going reference to help us structure our findings and recommendations to our clients as well as improve their clarity, strength, and visual power.  For us, it is an invaluable resource to increase our impact and value."

– David Coloma, Consulting Area Manager at Cynertia Consulting
"FlevyPro has been a brilliant resource for me, as an independent growth consultant, to access a vast knowledge bank of presentations to support my work with clients.  In terms of RoI, the value I received from the very first presentation I downloaded paid for my subscription many times over!  The quality of the decks available allows me to punch way above my weight – it's like having the resources of a Big 4 consultancy at your fingertips at a microscopic fraction of the overhead."

– Roderick Cameron, Founding Partner at SGFE Ltd
Subscribe to our Newsletter

PowerPointing Templates

Error: Twitter did not respond. Please wait a few minutes and refresh this page.