Currently viewing the tag: "Positive Reinforcement"
Employee behaviors are critical for the success of Business Transformation endeavors.  However, transforming the ingrained behaviors and mindsets of the workforce isn't straightforward, and when tackled cause the enterprise's emotional state to go down.
Leaders need to identify the components of Culture that are in line with their Corporate Strategy.  They have to ascertain and harness the positive elements of culture that can drive the desired Transformation and suppress those that obstruct it.
For the desired Organizational Culture to sustain, leaders should work on gaining acceptance of the transformed behaviors.  Leaders who do not give culture its due importance risk ruining their strategic endeavors, as they lack the commitment required from the employees to achieve success.
The real question is why senior leaders fail to use the positive elements of Organizational Culture constructively in the first place.  The answer is simple; there are 4 common yet wrong assumptions—or myths—regarding culture change that are deeply established in most businesses that are anything but facts.  Paying heed to—and acting on—these 4 myths results in grave consequences:
Culture is the root cause of all our failures
Changing our Organizational Culture is beyond us, forget about it
Let Human Resources deal with Organizational Culture
Culture is the responsibility of top management
When senior executives devise a strategy to transform the deeply entrenched organizational culture—by putting in place new policies, practices, reward structures, and performance management systems—there is strong resistance that outplays the strategy.
This is primarily due to employees' reservations and uncertainties regarding the impact of these changes on their work, colleagues, atmosphere, routines, family, and their enterprise's reputation.  Transforming the Organizational Culture using the individual's actions and conduct necessitates seeking assistance from 7 guiding principles:
Be Practical
Reinforce New Behaviors
Seek Out Role Models
Identify Cultural Carriers
Leverage Existing Culture
Be a Role Model
Explain Impact of New Behavior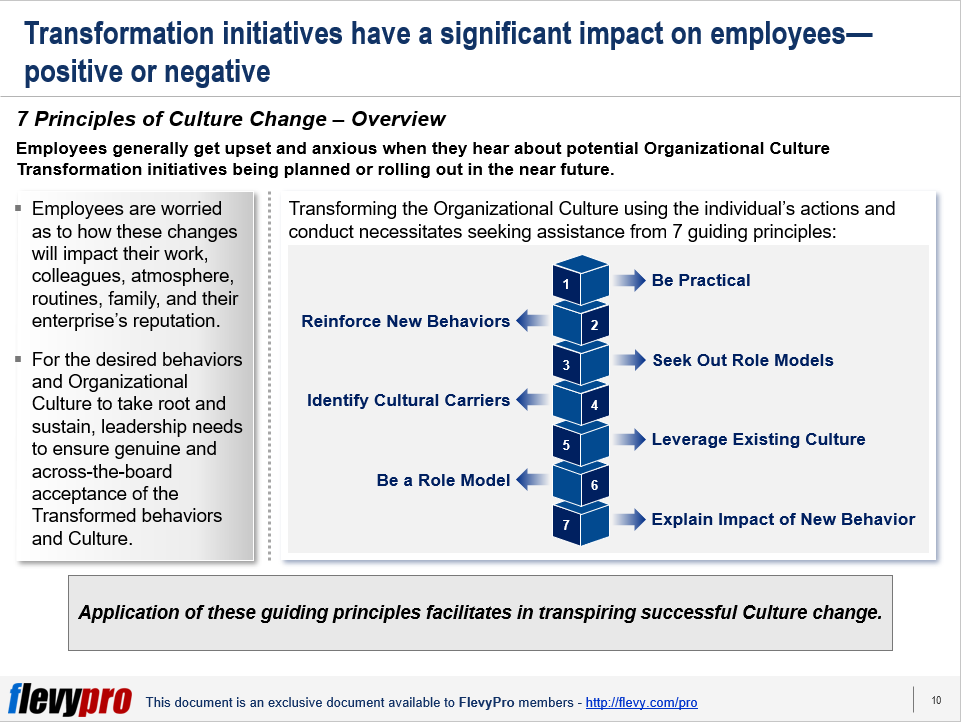 Application of these guiding principles facilitates in transpiring successful culture change.  Let's dive deeper into a few of these guiding principles.
Be Practical
The first guiding principle to changing the culture involves starting rationally and pragmatically.  It is not feasible to strive to change every behavior at once.  Leaders need to concentrate on the behaviors most critical for the organization.   The ones that reverberate with the existing company culture and have a key role in improving the organizational performance.  This entails ascertaining groups of employees whose behaviors should be transformed immediately.  A clear demonstration of the requisite changes goes a long way in reinforcing the desired behaviors and culture in the organization.
Reinforce New Behaviors
The 2nd principle to changing culture involves emphasizing new behaviors.  The desired behaviors should be reinforced using formal and informal mechanisms.  Formal reinforcement mechanisms include metrics, processes, appraisals, salary reviews, training, and incentives to reward new behaviors.  These formal mechanisms allow people to practice new behaviors repetitively, until they begin to realize their value.  Informal reinforcement mechanisms include support networks and associations to nurture sensitivity and devotion needed to cope with uncertainties.
Seek out Role Models
Organizational Culture Transformation necessitates distinguishing role models to demonstrate the desired behaviors.  Culture change begins when change practitioners act by modeling the new behaviors.  These change practitioners are pride builders for an organization.  The examples set by these practitioners assist in inculcating pride in others about embracing the desired behaviors.  This action is referred to as "positive deviance" or constructive non-conformity.  These pride builders in turn identify and develop more exemplars.
Interested in learning more about the other guiding principles of culture change?  You can download an editable PowerPoint on 7 Guiding Principles of Culture Change here on the Flevy documents marketplace.
Do You Find Value in This Framework?
You can download in-depth presentations on this and hundreds of similar business frameworks from the FlevyPro Library.  FlevyPro is trusted and utilized by 1000s of management consultants and corporate executives.  Here's what some have to say:
"My FlevyPro subscription provides me with the most popular frameworks and decks in demand in today's market.  They not only augment my existing consulting and coaching offerings and delivery, but also keep me abreast of the latest trends, inspire new products and service offerings for my practice, and educate me in a fraction of the time and money of other solutions.  I strongly recommend FlevyPro to any consultant serious about success."

– Bill Branson, Founder at Strategic Business Architects
"As a niche strategic consulting firm, Flevy and FlevyPro frameworks and documents are an on-going reference to help us structure our findings and recommendations to our clients as well as improve their clarity, strength, and visual power.  For us, it is an invaluable resource to increase our impact and value."

– David Coloma, Consulting Area Manager at Cynertia Consulting
"FlevyPro has been a brilliant resource for me, as an independent growth consultant, to access a vast knowledge bank of presentations to support my work with clients.  In terms of RoI, the value I received from the very first presentation I downloaded paid for my subscription many times over!  The quality of the decks available allows me to punch way above my weight – it's like having the resources of a Big 4 consultancy at your fingertips at a microscopic fraction of the overhead."

– Roderick Cameron, Founding Partner at SGFE Ltd
Subscribe to our Newsletter

PowerPointing Templates

Error: Twitter did not respond. Please wait a few minutes and refresh this page.