Currently viewing the tag: "Soft Skills"
Humans instinctively want to share their experiences.  The more experienced a person, the fuller they are with ideas.
Many people view Listening Skills to be of lesser consequence than articulation and focus on learning how they can present their own views more effectively.
Good listening—the keen and orderly pursuit of probing and challenging the information collected from others to enhance its quality and quantity—is key to developing a knowledge-base that creates new insights and ideas.
Listening is unquestionably the most efficient route to making informed judgments, particularly judgments that leaders have to make.  That is why the Soft Skill of Good Listening is considered a building block of Leadership Development.
Good listening can lead to a longer and fruitful relationship at work and elsewhere.  Exceptional Client Management and Team Management, especially, and a host of other situations demand Good Listening skills.  Respecting the speaker, even if there is disagreement and reacting in the moment without expectation is part and parcel of Good Listening Skills.  The speaker should feel respected and understood after having a conversation with a Good Listener.
People possessing Good Listening ability assume a somewhat passive speaking role in the conversation yet actively participate in the conversation using body language and follow-up questions.  They display 3 Critical Behaviors that make them what they are—Great Listeners:
Demonstrate Respect
Making the speaker feel that what they are saying is important.  This feeling gets reciprocated quickly.
Remain Quiet
One cannot really listen while busy talking.  Remaining quiet enables understanding of the actual point the other person is making.
Challenge Assumptions
Good Listeners seek the underlying assumption in the conversation and challenge it.  This generates new ideas and opens up paths untrodden.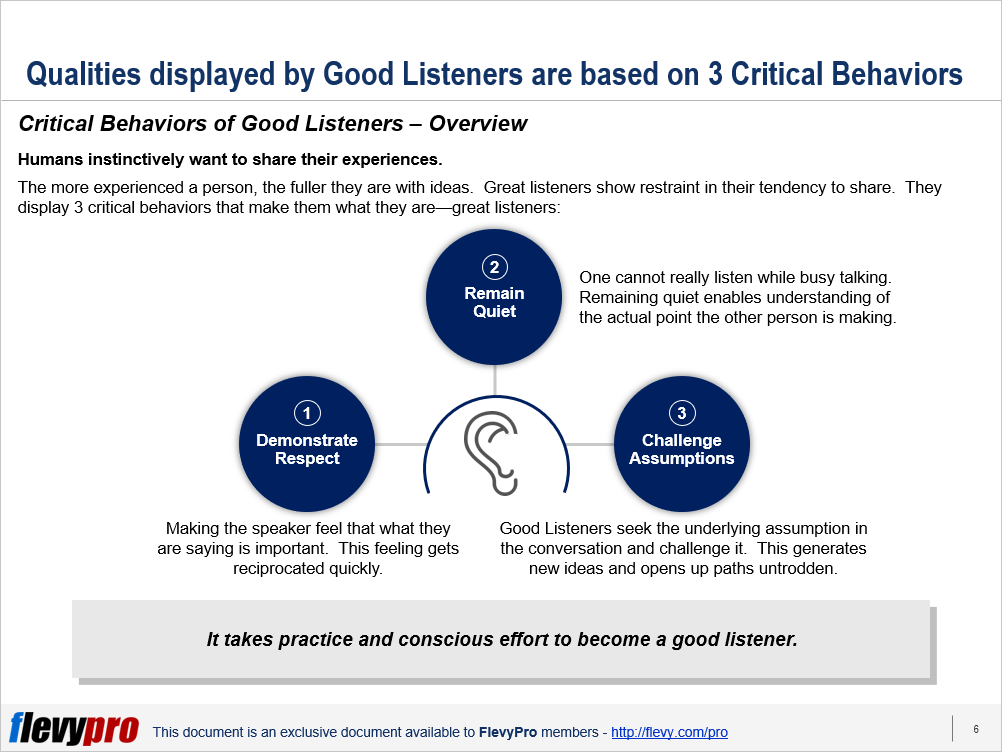 Let us look a little more deeply into some of the key characteristics of the 3 Critical Behaviors of Good Listeners.
Demonstrate Respect
People displaying a Problem Solving Mindset solicit input from all levels and demonstrate respect in this manner.  They always make the speakers feel that they have something exclusive to contribute and assume that the conversation partner has the proficiency to develop worthy solutions.
Remain Quiet
In a good conversation, the conversation partner speaks 80% of the time and the Ideal Listener speaks 20% of the time.  A Good Listener poses questions in most of the 20% time.  By remaining quiet the listener's objective is to extract the prime motivation or thought behind the conversation.  Patience and practice are needed to cultivate the habit of weighing in at the correct moment.
Challenge Assumptions
A Good Listener challenges long-held and valued assumptions in order to make gains from conversations.  Ambiguity is embraced and a quest to uncover what both conversation partners can gain from the conversation is enlivened.
From the above 3 Critical Behaviors, we can synthesize the following 13 actions that a Good Listener should make while in an active conversation:
Be fully present.
Do not listen to respond.
React in the moment.
Do not have an agenda.
Do not jump to give advice.
Never interrupt.
Ask follow-up questions.
Listen as much as (or more than) speaking.
Demonstrate listening.
Be patient.
Listen to learn.
Be interested in what the speaker is interested in.
Summarize what has been heard.
Identifying what a Bad Listener looks like helps avoid such behavior and consequentially move us on the path to becoming a Good Listener.  Bad listeners may be categorized into the following 6 types:
The Opinionator
The Grouch
The Preambler
The Perseverator
The Answer Man
The Pretender
The same person can display these behaviors at different times and under different circumstances.  Perfecting listening skills means learning what prevents us from seeking and hearing the information we need.
Interested in learning more about the critical behaviors and actions of Good Listeners, and 6 Types of Bad Listeners?  You can download an editable PowerPoint on Soft Skills: Good Listening here on the Flevy documents marketplace.
Do You Find Value in This Framework?
You can download in-depth presentations on this and hundreds of similar business frameworks from the FlevyPro Library.  FlevyPro is trusted and utilized by 1000s of management consultants and corporate executives.  Here's what some have to say:
"My FlevyPro subscription provides me with the most popular frameworks and decks in demand in today's market.  They not only augment my existing consulting and coaching offerings and delivery, but also keep me abreast of the latest trends, inspire new products and service offerings for my practice, and educate me in a fraction of the time and money of other solutions.  I strongly recommend FlevyPro to any consultant serious about success."

– Bill Branson, Founder at Strategic Business Architects
"As a niche strategic consulting firm, Flevy and FlevyPro frameworks and documents are an on-going reference to help us structure our findings and recommendations to our clients as well as improve their clarity, strength, and visual power.  For us, it is an invaluable resource to increase our impact and value."

– David Coloma, Consulting Area Manager at Cynertia Consulting
"FlevyPro has been a brilliant resource for me, as an independent growth consultant, to access a vast knowledge bank of presentations to support my work with clients.  In terms of RoI, the value I received from the very first presentation I downloaded paid for my subscription many times over!  The quality of the decks available allows me to punch way above my weight – it's like having the resources of a Big 4 consultancy at your fingertips at a microscopic fraction of the overhead."

– Roderick Cameron, Founding Partner at SGFE Ltd
Mediocre people occupying senior Leadership positions is one of the chief reasons for the fiasco and humiliation that organizations like Enron and WorldCom faced.  The practice of recruiting average people at the top is omnipresent and often goes unnoticed until the results begin to surface, which is typically too late for any intervention.
Smart people decisions matter a lot in achieving profitability.  Research indicates that a return on average human asset of 5% is typical in many industries.  However, a senior executive selection of 2 standard deviations below the average yields -15% return on asset.  An executive selection with 2 standard deviations above average causes 25+% return, which is 5 times the average.  Increased investment in finding and hiring the best senior executives fetches returns to the magnitude of 1000%.
Attracting and selecting the best people for senior leadership positions isn't a small feat.  The future of organizations depend on it.  However, not too many organizations succeed in getting the right people at the top.  The reason for this failure is attributed predominantly to 3 critical obstacles that hinder in making the right recruitment decisions at such a crucial level.  Wrong Executive Selection decisions due to these 3 obstacles bring about losses and negative returns:
Obstacle of Rarity
Obstacle of the Unknown
Obstacle of Psychological Traps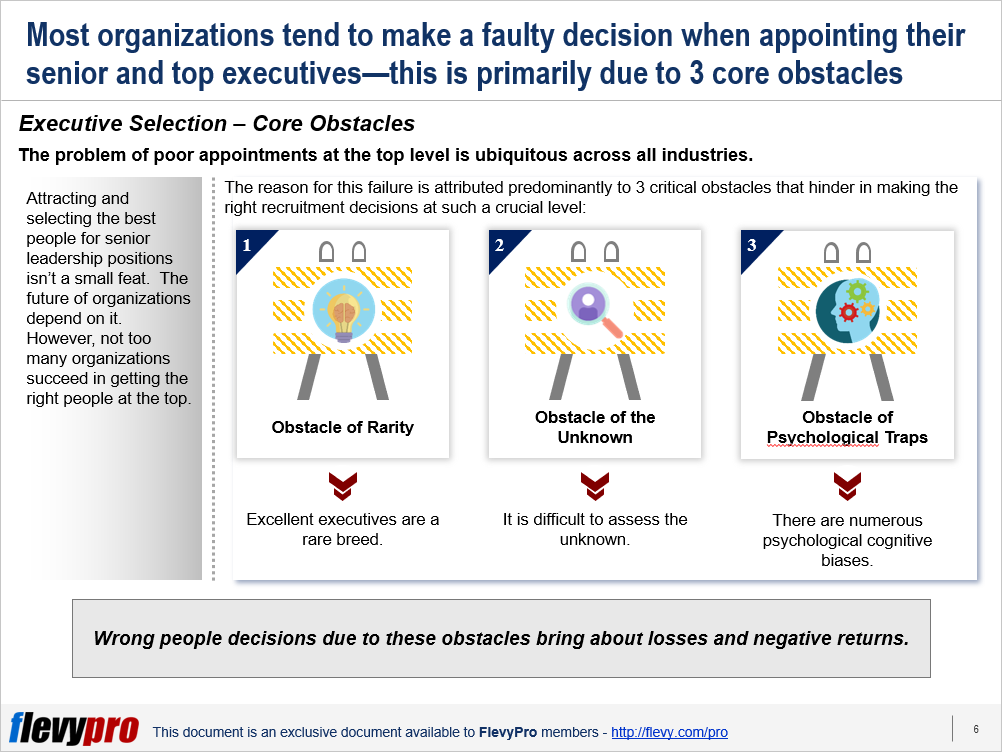 Let's talk about these obstacles in a bit of detail.
Obstacle of Rarity
The first barrier to finding outstanding executives for senior positions is their scarcity, as excellent executives are a rare breed.  Sophisticated skills that make an executive standout aren't common.  They are distributed in a given sample.
Outstanding people perform at a much higher level than that of their peers, particularly at the top positions.  A blue-collar executive with 1 standard deviation above the mean translates to 20% more productive individual than an average executive.  With increasing complexity of job, the difference between the top performer and an average performer increases considerably.
Appointments at the senior positions do not go without assessment errors, which can prove to be extremely costly.  Even an accuracy level of 90% in executive assessment isn't satisfactory.  This results in a number of mistakenly categorized top performers and rejection of outstanding candidates.
Obstacle of the Unknown
Another barrier to the Executive Selection process is the predictive assessment of candidates on the skills and attributes required and the actual delivery capabilities of the individuals.  It is difficult to assess the unknown.
Competencies at the junior levels are easier to define, but it gets difficult to pinpoint the skills required at the top level.  The skills required at the top keeps on changing due to the evolving political, technological and economic landscape.  The skills required today get obsolete over time.  In case the exact requirements for a position are fully known, it isn't certain whether a candidate meets the requirements in their entirety.
Accurate assessment of the candidates' behavior and competencies is difficult but worth investing efforts and resources.  "Soft" skills—e.g., leading people, coaching and developing teams, teamwork, and managing Business Transformation—are what differentiate the senior leaders, but gauging these skills necessitates thorough evaluation and considerable time, which is difficult at senior levels.
Obstacle of Psychological Traps
A number of psychological traps are associated with cognitive biases in humans that hinder the decision making abilities in people and incapacitate the hiring process.  8 types of psychological traps are most common in individuals:
Procrastination
Assuming incorrectly
Impulsive judgment based on first impressions
Discounting the warning signs
Covering mistakes
Bonding with familiarity
Emotional anchoring
Tendency to follow the majority
Interested in learning more about the 3 critical obstacles that hinder right Executive Selection?  You can download an editable PowerPoint presentation on Executive Selection here on the Flevy documents marketplace.
Are you a Management Consultant?
You can download this and hundreds of other consulting frameworks and consulting training guides from the FlevyPro library.
Subscribe to our Newsletter

PowerPointing Templates

Error: Twitter did not respond. Please wait a few minutes and refresh this page.