Currently viewing the tag: "Supply Chain Management"
Supply Chains often get disrupted by calamities that are beyond human control.  Natural disasters, such as tsunamis and floods, in the last decade have drastically affected major businesses—from automobiles to technology, to travel, to shipments—and exposed critical weaknesses in Supply Chain mechanisms around the globe.  And, now, we are living through a global disruption of an unparalleled nature, COVID-19.
Organizations that rely on single-source suppliers, common parts, and centralized inventories are more susceptible to the risk of disruption.
Management in most cases is aware of its responsibility to prevent their Supply Chains from getting disrupted by ensuring measures such as keeping enhanced stocks, improving capacity at discrete facilities, and choosing multiple sources.  But these measures have a negative effect on Supply Chain cost efficiencies.
However, discerning the effects of costly Supply Chain disruptions is one thing and taking actions to avoid such situations or mitigating their undesirable effects is another.  Managing Supply Chain risks necessitates careful evaluation of the impact that these measures have on Supply Chain cost efficiencies and bottom line.  During the COVID-19 pandemic, it has become clearer than ever that Supply Chain Management must also involve this form of Risk Management.
Supply Chain Efficiency entails improving the financial performance of an organization and focusing on improving the way we manage supply and demand.  Demand fluctuations or supply delays are independent and can be typically tackled by having appropriate inventory levels in the right place, better planning and implementation, and improving Supply Chain Cost Efficiency.
Supply Chain Containment
Supply Chains are complex operations encompassing many products or commodities that are sourced, manufactured or stored in multiple locations.  These complexities can slash efficiency, cause delays, suspension of operations, and increased risk of disruption.  Containing complexities brings higher cost efficiencies and reduced risks.
Supply Chain Containment ensures that Supply Chain disruptions caused by internal factors or through natural hazards are contained within a portion of the Supply Chain.  A single Supply Chain for the entire organization seems cost effective in the short term, but even a small issue can trigger a disaster.
Supply Chain Containment Strategies
Supply Chain Containment Strategies are useful for the organizations to design and deploy solutions fairly quickly in the event of disruption through natural disasters.  The objective is to limit the impact of disruption through disasters to a minimum—to just a portion and not the entire Supply Chain.
For instance, in order to reduce the impact of parts shortage, a mechanical parts manufacturer should arrange multiple supply sources for common items or limit the number of common items across different models.  To reduce Supply Chain instability and to improve financial performance, organizations can use the following containment strategies:
Supply Chain Segmentation
Supply Chain Regionalization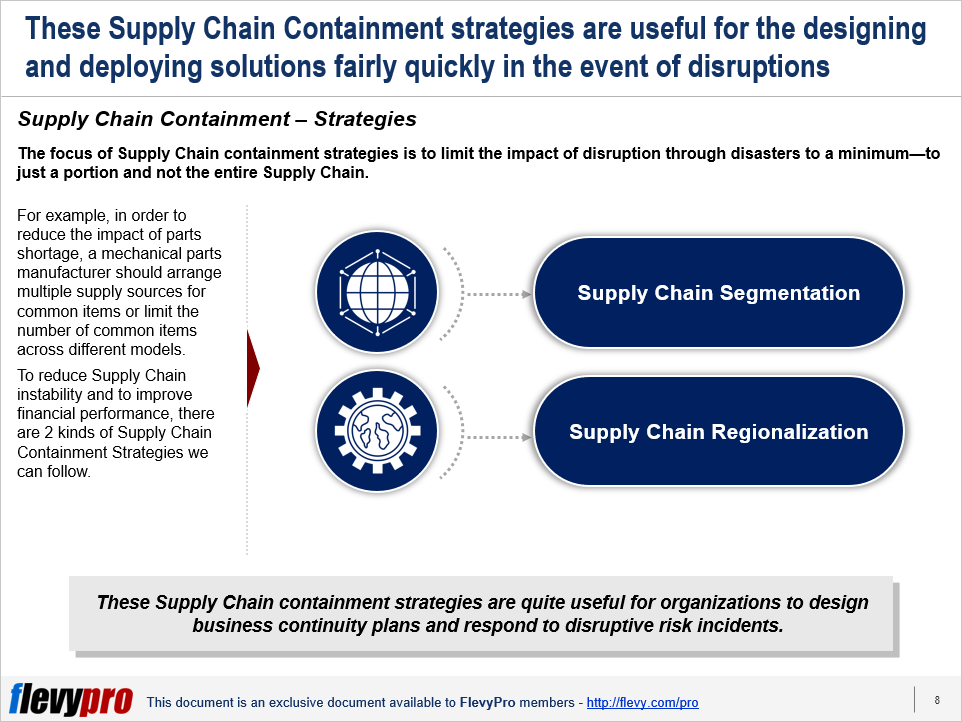 Supply Chain Segmentation
The basis for Supply Chain segmentation are volume, product diversity and demand uncertainty.  High margin but low-volume products with high-demand uncertainty warrant keeping Supply Chains flexible, with capacity that is centralized to aggregate demand.  Manufacturing everything in high-cost locations is detrimental to profit margins.  Sourcing responsive suppliers from Europe is a model feasible for trendy high-end items only.  For fast-moving, low margin, basic products it is sensible to source from multiple low-cost suppliers.  Centralization is favorable in case of fewer segments, significant product variety, low sales volumes of individual products, and high demand uncertainty to achieve reasonable levels of performance.  Decentralization is suitable in case of higher sales volumes, less demand uncertainty, and more segments, to help become more responsive to local markets and reduce the risk of disruption.  For instance, utility companies utilize low-cost coal-fired power plants to handle predictable demand, whereas employ higher-cost gas- and oil-fired power plants to handle uncertain peak demand.
Supply Chain Regionalization
Supply Chain Regionalization helps curtail the impact of losing supply from a plant within the region.  For instance, Japanese automakers were badly hit by shortage of parts globally in the event of 2011 tsunami, since most of these parts could be sourced only from storage and distribution facilities in the tsunami-affected regions.  Had they operated with decentralized regional Supply Chains with logistics centers dispersed in various locations they would have significantly contained the impact of disruption.
Supply Chain Regionalization lowers distribution costs while also reducing risks in global Supply Chains.  During periods of low fuel and transportation costs, global Supply Chains minimize costs by locating production where the costs are the lowest.  As transportation costs rise, global Supply Chains may be replaced by regional Supply Chains.  Regionalized Supply Chains with same inventory stored in multiple locations appear wasteful, but are more robust in case one of the logistics centers suffers from a disaster.
Interested in learning more about the Supply Chain Segmentation and Regionalization?  You can download an editable PowerPoint on Supply Chain Containment Strategies here on the Flevy documents marketplace.
Are you a Management Consultant?
You can download this and hundreds of other consulting frameworks and consulting training guides from the FlevyPro library.
Enterprises invest in Analytics to improve Decision Making and outcomes across the business. This is from Product Strategy and Innovation to
Supply Chain Management, Customer Experience, and Risk Management. Yet, many executives are not yet seeing the results of their Analytics initiatives and investments.
Every organization putting on investment in Analytics has experienced several stumbling blocks. This differentiates the leaders from the laggards. Analytics-driven Organizations have clearly established processes, practices, and organizational conditions to achieve Operational Excellence. Their commitment to Analytics is creating a major payoff from their investments and a competitive edge.
What It Takes to Be Analytics-driven
The Harvard Business Review Analytic Services conducted a survey of 744 business executives around the world and across a variety of industries. Their focus was on the performance gap between companies that have struggled to get a return on their Analytics investment and those that have effectively leveraged their investment.
The survey showed that Analytics-driven Organizations get sufficient return on investment in Analytics. In fact, they have been highly successful in gaining a return on Analytics investment. This is gainfully achieved as organizations use Analytics consistently in strategic decision making. Executives of Analytics-driven Organizations rely on Analytics insights when it contradicted their gut feel.
Essentially, Analytics-driven Organizations have reduced costs and risks, increased Productivity, Revenue, and Innovation, and have successfully executed their Strategy. Yet, in evolving the organization's Analytics approach, there can be 4 core obstacles that can affect their drive to getting a greater return on investment in Analytics.
The Core Obstacles to Finding Return on Analytics Investment
There are 4 core obstacles to being an Analytics-driven Organization.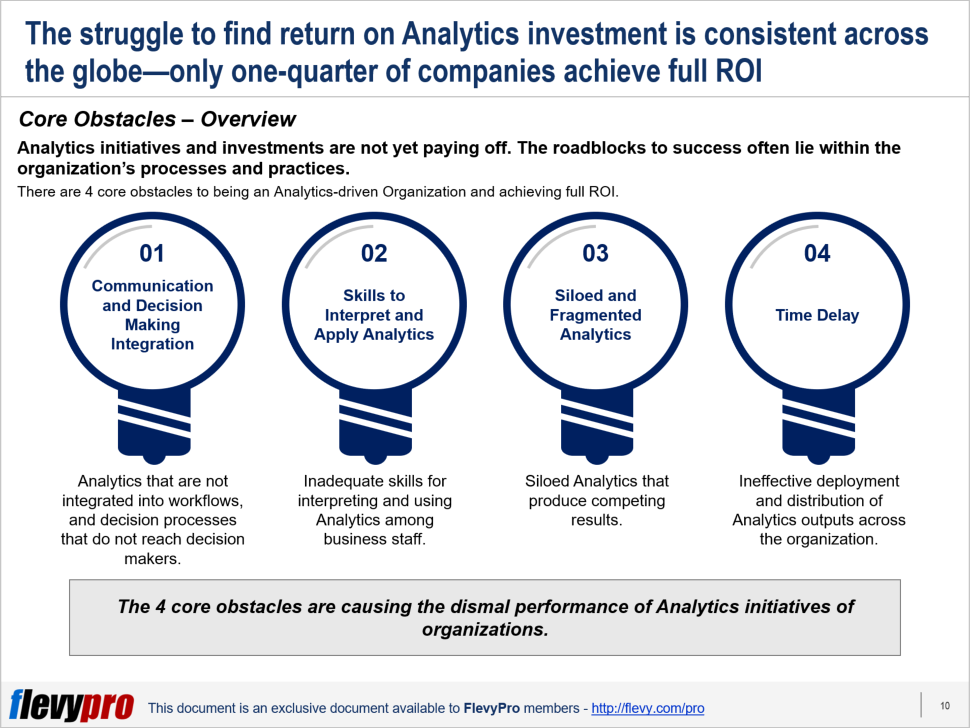 Let's briefly take a look at the first 2 obstacles:
Communication and Decision-making Integration. The lack of Communication and Decision-making Integration limits the integration of Analytics into workflows and decision processes do not reach decision-makers. As a result of these core obstacles, the use of Analytics is limited in specific areas.
 Skills to Interpret and Apply Analytics. A second core obstacle is the inadequate skills of business staff to interpret and use Analytics. In fact, the survey showed that only one-quarter of frontline employees use Analytics with only 7% using Analytics regularly.
The other two core obstacles are siloed and fragmented Analytics and time delay. These are two equally important core obstacles that can hinder the use of Analytics to maximize return on investment. Further, the 4 core obstacles are barriers to analytic success.
Are You Ready to Be an Analytics Leader?
Leaders use Analytics consistently in decision making. In fact, based on the survey, 83% of executives use it in business planning and forecasting. On the other hand, laggards only use it 67% of the time. Even in various aspects of the organization such as Marketing, Operations, Strategy Development, Sales, Supply Chain, Pricing and Revenue Management, and Information Technology, laggards use Analytics only half the time compared to Analytics Leaders.
Analytics Leaders always ensure that they establish the processes and organizational conditions to allow them to successfully deploy Analytics. In fact, to increase return on Analytics, organizations must undertake the use of four interrelated initiatives that will drive greater return on investment Analytics. These are four initiatives essential to building an Analytics-driven Organization.
One is building an organizational culture around Analytics. To achieve this the organization must have clear, strategic, and operational objectives that are set for Analytics. Second is deploying Analytics throughout all core functions of the business.
Starting with an Analytics-driven Culture can greatly facilitate cross-functional deployment of Analytics.
Interested in gaining more understanding of Analytics-driven Organization? You can learn more and download an editable PowerPoint about Analytics-driven Organization here on the Flevy documents marketplace.
Are you a management consultant?
You can download this and hundreds of other consulting frameworks and consulting training guides from the FlevyPro library.
Subscribe to our Newsletter

PowerPointing Templates

Error: Twitter did not respond. Please wait a few minutes and refresh this page.