Currently viewing the tag: "decision making"
Product managers, marketers, and designers are often confused as to what they should do to increase the chances of customers' engagement and uptake of their offering.  Changing individuals' behavior to enhance engagement, productivity, innovation, and happiness isn't straightforward.
It takes a lot of effort, time, and resources to execute initiatives aimed at transforming behaviors and Organizational Culture.  However, most people aren't interested in changing and like the status quo to prevail.  This is where Behavioral Economics can help to know how customers behave, interpret their decision-making methods, and create solutions targeting those behaviors.
Product designers and marketers aspiring to drive acceptance of their products can make use of the 3 Bs of Behavioral Change to change understand consumer behavior. The 3 Bs of Behavioral Change classify the 3 elements essential to change behaviors, i.e.:
Behavior
Barriers
Benefits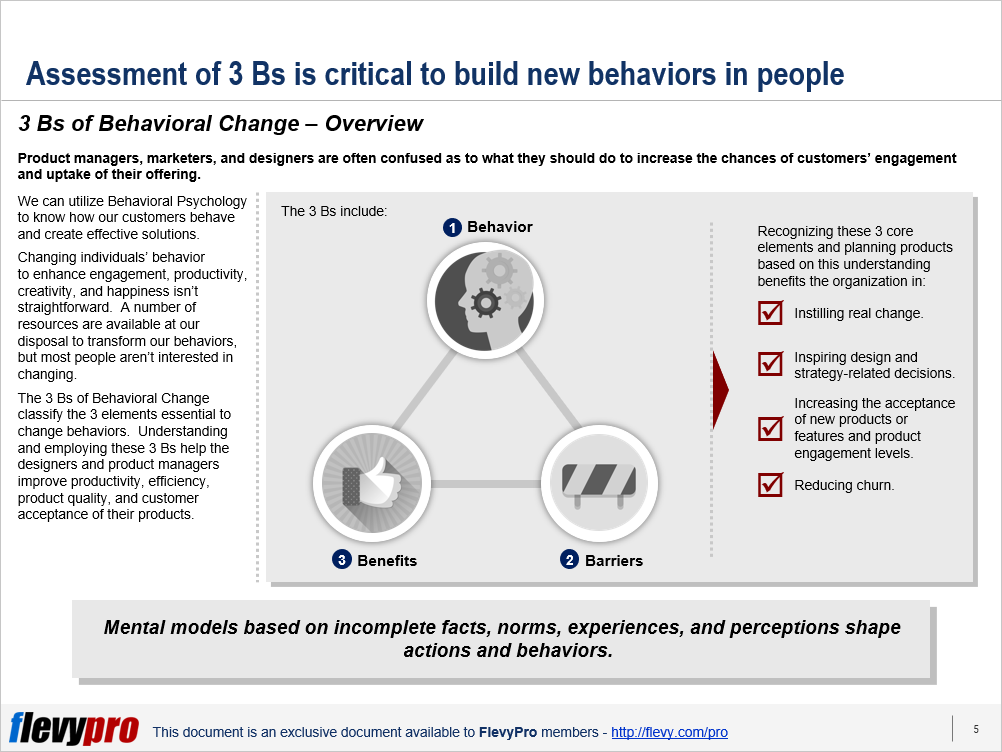 Understanding and employing these 3 Bs helps the designers and product managers instill change, inspire design and strategy-related decisions, increase the acceptance of new products / features and product engagement levels, and build new behaviors in people.
Let's discuss the first 2 elements in detail.
Behavior
People have an inherent tendency to maintain the status quo.  Behavioral change necessitates:
Identifying individuals' existing attitudes.
Assessing and tackling psychological biases affecting individuals' decisions.
Carefully tracking behaviors that need to be changed.
Ascertaining the most important desired behavior and exact action that is imperative to drive results.
Getting the buy-in from all stakeholders on the key behavior.
Deciding if the behavior should be permanent or transient.
Examples of key actions to change behaviors include spending 30 minutes thrice weekly doing cardio exercises and consuming salad at lunch daily to stay healthy.
Barriers
Understanding the barriers in behavior adoption assists in creating effective solutions to improve uptake of key behavior.  The second step to induce behavioral change is to reduce barriers in its adoption.
Every decision that a product user has to make, no matter how negligible, increases resistance in the likelihood of completing a specific behavior.
These actions and decisions an individual has to take in order to achieve the desired behavior create points of friction in embracing key behaviors.  For instance, people often find it difficult to decide when presented with complex choices. They tend to procrastinate or become a victim of decision paralysis.
Removing the points of friction and resistance from any key behavior necessitates documenting and streamlining all decisions. The path of least resistance leads to desired key behaviors.
Examples of barriers include the thought process involved in the decision to select where to have dinner.  This thought process is, in fact, a psychological barrier in actually going out and having dinner.  Likewise, the decision to walk or drive to a restaurant is a logistical barrier and a point of friction that warrants making a decision.
To eliminate these barriers, we can either remove barriers entirely or just simplify the decision.  For instance, elimination of a non-critical, open text field from a sign-up form—that probed the users about their business, which requires significant time to think and answer—can increase page-over-page conversion.  In case choices are helpful for the users and cannot be eliminated, then it is best to simplify the decision process by giving fewer options instead of many, or by suggesting "recommended option" to the users.
Interested in learning more about the details of the 3 Bs of Behavioral Change?  You can download an editable PowerPoint presentation on 3 Bs of Behavioral Change here on the Flevy documents marketplace.
Are you a Management Consultant?
You can download this and hundreds of other consulting frameworks and consulting training guides from the FlevyPro library.
Enterprises invest in Analytics to improve Decision Making and outcomes across the business. This is from Product Strategy and Innovation to
Supply Chain Management, Customer Experience, and Risk Management. Yet, many executives are not yet seeing the results of their Analytics initiatives and investments.
Every organization putting on investment in Analytics has experienced several stumbling blocks. This differentiates the leaders from the laggards. Analytics-driven Organizations have clearly established processes, practices, and organizational conditions to achieve Operational Excellence. Their commitment to Analytics is creating a major payoff from their investments and a competitive edge.
What It Takes to Be Analytics-driven
The Harvard Business Review Analytic Services conducted a survey of 744 business executives around the world and across a variety of industries. Their focus was on the performance gap between companies that have struggled to get a return on their Analytics investment and those that have effectively leveraged their investment.
The survey showed that Analytics-driven Organizations get sufficient return on investment in Analytics. In fact, they have been highly successful in gaining a return on Analytics investment. This is gainfully achieved as organizations use Analytics consistently in strategic decision making. Executives of Analytics-driven Organizations rely on Analytics insights when it contradicted their gut feel.
Essentially, Analytics-driven Organizations have reduced costs and risks, increased Productivity, Revenue, and Innovation, and have successfully executed their Strategy. Yet, in evolving the organization's Analytics approach, there can be 4 core obstacles that can affect their drive to getting a greater return on investment in Analytics.
The Core Obstacles to Finding Return on Analytics Investment
There are 4 core obstacles to being an Analytics-driven Organization.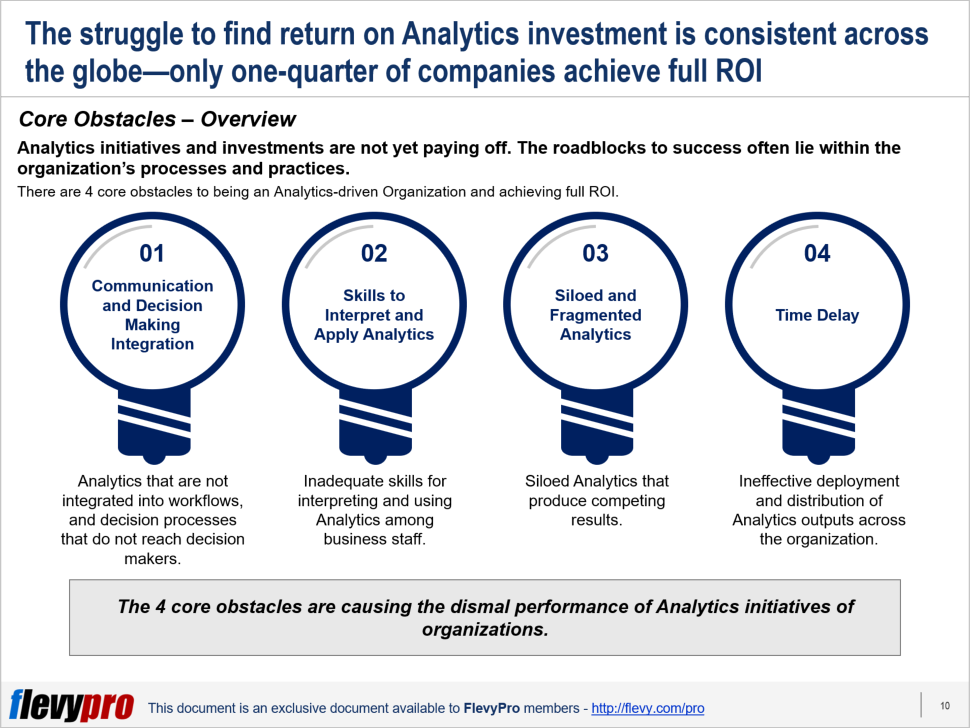 Let's briefly take a look at the first 2 obstacles:
Communication and Decision-making Integration. The lack of Communication and Decision-making Integration limits the integration of Analytics into workflows and decision processes do not reach decision-makers. As a result of these core obstacles, the use of Analytics is limited in specific areas.
 Skills to Interpret and Apply Analytics. A second core obstacle is the inadequate skills of business staff to interpret and use Analytics. In fact, the survey showed that only one-quarter of frontline employees use Analytics with only 7% using Analytics regularly.
The other two core obstacles are siloed and fragmented Analytics and time delay. These are two equally important core obstacles that can hinder the use of Analytics to maximize return on investment. Further, the 4 core obstacles are barriers to analytic success.
Are You Ready to Be an Analytics Leader?
Leaders use Analytics consistently in decision making. In fact, based on the survey, 83% of executives use it in business planning and forecasting. On the other hand, laggards only use it 67% of the time. Even in various aspects of the organization such as Marketing, Operations, Strategy Development, Sales, Supply Chain, Pricing and Revenue Management, and Information Technology, laggards use Analytics only half the time compared to Analytics Leaders.
Analytics Leaders always ensure that they establish the processes and organizational conditions to allow them to successfully deploy Analytics. In fact, to increase return on Analytics, organizations must undertake the use of four interrelated initiatives that will drive greater return on investment Analytics. These are four initiatives essential to building an Analytics-driven Organization.
One is building an organizational culture around Analytics. To achieve this the organization must have clear, strategic, and operational objectives that are set for Analytics. Second is deploying Analytics throughout all core functions of the business.
Starting with an Analytics-driven Culture can greatly facilitate cross-functional deployment of Analytics.
Interested in gaining more understanding of Analytics-driven Organization? You can learn more and download an editable PowerPoint about Analytics-driven Organization here on the Flevy documents marketplace.
Are you a management consultant?
You can download this and hundreds of other consulting frameworks and consulting training guides from the FlevyPro library.
Human judgment can be unreliable as these are all susceptible to errors. In Strategy Development,  organizations make a lot of strategic
decisions.  These strategic decisions share a common feature: they are evaluative judgments.
In making these tough calls, a large amount of complex information must be weighed down and evaluated.  While some management decisions are made without weighing quite so much information, yet strategic decisions involve the distillation of complexity into a single path forward.
With the unreliability in judgment, particularly in decision making, there is a need for a practical, broadly applicable approach to reducing errors. This approach is called the Mediating Assessments Protocol (MAP).
 Why Human Judgment Can Be Unreliable
Human judgment can be unreliable as evaluations are susceptible to errors. These errors stem from known cognitive biases. There can be a tendency to give more weight to information that comes to mind easily because it is recent or striking than other more important facts.  We have the tendency to notice, believe, and recall information selectively which confirms our preexisting hypotheses and beliefs.
Making decisions can also be affected by the Mental Model we have formed. This is an impression of a complex situation that is often less nuanced and more coherent than the reality it represents. When decision making is influenced by biases, there will be errors in decision making.
The 3 Core Elements of MAP
MAP or Mediating Assessments Protocol is a structured approach to Strategic Decision Making. It consists of 3 core elements.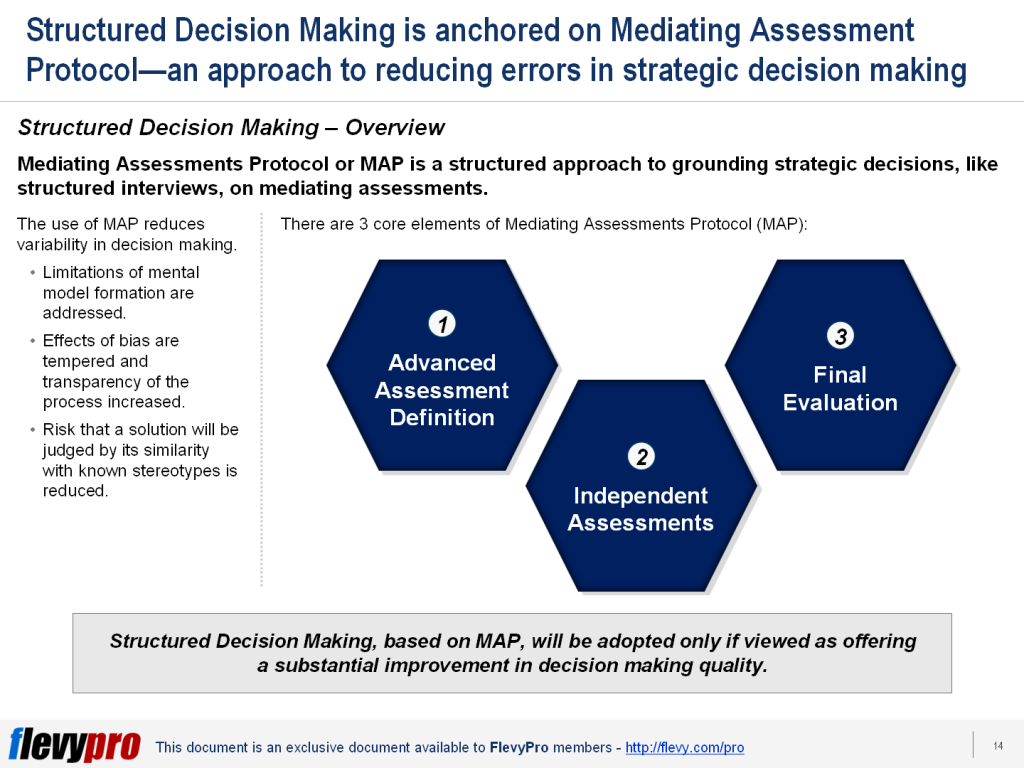 Advanced Assessment Definition. The first core element requires the identification of mediating assessments. Mediating assessments are key attributes critical to the evaluation.
Independent Assessments. The second core element is grounded on the evidence available. It uses fact-based independently made assessments.
Final Evaluation. The third core element is undertaken when the mediating assessments are complete. The final decision is discussed only when all key attributes have been scored and a complete profile of assessments is available. However, the final evaluation may not be undertaken if a deal breaker fact has been uncovered.
Understanding the Importance of MAP
Any organization is a decision factory. Many decisions made can shape the future of organizations. At the same time, many decisions have caused organizations to fail. Decisions, unlike physical products, cannot be quality checked. However, it can be improved by working on processes by which they are made.
Mediating Assessments Protocol (MAP) is an approach that can bring quality assurance to complex decisions. One of its strategic application is in structuring one-off decisions.
Structuring one-off strategic decisions is a type of strategic decision that makes use of explicit assessment as a basis for the decision. It requires leaders to make separate, explicit assessments of each aspect.
The use of MAP in structuring one-off decisions can limit the risk that a compelling narrative will sway board discussions and affect quality decisions.  When there is a rigor of formal structure in strategic decision making, it has the benefit of sequencing the process resulting in more quality decisions.
The use of MAP requires very trivial extra effort yet it can bring a lot of benefits. Board discussions are more organized and focus than the usual process, but is not necessarily longer or more contentious. Important facts are less likely to be overlooked and thoughtful, self-critical consideration of trade-offs is more likely to occur.
Most importantly, the use of the MAP can lead to producing strategic outcomes when used in structuring recurring decisions.
Interested in gaining more understanding of Strategic Decision Making? You can learn more and download an editable PowerPoint about Strategic Decision Making here on the Flevy documents marketplace.
Are you a management consultant?
You can download this and hundreds of other consulting frameworks and consulting training guides from the FlevyPro library.
The business has become more challenging as the global market becomes more demanding. This change in the global market is putting pressure
not only on Management but also on the Board. Strategy Development now demands that organizations should not only be effective but there should also be Board Excellence.
Today, the demand has ceased to be about spending more time. Boosting the effectiveness of the Board is not anymore about spending more time. The urgent call now is to focus on changing the nature of engagement between directors and the executive teams that they work with.
The Importance of Board Engagement
Changing the nature of the Board Engagement will lead Directors and CEOs to make effective use of their limited time. It will build the capacity of the Board Members to bring disparate points together. This is critical when keeping a Board functional rather than dysfunctional.
There are no shortcuts to building and maintaining a well-attuned Board and executive mechanics. These require hard work from the Board Members and a CEO with a thick skin. But a good Director will provide the extra effort, and an effective CEO will make the most of an engagement board's limited time.
Achieving Board Engagement
Board Engagement can be built and it can be improved. The nature of engagement between the Directors and Management need not remain at a standstill. There are 5 areas to improve Board Engagement.
Engagement between Board Meetings. This is more than just meetings. It is about touching based between meetings. When this is undertaken, it keeps Board Members informed and strengthens the Board's hand on the company pulse. Engagement between Board Meetings minimizes the background time that slows up regular Board meetings.
Engagement for Strategy Formulation. This area of improvement enables the Board to actively participate in the formation of strategy and be proactive. Participation is already encouraged right at its early formation and stress-testing of strategy.
Engagement for Talent Development. When this is put in place, Board Members get to act like a highly effective search firm. This happens as a result of a change in focus from simply observing talent to actively activating them. This area of improvement raises the bar to actively cultivate talents.
Engagement in the Field. This area of improvement may be something that may be new to Board Members. Often, the Board has been used to taking a role in policy making however they have not been part of operations. Engagement in the field is focused on assigning Directors specific operational areas to engage on. This will require the Board to visit at least one business site every 12 months. Doing this will bring a load of advantages as the Board gets to be more knowledgeable about the organization.
Engagement on Tough Decisions. The main focus of this area is on the value of probing difficult, strategic decision making. One may wonder how can this build Board Engagement. Every Board Member need not have industry experience. Yet, they must have the courage to ask difficult questions. When this happens, you get to raise your Board from being dysfunctional to being functional and involved.
Board Engagement is very crucial at this point in time. It is not enough that they spend more time in Board meetings. It is not enough that they continue to assume roles that they have been doing before. The changing business environment has raised its spectrum when it comes to performance and effectiveness. And this does not only include Management or its employees. This now also involves the Board. Hence, the Board of today more be more engaged and take an active part in areas that are crucial to the organization to remain competitive.
Interested in gaining more understanding of Board Excellence through Engagement? You can learn more and download an editable PowerPoint about Board Excellence: Engagement here on the Flevy documents marketplace.
Are you a management consultant?
You can download this and hundreds of other consulting frameworks and consulting training guides from the FlevyPro library.
Subscribe to our Newsletter

PowerPointing Templates

Error: Twitter did not respond. Please wait a few minutes and refresh this page.