Currently viewing the tag: "Systematic Problem Solving"
Problem Solving is a fundamental life skill indispensable for survival of an individual.  It is honed in every person to varying degrees.  It is especially a useful skill to embody Leadership Development.
Problem Solving skill can be taught and learnt.
MIT defines Problem Solving as:
The process of identifying a problem, developing possible solution paths, and taking the appropriate course of action.
Problem Solving is a process that can be approached using various strategies but each Strategy usually follows the same theme, consisting of:
Identifying the Root Cause of the Problem.
Logically Analyzing all the Details of the Problem.
Formulating a Solution.
Effectively Communicating and taking Action.
Problem Solving Strategies consist of steps that help identify the Problem and choose the best solution.  There are 2 basic types of Strategies:
Algorithmic Strategies – customary step-by-step instructions to solving Problems. For example, in algebra: multiply and divide before adding or subtracting.
Heuristic Strategies – general guides used to identify possible solutions.  An example would be IDEAL—Identify Problem, Define Context, Explore Strategies, Act on solution, and Learn.
A certain Mindset is required to be developed for becoming a great Problem Solver.  There are 6 traits experts have identified that shape the Mindset of a great Problem Solver.  A great Problem Solver will always:
Be Constantly Curious.
Be an Imperfectionist.
Adopt a Dragonfly-eye View.
Pursue Occurrent Behavior.
Leverage Collective Intelligence.
Practice Show and Tell.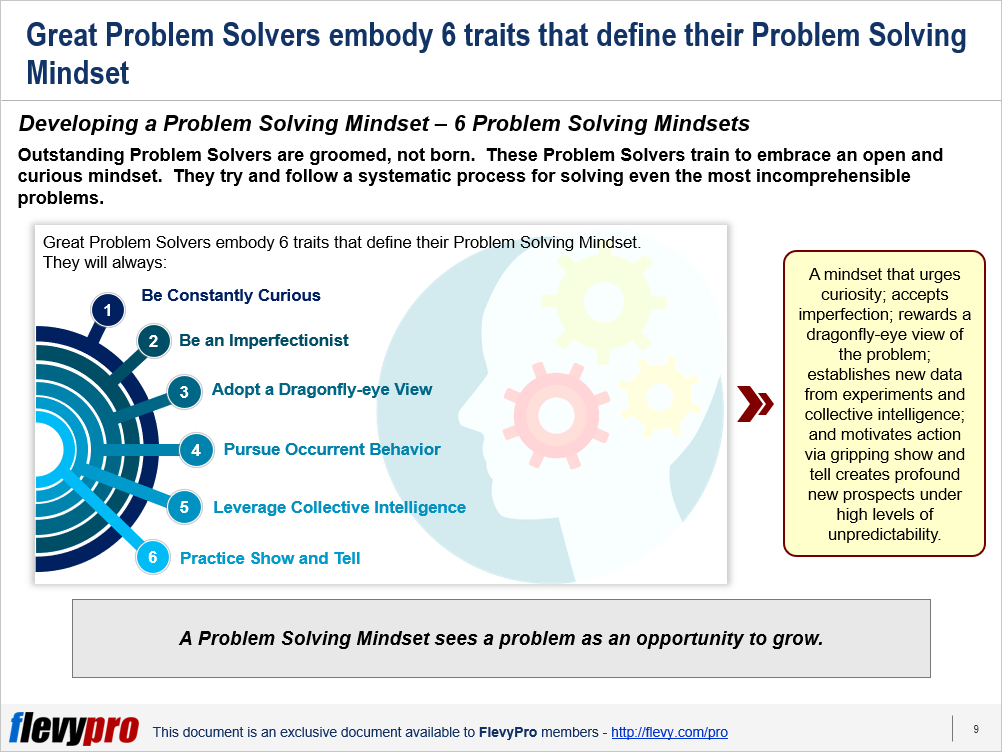 Problem Solving Mindset is valuable for any person especially professionals, particularly an entrepreneur, manager, or someone in the leadership role in an organization.  A team of skillful problem solvers can become a notable source of Competitive Advantage for an organization.
Let us delve a little deeper into some of the Mindsets that make great Problem Solvers.
Be Constantly Curious
Innate human partialities frequently blind us to a range of solutions too early in the Problem Solving Process.  Superior and increasingly creative solutions arise from being Curious about the wide-ranging possible answers.  Very young children embody this trait.  They are resolute in figuring things out hence their never-ending and high-energy inquisitiveness.
Improved results are generated by accepting uncertainty, constantly asking questions like why is this solution better, or why not the other one?
Be an Imperfectionist
Absolute knowledge is virtually non-existent, especially for Complex Business and Societal Problems.  Accepting that our knowledge is Imperfect can bring about more effective Problem Solving.  Constant revision based on new evidence is key to good Problem Solving.  This is possible when we begin by confronting solutions that imply certainty.  And, this brings out tacit assumptions about probabilities and makes it easier to assess alternatives.
Most Problem Solving involves a great deal of trial and error.  We form hypotheses, dive into data for validation, and either refine our premise or discard it.
Adopt a Dragonfly-eye view
The purpose is to gaze beyond the usual arrangement into which our pattern-recognizing brains want to gather perceptions.  This facilitates identification of obscured opportunities and threats.
A good example of this is the approach experts took to tackle a major public health threat.  They framed the Problem in larger social context—taking the Dragonfly-eye view—garnering wider support and success.  Confronted with a complex social map and a ballooning infection rate, the Problem was tackled by widening its definition.  The frame was shifted from a traditional epidemiological transmission model at known hotspots to one where, another affliction of a particular sub-set of the impacted population was targeted because it was more relatable.  The major public health threat was made into a sub-set of the larger issue.  The solution was implemented in 600 communities and was eventually ascribed with preventing more than 600,000 infections.
Interested in learning more about Problem Solving Mindsets? You can download an editable PowerPoint on Problem Solving Mindsets here on the Flevy documents marketplace.
Do You Find Value in This Framework?
You can download in-depth presentations on this and hundreds of similar business frameworks from the FlevyPro Library.  FlevyPro is trusted and utilized by 1000s of management consultants and corporate executives. Here's what some have to say:
"My FlevyPro subscription provides me with the most popular frameworks and decks in demand in today's market.  They not only augment my existing consulting and coaching offerings and delivery, but also keep me abreast of the latest trends, inspire new products and service offerings for my practice, and educate me in a fraction of the time and money of other solutions.  I strongly recommend FlevyPro to any consultant serious about success."

– Bill Branson, Founder at Strategic Business Architects
"As a niche strategic consulting firm, Flevy and FlevyPro frameworks and documents are an on-going reference to help us structure our findings and recommendations to our clients as well as improve their clarity, strength, and visual power.  For us, it is an invaluable resource to increase our impact and value."

– David Coloma, Consulting Area Manager at Cynertia Consulting
"FlevyPro has been a brilliant resource for me, as an independent growth consultant, to access a vast knowledge bank of presentations to support my work with clients.  In terms of RoI, the value I received from the very first presentation I downloaded paid for my subscription many times over!  The quality of the decks available allows me to punch way above my weight – it's like having the resources of a Big 4 consultancy at your fingertips at a microscopic fraction of the overhead."

– Roderick Cameron, Founding Partner at SGFE Ltd
In this era of rapid change only organizations that are evolving and continuously learning can flourish. Successful organizations discover how to tap their people's commitment and capacity to learn at all levels.
A Learning Organization is a place where people continually expand their capacity to create the results they truly desire, where new ideas and thinking are nurtured, and where people are continually learning to see the whole together. A Learning Organization is established on the principles of innovation, free flow of ideas, and a consistent focus on transforming the ways of doing business.
Learning Organizations adopt 5 distinct practices to succeed, which form the "building blocks" of such organizations:
Systematic Problem Solving
Experimentation
Learning from Experience
Learning from Others
Knowledge Transfer
Five key characteristics distinguish a Learning Organization from the rest. These attributes serve as the guiding principles and practices that these organizations study and integrate into their DNA. A blend of these core characteristics helps organizations adopt a more interconnected way of thinking:
Systems Thinking
Personal Mastery
Mental Models
Shared Vision
Team Learning
By adopting and mastering these core characteristics organizations become communities that employees can commit to. Let's, now, discuss the first 3 characteristics in detail.
Systems Thinking
Systems thinking allows people to study businesses as bounded objects. Learning Organizations possess information systems to assess the performance of the organization and its components as a whole. Systems thinking states that all the characteristics must be present together in an organization for it to be a Learning Organization. However, some experts consider that the characteristics of a Learning Organization are gradually acquired, rather than developed simultaneously.
Personal Mastery
Personal mastery is an individual's commitment to learning. It is about becoming more productive by applying skills to work in the most constructive manner. It involves clarification of focus, vision, and to interpret reality objectively. Training, development, and continuous self-improvement are the sources of individual learning.
Mental Models
Mental models include assumptions and generalizations retained by individuals and organizations, which go undetected, as mental models limit peoples' observations. Learning Organizations need to identify and challenge these models. For a learning environment it is important to replace confrontational attitudes with an open culture that promotes inquiry and trust, introduce mechanisms for uncovering and assessing organizational theories of action, and discard any unwanted values.
Role of Leadership
Productivity and competitiveness relies on knowledge generation and processing. Therefore, organizations not only have to invest in new machinery and systems to improve production, but also focus on knowledge generation and learning of their people. Learning Organizations require a new view of leadership. Leaders in Learning Organizations create workplaces that help people keep building their capabilities to understand complexity, clarify vision, and improve shared mental models.
Peter Senge describes the 3 key qualities of leaders to be critical in leading the Learning Organization:
Designer
Steward
Teacher
Designer
The key roles of a leader as a designer in Learning Organizations is designing the policies, strategies, and systems. The designer also outlines the governing ideas — the purpose, vision, and core values — for the people. They plan and develop the learning processes whereby people throughout the organization can deal productively with the critical issues they face, and cultivate personal mastery of the team members in the desired learning disciplines.
Steward
According to Peter Senge, the notion of management in this modern age should be replaced by "stewardship" — whereby control and consistency should be swapped with partnership and choice. The leader as a steward tells 'purpose stories' about their organization and relate those stories. They explain the reasons of the tasks that are required to be performed, the need for the organization to evolve, and the purpose of evolution. They learn to listen to other people, involve them, and develop vision — both individual and shared.
Interested in learning more about the key attributes of leaders and core characteristics of a Learning Organization? You can download an editable PowerPoint on Learning Organization Primer here on the Flevy documents marketplace.
Are you a Management Consultant?
You can download this and hundreds of other consulting frameworks and consulting training guides from the FlevyPro library.
Subscribe to our Newsletter

PowerPointing Templates

Error: Twitter did not respond. Please wait a few minutes and refresh this page.