Currently viewing the tag: "Virtual Communication"
COVID-19 has forced organizations to adapt to the new norm of Remote Work.  Many people consider telecommuting as the future of work.  Employers who allow Remote Work have seen enhanced employee morale, output, and efficiency.
However, Remote Work setting is far from business as usual.  Management needs to understand and manage the intricate differences between in-office and remote teams.  To make Remote Work successful and to manage remote teams, leadership needs to follow 5 guiding principles:
Assemble a group of people— skilled in Remote Work setting—to supervise and support other employees to work remotely, assess any challenges, and create workable solutions in real time.
Develop and share (across the organization) a comprehensive reference guide—e.g., a repository, manual, or a web page—documenting exhaustive information on process changes. This will keep all stakeholders informed and prevent any uncertainties.
Communicate with the employees transparently and frequently, foster informal communication, and provide easily accessible video conference facilities for people to adjust to and incorporate change.
Keep the number of tools to handle documentation and communication to a minimum.
Manage the Remote Workforce by establishing candid, ongoing communication channels, trust, and shared objectives. Transition from an in-office setup to a remote environment takes time.
Likewise, remote employees need to follow certain guiding principles to undertake their responsibilities effectively and deliver on their tasks efficiently.
Establish a dedicated workspace.
Make their families understand the significance of their work—that they perform from their virtual offices—and respect their work hours.
Set alarms to remind when to take a break or end work, so as to work in a healthy routine. Use breaks to recharge your brain or to do errands.
Communicate informally with your team.
Try out unconventional workdays and routines that work best for you.
Adopt this transition
Conventional on-site work settings have clearly defined processes, team structures, interactions, and Organizational Culture, which are lacking in most virtual environments.  The transition from on-site work to work-from-anywhere demands concrete steps to make it viable.  It is critical to adopt Virtual Work mindset and best practices since every organization today, in one way or another, is a virtual company—e.g., global operations, sites and offices across different locations.
This necessitates dedicated efforts to nurture and promote a virtual-work focus and Culture, rather than managing Remote Work with a traditional mindset.  Organizations need to incorporate these 5 best practices to make the transition from conventional to work-from-anywhere environment smoother.
Document everything
Have more structured meetings
Align values with expectations
Create ergonomic home offices
Adopt a self-learning mentality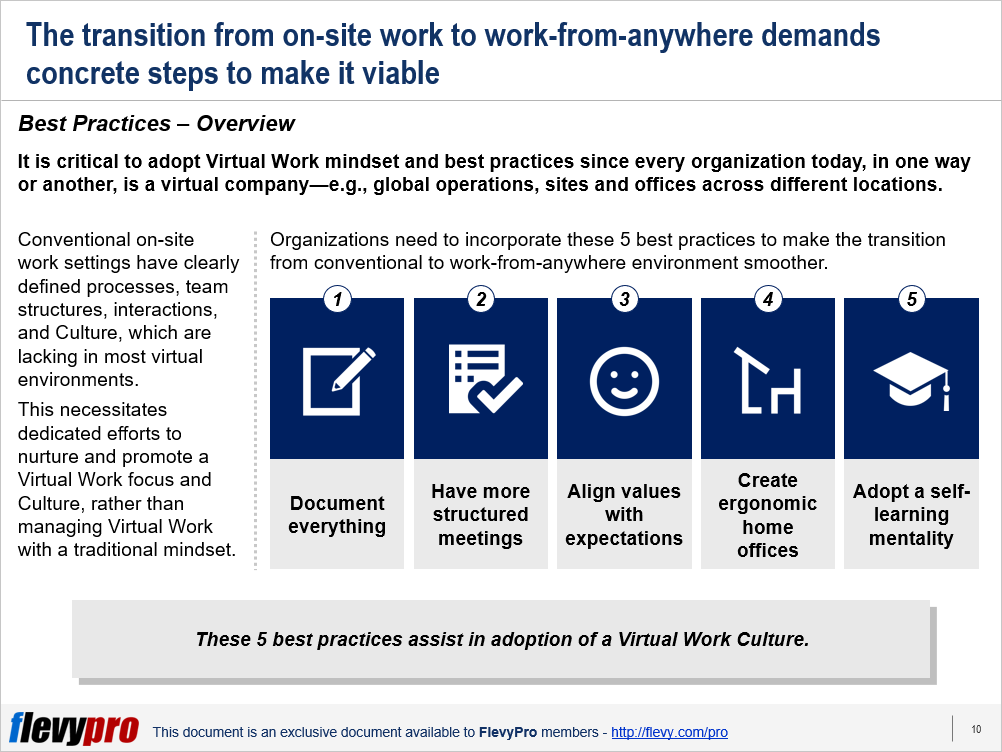 Let's delve deeper into these best practices.
Document everything
In office settings, people can run into other colleagues easily to ask queries or just to communicate with them.  This is at times disturbing and counterproductive.  Work-from-anywhere environment demands documenting every critical piece of information, creating guidelines and manuals, and implementing documentation best practices.   This facilitates in:
Creating a reliable, primary source of information for everyone to seek answers to their queries.
Building successful Virtual Work environment.
Clearly outlining organizational objectives.
Visualization and clarity of teams' collective goals and performance results.
Orientation of new hires by providing answers to everything that comes to their minds.
Offering more inclusivity, as the information is not confined only to the ones present at the physical water cooler, but is available for the entire organization.
Precluding a sense of exclusion in the ones who are not part of a physical office.
Gathering more diverse ideas.
A handbook culture is even better than "water coolers"—as it saves time by eliminating the need to bother other teammates and ask questions from them.  It enables learning, finding answers or information more readily, and curtailing rework arising out of gathering and updating information over and over again.  Documenting everything instills a sense of ownership, courtesy, and concern for others in virtual teams.
Interested in learning more about the other best practices to transition from in-office to work-from-anywhere environment?  You can download an editable PowerPoint presentation on how to transition from In-Office to Virtual Work Setting here on the Flevy documents marketplace.
Do You Find Value in This Framework?
You can download in-depth presentations on this and hundreds of similar business frameworks from the FlevyPro Library. FlevyPro is trusted and utilized by 1000s of management consultants and corporate executives.  Here's what some have to say:
"My FlevyPro subscription provides me with the most popular frameworks and decks in demand in today's market. They not only augment my existing consulting and coaching offerings and delivery, but also keep me abreast of the latest trends, inspire new products and service offerings for my practice, and educate me in a fraction of the time and money of other solutions. I strongly recommend FlevyPro to any consultant serious about success."

– Bill Branson, Founder at Strategic Business Architects
"As a niche strategic consulting firm, Flevy and FlevyPro frameworks and documents are an on-going reference to help us structure our findings and recommendations to our clients as well as improve their clarity, strength, and visual power. For us, it is an invaluable resource to increase our impact and value."

– David Coloma, Consulting Area Manager at Cynertia Consulting
"As a small business owner, the resource material available from FlevyPro has proven to be invaluable. The ability to search for material on demand based our project events and client requirements was great for me and proved very beneficial to my clients. Importantly, being able to easily edit and tailor the material for specific purposes helped us to make presentations, knowledge sharing, and toolkit development, which formed part of the overall program collateral. While FlevyPro contains resource material that any consultancy, project or delivery firm must have, it is an essential part of a small firm or independent consultant's toolbox."

– Michael Duff, Managing Director at Change Strategy (UK)
"FlevyPro has been a brilliant resource for me, as an independent growth consultant, to access a vast knowledge bank of presentations to support my work with clients. In terms of RoI, the value I received from the very first presentation I downloaded paid for my subscription many times over! The quality of the decks available allows me to punch way above my weight – it's like having the resources of a Big 4 consultancy at your fingertips at a microscopic fraction of the overhead."

– Roderick Cameron, Founding Partner at SGFE Ltd
"Several times a month, I browse FlevyPro for presentations relevant to the job challenge I have (I am a consultant). When the subject requires it, I explore further and buy from the Flevy Marketplace. On all occasions, I read them, analyze them. I take the most relevant and applicable ideas for my work; and, of course, all this translates to my and my clients' benefits."

– Omar Hernán Montes Parra, CEO at Quantum SFE
Richard Branson, British business and philanthropist once said: "One day, offices will be a thing of the past."
While organizations still need to travel to reach their physical offices, the rapid changes in the world are requiring business
Virtual Teams work well for an organization and is effective even from a communication perspective. In fact, it is known to complement well the Lean Management approach used by organizations. Studies from previous years have shown that well-managed, widely spread, Virtual Teams have been outperforming those that share office space. In fact, it has shown that using Virtual Teams can improve employee productivity by 45%.es to form Virtual Teams. A Virtual Team refers to a group of individuals who work together from different geographic locations and rely on communication technology such as email, voice conferencing services, fax, etc.
In today's highly competitive global economy, to be able to work smarter, organizations must be able to leverage the manifold benefits of a remote workforce. Likewise, organizations must also be able to manage challenges that come with working with Virtual Teams.
More organizations are opting to work with virtual teams. Virtual teams may have their benefits but it also has its challenges. Being able to manage these challenges will enable organizations to seize the benefits of remote workers.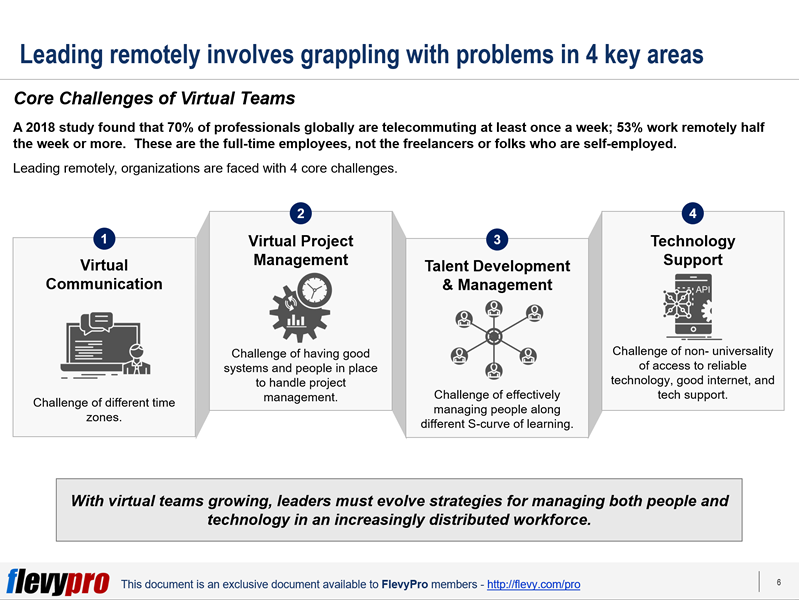 There are 4 core challenges that organizations face when working with Virtual Teams. Let us take a look at the 2 core challenges.
Virtual Communication. Having different time zones can be a challenge. This can lead to layers of complexity to the logistics of everyday communication. When time zones do not match, it can lead to less and less information being transmitted and can cause miscommunication. When working in a different time zone, there is a tendency to exchange information using email or instant messaging. But these may not be enough as it cannot convey as much meaning compared to vocal tone, facial expression, and physical gestures.
Virtual Project Management. When working with virtual teams, the business must have a proper system and people in place. Virtual Project Management may cause some confusion and even delays. While digital tools are in place to facilitate remote project management and collaboration, it can be difficult at times to tell what each person is contributing. In fact, organizations need to put up a system to track whether the members of the virtual team are doing their required tasks.
In this digital era, Virtual Teams are becoming the new face of business operation and aligning itself with Digital Transformation. This is a global reality that businesses must accept. However, working with Virtual Teams brings a lot of challenges not only in Project Management and Virtual Communication but also in Talent Development and Technology Support. Talent Development and Technology Support are two other core challenges that can make an impact on the Virtual Team. How it is managed will define the success of your Virtual Team.
In hindsight, Virtual Teams can also bring so many benefits. Hence, it is not surprising that despite the challenges, a lot of businesses still prefer to work with Virtual Teams.
One core benefit is increased access to top talent. The world has become a global market for expertise and talents. Businesses can extend their reach to other countries in their search for needed expertise. In fact, working with virtual teams will open opportunities for businesses to work with experts in various fields with various experiences. Being able to employ the best and the brightest is more than enough for businesses to continue working with Virtual Teams and conquering challenges. Businesses just need to have appropriate support programs to give Virtual Teams a home-field advantage.
Interested in gaining more understanding of  the challenges & benefits of Virtual Teams? You can learn more and download an editable PowerPoint about Virtual Teams: Challenges & Benefits here on the Flevy documents marketplace.
Are you a management consultant?
You can download this and hundreds of other consulting frameworks and consulting training guides from the FlevyPro library.
Subscribe to our Newsletter

PowerPointing Templates

Error: Twitter did not respond. Please wait a few minutes and refresh this page.