Mergers and Acquisitions (M&A) are unique and complex endeavors.  These initiatives demand tailored solutions keeping in view the varying environments, ways of doing business, culture of the two combining organizations, and internal and external forces influencing the deal.
These transactions necessitate making 8 important decisions based on thorough deliberation and analysis of all relevant factors well before the integration process.  These fundamental decisions and relevant factors form the 8 decision levers of Post-merger Integration (PMI).   These 8 decision levers of PMI are essential for devising an optimal integration approach and, subsequently, the success of an M&A initiative:
Form of Synergy to Be Created: Cost-cutting versus growth
Required Pace of Integration: Quick versus steady
Degree of Integration: Extensive versus partial
Nature of Integration: Buyout versus a merger
Commencement of Integration: Urgent or delayed
Integration Project Team Organization: Clean or shared
Decision Making Style: Implicit and prompt versus lengthy and analysis based
Transaction Change Management: Tacit versus one that requires comprehensive actions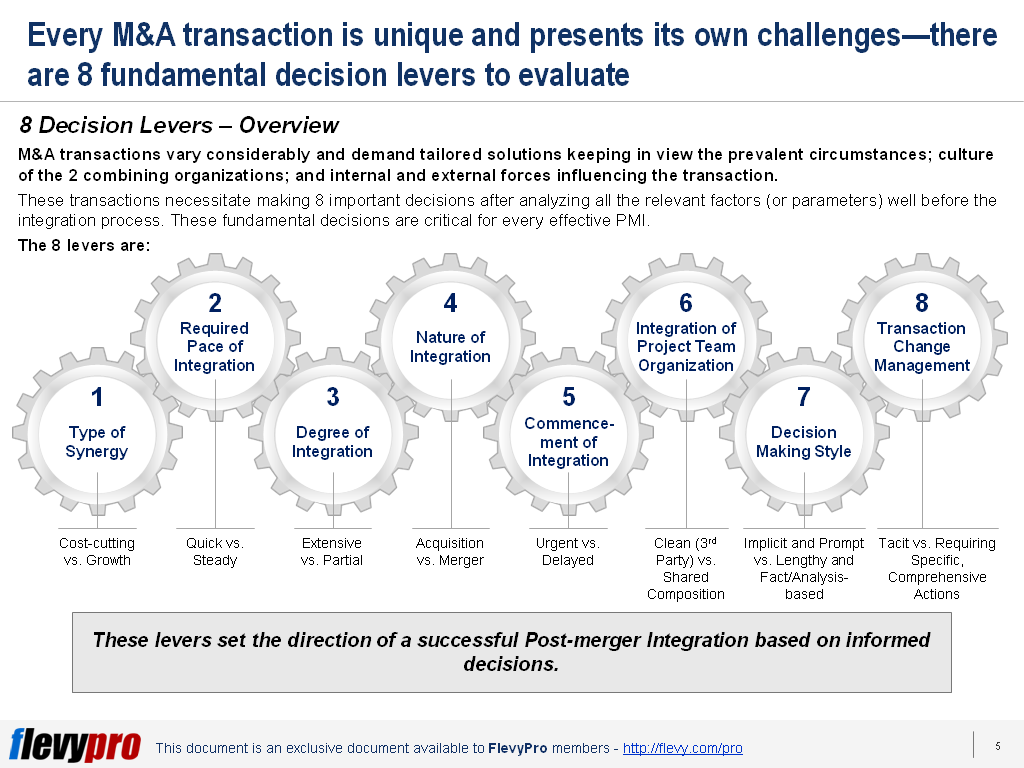 These decision considerations facilitate Post-merger Integration across all industries and organizations of various sizes.  Let's discuss the first 3 decision levers in detail now.
Lever 1 – Form of synergy to be created
The foremost element of a PMI is deciding on the type of synergy to be achieved through integration.  The question is to either focus on achieving cost reduction or growth synergies. If cost cutting is the objective of an M&A then the leadership of the combined organization needs to outline potential costing saving opportunities across the board.  This should be followed by robust communication strategy to convey the implications of the M&A program.  However, if the management's objective is to unlock growth synergies from the acquisition, then the integration is to be treated as a strategic endeavor—e.g., understanding the customer needs, evaluating market potential, generating innovative business ideas, and developing execution plans.
Lever 2 – Required pace of integration
The 2nd lever demands from the senior leadership to determine the pace most appropriate for the integration of their newly combined enterprise—i.e., to choose between a fast track and a steadier integration approach. A majority of executives believe that PMI should be executed as quickly as possible, so that upon completion of the initiative they could divert their center of attention back to business operations.  This approach, however, involves decisions that aren't backed by detailed analysis of facts and data, and is likely to face increased risks and uncertainties. On the other hand, a slower pace of integration is beneficial in case of a friendly takeover or expansion in a new domain.  A steadier pace of integration works well to reduce any apprehensions, cynicism, bottlenecks, and risks due to oversight.
Lever 3 – Degree of Integration
PMI necessitates gauging the appropriate degree of integration beneficial for the organization—i.e., choosing between extensive across the board versus partial integration. An absolute focus on cost synergies warrants an extensive degree of integration across all departments and geographies.  This puts extra pressure on teams in terms of work and risks dwindling enterprise focus on the customer.  Committing more resources and setting the priorities right aids in offsetting the risks associated with an extensive degree of integration. A partial integration, on the other hand, is simpler, less controversial, and predominantly warrants consolidation of sales or alignment of mission-critical processes.  This typically works well in takeovers requiring new products acquisition or addition of new customer segments.
Interested in learning more about the other 5 decision levers of PMI?  You can download an editable PowerPoint on Post-merger Integration (PMI): 8 Levers here on the Flevy documents marketplace.
Are you a Management Consultant?
You can download this and hundreds of other consulting frameworks and consulting training guides from the FlevyPro library.
Subscribe to our Newsletter

PowerPointing Templates

Error: Twitter did not respond. Please wait a few minutes and refresh this page.