Information Technology works best when it is tied tightly to our company's overall business goals.  On the other hand, business unit executives
have remained doubtful about IT's ability to support them in creating value. Despite the best intentions of managers of both sides, companies continue to struggle to integrate IT systems and to determine whether IT actually improves performance.
This problematic tension between the IT departments and business units has inflicted on many companies for years.
One approach to closing this gap is the discipline called Enterprise Architecture (EA).
What is Enterprise Architecture (EA)?
Enterprise Architecture (EA) is a logical framework that establishes the links between business strategy and organizational structures, processes, databases, and technologies.  The goal of EA is twofold. The first goal is to add value through its support of business goals. Second is to enable companies to measure the value added.
If a company wants to capture better customer information in order to energize an effort to sell additional higher margin products and services to existing customers, the company can use an EA system to align its customer relationship management, information retrieval, and sales planning software. EA applications can also be set up for staff training, account management, and frequent assessments of the campaign's efficacy.
Enterprise Architecture (EA) has been known to add value through its support of business goals, improve operational efficiency, and agility.  There are identified changes visible upon the application of Enterprise Architecture on organizations.
The architecture of an enterprise is described with a view to improving the manageability, effectiveness, efficiency, or agility of the business, and ensuring that money spent on IT is justified.
Application of Enterprise Architecture (EA) requires certain levels of maturity. This is necessary for EA to be able to deliver greater impact on bottom lines. The amount of value our company gets depends on the level of maturity of the EA efforts.
There are 4 key elements to Enterprise Architecture Maturity that must be addressed.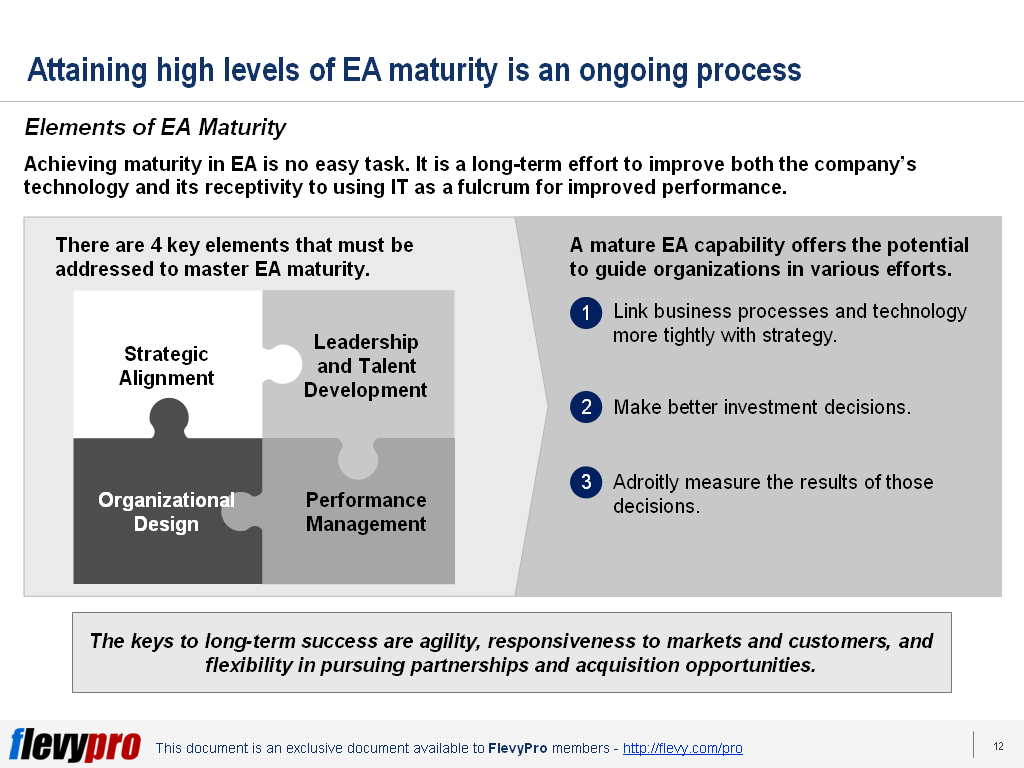 Strategic Alignment. The first key element ensures that the design of EA functions is included in both technology and the strategic planning process.
Leadership and Talent Development. The second key element relies on the training and development of Enterprise Architects who understand the business and can further strengthen the organization's EA capability.
Performance Management. Performance Management accurately measures the results of EA efforts that show an impact on the business.
Organizational Design. Organizational Design is the foundational element of Enterprise Architecture. It involves the frameworks, the tools, and the methodologies necessary in developing a functional capability.
Enterprise Architecture is not an easy task. But, is it worth it?
Based on a survey conducted by Booz & Company (now PwC), executives of 60 financial services companies and government agencies were asked to evaluate EA's effect on performance.
Organizations that had implemented Enterprise Architecture (EA) reported that the approach had impact and value. It has decreased their cost, reduced complexity, reduced risk, and increased agility.
In this world where operational efficiency, risk mitigation, and agility have become essentially important to achieving competitive advantage and business sustainability, companies have no other recourse but take the road to achieve Enterprise Architecture (EA) maturity and readiness.
Interested in gaining more understanding of Enterprise Architecture: Elements of Maturity? You can learn more and download an editable PowerPoint about Enterprise Architecture: Elements of Maturity here on the Flevy documents marketplace.
Are you a management consultant?
You can download this and hundreds of other consulting frameworks and consulting training guides from the FlevyPro library.
Subscribe to our Newsletter

PowerPointing Templates

Error: Twitter did not respond. Please wait a few minutes and refresh this page.