Currently viewing the tag: "Organizational Design"
Restructuring is a turbulent process that shakes the foundations of the organization.  The goal of Operational Excellence cannot be realized merely by the surgical removal of human resource during Redeployment after Restructuring.
Keeping focus on moving the organization forward with vitality means boosting the sagging morale of the employees who survive this storm.  It is the attention to the surviving employees that is going to kick-start the Revitalization process and usher in a new Organizational Culture.
Employee Engagement is an absolutely vital aspect of the revitalized organization.  Re-engagement of the remaining employees after Redeployment is important because:
It is a given that engagement levels will be abysmally low.
Motivation to work is not the top priority for most after Restructuring chaos.
Insecurity is high and employees may be thinking about leaving the organizations on the first opportunity they get.
The Revitalization of the organization depends on how the survivors are handled.
To handle such state of affairs, management must do the following:
Develop a concrete plan for Re-engagement during the Organizational Design.
Allocate appropriate time, effort, and budget for boosting motivation levels.
Implement Re-engagement plans that address the diverse Motivational Drivers.
Communicate consistently on an organizational level as well as individual level to reassure employees regarding their future.
Train line managers on how to handle surviving team members.
Push line managers to spend time with individual employees to learn:

How team members have handled the Redeployment process.
How employees sense the challenges moving forward.
What primarily motivates them as individuals.

Use motivational assessment methods and integrate the survivors into existing development discussions to align them with organizational processes.
Poor management of the Employee Re-engagement process is bound to have repercussions, such as:
Absenteeism
Low productivity levels.
Substandard customer service quality levels resulting in tarnished image of the organization.
Dwindling employees' commitment to the organizations.
Increased risk of switch overs.
Active Employee Re-engagement ensures that the employees are:
Clear on the next steps.
Clear about their new roles.
Can effectively deliver against the new roles.
Keen to work in the evolving scenario.
Redeployment in the Restructuring process affects all employees regardless of whether they stay or leave.
Employees typically showcase 4 types of reactions during this transition:
Departure Grief
Survivor Relief
Survivor Irritation
Departure Happiness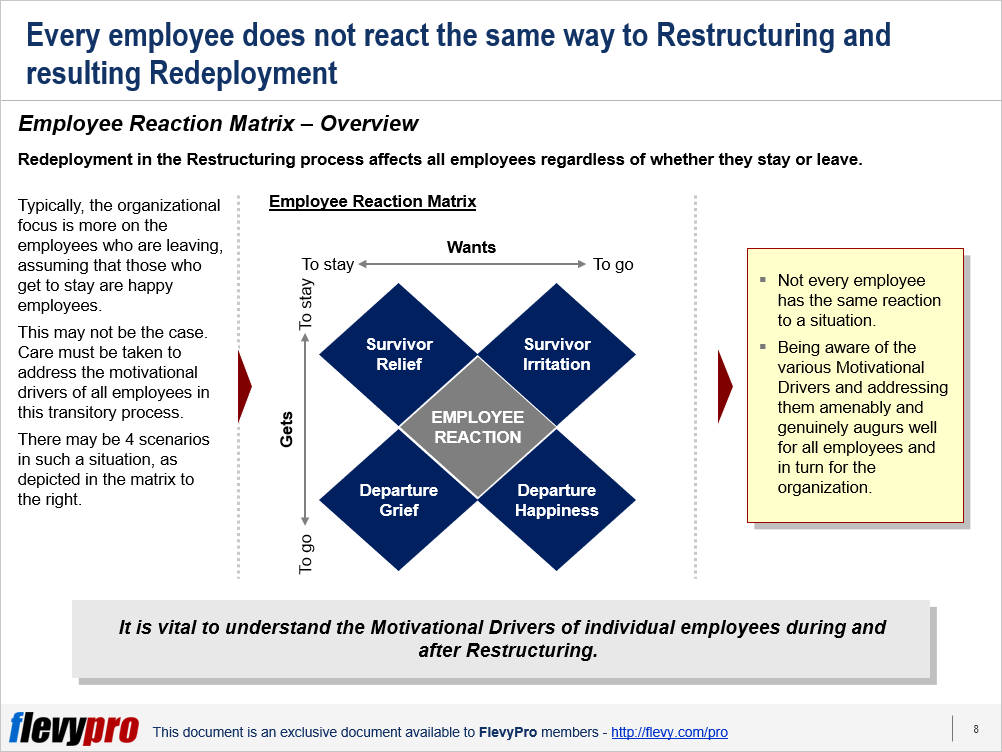 Typically, the organizational focus is more on the employees who are leaving, assuming that those who get to stay are happy employees.  This may not be the case.  Care must be taken to address the motivational drivers of all employees in this transitory process.
Let us examine the Employee State, their Motivational Drivers, and appropriate Actions to take during Restructuring, a little more deeply.
Departure Grief
The motivational drivers that induce the state of "departure grief" in employees include:
Loss of earnings and benefits such as pension plan and health insurance can be stressful.
Loss of daily routine can be upsetting and takes some time to cope with.
Forced shift in lifestyle upsets not only the person but the family too which may take a psychological toll.
Feeling of rejection crops up as a result of being let go, lowering self-esteem.
Loss of financial empowerment puts the person, especially the head of the household, in a vulnerable position.
To help employees cope with Departure Grief, the organizational leadership should take some key actions, such as:
Help the ex-employees through counselling sessions.
Guide the employees in preparing job applications and CVs.
Assist the ex-employees get placed in alternative jobs.
Guide the ex-employees in putting the compensated amount to good use.
Interested in learning more about Re-engagement after Restructuring?  You can download an editable PowerPoint on Re-engagement after Restructuring here on the Flevy documents marketplace.
Want to Achieve Excellence in Business Transformation?
Gain the knowledge and develop the expertise to become an expert in Business Transformation. Our frameworks are based on the thought leadership of leading consulting firms, academics, and recognized subject matter experts. Click here for full details.
"If you don't transform your company, you're stuck." – Ursula Burns, Chairperson and CEO of VEON; former Chairperson and CEO of Xerox
Business Transformation is the process of fundamentally changing the systems, processes, people, and technology across an entire organization, business unit, or corporate function with the intention of achieving significant improvements in Revenue Growth, Cost Reduction, and/or Customer Satisfaction.
Transformation is pervasive across industries, particularly during times of disruption, as we are witnessing now as a result of COVID-19. However, despite how common these large scale efforts are, research shows that about 75% of these initiatives fail.
Leverage our frameworks to increase your chances of a successful Transformation by following best practices and avoiding failure-causing "Transformation Traps."
Learn about our Business Transformation Best Practice Frameworks here.
Do You Find Value in This Framework?
You can download in-depth presentations on this and hundreds of similar business frameworks from the FlevyPro Library. FlevyPro is trusted and utilized by 1000s of management consultants and corporate executives. Here's what some have to say:
"My FlevyPro subscription provides me with the most popular frameworks and decks in demand in today's market. They not only augment my existing consulting and coaching offerings and delivery, but also keep me abreast of the latest trends, inspire new products and service offerings for my practice, and educate me in a fraction of the time and money of other solutions. I strongly recommend FlevyPro to any consultant serious about success."

– Bill Branson, Founder at Strategic Business Architects
"As a niche strategic consulting firm, Flevy and FlevyPro frameworks and documents are an on-going reference to help us structure our findings and recommendations to our clients as well as improve their clarity, strength, and visual power. For us, it is an invaluable resource to increase our impact and value."

– David Coloma, Consulting Area Manager at Cynertia Consulting
"FlevyPro has been a brilliant resource for me, as an independent growth consultant, to access a vast knowledge bank of presentations to support my work with clients. In terms of RoI, the value I received from the very first presentation I downloaded paid for my subscription many times over! The quality of the decks available allows me to punch way above my weight – it's like having the resources of a Big 4 consultancy at your fingertips at a microscopic fraction of the overhead."

– Roderick Cameron, Founding Partner at SGFE Ltd
Inadequately structured jobs create disputes, negative perceptions, inequality, and frustration among employees.  On the other hand, well-articulated jobs, appropriate distribution of work, justified authority levels, and correct estimation of value of individual jobs elevate employee engagement levels, productivity, and job satisfaction.  Organized job levels are a sign of effective Human Resources Management function.
The lack of a structured job design—and ill-defined jobs—renders the organizations ineffective and burdened with excessive staffing and payroll costs.  This warrants from the leadership to plan and undertake a Job Leveling initiative.  Job Leveling is a disciplined approach to gauge the value of work for individual positions across the organization.  It entails ascertaining the nature of work done by each position, authority levels, and the effect of each job on business results.  The initiative is critical in administering rewards structures.
However, Job Leveling is a concern at most organizations—not many people are satisfied with the value assigned to their roles.  The absence of proper—or inadequate—job levels yields grave consequences for the entire organization.  Jobs valued higher than their actual value lead to wastage of resources, whereas low valued jobs are perceived as offensive and inculcate demotivation.
Job Design and Job Leveling is essential when organizations consistently encounter issues, such as:
Constant employees complaints and demands to reclassify jobs
Excessive job titles
Widespread dissatisfaction with remuneration
Task / processes redundancy
Financial outflow
Staffing imbalances and top heavy structure
Workforce planners should lay out a clearly-defined Job Leveling Framework to tackle these issues and methodically benchmark the value of jobs at their organizations.  To accomplish this, they need to first analyze all the activities required under each position, the professional competences and demeanor essential to perform those activities, and gauging the effect each position has on business results.
The 4 core benefits to developing and executing an efficient Job Leveling Framework include:
Establish Consistency across the Human Resource Initiatives
Develop Clear Paths for Career Growth
Improve Ease of Administration
Increase Flexibility for M&A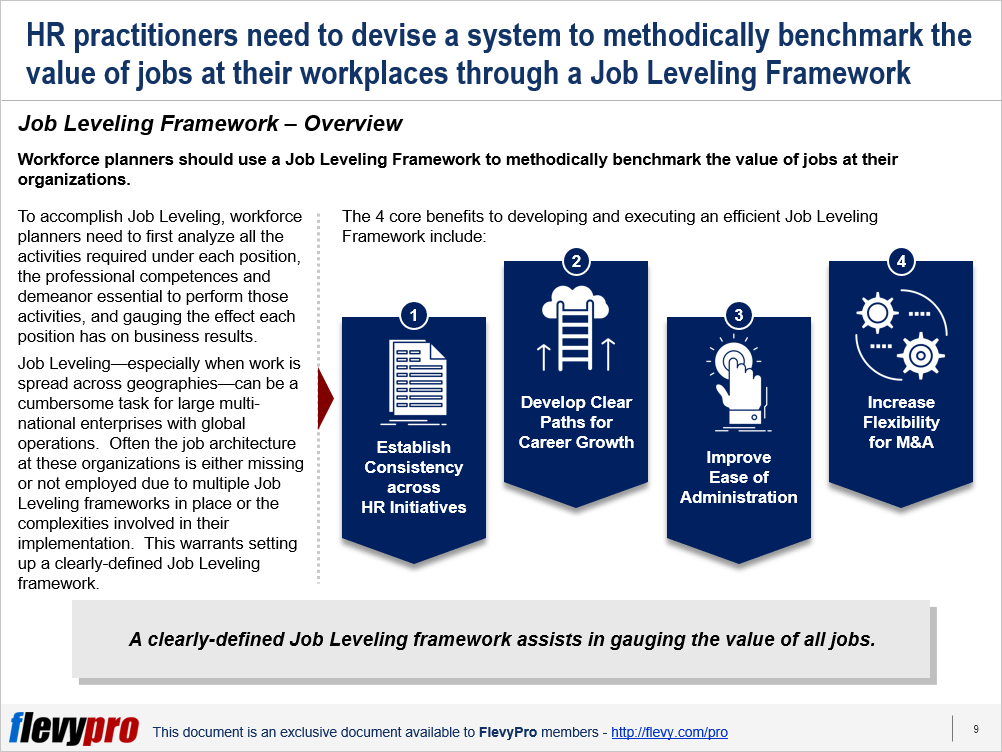 Let's delve deeper into 3 of these benefits, for now.
Establish Consistency Across the HR Initiatives
A standardized job evaluation approach enables a consistent job structure terminology.  It makes communication and Job Leveling related decisions easier.  A Job Leveling Framework aids in defining relative placement of various jobs, using elements, such as, knowledge, problem solving, interaction, impact, and accountabilities.  Alignment of jobs through a Job Leveling Framework helps in developing consistency across other HR initiatives and make better talent related decisions.
Develop Clear Paths for Career Growth
Organizations use clear career pathways to enhance employee engagement, meet employee expectations, and provide opportunities for their development.  A Job Leveling Framework provide clear-cut job structure to inspire the employees.  Career pathways developed through Job Leveling Framework helps the leaders as they strive to improve the amount of mobility across teams, units, and divisions.
Improve Ease of Administration
A Job Leveling Framework assists in developing efficient methods to administer HR initiatives.  A Job Leveling Framework enables improved efficiencies and decisions related to key talent and their work.  For instance, it streamlines pay grades and salary structures; standardizes job titles; simplifies short-term incentive criteria and objectives definition; and structures long-term reward eligibility criteria and nominations.
Interested in learning more about the Job Leveling Framework and benefits associated with its implementation? You can download an editable PowerPoint on HR Strategy: Job Leveling Framework here on the Flevy documents marketplace.
Are you a Management Consultant?
You can download this and hundreds of other consulting frameworks and consulting training guides from the FlevyPro library.
In the wake of global pandemics when meeting face to face is not possible, it's about facilitating workshops digitally, designing a formal agenda, and utilizing digital tools to ensure a productive virtual meeting.  Digital Collaboration Platforms have been pivotal in the current scenario.
As a matter of fact, Digital Collaboration platforms have become a new norm and have forever transformed business work environment.  Digital Facilitation tools are extensively used by facilitators, Change Management consultants, Organizational Development practitioners, and learning professionals as a way to collaborate on workshops, events, change initiatives, and learning programs.
Digital Workshop Facilitation can be categorized into the following 3 major types:
Virtual Facilitation
In this type of Digital Facilitation, a group collaborates remotely in real time but from different locations.  Common tools used are Zoom, GoToMeeting etc.
Asynchronous Facilitation
In this facilitation method, a facilitator leads participants remotely at a different time and place. Common tools include Email, Slack etc.
Face-to-Face Facilitation
In Face-to-Face facilitation, a facilitator interacts with a group of people in the same workshop space, in person.  Digital tools can be used in such a setup instead of flip charts and sticky notes.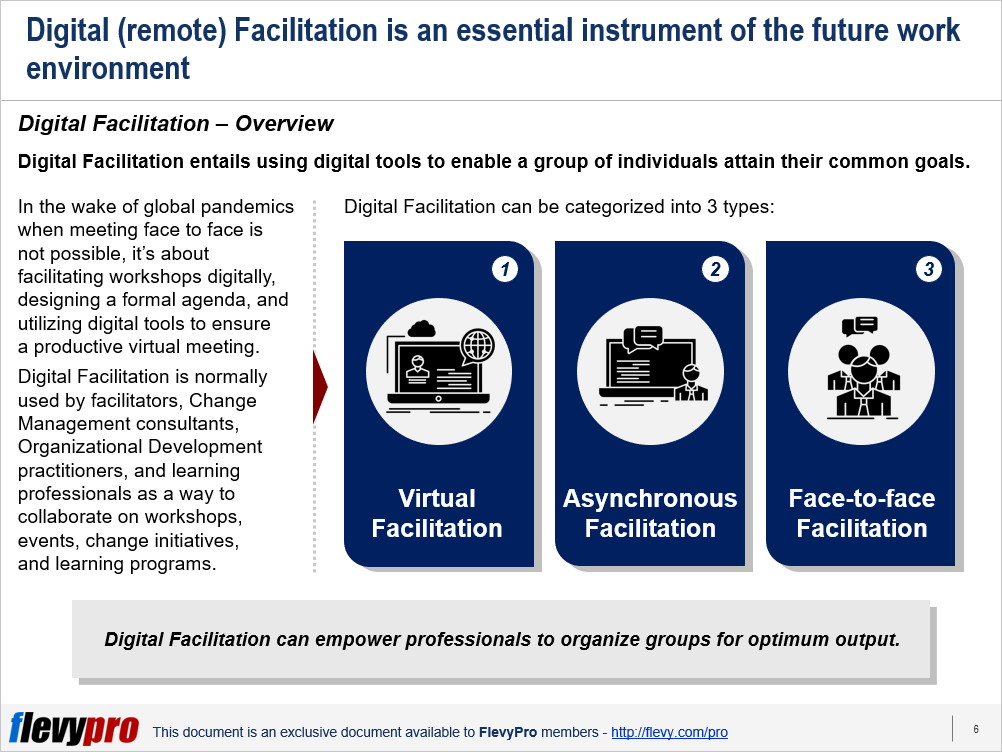 The new scenario brings forth new challenges in workshop facilitation that necessitate robust principles, methods, and tools for the future work environment to run smoothly.  Understanding and adhering to the following best practices and principles in Digital Workshop Facilitation helps in attaining effective results just like face-to-face workshops:
Specify well-defined guidelines and expectations.
Form an assured environment to enable discourse.
Ensure effective interaction before, during, and after a workshop.
Ensure all voices are heard.
Document the conversations.
Alter the moderation approach based on the participants' level of understanding.
Seek comments and iterate.
Let us delve a little deeper into some of the principles:
1. Specify well-defined guidelines and expectations.
The remote nature of digital workshops limits the element of reacting to audience's lack of attention.  This warrants clear instructions regarding ground rules, both in writing and orally to compensate for this disadvantage.  Participants need to use precise language in asking questions and answering them.
Instructions on technology and tools usage should be reiterated from time to time.
2. Form an assured environment to enable discourse.
Trusting participants in a virtual setting is difficult if you do not know them.  It is the digital facilitator's job to create conversation security in different ways.  Spending time on icebreakers or other pre-engagement activities may ease the discomfort.  Providing quick and positive feedback to those who actively contribute encourages shy participants and creates a positive environment.  Informing the participants on how meetings are being documented and information on who has access to this documentation can reassure participants.
3. Ensure effective interaction before, during, and after a workshop.
Digital Facilitation platform can be used ahead of a meeting to help participants familiarize with each other, disseminate the agenda, initiate discussions, or obtain helpful information from the participants, such as questions, skill levels, ideas, etc.  Digital Collaboration Platform should be the center of post-workshop activities, e.g., sharing documents, closing agendas, answering additional queries, and extended discussions.
4. Ensure all voices are heard.
Digital Workshop tools can facilitate participation of people who in a traditional workshop setup will not be able to participate due to dominance by a few individuals.
Interested in learning more about the Digital Workshop Facilitation principles, methods, and tools? You can download an editable PowerPoint on Virtual Work Digital Facilitation (Primer) here on the Flevy documents marketplace.
Are you a Management Consultant?
You can download this and hundreds of other consulting frameworks and consulting training guides from the FlevyPro library.
"A problem well framed is a problem half-solved." — Jay Galbraith
Organizational Design is more than just structures. It is having policies and strategies that are aligned with one another.  When this is achieved, it allows organizations to operate at maximum efficiency and achieve Operational Excellence.
The Galbraith Star Model™ is the foundation on which a company bases its design choices. The organization's design framework consists of a series of design policies that are controllable by management and can influence employee behavior.
Organizations use the Star Model™ framework to overcome the negatives of any structural design. Every organizational structure has positives and negatives associated with it.  If management can identify the negatives of its preferred option, it can better design other policies around the Star Model™ to counter the negatives while achieving the positives.
Understanding the Galbraith Star Model™
Galbraith Star Model™ is the organization's design framework for effective strategy execution. It consists of 5 major components.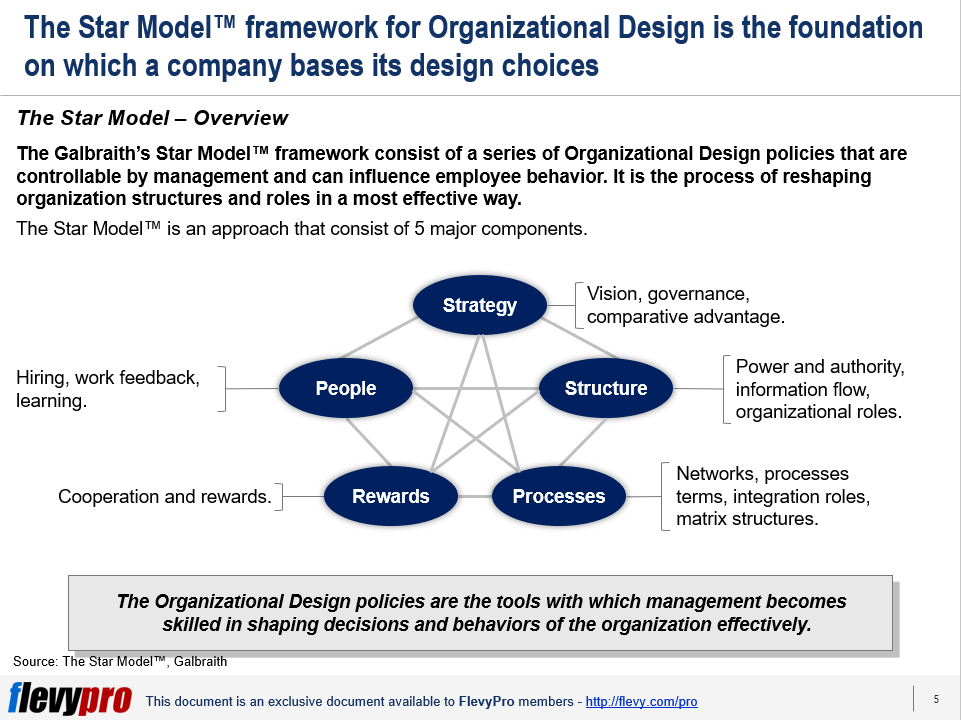 Strategy. This component is the company's formula for winning. It is the goals and objectives to be achieved, as well as values and missions to be pursued. It defines the basic direction of the company. Strategy Development is essentially important in specifying sources of Competitive Advantage.
Structure. The second component, the Structure, determines the location of the decision-making power. It is the placement of power and authority in the organization.
Processes. Information and decision processes is a component that cuts across the organization's structure. It is a means of responding to information technologies. Management processes can either be vertical or lateral. Either way, these are designed around a workflow from new product development to the fulfillment of a customer order. If the structure is the anatomy of the organization, processes are its physiology or functioning.
Rewards. The fourth component provides motivation and incentive for the completion of the strategic direction of the organization. Rewards are recognition that influence the motivation of people to perform and address organizational goals.  It becomes effective only when they form a consistent package in combination with other design choices.
People. People is the fifth component that focuses on influencing and defining an individual's mindset and skills. It looks into the human resource policies of recruiting, selection, training, and development of people needed by the organization to achieve its strategic direction. HR policies work best when these are consistent with the other connecting design areas.
The five components are essentially important. Each component has its underlying purpose and impact.  How the organization can effectively align the components with each other makes a huge difference in achieving an impact. Further, in this fast-changing business environment, organizations must be keenly aware of the implications of implementing the Star Model™ framework. The Star Model may have its implications, including the interweaving nature of the lines that form the star shape.
The Man Behind the Organizational Design Framework
Dr. Jay Galbraith was an internationally recognized expert on Strategy and Organizational Design.  With more than 45 years of research and practical experience, Dr. Galbraith's extensive knowledge came from his background in information processing systems, chemical engineering, and organizational behavior.  As the original creator of the Star Model and the Front-Back organization structure, Dr. Galbraith transformed organizations across a broad span of industries including consumer goods, manufacturing, health care, financial services, and telecommunications, among others.
Interested in gaining more understanding of Galbraith Star Model™? You can learn more and download an editable PowerPoint about Galbraith Star Model™ here on the Flevy documents marketplace.
Are you a management consultant?
You can download this and hundreds of other consulting frameworks and consulting training guides from the FlevyPro library.
Business environment has transformed drastically from what it was a century ago.  It has become immensely challenging due to competition, disruptive technologies, laws, and globalization.  These challenges warrant better performance to address customer needs and to survive—and outpace—intense competition.  Consequently, organizations have become complex.
The work that individuals perform in an organization has also shifted from manual labor and clerical jobs to knowledge-based experiential tasks.  Traditional workforce was required to adhere to commands and stick to routines, whereas today's workforce needs to be more empowered, innovative, able to adapt to varying circumstances, and render sound judgment.
Adapting with the constantly changing business environment is essential for organizations aspiring to succeed in today's competitive markets.  In order to stay competitive, more and more organizations across the globe are undertaking Business Transformation programs to reorganize their businesses.  However, a large percentage of such programs fail to achieve the desired outcomes.
For the Organizational Design to be successful, leaders need to be mindful of the revolutionized work settings and business environment of this age.  One of the major factors attributed to these failure rates is utilizing traditional approaches to reorganization, which are proving ineffective in this digital age.  These traditional approaches appreciate "level of control" and power, and underestimate the significance of employee autonomy and innovation. 
The Smart Design Approach to Organization Design
Today's Knowledge Economy necessitates the employees to be more empowered to decide on their own than merely following commands.  People act in ways that are best for their own interests.  The new approach to reorganization—termed Smart Organizational Design—aligns the workforce's best interests with the organizational mission rather than seeking control over the employees.  The focus is on changing the environment (context) and mindsets of employees willingly and instilling team work and cooperation, thereby enhancing organizational performance considerably.
The Smart Organizational Design approach entails classifying the existing workforce behaviors, ascertaining the desired behaviors critical to improve performance, and providing environment (context) favorable to develop new behaviors.  The approach encompasses 3 main steps:
Define why reorganization is necessary (objective)
Determine the behaviors critical to support reorganization
How to execute the Smart Organizational Design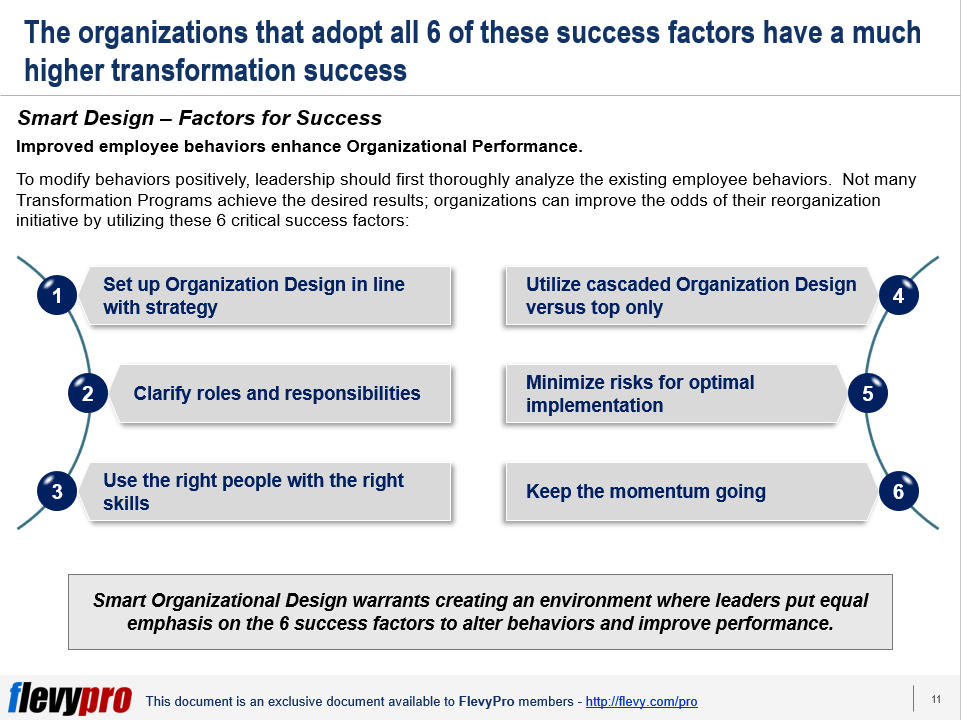 Let's dig deeper into the second step.
Determine the behaviors critical to support reorganization
The next step involves the leadership to determine the "what" element of the Smart Organizational Design approach—i.e., definition of certain behaviors critical to achieve the transformation purpose.  Determining the desired behaviors necessitates thinking through the following 4 critical Smart Organizational Design aspects.  These 4 design aspects work in tandem to shift the environment (context) for the workforce and motivate them to embrace the new behaviors crucial for improved performance:
The Roles and Responsibilities aspect interprets individual and shared accountabilities to cultivate teamwork and cooperation.
The Individual Talent aspect specifies the right skill set and motivation to perform responsibilities of each role effectively.
The Organizational Enablers aspect outlines the elements necessary for creating the right context (environment) for embracing the desired behaviors, i.e., decision processes, performance management, and talent management.
Interested in learning more about the other step of the Smart Organizational Design approach and the factors critical for its success?  You can download an editable PowerPoint on Smart Organizational Design here on the Flevy documents marketplace.
Are you a Management Consultant?
You can download this and hundreds of other consulting frameworks and consulting training guides from the FlevyPro library.
As the last decisive step in customer service, a warehouse ensures cost effective distribution.  Latest technological innovation has turned warehousing into a competitive advantage.  It offers untapped potential for improvement. However, warehousing is a hugely neglected part of global supply chains.  There is inconsistency in picking, packing and shipping orders, storing receipts, and managing inventory and logistics operations.
These and the following roadblocks in the way of smooth warehousing operations and Lean Management exist in every traditional warehouse:
Lack of focus on acquiring technology to facilitate in improving efficiency and quality.
Inability to utilize a structured approach to ascertain the reasons for poor performance.
Lack of a big picture viewpoint pertaining to processes, costs, or external supply chain partnerships.
Absence of a continuous improvement culture to achieve warehouse operations excellence.
Lack of communication, organization, and proper training of resources.
These shortcomings call for implementing Lean Warehousing methodology to unlock improvement opportunities and savings in operational, efficiency, and maintenance related costs.  First initiated by Toyota, the Lean Warehousing approach has a deep emphasis on eliminating 3 basic limitations: waste, variability, and inflexibility. The Lean Warehousing methodology focuses on the following 3 improvement areas:
Cost Reduction
Customer Quality
Service Levels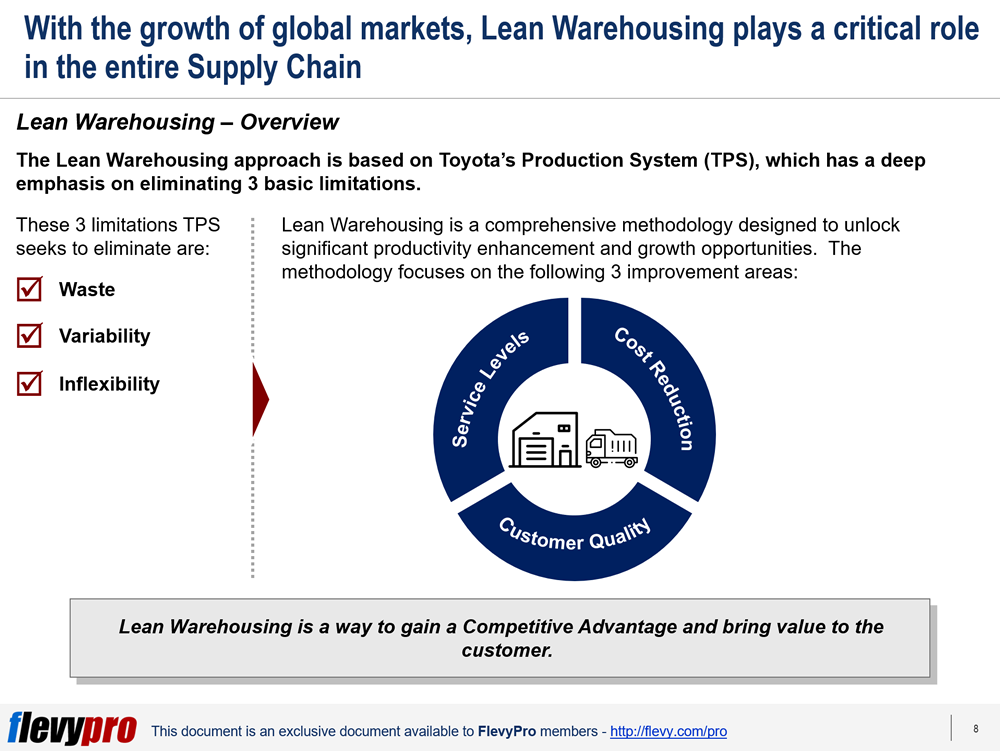 Cost Reduction
The Lean Warehousing methodology concentrates on increasing productivity and reducing operating costs.  This is achieved by:
Cutting undue walking and searching
Preventing needless replenishment, reworks, waiting times, and double handling
Upgrading demand and capacity planning and manpower allocation
Customer Quality
A Lean Warehouse seeks to take the customer quality to the next level by avoiding:
Order deviations
Picking errors
Damaged goods
Service Levels
Improving service levels is at the center of a Lean Warehousing methodology, which involves:
Reducing lead times
Enhancing on-shelf availability
Lean Warehousing Transformation

Lean Warehousing Transformation entails streamlining operations to identify waste, know how to increase service levels, implement standardization and innovative ideas, and learn to evaluate and manage performance.  Such transformation becomes a reality in an experiential learning environment and by developing organizational capabilities in 3 critical areas:
Operating System
Management Infrastructure
Mindset and Behaviors
Operating System
The organizational capability to configure and optimize all company physical assets and resources to create value and minimize losses.  The focus areas under operating systems include eradicating variability, encouraging flexibility, and promoting end-to-end design.
Management Infrastructure                                                                   
The organizational capability to strengthen formal structures, processes, and systems necessary to manage the operating system to achieve business goals.  The focus areas under Management Infrastructure are performance management, organizational design, capability building, and functional support process.
Mindset and Behaviors
The organizational capability to manage the way people think, feel, and act in the workplace individually as well as collectively.  The target areas to focus on here include a compelling purpose, collaborative execution, up-to-date skills, drive to improve, and committed leadership.
Model Warehouse Implementation
Lean Warehousing Transformation necessitates developing a "Model Warehouse," which presents facilities for supply chain people to practically experience state-of-the-art warehouse operations in a modern warehouse and shop-floor environment.  The Model Warehouse incorporates newest technology and systems, and offers real-life conditions for building capabilities—i.e., optimization of storage, pick and pack, and dispatch processes.  Newest technologies—e.g., Smart Glasses and HoloLenses—available at the facility help improve the performance of pickers significantly and execute multi-order picking efficiently.
Such a setting allows people to observe and analyze the performance of an exemplary warehouse and implement this knowledge at their own premises.  Leading organizations organize a week-long rigorous knowledge sharing workshop—in an experiential learning environment of a Model Warehouse—for their people to have a hands-on experience to learn Lean Warehousing, actual picking, packing, root cause analysis, and performance management.  The participants of the Model Warehouse Knowledge Sharing Workshop are excellent candidates for "change agents" to implement Lean Transformation.
Interested in learning more about Lean Warehousing, Model Warehouse Implementation, and Lean Warehousing Transformation?  You can download an editable PowerPoint on Lean Warehousing Transformation here on the Flevy documents marketplace.
Are you a Management Consultant?
You can download this and hundreds of other consulting frameworks and consulting training guides from the FlevyPro library.
Despite the emergence of new devices and software products designed to unite employees in more ways than ever before, the threat of
organizational silos is still very real. While silos deter customer experiences and producing correctly functioning products – the root of the problem is that many managers fail to spot those silos as they formulate in front of their very eyes.
What are Silos? Organization silos describe the isolation that occurs when employees or entire departments within an organization do not want to or do not have adequate means to share information or knowledge with each other. Siloed teams often end up working in isolation from the rest of the company. This leads to a plethora of internal and external problems for employees, executives, partners, and customers.
In Organizational Design, it is critical to also consider the risks of unintended silos within the organization.  Having organizational silos can lead to duplicate work, inefficiency, bugs and generalized employee disenfranchisement at a granular level. Work is being done without regard to how the work impacts other departments. Departments start having tunnel vision, solely focused on their own functional area. In the end, there is a breakdown in communication and transparency leading to organizational dysfunction on multiple levels. This can greatly affect the company's ability to deliver excellent Customer Experience.
Breaking Down Organizational Silos: The 5 Key Symptoms
Understanding the 5 Key Symptoms of Organizational Silos will guide companies in breaking down silos and limiting their effect on performance, goals, and targets.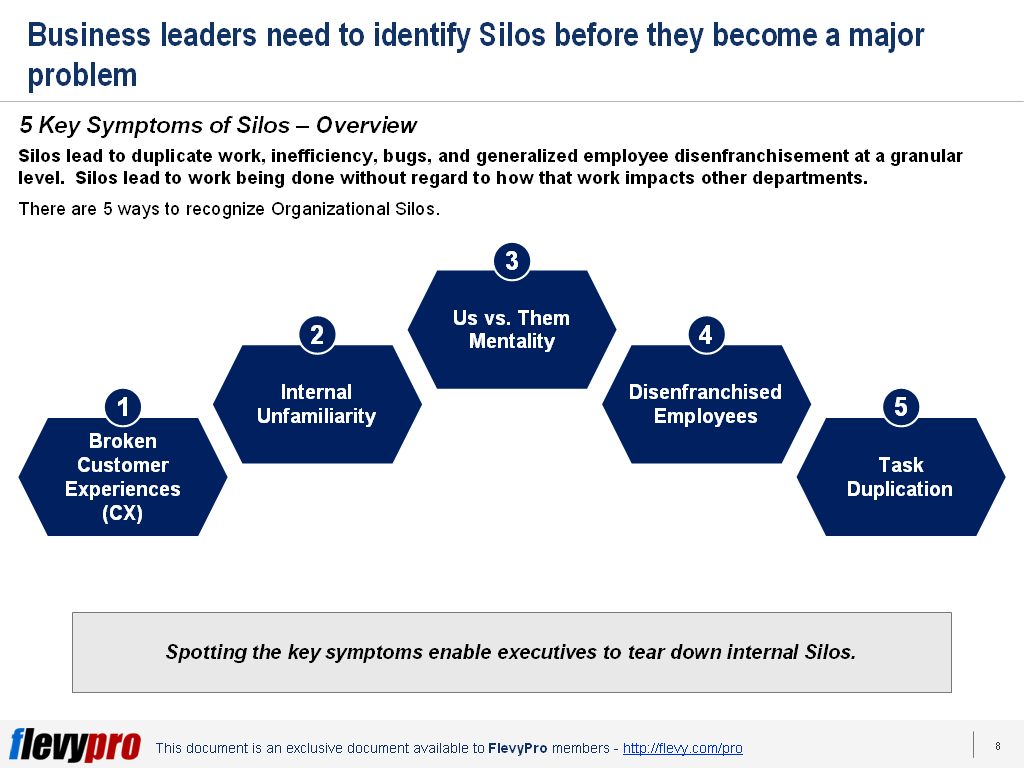 Broken Customer Experiences. This is the most obvious sign of a siloed team. Eventually, this symptom will ultimately make the company undesirable.
Internal Unfamiliarity. There is internal unfamiliarity when employees or colleagues are not on a first name basis. Employees are not familiar with the majority of the people outside the team and what they do.
The Us vs. Them Mentalities. When your department sees other departments as competitors and obstacles to success, then there exists the us vs. them mentality. In the us vs. them mentality, protectionist thinking exists. When this happens, information is not shared for fear that another team's gain will be their loss.  This leads to the creation of cliques with its own distinct culture that is not aligned with the company's overall mission and culture.
Disenfranchised Employees. Having employees who feel that they are not part of the team is a symptom of organizational silos. Disenfranchised employees are unhappy, unproductive, and pose the risk of sharing negativity with coworkers.
Task Duplication. Have you seen people of different teams working on similar assignments and projects? That is a symptom that there are organizational silos within your company. When there is task duplication, this can lead to inefficiencies and loss of productivity.
Companies can immediately break down barriers to communication and collaboration once the key symptoms are detected. Silos in business have two sides to the coin. The good side is variety, ownership, accountability, specialization, and efficiency. However, on the other side, the bad side means short-sightedness, inaccessibility, and inefficiency. This can harm your organization.
Organizations must be able to deal with silos inside a business. This can be done by expanding our perspectives and motivation in the work we do.
Interested in gaining more understanding of Organizational Silos, the different types, and proper ways of addressing them? You can learn more and download an editable PowerPoint of Organizational Silos here on the Flevy documents marketplace.
Are you a management consultant?
You can download this and hundreds of other consulting frameworks and consulting training guides from the FlevyPro library.
Information Technology works best when it is tied tightly to our company's overall business goals.  On the other hand, business unit executives
have remained doubtful about IT's ability to support them in creating value. Despite the best intentions of managers of both sides, companies continue to struggle to integrate IT systems and to determine whether IT actually improves performance.
This problematic tension between the IT departments and business units has inflicted on many companies for years.
One approach to closing this gap is the discipline called Enterprise Architecture (EA).
What is Enterprise Architecture (EA)?
Enterprise Architecture (EA) is a logical framework that establishes the links between business strategy and organizational structures, processes, databases, and technologies.  The goal of EA is twofold. The first goal is to add value through its support of business goals. Second is to enable companies to measure the value added.
If a company wants to capture better customer information in order to energize an effort to sell additional higher margin products and services to existing customers, the company can use an EA system to align its customer relationship management, information retrieval, and sales planning software. EA applications can also be set up for staff training, account management, and frequent assessments of the campaign's efficacy.
Enterprise Architecture (EA) has been known to add value through its support of business goals, improve operational efficiency, and agility.  There are identified changes visible upon the application of Enterprise Architecture on organizations.
The architecture of an enterprise is described with a view to improving the manageability, effectiveness, efficiency, or agility of the business, and ensuring that money spent on IT is justified.
Application of Enterprise Architecture (EA) requires certain levels of maturity. This is necessary for EA to be able to deliver greater impact on bottom lines. The amount of value our company gets depends on the level of maturity of the EA efforts.
There are 4 key elements to Enterprise Architecture Maturity that must be addressed.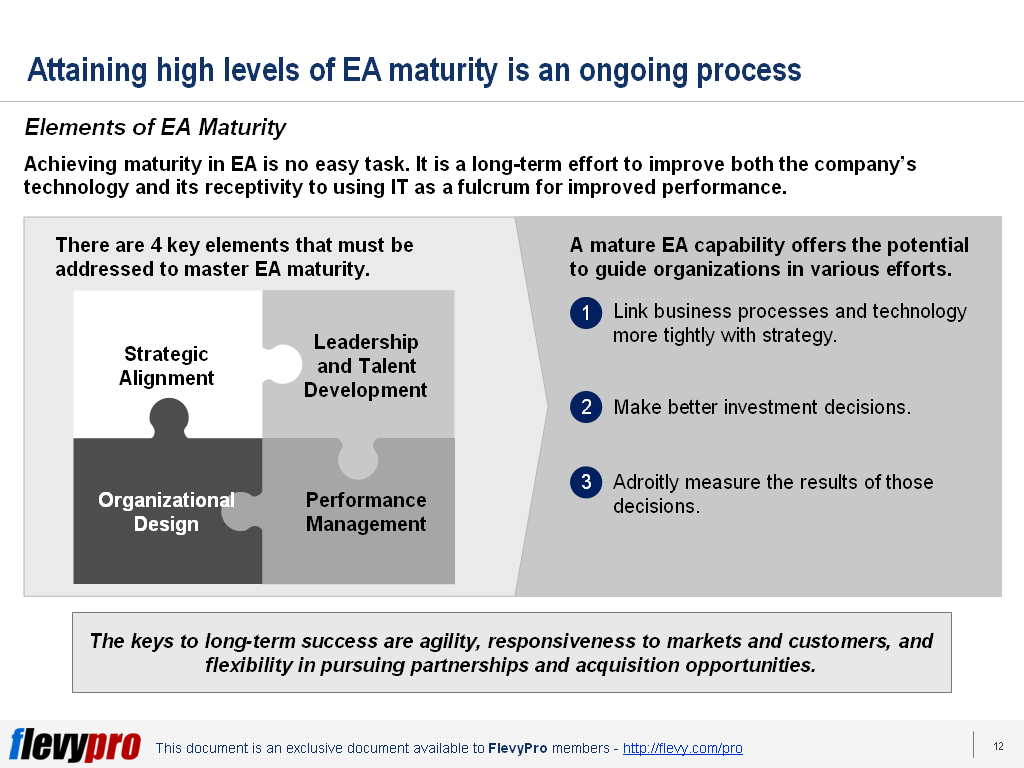 Strategic Alignment. The first key element ensures that the design of EA functions is included in both technology and the strategic planning process.
Leadership and Talent Development. The second key element relies on the training and development of Enterprise Architects who understand the business and can further strengthen the organization's EA capability.
Performance Management. Performance Management accurately measures the results of EA efforts that show an impact on the business.
Organizational Design. Organizational Design is the foundational element of Enterprise Architecture. It involves the frameworks, the tools, and the methodologies necessary in developing a functional capability.
Enterprise Architecture is not an easy task. But, is it worth it?
Based on a survey conducted by Booz & Company (now PwC), executives of 60 financial services companies and government agencies were asked to evaluate EA's effect on performance.
Organizations that had implemented Enterprise Architecture (EA) reported that the approach had impact and value. It has decreased their cost, reduced complexity, reduced risk, and increased agility.
In this world where operational efficiency, risk mitigation, and agility have become essentially important to achieving competitive advantage and business sustainability, companies have no other recourse but take the road to achieve Enterprise Architecture (EA) maturity and readiness.
Interested in gaining more understanding of Enterprise Architecture: Elements of Maturity? You can learn more and download an editable PowerPoint about Enterprise Architecture: Elements of Maturity here on the Flevy documents marketplace.
Are you a management consultant?
You can download this and hundreds of other consulting frameworks and consulting training guides from the FlevyPro library.
Subscribe to our Newsletter

PowerPointing Templates

Error: Twitter did not respond. Please wait a few minutes and refresh this page.