In the wake of global pandemics when meeting face to face is not possible, it's about facilitating workshops digitally, designing a formal agenda, and utilizing digital tools to ensure a productive virtual meeting.  Digital Collaboration Platforms have been pivotal in the current scenario.
As a matter of fact, Digital Collaboration platforms have become a new norm and have forever transformed business work environment.  Digital Facilitation tools are extensively used by facilitators, Change Management consultants, Organizational Development practitioners, and learning professionals as a way to collaborate on workshops, events, change initiatives, and learning programs.
Digital Workshop Facilitation can be categorized into the following 3 major types:
Virtual Facilitation
In this type of Digital Facilitation, a group collaborates remotely in real time but from different locations.  Common tools used are Zoom, GoToMeeting etc.
Asynchronous Facilitation
In this facilitation method, a facilitator leads participants remotely at a different time and place. Common tools include Email, Slack etc.
Face-to-Face Facilitation
In Face-to-Face facilitation, a facilitator interacts with a group of people in the same workshop space, in person.  Digital tools can be used in such a setup instead of flip charts and sticky notes.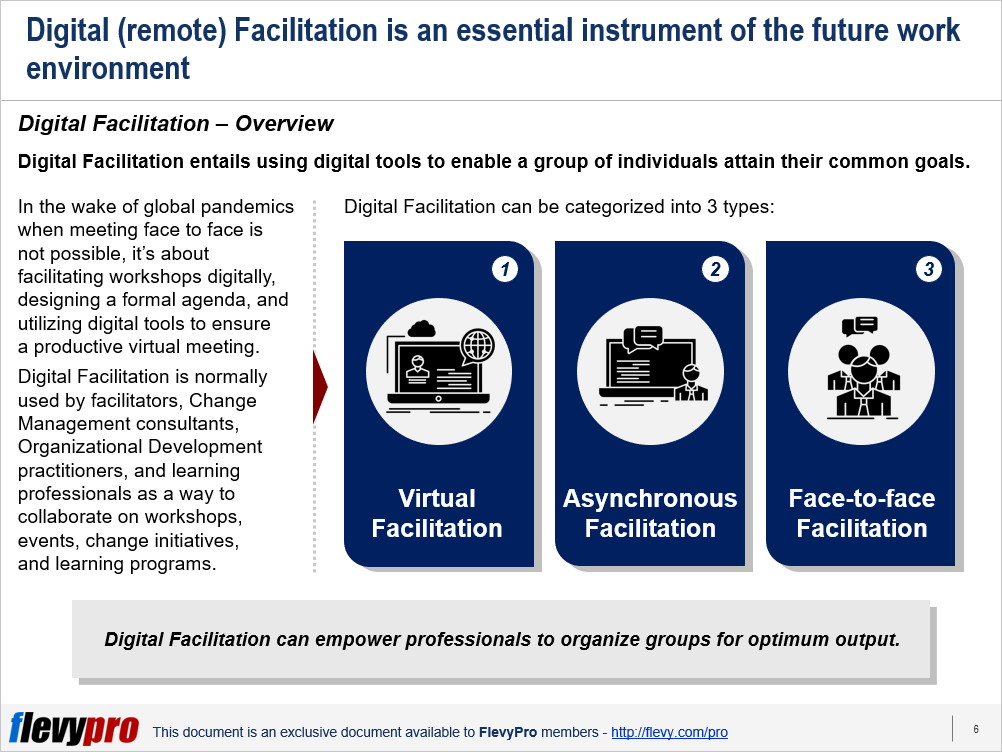 The new scenario brings forth new challenges in workshop facilitation that necessitate robust principles, methods, and tools for the future work environment to run smoothly.  Understanding and adhering to the following best practices and principles in Digital Workshop Facilitation helps in attaining effective results just like face-to-face workshops:
Specify well-defined guidelines and expectations.
Form an assured environment to enable discourse.
Ensure effective interaction before, during, and after a workshop.
Ensure all voices are heard.
Document the conversations.
Alter the moderation approach based on the participants' level of understanding.
Seek comments and iterate.
Let us delve a little deeper into some of the principles:
1. Specify well-defined guidelines and expectations.
The remote nature of digital workshops limits the element of reacting to audience's lack of attention.  This warrants clear instructions regarding ground rules, both in writing and orally to compensate for this disadvantage.  Participants need to use precise language in asking questions and answering them.
Instructions on technology and tools usage should be reiterated from time to time.
2. Form an assured environment to enable discourse.
Trusting participants in a virtual setting is difficult if you do not know them.  It is the digital facilitator's job to create conversation security in different ways.  Spending time on icebreakers or other pre-engagement activities may ease the discomfort.  Providing quick and positive feedback to those who actively contribute encourages shy participants and creates a positive environment.  Informing the participants on how meetings are being documented and information on who has access to this documentation can reassure participants.
3. Ensure effective interaction before, during, and after a workshop.
Digital Facilitation platform can be used ahead of a meeting to help participants familiarize with each other, disseminate the agenda, initiate discussions, or obtain helpful information from the participants, such as questions, skill levels, ideas, etc.  Digital Collaboration Platform should be the center of post-workshop activities, e.g., sharing documents, closing agendas, answering additional queries, and extended discussions.
4. Ensure all voices are heard.
Digital Workshop tools can facilitate participation of people who in a traditional workshop setup will not be able to participate due to dominance by a few individuals.
Interested in learning more about the Digital Workshop Facilitation principles, methods, and tools? You can download an editable PowerPoint on Virtual Work Digital Facilitation (Primer) here on the Flevy documents marketplace.
Are you a Management Consultant?
You can download this and hundreds of other consulting frameworks and consulting training guides from the FlevyPro library.
Subscribe to our Newsletter

PowerPointing Templates

Error: Twitter did not respond. Please wait a few minutes and refresh this page.