Digital Transformation in Manufacturing or "Digital Manufacturing" for short is not an optional decision for companies anymore.  Manufacturing concerns that want to survive have to jump on the Digital Transformation bandwagon hastily.  Digital Manufacturing has become a prerequisite for a profitable existence even for mere survival of a manufacturing concern.
Business Transformation of any kind is difficult—more so when it is a Digital Transformation in Manufacturing.  In fact, Change Management of Digital Transformation in Manufacturing is typically more difficult than any change or Transformation program that an organization may undertake.
Not many manufacturing concerns had cognizance of the digital technologies until very recently.  Still, manufacturing concerns find it very hard to manage a successful Digital Transformation.
Digital technologies can disrupt businesses.  A Digital Transformation is not the Digitalization of an existing business.  Digital Manufacturing does not entail simply changing technologies, automating processes, taking aid of Artificial Intelligence in the process; in fact it means redefining the nature of work and productivity.
Starting a Digital Manufacturing project can be an arduous process.  Executives customarily approach this task with a lot of prudence and get caught in questions that are actually misnomers and myths, weakening the Digital Transformation process.  The 4 biggest myths about Digital Manufacturing are: 
Myth 1. Is outsourcing or partnering, to build digital capabilities, not speedier and less investment intensive? 
Myth 2. Why can the existing IT team and CIO not be used for this project instead of hiring new talent and creating a CDO position, both unaware of our business? 
Myth 3. Should each of our businesses not have individual digital capabilities tailored to their needs rather than a central digital unit that serves all businesses? 
Myth 4. Should not our approach to developing digital capabilities be phased rather than big bang?
More on these myths can be found in the PowerPoint presentation titled Challenges to Digital Manufacturing on Flevy.
Digital Manufacturing opens doors for many opportunities.  It allows the manufacturers to find ways of refining the performance and reliability of machines and increasing customer productivity through customer usage data gathered by sensors in their machines.
This approach allows manufacturers to sell outcomes rather than products.  Outcome delivery via Data Analysis and Performance Enhancement is a business opportunity worth trillions of dollars, according to a World Economic Forum study. 
Despite realizing the opportunities of Digital Manufacturing, companies find the process extremely difficult.  Digital Manufacturing has both structural as well as behavioral barriers stopping it from being successfully executed.
Manufacturers have to surpass the following 3 chief obstacles in order for them to be true Digital Manufacturers:
Incumbency
Talent
Culture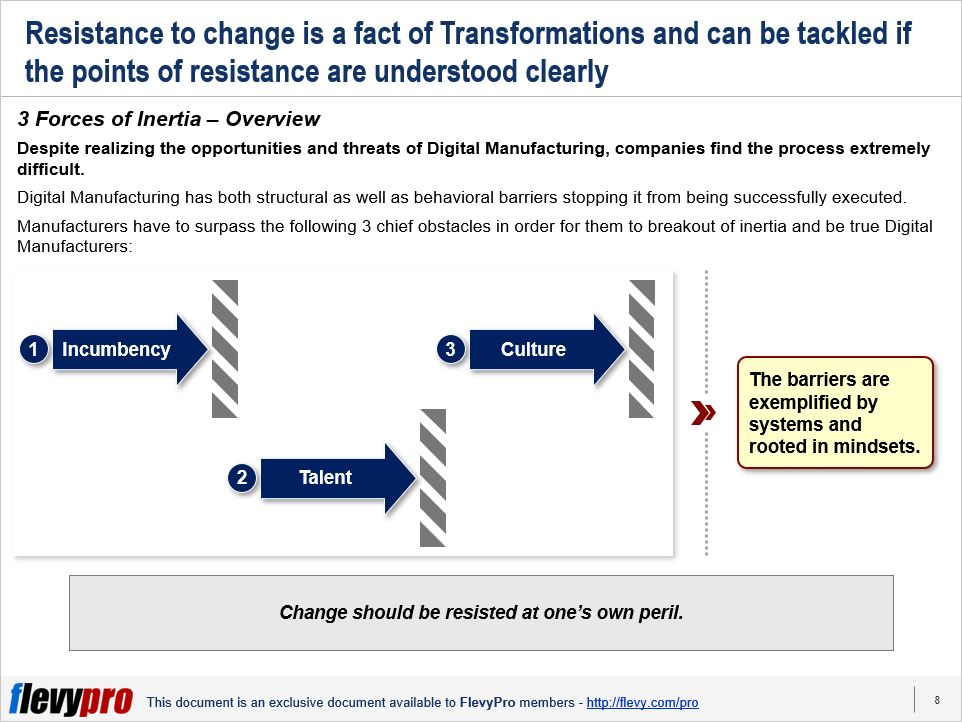 Let us dive a little deeper into the obstacles. 
Incumbency
Rigidity is a major barrier in bringing about change.  Companies create capabilities and Business Models to succeed.  Overtime, when these capabilities and Business Models become critical for success and hard to imitate for the rivals, they transform into rigidities.  Success of such capabilities and models make the companies wary of bringing change in them.
Leaders refrain from touching projects with longer time periods as it may not show benefits during their tenures.  The reward structure in companies also encourages short-term gains to longer-term, capital intensive endeavors.  
Talent
Not many manufacturing organizations consider developing Digital Talent internally.  This leads to a dearth of key talent integral to build Digital Manufacturing capabilities.
The primary reason for this is the view that digital technology is an auxiliary function.
In-house capabilities are not developed because Digital Manufacturing requires an amalgam of personnel from the virtual sciences and the conventional engineering sciences. Both have a very different way of thinking and doing things, making it a great challenge to build them into a team.
Culture
Organizational culture at manufacturing firms is a significant hurdle in adopting digital technology.  Manufacturers have traditionally had long product-development lifecycles, long sales cycles, and a culture of constantly improving efficiency.  In order to be more digital, manufacturing concerns have to accept concepts used in the digital world e.g., agility, simplicity, and responsiveness.
Interested in learning more about the Challenges to Digital Manufacturing?"  "You can download an editable PowerPoint on Challenges to Digital Manufacturing here on the Flevy documents marketplace.
Want to Achieve Excellence in Supply Chain Management (SCM)?
Gain the knowledge and develop the expertise to become an expert in Supply Chain Management (SCM).  Our frameworks are based on the thought leadership of leading consulting firms, academics, and recognized subject matter experts.  Click here for full details.
Supply Chain Management (SCM) is the design, planning, execution, control, and monitoring of Supply Chain activities.  It also captures the management of the flow of goods and services.
In February of 2020, COVID-19 disrupted—and in many cases halted—global Supply Chains, revealing just how fragile they have become.  By April, many countries experienced declines of over 40% in domestic and international trade.
COVID-19 has likewise changed how Supply Chain Executives approach and think about SCM.  In the pre-COVID-19 era of globalization, the objective was to be Lean and Cost-effective.  In the post-COVID-19 world, companies must now focus on making their Supply Chains Resilient, Agile, and Smart.  Additional trends include Digitization, Sustainability, and Manufacturing Reshoring.
Learn about our Supply Chain Management (SCM) Best Practice Frameworks here.
Do You Find Value in This Framework?
You can download in-depth presentations on this and hundreds of similar business frameworks from the FlevyPro Library.  FlevyPro is trusted and utilized by 1000s of management consultants and corporate executives. Here's what some have to say:
"My FlevyPro subscription provides me with the most popular frameworks and decks in demand in today's market.  They not only augment my existing consulting and coaching offerings and delivery, but also keep me abreast of the latest trends, inspire new products and service offerings for my practice, and educate me in a fraction of the time and money of other solutions.  I strongly recommend FlevyPro to any consultant serious about success."

– Bill Branson, Founder at Strategic Business Architects
"As a niche strategic consulting firm, Flevy and FlevyPro frameworks and documents are an on-going reference to help us structure our findings and recommendations to our clients as well as improve their clarity, strength, and visual power.  For us, it is an invaluable resource to increase our impact and value."

– David Coloma, Consulting Area Manager at Cynertia Consulting
"FlevyPro has been a brilliant resource for me, as an independent growth consultant, to access a vast knowledge bank of presentations to support my work with clients.  In terms of RoI, the value I received from the very first presentation I downloaded paid for my subscription many times over!  The quality of the decks available allows me to punch way above my weight – it's like having the resources of a Big 4 consultancy at your fingertips at a microscopic fraction of the overhead."

– Roderick Cameron, Founding Partner at SGFE Ltd
Subscribe to our Newsletter

PowerPointing Templates

Error: Twitter did not respond. Please wait a few minutes and refresh this page.