Currently viewing the tag: "talent"
Today's information-based, knowledge intensive, and service-driven economy has forced organizations to make substantial changes to the way they compete.  Changing perspective and responsibility of top management amidst rapid Business and Digital Transformation and the shifting role of HR from being an auxiliary function to that of a driver are some of the dynamics of the evolved competition.
This evolution of Competition has been reached by passing through 3 phases:
Competition for Products & Markets
Competition for Resources & Competencies
Competition for Talent & Dreams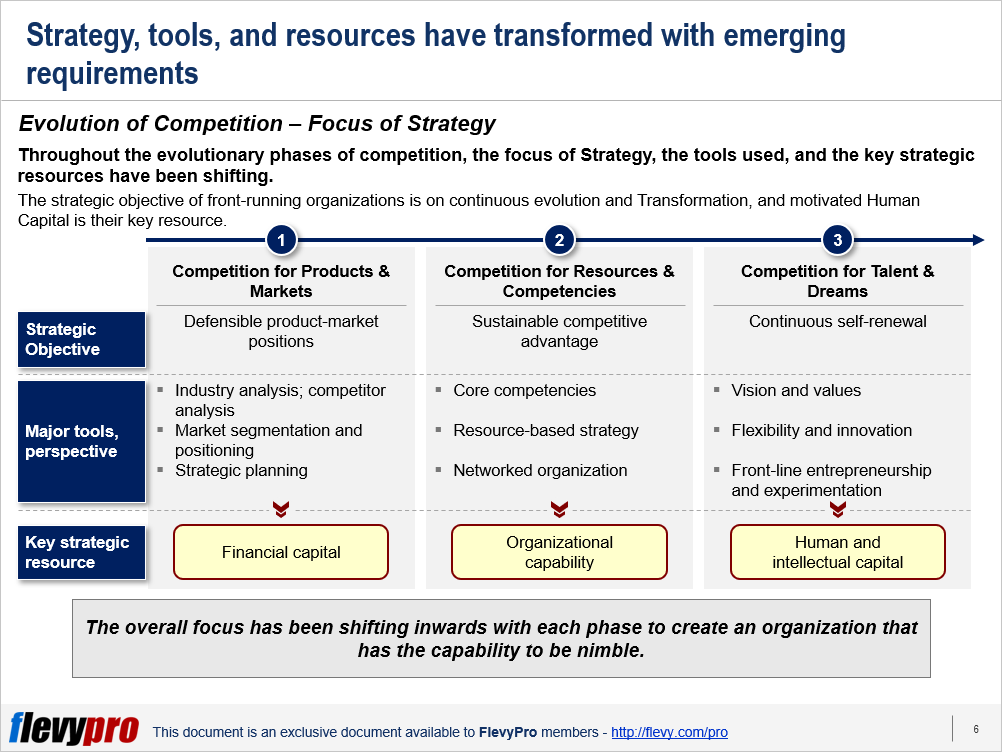 Throughout the evolutionary phases of competition, the focus of Growth Strategy, the tools used, and the key strategic resources have been shifting.  The strategic objective of front-running organizations is on continuous evolution and Transformation, and motivated Human Capital is their key resource.  This realization is now at the forefront of Strategy Development as competition for scarce Talented Human Resources becomes more intense.  However, modern-day managers are still using old tools to deal with an emerging reality.
Dexterity in leadership and management is a prerequisite for leaders now.  Research suggests that the 3 important changes that the CEOs must make in terms of their strategic perspective are in:
Strategic Resources
Value Creation and Distribution
Role of Senior Leadership
More on this topic in our editable PowerPoint presentation on Strategic Human Resources.
With the fast-changing focus in Strategy, Human Resource Managers are finding themselves leading the strategic charge.  However, a large majority is ill prepared for the role.  With Human Capital becoming key strategic resource and basis of Competitive Advantage, HR must adopt 3 core processes to evolve into the strategic HR function that has become their new realm:
Building
Linking
Bonding
Let us delve into the first 2 core processes to strategic HR function in a little more detail.
1. Building
The first core process of Building is all about creating human resource systems, processes, and culture to counter the deep-rooted bias towards financial assets and recognize the value of Human Capital.  For instance, Microsoft annually scans the entire pool of 25,000 U.S. computer science graduates for the best 500 to be given offers, of which 400 – top 2% of that year's graduates – accept.  This only fills 20% of the positions.  For the rest, Microsoft maintains industry linkages with 300 recruiting experts who scour the industry for the best and the brightest individuals, often wooing them for years.
2. Linking
Developing Knowledge Sharing Networks is core to leveraging Human Capital.  Converting individual expertise into embedded intellectual capital is what linking is all about.  For example, British Petroleum in the 1990s introduced the Knowledge Management and Organizational Learning program.  The main feature of the program was the "Peer Assist" where frontline workers in one location would help solve a problem for workers in another location without the usual hierarchy intervening.  Peer Assist was augmented by the "Peer Groups" of business units—i.e. business units engaged in the same assisting activities as frontline individuals.  This way managers of decentralized operations compare experiences and share ideas.  Once this Information Sharing Network took root it was supported by setting up information-sharing infrastructure – e.g., video conferencing, chat rooms, video clip encoders etc.
Interested in learning more about the details of the 3 Core Processes required to evolve your HR into a strategic HR function and Key Actions needed to implement these?  You can download an editable PowerPoint presentation on Strategic Human Resources here on the Flevy documents marketplace.
Want to Achieve Excellence in Human Resource Management (HRM)?
Gain the knowledge and develop the expertise to become an expert in Human Resource Management (HRM).  Our frameworks are based on the thought leadership of leading consulting firms, academics, and recognized subject matter experts. Click here for full details.
The purpose of Human Resources (HR) is to ensure our organization achieves success through our people.  Without the right people in place—at all levels of the organization—we will never be able to execute our Strategy effectively.
This begs the question: Does your organization view HR as a support function or a strategic one? Research shows leading organizations leverage HR as a strategic function, one that both supports and drives the organization's Strategy.  In fact, having strong HRM capabilities is a source of Competitive Advantage.
This has never been more true than right now in the Digital Age, as organizations must compete for specialized talent to drive forward their Digital Transformation Strategies.  Beyond just hiring and selection, HR also plays the critical role in retaining talent—by keeping people engaged, motivated, and happy.
Learn about our Human Resource Management (HRM) Best Practice Frameworks here.
Do You Find Value in This Framework?
You can download in-depth presentations on this and hundreds of similar business frameworks from the FlevyPro Library.  FlevyPro is trusted and utilized by 1000s of management consultants and corporate executives. Here's what some have to say:
"My FlevyPro subscription provides me with the most popular frameworks and decks in demand in today's market. They not only augment my existing consulting and coaching offerings and delivery, but also keep me abreast of the latest trends, inspire new products and service offerings for my practice, and educate me in a fraction of the time and money of other solutions. I strongly recommend FlevyPro to any consultant serious about success."

– Bill Branson, Founder at Strategic Business Architects
"As a niche strategic consulting firm, Flevy and FlevyPro frameworks and documents are an on-going reference to help us structure our findings and recommendations to our clients as well as improve their clarity, strength, and visual power. For us, it is an invaluable resource to increase our impact and value."

– David Coloma, Consulting Area Manager at Cynertia Consulting
"FlevyPro has been a brilliant resource for me, as an independent growth consultant, to access a vast knowledge bank of presentations to support my work with clients. In terms of RoI, the value I received from the very first presentation I downloaded paid for my subscription many times over! The quality of the decks available allows me to punch way above my weight – it's like having the resources of a Big 4 consultancy at your fingertips at a microscopic fraction of the overhead."

– Roderick Cameron, Founding Partner at SGFE Ltd
The single most pressing challenge for an organization in this knowledge economy is attracting and retaining talented people.  This can be a make or break challenge for the organization and warrants careful consideration during Strategic Planning.
Starting on the right foot is absolutely essential to overcoming this challenge.  Organizations, particularly HR, need to have an Organizational Culture that boasts of an effective Employee Onboarding process.  In order to accomplish this, present-day HR needs to be clear regarding the challenges of modern-day Onboarding and develop a strategy to establish an onboarding process that yields a rewarding experience for the employees.
At many organizations the Employee Onboarding process follows a customary theme—a run down on "how things are done here"—with the traditional HR view that if the employee can be made to commit to the Organizational Culture from the get-go, they are easier to retain.
Such an Onboarding process does not help the new employee adjust to the company or the role, become an Engaged Employee, and meet the expectations of the organization.  Experts have identified various challenges with this conventional Onboarding approach.  Here is a list of 8 most frequent challenges:
Poor Socialization of Organizational Values
Lack of Role Clarity
Challenges with Expectations and Results
Managing Change
Issues with Time Management
Issues with the Manager
Navigating the Culture
Handling Personal Transition and Relocation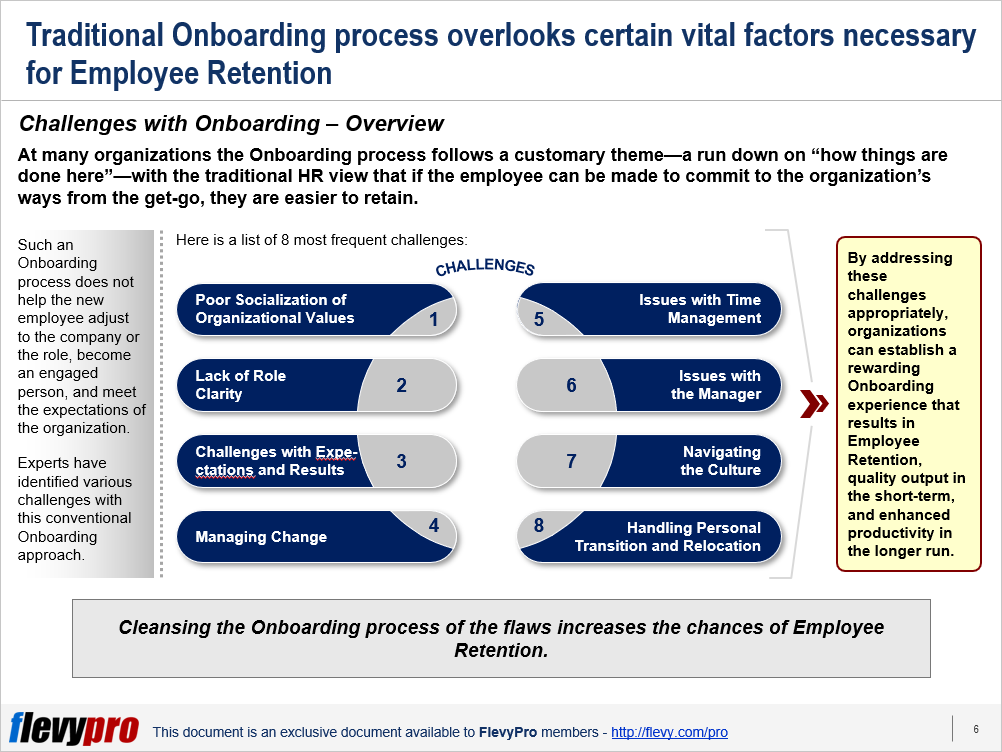 By addressing these challenges appropriately, organizations can establish a rewarding Employee Onboarding experience that results in Employee Retention, quality output in the short-term, and enhanced productivity in the longer run.
Let us delve a little deeper into the challenges.
1. Poor Socialization of Organizational Values
It is presumed that Organizational Values are a thing to be imparted and accepted by the new employee.  This is, indeed, essential knowledge, but it is not sacrosanct.  Studies suggest acceptance of organizational values in contravention of one's own identity may be counter-productive in that it may exhaust the employee psychologically, restrict full engagement, hinder creativity, and create work dissatisfaction.  This can be overcome by allowing employee to express their unique perspective on the job from the beginning and welcoming them to incorporate what they do best in their work.
2. Lack of Role Clarity
Lack of clear understanding of one's role is a widespread problem in organizations.  After spending some time in the new organization, the employee realizes that the expectation of the role is conflicting with what the employee thought he/she accepted.  Encouraging the new employee to identify the gaps in the expectation / perception and discussing it with their managers enables the employees to have a clear perspective and understanding of their roles and responsibilities, enhances employee satisfaction levels, and improves their efficiency and productivity.
3. Challenges with Expectations and Results
New employees are often unable to realize their workload.  In order to meet the perceived expectation of managers or peers, they take on too much of work resulting in overload, which diminishes their performance.  Informal discussions of new employees with managers and peers regarding their expectations eases the pressure and enables them to take on what is manageable and deliver quality results.
Interested in learning more about various aspects of Employee Onboarding, guiding principles, challenges, and approaches?  You can download an editable PowerPoint on Employee Onboarding here on the Flevy documents marketplace.
Are you a Management Consultant?
You can download this and hundreds of other consulting frameworks and consulting training guides from the FlevyPro library.
Subscribe to our Newsletter

PowerPointing Templates

Error: Twitter did not respond. Please wait a few minutes and refresh this page.