Currently viewing the tag: "Costing"
Warehousing costs at most firms are extraordinarily higher than they ought to be.  Across the world, organizations spend around €300 billion annually on Warehouse Management.  With the boom in online retail stores and the increasing complexity of Supply Chain Management, this spending is going to surge further.
The leadership at these organizations understands that they should spend less on Warehousing operations, but is not aware of the real costs associated with it.  Most leaders are unable to tell how much is their human resources cost per facility.
Lack of appreciation of true Warehousing operations costs is one of the main reasons for failure of most Business Transformation programs.  Without this knowledge, the leadership is unable to comprehend where the improvement areas lie and how much value creation can be achieved from those.
Ascertaining these costs warrants a clear approach, which many organizations lack.  Most firms inquire about their operational costs from 3rd party Logistics (3PL) providers—by soliciting requests for quotations (RFQs).  However, this does not give an idea of what these principal activities really cost.  The most common approaches to Warehouse costing include:
Benchmarking
The Benchmarking method uses a top-down approach to analyze costs based on industry benchmarks.  However, accessibility of benchmarks at lower levels is hard to access, since benchmarks available for comparison are predominantly at high levels—e.g., Total Warehouse Cost as a proportion of Cost of Goods Sold.  Industry Benchmarking fails to take into consideration distinct product or service offerings.
Cleansheet Analysis
Cleansheet (or a Bottom-up Analysis) is a more comprehensive method to estimate Warehousing costs.  It is a numerical approach to ascertain precise costs of critical components of Warehousing operations, including facility spread out, workforce, and equipment.  This method facilitates in understanding where the cost exceeds and how it can be eliminated.
The focus of the Cleansheet Analysis is on determining the lowest possible cost of each major element, and comparing it with the actual cost being paid.  Identifying the lowest costs of major elements allows the organization to determine the most problematic areas and confront major cost inconsistencies.
The Cleansheet Analysis comprises of 3 main steps:
Ascertain Critical Parameters
Perform Bottom-up Calculations
Determine Ideal Throughput Metrics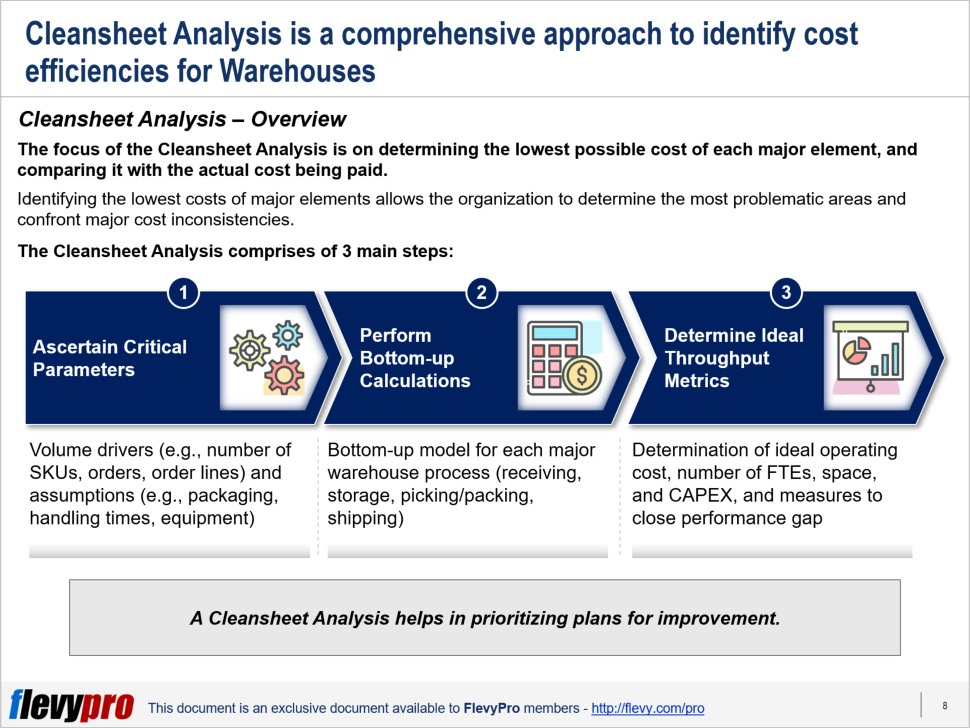 Let's dig a bit deeper into the initial step.
Ascertain Critical Parameters
The first step of the Cleansheet Analysis entails scoping the Warehousing facility's configuration, work, team, volumes, and orders.  Specifically, this includes evaluating:
The workforce, accountability distribution, workloads.
The actual warehouse activity levels.
The volumes.
The volume drivers—number of SKUs, order patterns, order lines.
Interested in learning more about the steps to using a Cleansheet Analysis?  You can download an editable PowerPoint presentation on Warehouse Costing: Cleansheet Analysis here on the Flevy documents marketplace.
Do You Find Value in This Framework?
You can download in-depth presentations on this and hundreds of similar business frameworks from the FlevyPro Library. FlevyPro is trusted and utilized by 1000s of management consultants and corporate executives. Here's what some have to say:
"My FlevyPro subscription provides me with the most popular frameworks and decks in demand in today's market. They not only augment my existing consulting and coaching offerings and delivery, but also keep me abreast of the latest trends, inspire new products and service offerings for my practice, and educate me in a fraction of the time and money of other solutions. I strongly recommend FlevyPro to any consultant serious about success."
– Bill Branson, Founder at Strategic Business Architects
"As a niche strategic consulting firm, Flevy and FlevyPro frameworks and documents are an on-going reference to help us structure our findings and recommendations to our clients as well as improve their clarity, strength, and visual power. For us, it is an invaluable resource to increase our impact and value."
– David Coloma, Consulting Area Manager at Cynertia Consulting
"As a small business owner, the resource material available from FlevyPro has proven to be invaluable. The ability to search for material on demand based our project events and client requirements was great for me and proved very beneficial to my clients. Importantly, being able to easily edit and tailor the material for specific purposes helped us to make presentations, knowledge sharing, and toolkit development, which formed part of the overall program collateral. While FlevyPro contains resource material that any consultancy, project or delivery firm must have, it is an essential part of a small firm or independent consultant's toolbox."
– Michael Duff, Managing Director at Change Strategy (UK)
Supply chain management across industries is being revolutionized at a rapid pace by technology.  By implementing technology systems, supply chain organizations aspire to eliminate waste, meet customers' needs at reasonable costs, and ensure profitability.  Enterprise Resource Planning systems facilitate in processing unstructured data at an aggregated level.  However, at workflow or micro level the data produced through ERPs needs to be further refined to understand costs.
Supply chain experts need to look at their unstructured data and understand the cost of offering a product; know which product mix they should promote; and gauge the impact of service levels on transportation costs, profits, and pricing strategy.
Supply Chain Executives can use the Cost-to-Serve (CTS) Analysis approach to control distribution costs, identify negative-margin products, and prevent profit leakages.  CTS Analysis affords the organizations the means to identify the total cost of serving customers—including all the costs in a product's value chain (from raw material to delivery)—at the product as well as customer levels.  The approach helps leaders split and evaluate individual customers, geographies, products, product families, or combinations of products / customers.
The Cost-to-Serve Analysis can be undertaken to identify costs related to Supply Chains, Logistics, Distribution, Warehousing, or Transportation.  CTSA allocates indirect cost to products—overhead or fixed costs that are not easily and directly attributable to a single order, shipment, or activity.
The CTS model for costing entails detailed modeling of all the value and non-value added activities in the process.  The approach is more precise than other methods in determining "what-if" budgets, as it accounts for all the activities and link them with their relevant cost pools.  CTS employs an activity-based modelling algorithm—which segregates the entire supply chain into multiple tasks while calculating the costs at every task—to help the supply chain practitioners calculate costs at various levels.
The CTS Framework entails 5 fundamental steps:
Obtain Buy-in from Key Stakeholders
Conduct Cost Categorization
Determine per Unit Cost Breakdown
Develop Classification Matrices
Make Joint Decisions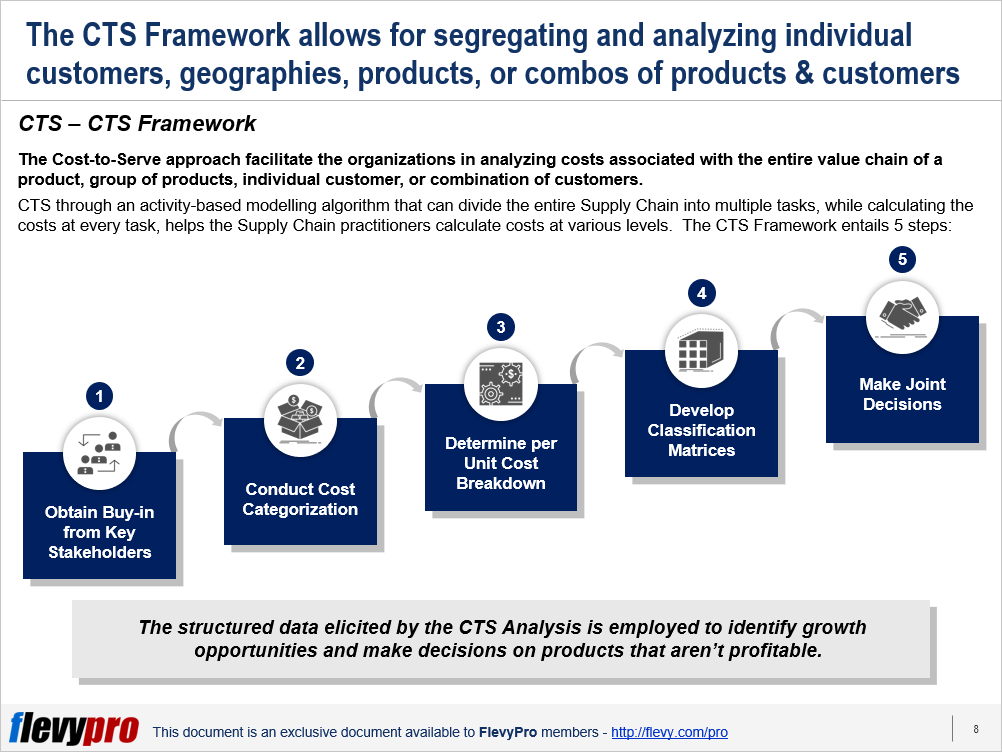 Let's delve deeper into the first 2 steps of the CTS Framework.
1. Obtain Buy-in from Key Stakeholders
The first step to implement Cost-to-Serve Framework involves getting across-the-board agreement and stakeholder buy-in.  The decision to calculate the impact of cost to serve on revenue entails engagement and collaboration from multiple departments in a company.  Multiple cost centers work in partnership across a value chain and thus profit and loss responsibility cannot be attached to a specific unit.
For instance, a decision to trim down the costs to serve a customer (or various customers) has to be agreed upon by stakeholders from the:
Sales and marketing department to calculate the impact of service level agreements.
Logistics function to calculate the cost impact.
Go-to-market Strategy to ensure alignment with Corporate Strategy
Warehousing unit to ensure resource planning and allocation.
2. Conduct Cost Categorization
The 2nd step of the Cost-to-Serve Framework involves categorization of costs associated with the entire supply chain.  Supply chains typically have various cost centers (or functions): e.g., Procurement, Manufacturing, Warehousing, and Logistics.  These cost centers further have multiple processes with costs associated with all of them.  CTS requires top-down estimation of costs at the process and activity level and then aggregate those back to the cost center level.
This categorization of costs across the various functions of the supply chain and their associated processes facilitates in accurate calculation and obtaining estimates at the micro level.
Interested in learning more about the other steps of the Cost-to-Serve Framework?  You can download an editable PowerPoint presentation on Cost-to-Serve Analysis here on the Flevy documents marketplace.
Are you a Management Consultant?
You can download this and hundreds of other consulting frameworks and consulting training guides from the FlevyPro library.
Subscribe to our Newsletter

PowerPointing Templates

Error: Twitter did not respond. Please wait a few minutes and refresh this page.