Currently viewing the tag: "KPIs"
Product Managers are responsible for defining the features or functions of a Product and for overseeing the development of the Product.  The role of Product Managers spans many activities from developing Product Strategy to tactical plan and can vary based on the organizational structure of the organization.
Typically, Product Leaders are involved with the entire Product Lifecycle.  However, the Product Management's primary focus is on driving New Product Development.  To successfully execute these roles, it's important for Product Management to collect and synthesize proper, relevant data to make informed Product decisions.
Product Managers need to evaluate 10 categories of Key Performance Indicators (KPIs) to determine the most appropriate KPIs relevant to their work:
Product Stickiness
Product Usage
Feature Adoption
Feature Retention
Leading Indicators
Top Feature Requests
Product Delivery Predictability
Product Bugs
Product Speed and Reliability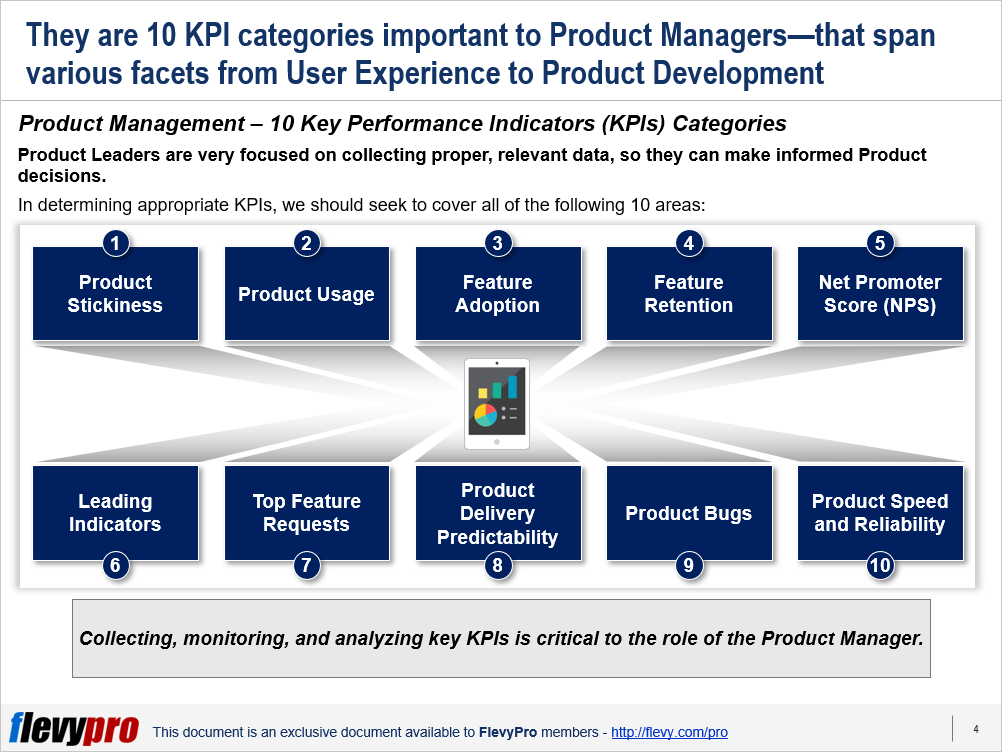 Let's discuss these Product Management KPIs in a bit detail.
Product Stickiness
KPIs around Product Stickiness determine whether users are re-engaging with our product.  If a product is successful, it exhibit "stickiness."  That means users don't just sign up and forget about it.  They continuously live inside the product, such that it becomes part of their daily routine.  A good product should not long attract new users, but to also continuously re-engage with its users.
Product Stickiness is often measured by taking the ratio of our Daily Active Users (DAU) to Monthly Active Users (MAU): i.e., DAU/MAU.  This metric calculates the percentage of our monthly users who engage with our product on a daily basis.
Product Usage
It is inevitable that not all features of a product will be utilized the same.  Some features are more heavily used, whereas others are not.  The only way to know what product features are important to users is by measuring how our product is being used.  Measuring user engagement across the product allows us to answer what features should we enhance, which ones to eliminate, and which features to promote to increase users awareness of the product functionality.
Product usage is measured by using 3 key metrics—Breadth: refers to the number of active users for a given client within the last 90 days.  Depth: Captures whether users are using key features that make the product sticky.  Frequency: e.g., number of logins across all devices within the last 90 days.
Feature Adoption
These KPIs seek to understand and set feature adoption goals.  Key question to clarify these KPIs is whether users are adopting the newly released features.  Feature adoption data of recent feature launches is critical to determine appropriate feature adoption goals.  It is important to look at feature adoption at both the user level and account level.  For instance, different customer groups with an account may exhibit different levels of adoption for different feature sets.
The key metric to measure feature adoption is the percentage of users using the feature.  This should be evaluated across multiple features on a timescale (typically for at least 30 days following the feature release).
Feature Retention
Feature retention KPIs reveal true adoption of features vs. the initial promotion-driven adoption.  Feature Adoption seeks to measure initial use of a feature, whereas Feature Retention seeks to measure the long-term, persistent usage of a feature.  Measuring feature retention helps us identify at-risk users who have started to disengage from the product after the initial promotion is over.  We can then take action to re-engage these users.
Feature retention can be measured across different customer segments, e.g., by pricing (Free vs. Paid), by organization size (Startups vs. Enterprises), by position (Analyst vs. Manager).
Interested in learning more about the other KPIs critical to manage and develop a Product Portfolio?  You can download an editable PowerPoint presentation on Product Management KPIs here on the Flevy documents marketplace.
Do You Find Value in This Framework?
You can download in-depth presentations on this and hundreds of similar business frameworks from the FlevyPro Library. FlevyPro is trusted and utilized by 1000s of management consultants and corporate executives. Here's what some have to say:
"My FlevyPro subscription provides me with the most popular frameworks and decks in demand in today's market. They not only augment my existing consulting and coaching offerings and delivery, but also keep me abreast of the latest trends, inspire new products and service offerings for my practice, and educate me in a fraction of the time and money of other solutions. I strongly recommend FlevyPro to any consultant serious about success."

– Bill Branson, Founder at Strategic Business Architects
"As a niche strategic consulting firm, Flevy and FlevyPro frameworks and documents are an on-going reference to help us structure our findings and recommendations to our clients as well as improve their clarity, strength, and visual power. For us, it is an invaluable resource to increase our impact and value."

– David Coloma, Consulting Area Manager at Cynertia Consulting
"As a small business owner, the resource material available from FlevyPro has proven to be invaluable. The ability to search for material on demand based our project events and client requirements was great for me and proved very beneficial to my clients. Importantly, being able to easily edit and tailor the material for specific purposes helped us to make presentations, knowledge sharing, and toolkit development, which formed part of the overall program collateral. While FlevyPro contains resource material that any consultancy, project or delivery firm must have, it is an essential part of a small firm or independent consultant's toolbox."

– Michael Duff, Managing Director at Change Strategy (UK)
Performance evaluation serves as a health check on operations and individuals' work.  The organizational maturity notion signifies the progress of an organization in terms of developing its people, processes, technology, and capability by implementing quality practices.  Organizations aiming to achieve the highest maturity levels in performance need to take care of the intricacies involved in deploying a Performance Management system and the relationships it has with the other key organizational activities.
Performance Management processes in organizations can be assessed using maturity levels, by measuring the implementation of Performance Management tools, analyzing the availability of internal Performance Management processes in place, assessing the structures, procedures, and interactions utilized to direct Performance Management systems.
An organization's performance maturity is assessed on 5 levels of progressive growth.  These 5 stages present a valuable dashboard to gauge the implementation of the corresponding levels of the Performance Management Maturity Model.
Initial 
Emergent
Structured
Integrated
Optimized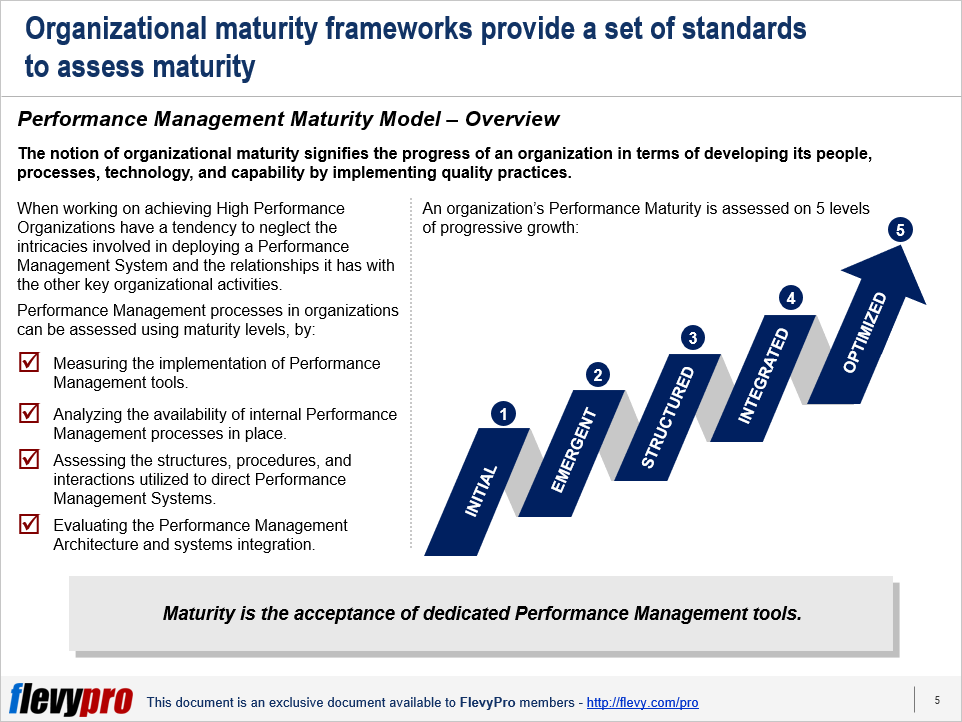 To achieve maturity in performance management, organizations need to build capabilities in 5 core elements—referred to as "Operational Levers"—Tools, Processes, Governance, Architecture, and Integration.
Initial Stage
The organizations at the first performance maturity level are not acquainted with—or totally unfamiliar of—the tools necessary to implement the Performance Management system.  The Performance Management processes are typically inconsistent.  Organizations at this maturity level do not practice employee empowerment, development, and innovation.  There is a dearth of appropriate KPI calculation approach and the performance architecture is in its budding stage.  Roles and responsibilities, importance of KPIs, and individual/organizational indicators are unclear to employees.
The level is characterized by casual strategic planning practices—dependent on top management experience—with ill-structured communication mechanisms.  The initiatives lack alignment with organizational goals.  Leadership involvement in mentoring and developing employees is at sub-optimal levels.  Staff motivation and increasing their engagement levels is not given due importance.
Emergent Stage
The organizations at the second level of Performance Maturity have a strong desire to improve performance.  At this stage, organizations begin exploring Performance Management tools, but have uncoordinated and un-standardized internal processes and systems.  Initiatives to integrate performance management procedures are planned with clearly defined objectives and expectations.
However, at this level, strategy does not deliver value and is not more than formal documentation.  Managers are assessed based on performance results, but not the lower hierarchical levels.  There is unclear articulation of company goals, misalignment at various organizational hierarchical levels, and incompetent communication.  A few basic performance measurement methods—e.g., KPI selection and documentation are embraced by the organization.  The KPI selection process, however, lacks appropriate yardsticks, tools, standardized forms/templates, and approaches.  Performance evaluation and reporting processes exist but are deficient in clear communication by the leadership.  Leadership possesses a basic understanding of performance measurement processes.  Measuring performance at the individual level is uncommon at this maturity level.  Performance review meetings are short of delivering the insights required to make critical decisions.
Structured Stage
The "Structured" stage of the Performance Management Maturity Model is characterized by well-coordinated and carefully regulated Performance Management processes.  Organizations at this stage have a defined set of Performance Management tools.  There are standardized Performance Management practices with well-defined and improved process flows.  There is typically an inconsistent approach towards adopting an aligned Performance Management architecture though.
Organizations at this level employ strategy monitoring tools—e.g., scorecards and dashboards—but do not cascade these at the lower ranks and files.  KPIs are selected based on a clear-cut criteria, established tools and methods, and agreement across the board.  Standardized forms are used to document and report KPIs.  The KPI targets are established utilizing data, benchmarking, and comparing market figures.  Organization-wide performance evaluation data is gathered and disseminated at all levels.  People, largely, have a fair understanding of their personal and organizational performance goals.  A well-defined Performance Management system is in place with appropriate templates, procedures, and governance structures ready for each Performance Management cycle.  Incentives and training and development opportunities help improve performance.
Interested in learning more about the other stages of the Performance Management Maturity Model?  You can download an editable PowerPoint on the Performance Management Maturity Model here on the Flevy documents marketplace.
Are you a Management Consultant?
You can download this and hundreds of other consulting frameworks and consulting training guides from the FlevyPro library.
Technological innovation and intensifying competition are forcing leaders to rethink how they use Key Performance Indicators (KPIs) to manage and direct organizations.  Digitization has reinforced the importance of Key Performance Indicators not only in enhancing employee performance but driving the overall organizational productivity.
The role of KPIs is becoming more dynamic.  KPIs are getting demonstrably flexible, smarter, and valuable in achieving strategic advantage.  Leading technology-driven organizations—including Amazon, Airbnb, and Uber—rely on metrics considerably and utilize KPIs to steer their strategy and evaluate success.  They perceive KPIs quite differently than traditional-focused organizations, and employ them as an input for automation, and to guide, regulate, and improve their machine learning tools.
To make the most out of these dynamic and strategic KPIs of this Digital Age, leaders need to be more insightful and knowledgeable.  They should be able to thoroughly determine which KPIs to analyze, how to measure them, and how to effectively improve them.  Understanding the value of selected KPIs and their optimization is key to aligning strategies; making the right decision to invest in data, analytics, and automation capabilities; and create a link between people and machines.
KPI Virtuous Cycle
The relationships and dependencies that clarify, educate, and enhance KPI investment are demonstrated by "KPI Virtuous Cycle."  By digitally linking KPIs, data, and decision-making into virtuous cycles, companies can align their immediate situational requirements with long-term strategic planning.  The KPI Virtuous Cycle has 3 key components, and it demands active cross-functional collaboration:
Data Governance
KPIs
Decision Rights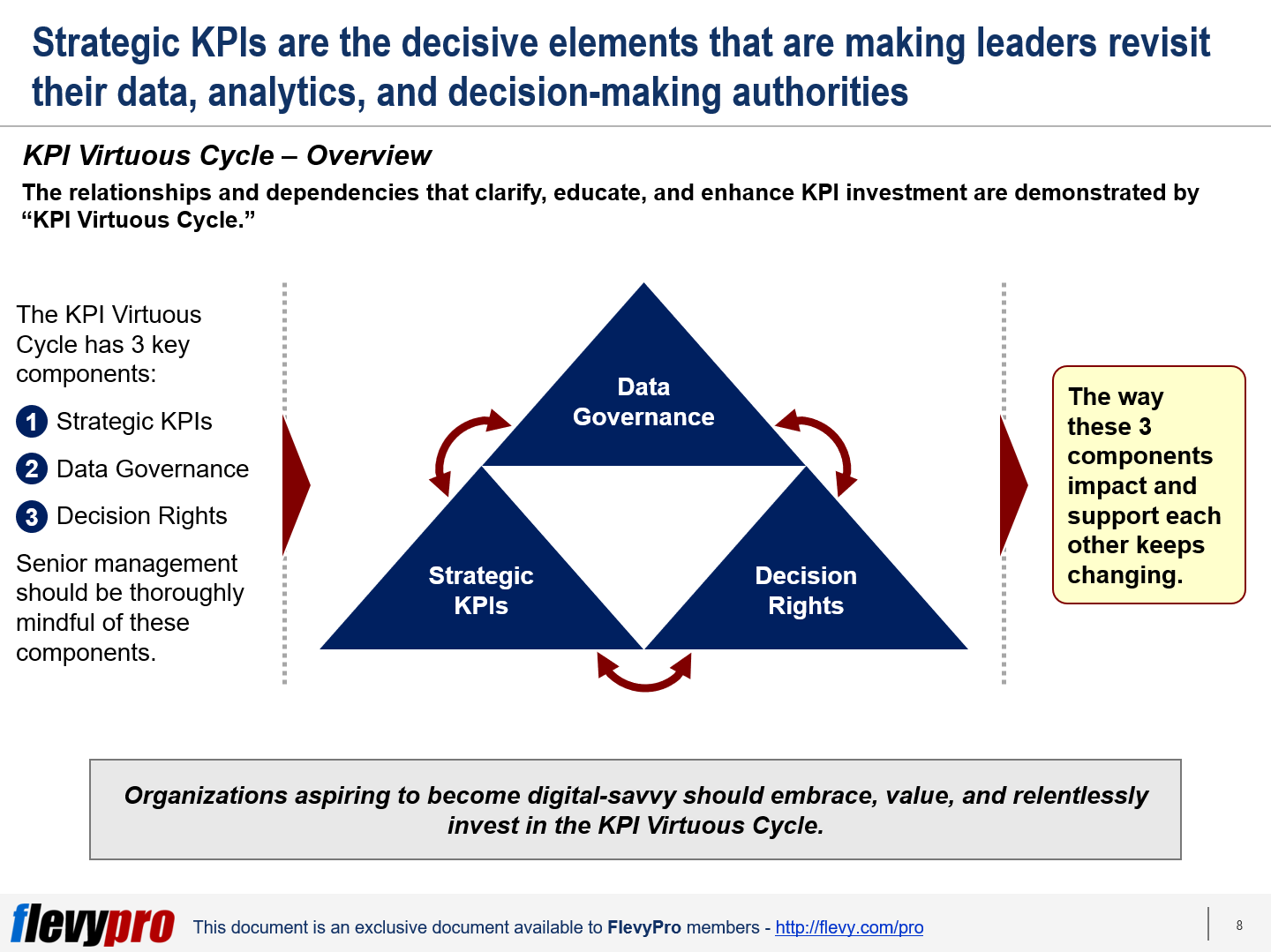 The way these 3 components impact—and support each other—keeps changing.  Organizations aspiring to become digital-savvy should embrace, value, and relentlessly invest in the KPI Virtuous Cycle.
Data Governance
The first component of the KPI Virtuous Cycle is about employing authority and control (planning, monitoring, and enforcement) through a set of practices and processes to manage organizational data assets.  Leading digital organizations consider data as a strategic resource, a valuable tool for measurement and accountability, and a mechanism to facilitate meeting strategic KPIs.  Data Governance frameworks are guided by strategic KPIs.  Organizations should know what data sets would be ideal to predict and rank—for instance, customers' lifetime value and their propensity to leave—to prioritize preemptive and preventive action.  Data and Analytics serve as a component of Data Governance.
Strategic KPIs
Strategic KPIs shape and govern enterprise Data Governance models.  These KPIs include financial, customer, supplier, channel, and partner performance parameters.  For instance, Data Governance initiatives in customer-centric organizations are prioritized to facilitate in realizing customer-focused KPIs—e.g., Net Promoter Score (NPS) and Customer Lifetime Value (CLV).  Enterprise Data Governance frameworks are strongly influenced and informed by strategic KPIs.
Decision Rights
Decision Rights ascertain the decision-making authority required to drive the business and strategic alignment.  Making decisions in such a way that it boosts organizational performance involves identifying the individuals explicitly involved in making decisions, charting an outline on how decisions will be made, reinforcing with appropriate processes and tools, and defining various decision rights scenarios to facilitate in automation.  It is, however, quite tricky to determine and assign decision rights when an enterprise is aspiring to empower its people and making machines function better.
Imperatives for Creating Dynamic and Strategic KPIs
For the KPIs to be strategically defined and become truly dynamic, the leadership needs to provide the required support by getting thorough data sets compiled and meaningful analytics performed.  At the same time, there is a need to:
Decide whether the decision rights needs to be assigned to individuals (rather than machines or vice versa.
Enhance the capabilities of people and machines.
Apply decision rights to generate data to identify and gauge productivity.
Identify the delays and bottlenecks between KPIs, data, and decisions.
Verify the diligence in the way KPIs, data, and decisions are mapped and monitored.
Interested in learning more about the components of KPI Virtuous Cycle, its applications, and Strategic KPIs?  You can download an editable PowerPoint on Strategic Key Performance Indicators (KPIs) here on the Flevy documents marketplace.
Are you a Management Consultant?
You can download this and hundreds of other consulting frameworks and consulting training guides from the FlevyPro library.
Creating a culture that measures productivity objectively is a sensitive matter.  Key Performance Indicators (KPIs) are being employed extensively by organizations across the globe to monitor and track performance.  KPIs provide valuable metadata to improve top-down and bottom-up vertical efficiency.
Analytics-driven firms are aware that KPIs are much more than a tool to evaluate performance.  Utilizing KPIs, they gather valuable insights, create enterprise-wide accountability, and develop a goal-oriented culture.
However, most executives typically fall short of utilizing KPIs to their full potential.  They have to realize that the effectiveness of KPIs depends on two distinct yet important elements: KPI transparency for the entire workforce—making the core metrics available across the board at all levels—and alignment of KPIs—determining the KPIs most relevant to the people and organizational purpose, and taking action based on the results of performance monitoring.  Leading organizations share KPIs with all stakeholders and use algorithms to gauge the contribution of KPIs to critical functions, e.g., Marketing and Customer Experience.
To create an objective-driven culture, the senior leadership should work on developing capabilities to outline key performance and putting in place accurate metrics to measure it.  The selection and prioritization of most relevant indicators is something that the leadership needs to carefully think about.
When defining KPIs, there are 5 KPI focus areas.  Each focus area is unique and critical, but collectively they have a profound impact on each other and on the organizations that are aiming to undergo Digital Transformation.  Leading Data and Analytics-driven organizations devise KPIs that cover all 5 of these focus areas:
Enterprise KPIs
Customer KPIs
Workplace Analytics
Partner and Supplier KPIs
Quantified-self KPIs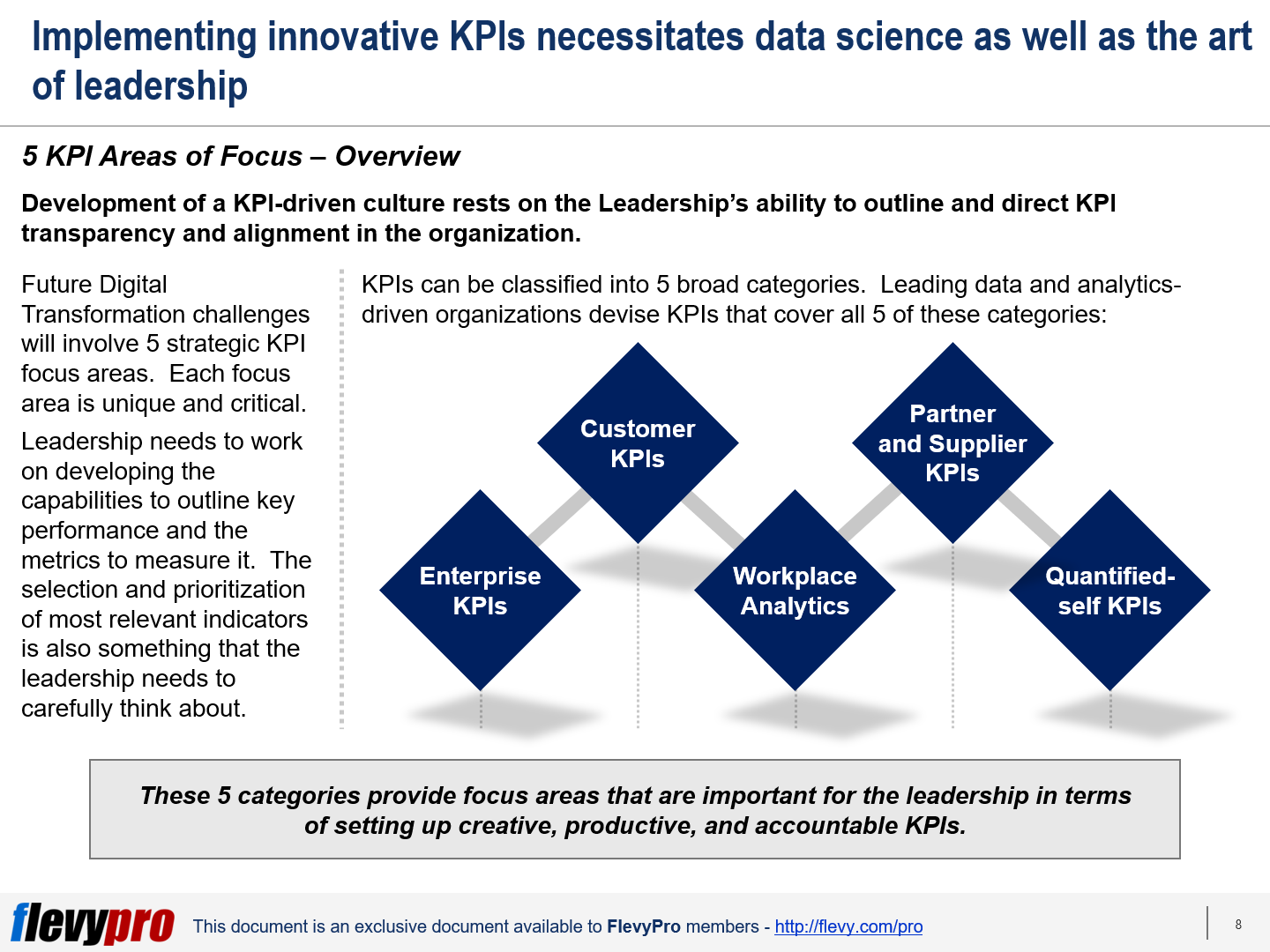 Let's discuss the first 3 focus areas in detail, for now.
Enterprise KPIs
The Enterprise KPIs benchmark the effectiveness of core functions of an organization.  These indicators are important to determine the accountability of the leadership and workforce, and are vital for strategic as well as routine decision-making and investment.  Examples of these indicators include Risk-Adjusted Return On Capital (RAROC) and Net Promoter Score (NPS).
Customer KPIs
The Customer KPIs facilitate in measuring the knowledge and impact of all leads, prospects, and customers. These metrics are used to calculate the actual and likely financial contributions of business prospects and clients.  The Customer KPIs assist in analyzing and ranking the relationships that organizations aspire to develop with the customers and better understanding each segment and sales funnel the customers belong.  Customer lifetime value is an example of these indicators.
Workplace Analytics
The Workplace Analytics pertain to quantifying the efficiency and commitment level of organizational people.  These analytics are used to isolate leadership tools and methodologies helpful in enhancing customer focus, and capture and quantify process outcomes and outputs feeding organizational KPIs.  These metrics are valuable in measuring collaboration across the organization, gauging the proficiency of managers in motivating their teams, and highlighting the elements that demoralize people.
Interested in learning more about the 5 KPI areas of focus?  You can download an editable PowerPoint on Key Performance Indicators (KPIs): 5 Areas of Focus here on the Flevy documents marketplace.
Are you a Management Consultant?
You can download this and hundreds of other consulting frameworks and consulting training guides from the FlevyPro library.
Subscribe to our Newsletter

PowerPointing Templates

Error: Twitter did not respond. Please wait a few minutes and refresh this page.