Currently viewing the tag: "Product Management"
Product Managers are responsible for defining the features or functions of a Product and for overseeing the development of the Product.  The role of Product Managers spans many activities from developing Product Strategy to tactical plan and can vary based on the organizational structure of the organization.
Typically, Product Leaders are involved with the entire Product Lifecycle.  However, the Product Management's primary focus is on driving New Product Development.  To successfully execute these roles, it's important for Product Management to collect and synthesize proper, relevant data to make informed Product decisions.
Product Managers need to evaluate 10 categories of Key Performance Indicators (KPIs) to determine the most appropriate KPIs relevant to their work:
Product Stickiness
Product Usage
Feature Adoption
Feature Retention
Leading Indicators
Top Feature Requests
Product Delivery Predictability
Product Bugs
Product Speed and Reliability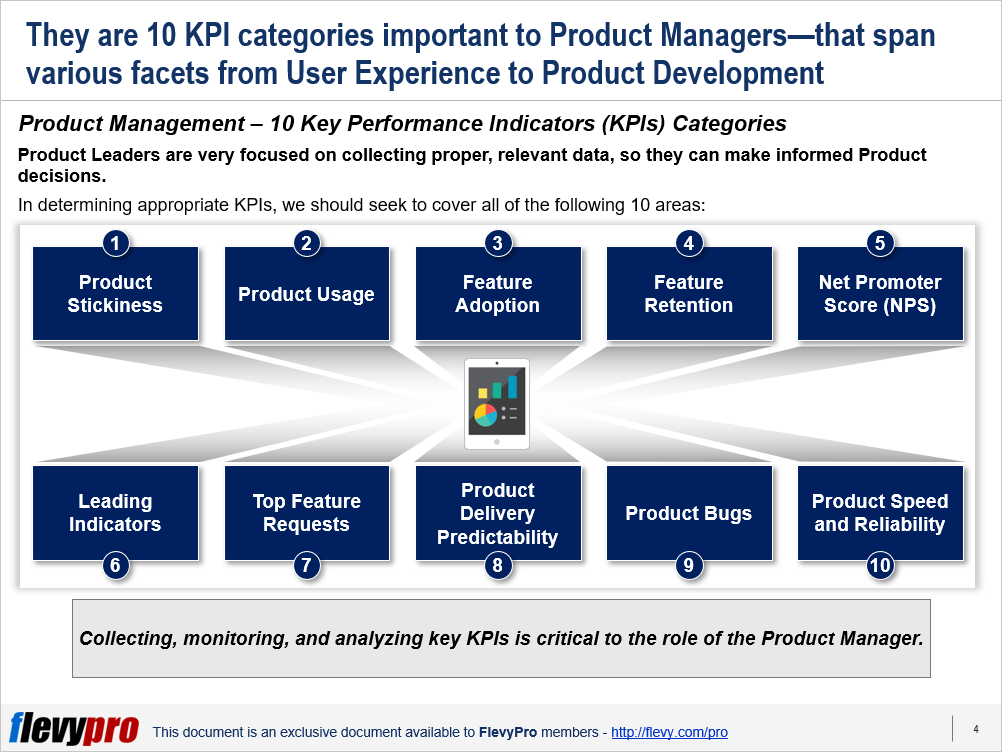 Let's discuss these Product Management KPIs in a bit detail.
Product Stickiness
KPIs around Product Stickiness determine whether users are re-engaging with our product.  If a product is successful, it exhibit "stickiness."  That means users don't just sign up and forget about it.  They continuously live inside the product, such that it becomes part of their daily routine.  A good product should not long attract new users, but to also continuously re-engage with its users.
Product Stickiness is often measured by taking the ratio of our Daily Active Users (DAU) to Monthly Active Users (MAU): i.e., DAU/MAU.  This metric calculates the percentage of our monthly users who engage with our product on a daily basis.
Product Usage
It is inevitable that not all features of a product will be utilized the same.  Some features are more heavily used, whereas others are not.  The only way to know what product features are important to users is by measuring how our product is being used.  Measuring user engagement across the product allows us to answer what features should we enhance, which ones to eliminate, and which features to promote to increase users awareness of the product functionality.
Product usage is measured by using 3 key metrics—Breadth: refers to the number of active users for a given client within the last 90 days.  Depth: Captures whether users are using key features that make the product sticky.  Frequency: e.g., number of logins across all devices within the last 90 days.
Feature Adoption
These KPIs seek to understand and set feature adoption goals.  Key question to clarify these KPIs is whether users are adopting the newly released features.  Feature adoption data of recent feature launches is critical to determine appropriate feature adoption goals.  It is important to look at feature adoption at both the user level and account level.  For instance, different customer groups with an account may exhibit different levels of adoption for different feature sets.
The key metric to measure feature adoption is the percentage of users using the feature.  This should be evaluated across multiple features on a timescale (typically for at least 30 days following the feature release).
Feature Retention
Feature retention KPIs reveal true adoption of features vs. the initial promotion-driven adoption.  Feature Adoption seeks to measure initial use of a feature, whereas Feature Retention seeks to measure the long-term, persistent usage of a feature.  Measuring feature retention helps us identify at-risk users who have started to disengage from the product after the initial promotion is over.  We can then take action to re-engage these users.
Feature retention can be measured across different customer segments, e.g., by pricing (Free vs. Paid), by organization size (Startups vs. Enterprises), by position (Analyst vs. Manager).
Interested in learning more about the other KPIs critical to manage and develop a Product Portfolio?  You can download an editable PowerPoint presentation on Product Management KPIs here on the Flevy documents marketplace.
Do You Find Value in This Framework?
You can download in-depth presentations on this and hundreds of similar business frameworks from the FlevyPro Library. FlevyPro is trusted and utilized by 1000s of management consultants and corporate executives. Here's what some have to say:
"My FlevyPro subscription provides me with the most popular frameworks and decks in demand in today's market. They not only augment my existing consulting and coaching offerings and delivery, but also keep me abreast of the latest trends, inspire new products and service offerings for my practice, and educate me in a fraction of the time and money of other solutions. I strongly recommend FlevyPro to any consultant serious about success."

– Bill Branson, Founder at Strategic Business Architects
"As a niche strategic consulting firm, Flevy and FlevyPro frameworks and documents are an on-going reference to help us structure our findings and recommendations to our clients as well as improve their clarity, strength, and visual power. For us, it is an invaluable resource to increase our impact and value."

– David Coloma, Consulting Area Manager at Cynertia Consulting
"As a small business owner, the resource material available from FlevyPro has proven to be invaluable. The ability to search for material on demand based our project events and client requirements was great for me and proved very beneficial to my clients. Importantly, being able to easily edit and tailor the material for specific purposes helped us to make presentations, knowledge sharing, and toolkit development, which formed part of the overall program collateral. While FlevyPro contains resource material that any consultancy, project or delivery firm must have, it is an essential part of a small firm or independent consultant's toolbox."

– Michael Duff, Managing Director at Change Strategy (UK)
Identifying what the market wants is a critical issue for most executives.  Likewise, the decision on how much to charge for a product is also crucial for planners.  This is where Market Research comes to rescue.
One of the Marketing Research methods that researchers most commonly employ is the Conjoint (Trade-off) Analysis.  Conjoint Analysis helps in identifying product features that consumers prefer, discerning the impact of price changes on demand, and estimating the probability of product acceptance in the market.
In contrast to directly inquiring from the respondents about the most important feature in a product, Conjoint Analysis makes the survey participants assess product profiles.  These product profiles comprise various linked—or conjoined—product features, therefore the analysis is termed "Conjoint Analysis."  Conjoint Analysis simulates real-world buying situations where the researchers statistically determine the product attributes—that carry the most impact and are attractive to the participants—by substituting the features and recording the participants' responses.
The Conjoint Analysis Approach
The Conjoint Analysis is useful in creating market models to estimate market share, revenue, or profitability.  The Conjoint Analysis is widely used in marketing, product management, and operations research.  The Conjoint Analysis approach entails the following key steps:
Determine the Study Type
Identify Relevant Features
Establish Values for Each Feature
Design Questionnaire
Collect Data
Analyze Data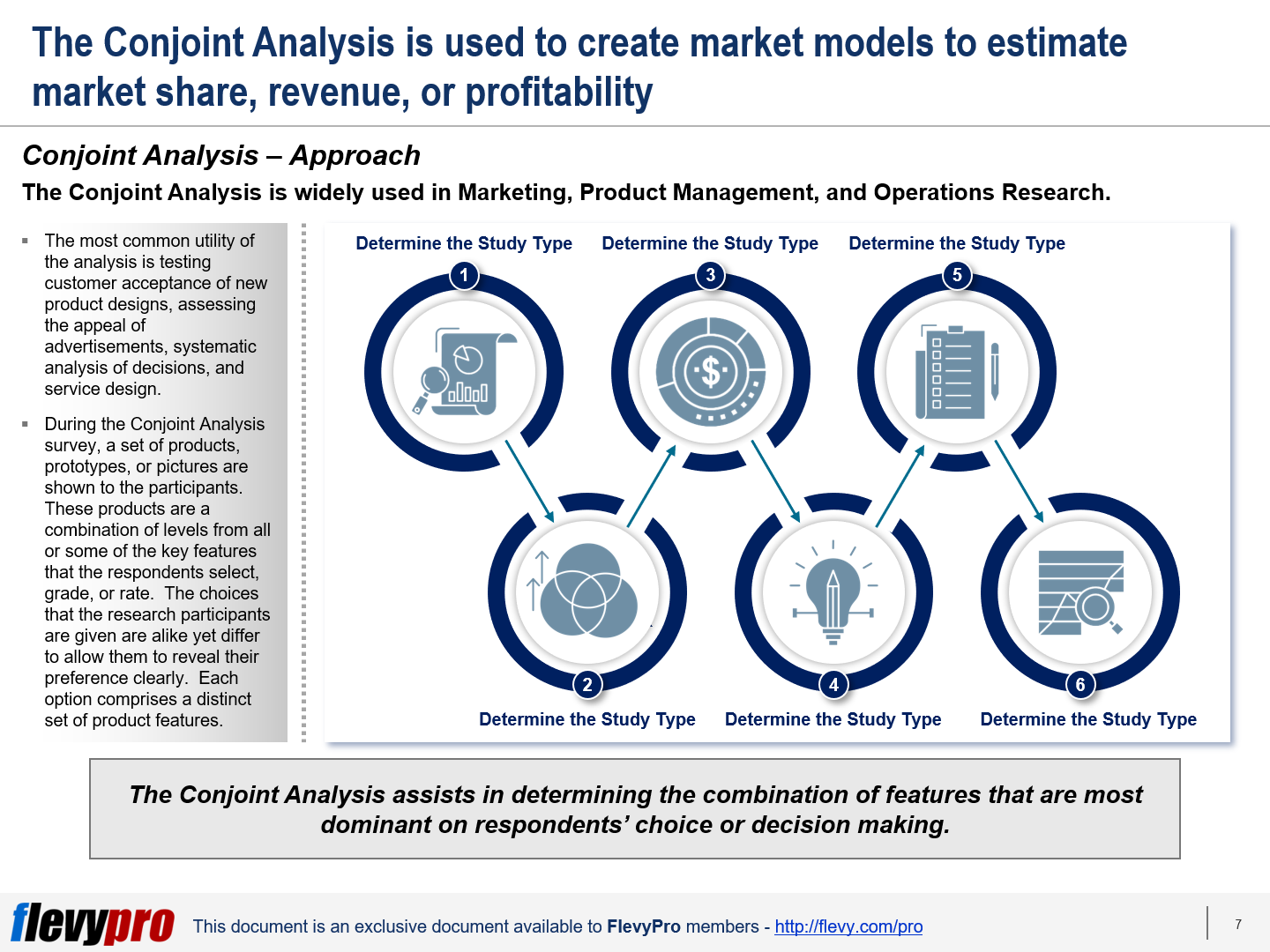 1. Determine the Study Type
The first step of the Conjoint Analysis involves ascertaining and selecting from a number of different types of Conjoint Analysis methods available.  This should be determined based on the individual requirements of the organization.
2. Identify Relevant Features
The next step of the Conjoint Analysis entails categorizing the key features or relevant attributes of a product.  For instance, setting the main product attributes in terms of size, appearance, price.
3. Establish Values for Each Feature
After selecting the key features of the product, the next step in Conjoint Analysis is to choose some values for each of the itemized features that have to be enumerated.  A combination of features in different forms should be chosen to present to the participants.  The presentation could be written notes describing the products or in the form of pictorial descriptions.
4. Design Questionnaire
The basic forms of Conjoint Analysis—practiced in the past—encompassed a set of product features (4 to 5) used to create profiles, displayed to the respondents on individual cards for ranking.  These days, different design techniques and automated tools are used to reduce the number of profiles while maintaining enough data availability for analysis.  The questionnaire length depends on the number of features to be evaluated and the Conjoint Analysis type employed.
5. Collect Data
A statistically viable sample size and accuracy should be considered while planning a Conjoint Analysis survey.  It is up to the senior management to decide how they want to gather the responses—by taking the responses from each individual and analyzing them individually, collecting all the responses into a single utility function, or dividing the respondents into segments and recording their preferences.
6. Analyze Data
Various econometric and statistical methods are utilized to analyze the data gathered through the Conjoint exercise.  This includes linear programming techniques for earlier Conjoint types, linear regression to rate Full-Profile Tasks, and Maximum Likelihood Estimation (MLE) for Choice-based Conjoint.
Types of Conjoint Analysis
There are a number of Conjoint Analysis types available for the marketing researchers to choose from, including:
Two-Attribute Tradeoff Analysis
Full-Profile Conjoint Analysis
Adaptive Conjoint Analysis
Choice-Based Conjoint Analysis
Self-Explicated Conjoint Analysis
Max-Diff Conjoint Analysis
Hierarchical Bayes Analysis (HB)
Interested in learning more about Conjoint Analysis?  You can download an editable PowerPoint on Conjoint Analysis Primer here on the Flevy documents marketplace.
Are you a Management Consultant?
You can download this and hundreds of other consulting frameworks and consulting training guides from the FlevyPro library.
Most Product Managers have relatively narrow roles and decision rights on product portfolios are fragmented on various functions. This creates
incoherence between a company's product and its overall Corporate Strategy.
What is needed is more accountable decision rights that align responsibility for results to one person who also has cross-functional decision-making authority. This realignment is at the core of Strong-form Product Management.
What is Product Management
Product Management is an organizational lifecycle function within a company. Product Management deals with the planning, forecasting, production, and marketing of the product or products at all stages of the product lifecycle.
The Product Life Cycle (PLM) Management integrates people, data, processes, and business systems. It provides product information for companies and their extended supply chain enterprise. One of the ultimate goals of Product Management is to optimize the business at the product, product line or product portfolio level over the lifecycle of the products.
Taking a Cautionary Case in Point: Understanding What Happened to Research in Motion (RIM)
In April 2007, Research in Motion (RIM) was flying high. The Blackberry creator was coming off its best year ever. RIM was experiencing record revenues, record earnings per share, and record shipments. And there was a new reason to be optimistic: Apple had just introduced the iPhone and RIM executives took it for granted that their product—a runaway hit in the business world—would grab a huge share of the burgeoning consumer market as well.
However, the confidence proved to be ill-founded. The iPhone reversed the historical pattern of computer technologies flowing from the enterprise to the consumer market.
RIM is compelling as a cautionary tale but it is not unique. Many companies falter in the face of discontinuous change. Their failure usually stems from their inability to keep up with technological shifts or the complexity of their product lines. Though often seen as a breakdown at the enterprise level, this starts at a much more granular level, with ineffective Product Management.
A Strong-form Model could have kept RIM stay ahead of change and remain competitive.
The Strong-form Product Management Model
The 5 steps to Strong-form Product Management will keep competition at bay.
Hire Product Managers with Proper Skills
We need to understand that intrinsic abilities are required by Product Managers. These are the abilities to make a judgment to understand trade-offs, anticipate market changes, and make savvy business decisions.
Create Financial Transparency to the Product Level
Companies must realize that a given product may be siphoning revenue from more profitable products. Increase in costs from suppliers that are managed by another function may cause hidden opportunity costs or out-and-out profit surprises. The creation of Financial Transparency down to the product level can address these concerns.
Implement Product-first Decision-making Processes
There is a need to broaden decision rights and increasing accountability of Product Managers for performance and results. Product Managers have a "first among equals" status.
Develop Strong Customer Relations
Product Manager must translate customer insights into product improvement and new products.
Encourage Cross-functional Collaboration
Strong-form Product Management is inherently cross-functional. Communication is essential in developing the relationships between marketing and product management.
In all these steps, the Strong-form Product Manager must be the center of knowledge. However, Product Managers must also realize that the adoption of a Strong-form Product Management Approach requires taking Change Management initiatives.
Undertaking a Change Management initiative can take years to implement. Success can be achieved when anchored on basic principles of Change Management. However, once this is put in place, significant opportunities arise as companies move from strategy to execution.
Interested in gaining more understanding of the Strong-form Product Management Model? You can learn more and download an editable PowerPoint about Strong-form Product Management Model here on the Flevy documents marketplace.
Are you a management consultant?
You can download this and hundreds of other consulting frameworks and consulting training guides from the FlevyPro library.
Subscribe to our Newsletter

PowerPointing Templates

Error: Twitter did not respond. Please wait a few minutes and refresh this page.