Currently viewing the tag: "Learning Culture"
Transformation of an organization into a Next-generation Learning Organization (NLO) is a challenging endeavor.  The main hurdles include convoluted hierarchies, bureaucratic red tape, delayed decision making, and complicated organizational systems and processes.
To develop a learning organization, leadership needs to trim down bureaucracy and complexities.  They should make the best use of technology to gather holistic real-time data, deploy Artificial Intelligence at scale, and develop data-driven decision-making systems.
Five Core Pillars of Learning are essential for the creation of a Next-generation Learning Organization, including:
Digital Transformation
Human Cognition Improvement
Man and Machine Relationship
Expanded Ecosystems
Management Innovation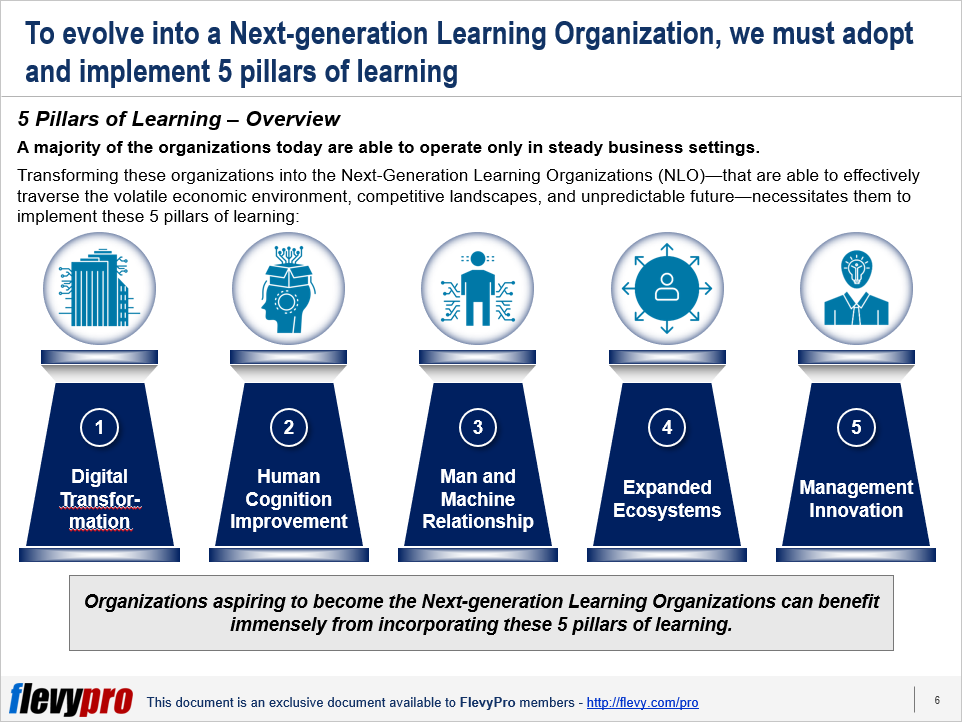 Let's take a deep dive into the first 3 Core Pillars.
1. Digital Transformation
The first pillar is Digital Transformation.  Next-generation Learning Organizations (NLOs) are characterized by their speed of learning and their adeptness to take action based on new insights.  They use emerging technologies to automate as well as "autonomize" their businesses, without relying too much on human intervention and decision-making.
By autonomizing, the NLOs enable machines to learn, take action, and evolve on their own based on continuous feedback.  They create integrated learning loops where information flows automatically from digital platforms into AI algorithms where it is mined in run-time to gather new insights.  The insights are passed to action systems for necessary action that create more data, which is again mined by AI, and the cycle continues, facilitating learning at fast pace.
2. Human Cognition Improvement
Next-generation Learning Organizations (NLOs) schedule time for their people to have unstructured reflection on their work.  While most organizations fear disruption of human work in future by AI and machines, NLOs assign unique roles to their people based on human cognition strengths—e.g., understanding relationships, drawing causal judgment, counterfactual thinking, and creativity.  These organizations are aware of AI's advantage—in analyzing correlations in complex data promptly—as well as its shortcomings in terms of reasoning abilities and interpretation of social / economic trends.  NLOs make design the center of their attention and utilize human creativity and imagination to generate new ideas and produce novel products.  They assign roles accordingly, inspire imagination in people by exposing them to unfamiliar information, and inculcate dynamic collaboration.
3. Man and Machine Relationship
NLOs foster innovative ways to promote collaboration between people and machines.  They recognize that this helps them in better utilization of resources, maximize synergies, and learn dynamically.
To create effective collaboration between people and machines, NLOs develop robust human-machine interfaces.  The existing AI systems lack the ability to decipher everything, which is an area where humans excel.  NLOs supplement these shortcomings by setting up human-machine interfaces, where humans assist the AI by corroborating its actions and suggesting sound recommendations.  These learning organizations bifurcate responsibilities based on the risks involved, assign humans and machines appropriately against each job, and select a suitable level of generalization and sophistication between humans and machines.
Interested in learning more about the Core Pillars of Learning?  You can download an editable PowerPoint on Next-generation Learning Organization: Core Pillars here on the Flevy documents marketplace.
Are you a Management Consultant?
You can download this and hundreds of other consulting frameworks and consulting training guides from the FlevyPro library.
Organizations need to persistently improve the way they do business to stay ahead of the curve. New ideas trigger organizational improvement and build the foundation of a Learning Organization.
Scholars have defined a Learning Organization in many different ways. Some suggest it as an organization skilled at creating, acquiring, and transferring knowledge, and at modifying its behavior to reflect new knowledge and insights. Marlene Fiol and Marjorie A. Lyles describe organizational learning as "the process of improving actions through better knowledge and understanding." Barbara Levitt and James G. March define organizations as "Learning Organizations when they encode inferences from history into routines that guide behavior. Chris Argyris categorizes organizational learning as "a process of detecting and correcting error." According to Peter Senge, "a Learning Organization is a group of people working together collectively to enhance their capacities to create results they care about."
Being a Learning Organization offers several advantages. A perpetual influx of insights and new experience keeps the organization dynamic and ready for transformation; assists in better management of investments, improves efficiency; and helps in developing cost leadership and differentiation strategies. Learning Organizations tend to be more innovative by encouraging people to learn, develop, and by generating a more innovative environment. Shared learning builds the corporate image of the organization and increases the pace of change within the organization. Learning Organizations provide their people the ability to think insightfully about complex problems, take coordinated action, improve decision making, and instill a sense of community in them.
Despite efforts to improve continuously and creating new knowledge, organizations cannot simply become Learning Organizations. They employ various approaches but what they actually need is to become proficient in translating new knowledge into new ways of doing things, and actively managing the learning process so that it gets ingrained into the organizational culture.
Becoming a Learning Organization necessitates mastering 5 key activities. These 5 activities form the building blocks of a Learning Organization and should be integrated into the organizational core to transform your company into a Learning Organization.
Systematic Problem Solving
Experimentation
Learning from Experience
Learning from Others
Knowledge Transfer
Applying these practices to some degree or in isolated cases isn't enough. To ensure continued success, these practices should be complemented by distinct mindsets, support systems, and processes.
Let's now discuss the first 3 building blocks in detail.
1. Systematic Problem Solving
Systematic problem solving is based on scientific methods for diagnosing problems, e.g., the Plan, Do, Check, Act (PDCA) cycle or "hypothesis-generating, hypothesis-testing." The technique employs fact-based management, relying on concrete data instead of assumptions for making decisions and utilizes statistical tools—such as Pareto charts, histograms, correlation, and cause and effect diagrams—to consolidate data and draw conclusions.
For a real Learning Organization, people need to become more disciplined, pay more attention to detail, assess underlying causes, and analyze data before reaching decisions.
2. Experimentation
Experimentation involves systematic exploration and testing of new knowledge. Experimentation has 2 fundamental configurations; both forms transfer knowledge and yield new insights, capabilities, tools, techniques, and processes:
Ongoing programs
Demonstration Projects
Ongoing Programs
Ongoing programs entails a chain of small experiments aimed at yielding incremental gains in knowledge. These programs maintain a steady flow of new ideas by sending workforce on sabbaticals at different places to learn new work practices and tools from industry and academia, and applying that knowledge to their daily routines. Such programs foster risk taking and a feeling of "benefits of experimentation far outweigh the costs."
Demonstration Projects
Demonstration projects are one of a kind, large-scale initiatives that include holistic system-wide transformation targeted at a single site. These projects are executed with a goal of developing new organizational capabilities using a "clean slate" approach.
Self-managing, multi-departmental teams; high level of employee autonomy; considerable "learning by doing;" course corrections; implicit policy guidelines, precedents, and decision rules are the key characteristics of demonstration projects.
3. Learning from Experience
Learning Organizations gain valuable knowledge from their past experiences, by doing an exhaustive and systematic appraisal of past successes and failures. However, not too many managers pay attention to past experiences or reflect on those, eventually losing valuable insights. To inculcate a culture of learning, lessons learned should be recorded and made readily accessible to all employees.
A handful of companies have laid out processes for their managers to contemplate on their past actions and incorporate those in their learning. At the core of this approach lies the belief that distinguishes productive failure from unproductive success. Productive failure delivers knowledge and understanding whereas unproductive success goes unnoticed where nobody knows what went well and why. Learning from experience approach isn't that expensive—case studies and project reviews can be compiled with little cost.
Interested in learning more about the building blocks of a Learning Organization? You can download an editable PowerPoint on Learning Organization: 5 Building Blocks here on the Flevy documents marketplace.
Are you a Management Consultant?
You can download this and hundreds of other consulting frameworks and consulting training guides from the FlevyPro library.
Subscribe to our Newsletter

PowerPointing Templates

Error: Twitter did not respond. Please wait a few minutes and refresh this page.