Currently viewing the tag: "power differential"
The Value Chain concept, first described by Dr. Michael Porter in 1985, is a series of actions that a firm—in a specific industry—accomplishes to produce a valuable product or service for the market.  The value chain notion visualizes the process view of an organization, perceiving a manufacturing or service organization as a system comprised of subsystems of inputs, transformation processes, and outputs.
Another way to define the Value Chain principle is, "transforming business inputs into outputs, thereby creating a value much better than the original cost of producing those outputs."  These inputs, processes, and outputs entail acquiring and utilizing resources—finances, workforce, materials, equipment, buildings, and land.
An industry Value Chain includes the suppliers that provide the inputs, creation of products by a firm, distribution value chains, till the products reach the customers.  The way Value Chain activities are planned and executed determines the costs and profits.
Value chains consist of set of activities that products must undergo to add value to them.  These activities can be classified into 2 groups:
Primary Activities
Secondary Activities
Primary activities in Porter's Value Chain are associated with the production, sale, upkeep, and support of a product or service offering, including:
Inbound Logistics
Operations
Outbound Logistics
Marketing and Sales
Service
 The secondary activities and processes in Porter's Value Chain support the primary activities.  For instance:
Procurement
Human resource management
Technological development
Infrastructure
Value Chain Analysis Benefits
The analysis of a Value Chain offers a number of benefits, including:
Identification of bottlenecks and making rapid improvements
Opportunities to fine-tune based on transforming marketplace and competition
Bringing out the real needs of an organization
Cost reduction
Competitive differentiation
Increased profitability and business success
Increased efficiency
Decreased waste
Delivery of high-quality products at lower costs
Retailers can monitor each action throughout the entire process from product creation to storage and distribution to customers.
Value Chain Analysis (VCA) Approach
Businesses seeking competitive advantage often turn to Value Chain models to identify opportunities for cost savings and differentiation in the production cycle.  The Value Chain Analysis (VCA) process encompasses the following 3 steps:
Activity Analysis
Value Analysis
Evaluation and Planning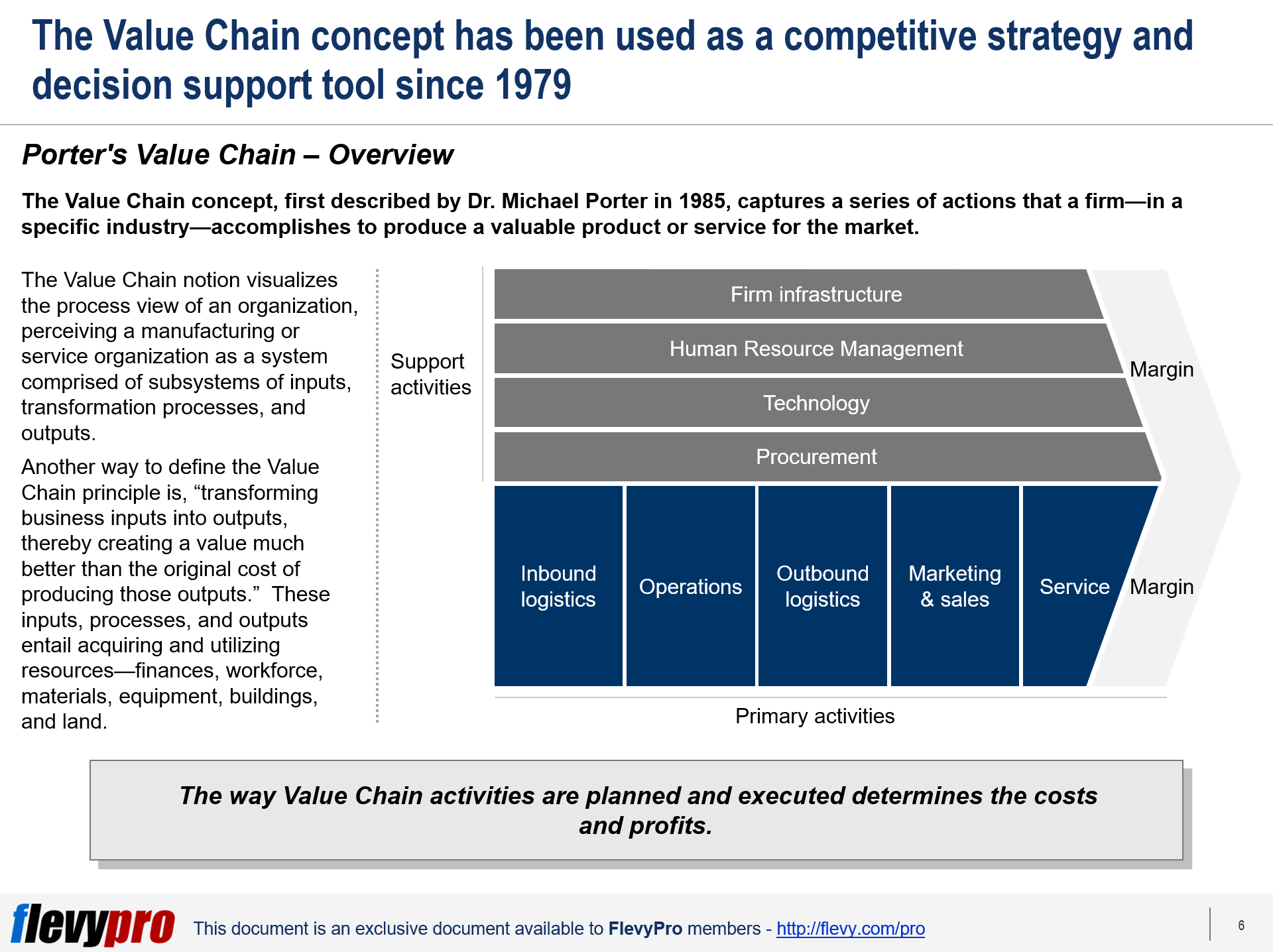 Activity Analysis
The first step in Value Chain Analysis necessitates identification of activities that are essential to undertake in order to deliver product or service offerings.  Key activities in this stage include:
Listing the critical processes necessary to serve the customers—e.g., marketing, sales, order taking, distribution, and support—visually on a flowchart for better understanding.

This should be done by involving the entire team to gather a rich response and to have their support on the decisions made afterwards.

Listing the other important non-client facing processes—e.g., hiring individuals with skills critical for the organization, motivating and developing them, or choosing and utilizing technology to gain competitive advantage.
This stage also entails gathering customers' input on the organization's product or service offerings and ways to continuously improve.
Value Analysis
The second phase of the Value Chain Analysis necessitates identifying tasks required under each primary activity that create maximum value.  This phase is characterized by:
Ascertaining the key actions for each specific activity identified during the first phase.
Thinking through the "value factors"— elements admired by the customers about the way each activity is executed.

For example, for the order taking process, customers value quick response to their call, courteous behavior, correct order entry, prompt response to queries, and quick resolution of their issues.

Citing the value factors next to each activity on the flowchart.
Jotting down the key actions to be done or changes to be made to under each Value Factor.
Interested in learning more about the other phases of the Value Chain Analysis Approach?  You can download an editable PowerPoint on Strategy Classics: Porter's Value Chain here on the Flevy documents marketplace.
Are you a Management Consultant?
You can download this and hundreds of other consulting frameworks and consulting training guides from the FlevyPro library.
In today's business environment, management consulting firms must be ready to address client challenges and needs that will transform their
business by 10 or 100 times. Tools and methods must be scaled up to ensure applicability to the widest possible audience globally.
The Consulting Workshop Series provides a good understanding of the 10 Methods of conducting Workshops that are custom designed to fit specific workshop objectives. Different methods are developed for the purpose of providing organizations the most appropriate tool necessary to support organizations to achieve their strategic goals and targets.
If it is the management's goal to allow participants to question each other and to elaborate upon their answers, then the Focus Group is the perfect method to undertake.
Understanding the Focus Group as a Consulting Workshop Series Method
Focus Group is a Consulting Workshop Method that exposes different groups' opinions on an issue and why these are held. It is a planned discussion among a small group of 4 to 12 stakeholders facilitated by a skilled moderator. It aims to expose different groups' opinions on an issue and why they are held.
Conducting focus interviewing is effective in obtaining information about various people's preferences ad values pertaining to a defined topic and why these are held by observing the structured discussion of an interactive group in a permissive, non-threatening environment.
Its application cuts across various agenda. It can gauge the nature and intensity of stakeholders' concern and values about issues. It can obtain a snapshot of public opinion when time constraints or finances do not allow a full review or survey. Likewise, whenever there are proposals, it can be used to get detailed reaction and input from a stakeholder or client group. Additional information or modification may be gathered to develop the proposal further.
In an overall context, the Focus Group can be seen as a combination of a focused interview and a discussion group.
Starting a Focus Group in a Systematic Approach
Undertaking a Focus Group must be done in a systematic approach. While the method may be relatively simple, it is an effective tool in generating opinions in a more natural, social context.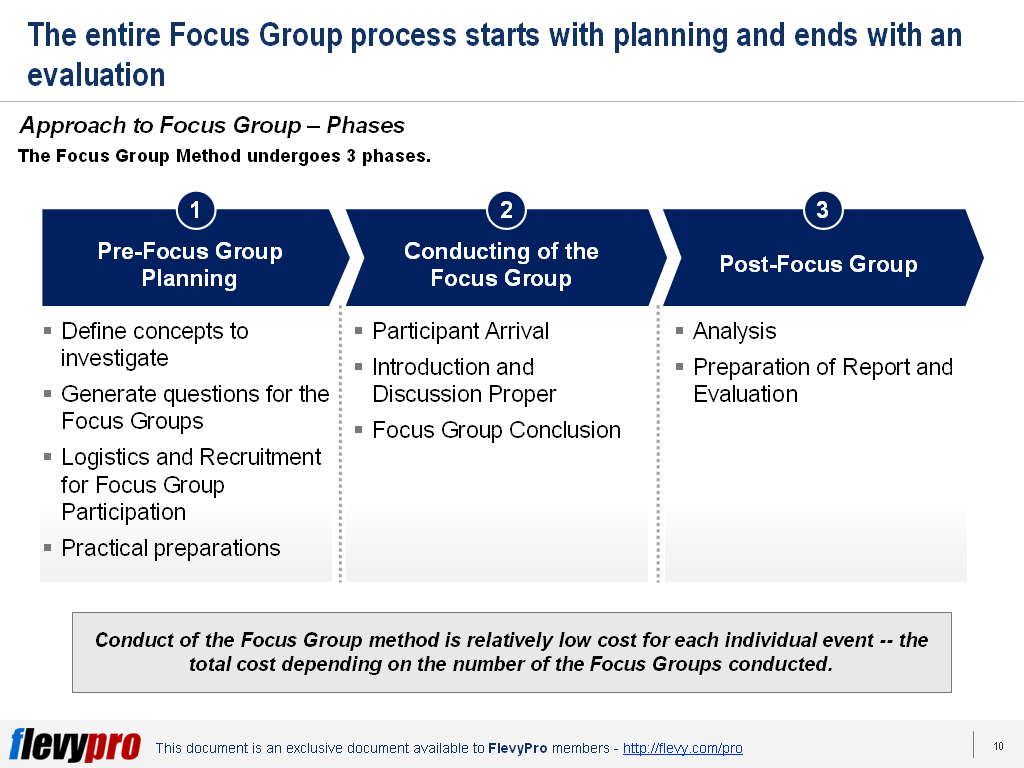 Pre-Focus Group Planning. This is most critical of the 3 phases as it sets the initial stages of planning the Focus Group. It is at this point where the direction and purpose of the Focus Group are determined and established. Sufficient time must be allocated for preparation and planning.
Conducting of the Focus Group. Phase 2 is the main event – the Focus Group Discussion. It is in this phase wherein different groups' opinions are exposed on an issue and explained why these are held. For narrow topics, Focus Groups normally last for an hour or two. But when the discussion is more policy-oriented, it can be organized into multiple sessions with each session not exceeding two hours.
 Post-Focus Group. This is the final stage. The Post-Focus Group phase ensures that there is a proper analysis of results and that reports are properly developed. A most important element of the Post-Focus Group is the analysis. When the analysis is properly done, conclusive responses to topics raised can be done.
The Great Advantage
Is there a power differential existing within your organization? When the power differential between the participants and the decision-makers is great enough to discourage participation, the Focus Group is the best method to use.
It provides the security of a peer group. Furthermore, the method is particularly useful when one is interested in complex motivations and actions.
Interested in gaining more understanding of the Consulting Workshop Series: Focus Group? You can learn more and download an editable PowerPoint about Consulting Workshop Series: Focus Group here on the Flevy documents marketplace.
Are you a management consultant?
You can download this and hundreds of other consulting frameworks and consulting training guides from the FlevyPro library.
Subscribe to our Newsletter

PowerPointing Templates

Error: Twitter did not respond. Please wait a few minutes and refresh this page.