Currently viewing the tag: "Value Chain Analysis"
A traditional Value Chain involves a linear sequence of activities—from conversion of raw materials into components which are assembled into products.  The products are then distributed, marketed, sold, and serviced.  Management plans and execute strategies and operations based on this sequence.
This set of activities worked well for organizations in the past.  However, this linear progression does not encourage Innovation and provides little protection from the risk of being outperformed by rivals in today's disruptive markets.  Such a competitive environment calls for implementing more robust ways of managing Customer Demand and Value Creation.
An effective approach to deal with this challenge is the Value Grid Analysis Model.  The Value Grid approach provides a perspective beyond traditional linear progression of activities, where organizations need to balance equilibrium between suppliers and manufacturers aside from concentrating only on reducing lead times.  It outlines new opportunities and risks for organizations.
The Value Grid Analysis provides a number of routes to improve Performance and reduce risks.  It encompasses the following 3 pathways—or dimensions:
Vertical pathway – using traditional Value Chain, companies find opportunities upstream or downstream from adjacent tiers in the existing Value Chain.
Horizontal pathway – companies look for opportunities from similar tiers in multiple (parallel) Value Chains.
Diagonal pathway – explore opportunities to create value across multiple value chains and tiers.
The Value Grid Framework necessitates diverting leadership attention towards 3 key opportunity areas to create Competitive Advantage:
Customer Demand
Information Access
Multi-tier Penetration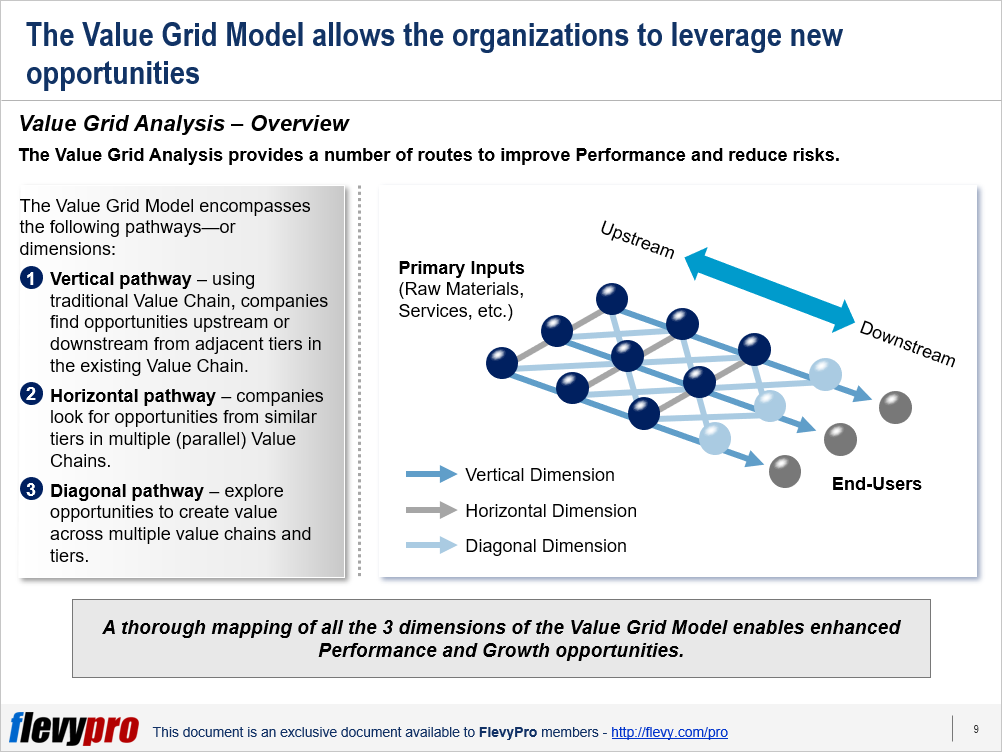 Let's dive deeper into the 3 opportunity areas.
Customer Demand
The first opportunity area to drive competitive advantage pertains to controlling internal and external customers' demand.  It warrants a company to manage customer demand upstream (suppliers and companies that supply to suppliers) as well as downstream (customers).  By managing customer demand downstream, organizations control the decision makers responsible for the purchase decision.  When companies are unable to control the decision makers, they look for levers across the Value Chain to influence decisions.  These levers include direct advertisements to the end users, focusing on distributors, or incentivizing retailers to recommend a product.  Organizations also try to influence upstream, e.g., their R&D units, to create products which can be used in conjunction with the existing product range to boost their efficacy and benefits for the end-users, ultimately influencing consumers' decisions downstream.
Information Access
The 2nd opportunity area involves linking information sharing to influence decision making.  A few manufacturers prefer to partner with those suppliers who openly disclose the information (capabilities, flexibility, and pricing structures) of their 2nd-tier suppliers with them.  This assists them in planning and helping the suppliers manage materials and prices better.
For instance, with increased tariff on imported steel and price of steel continuously going up, car manufacturers like Honda purchase steel in bulk and sell it to their suppliers at a reduced rate.  This helps them keep the prices of their cars down and compete better.
Multi-tier Penetration
Nonlinear thinking (Value Grid Model) enables the organizations to determine innovative solutions beyond the scope of traditional Value Chains.  To manage excess demand organizations take on multiple Value Chain tiers to control demand and buyers' power.
Leading manufacturers evaluate multiple value chain points for their participation in order to scale.  They sell not only to Original Equipment Manufacturers but also in the aftermarket.  Supplying to more than one Value Chain tier allows organizations to withstand pressure from OEMs to reduce costs, demand shifts, and offers attractive margins.
Interested in learning more about the 3 opportunity areas of the Value Grid Analysis Framework?  You can download an editable PowerPoint on Value Grid Analysis here on the Flevy documents marketplace.
Do You Find Value in This Framework?
You can download in-depth presentations on this and hundreds of similar business frameworks from the FlevyPro Library. FlevyPro is trusted and utilized by 1000s of management consultants and corporate executives. Here's what some have to say:
"My FlevyPro subscription provides me with the most popular frameworks and decks in demand in today's market. They not only augment my existing consulting and coaching offerings and delivery, but also keep me abreast of the latest trends, inspire new products and service offerings for my practice, and educate me in a fraction of the time and money of other solutions. I strongly recommend FlevyPro to any consultant serious about success."

– Bill Branson, Founder at Strategic Business Architects
"As a niche strategic consulting firm, Flevy and FlevyPro frameworks and documents are an on-going reference to help us structure our findings and recommendations to our clients as well as improve their clarity, strength, and visual power. For us, it is an invaluable resource to increase our impact and value."

– David Coloma, Consulting Area Manager at Cynertia Consulting
"As a small business owner, the resource material available from FlevyPro has proven to be invaluable. The ability to search for material on demand based our project events and client requirements was great for me and proved very beneficial to my clients. Importantly, being able to easily edit and tailor the material for specific purposes helped us to make presentations, knowledge sharing, and toolkit development, which formed part of the overall program collateral. While FlevyPro contains resource material that any consultancy, project or delivery firm must have, it is an essential part of a small firm or independent consultant's toolbox."

– Michael Duff, Managing Director at Change Strategy (UK)
The Value Chain concept, first described by Dr. Michael Porter in 1985, is a series of actions that a firm—in a specific industry—accomplishes to produce a valuable product or service for the market.  The value chain notion visualizes the process view of an organization, perceiving a manufacturing or service organization as a system comprised of subsystems of inputs, transformation processes, and outputs.
Another way to define the Value Chain principle is, "transforming business inputs into outputs, thereby creating a value much better than the original cost of producing those outputs."  These inputs, processes, and outputs entail acquiring and utilizing resources—finances, workforce, materials, equipment, buildings, and land.
An industry Value Chain includes the suppliers that provide the inputs, creation of products by a firm, distribution value chains, till the products reach the customers.  The way Value Chain activities are planned and executed determines the costs and profits.
Value chains consist of set of activities that products must undergo to add value to them.  These activities can be classified into 2 groups:
Primary Activities
Secondary Activities
Primary activities in Porter's Value Chain are associated with the production, sale, upkeep, and support of a product or service offering, including:
Inbound Logistics
Operations
Outbound Logistics
Marketing and Sales
Service
 The secondary activities and processes in Porter's Value Chain support the primary activities.  For instance:
Procurement
Human resource management
Technological development
Infrastructure
Value Chain Analysis Benefits
The analysis of a Value Chain offers a number of benefits, including:
Identification of bottlenecks and making rapid improvements
Opportunities to fine-tune based on transforming marketplace and competition
Bringing out the real needs of an organization
Cost reduction
Competitive differentiation
Increased profitability and business success
Increased efficiency
Decreased waste
Delivery of high-quality products at lower costs
Retailers can monitor each action throughout the entire process from product creation to storage and distribution to customers.
Value Chain Analysis (VCA) Approach
Businesses seeking competitive advantage often turn to Value Chain models to identify opportunities for cost savings and differentiation in the production cycle.  The Value Chain Analysis (VCA) process encompasses the following 3 steps:
Activity Analysis
Value Analysis
Evaluation and Planning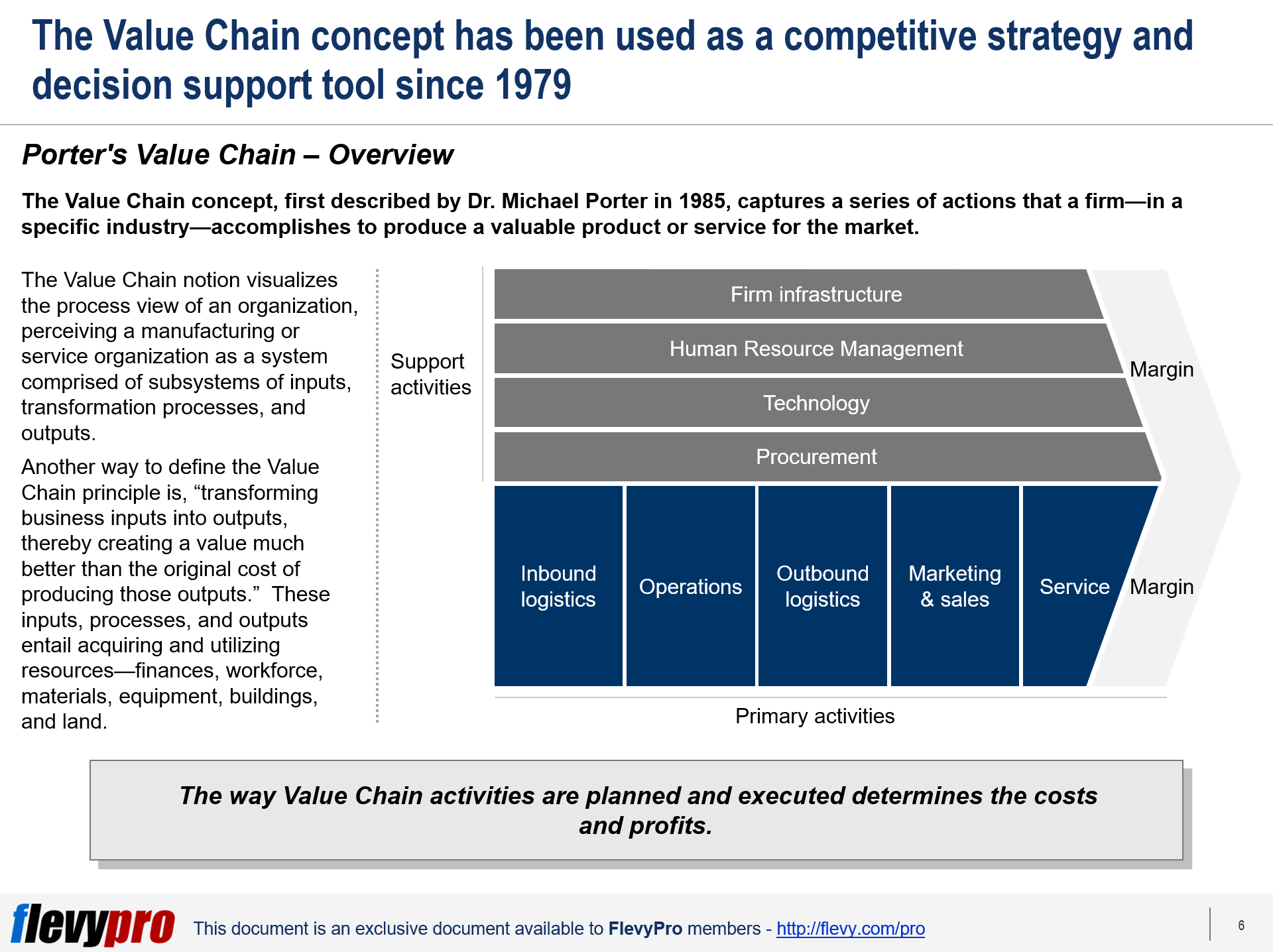 Activity Analysis
The first step in Value Chain Analysis necessitates identification of activities that are essential to undertake in order to deliver product or service offerings.  Key activities in this stage include:
Listing the critical processes necessary to serve the customers—e.g., marketing, sales, order taking, distribution, and support—visually on a flowchart for better understanding.

This should be done by involving the entire team to gather a rich response and to have their support on the decisions made afterwards.

Listing the other important non-client facing processes—e.g., hiring individuals with skills critical for the organization, motivating and developing them, or choosing and utilizing technology to gain competitive advantage.
This stage also entails gathering customers' input on the organization's product or service offerings and ways to continuously improve.
Value Analysis
The second phase of the Value Chain Analysis necessitates identifying tasks required under each primary activity that create maximum value.  This phase is characterized by:
Ascertaining the key actions for each specific activity identified during the first phase.
Thinking through the "value factors"— elements admired by the customers about the way each activity is executed.

For example, for the order taking process, customers value quick response to their call, courteous behavior, correct order entry, prompt response to queries, and quick resolution of their issues.

Citing the value factors next to each activity on the flowchart.
Jotting down the key actions to be done or changes to be made to under each Value Factor.
Interested in learning more about the other phases of the Value Chain Analysis Approach?  You can download an editable PowerPoint on Strategy Classics: Porter's Value Chain here on the Flevy documents marketplace.
Are you a Management Consultant?
You can download this and hundreds of other consulting frameworks and consulting training guides from the FlevyPro library.
LearnPPT has finally released a new business document. It's called the Complete Consulting Frameworks Toolkit and that name is not an understatement.  The document is currently only available for download on Flevy.
This is a VERY comprehensive document with over 300+ slides–covering 50 common business frameworks and methodologies (listed below in alphabetical order). A detailed summary is provided for each framework. The included frameworks span across Corporate Strategy, Sales, Marketing, Operations, Organization, Change Management, and Finance.
Here is the full list of included frameworks and methodologies:
ABC Analysis
Adoption Cycle
Ansoff Market Strategies
Balanced Scorecard
BCG Growth-Share Matrix
Benchmarking
Blue Ocean Strategy
Break-even Analysis
Business Unit Profitability
Economics of Scale
Environmental Analysis
Experience Curve
Cluster Analysis
Company & Competitor Analysis
Core Competence Analysis
Cost Structure Analysis
Customer Experience
Customer Satisfaction Analysis
Customer Value Proposition
Fiaccabrino Selection Process
Financial Ratios Analysis
Gap Analysis
Industry Attractiveness & Business Strength Assessment
Key Purchase Criteria
Key Success Factors (KSF)
Market Sizing & Share
McKinsey 7-S
Net Present Value
PEST Analysis
Porter Competition Strategies
Porter's Five Forces
Portfolio Strategies
Price Elasticity
Product Life Cycle
Product Substitution
Relative Cost Positioning
Rogers' Five Factors
Scenario Techniques
Scoring Models
Segment Attractiveness
Segmentation & Targeting
Six Thinking Hats
Stakeholder Analysis
Strengths & Weaknesses Analysis
Structure-Conduct-Performance (SCP)
SWOT Analysis
SWOT Strategies
Treacy / Wiersema Market Positioning
Value Chain Analysis
Venkat Matrix
These frameworks and templates are the same used by top tier consulting firms. With this comprehensive document in your back pocket, you can find a way to address just about any problem that can arise in your organization.
For other, more in-depth business methodology framework and methodology documents, take a look here:
Subscribe to our Newsletter

PowerPointing Templates

Error: Twitter did not respond. Please wait a few minutes and refresh this page.