Currently viewing the tag: "Product-based Business Model"
Transformation from a product-based model to a platform model is a dream for many executives.  More and more product companies are now shifting into a platform model.  The drive behind such a shift is the huge success of platform companies—e.g., Amazon, Google, and Apple.  These organizations started out as a retailer, search engine, and iPod manufacturer respectively, but later transformed into platform models.
However, bringing this transformative vision into reality is anything but straightforward.  Research into successful platform businesses reveals that this necessitates a robust approach comprising the following 4 critical phases:
Attractive Product and Customer Base
Hybrid Business Model
Rapid Conversion
Identify and Seize Opportunities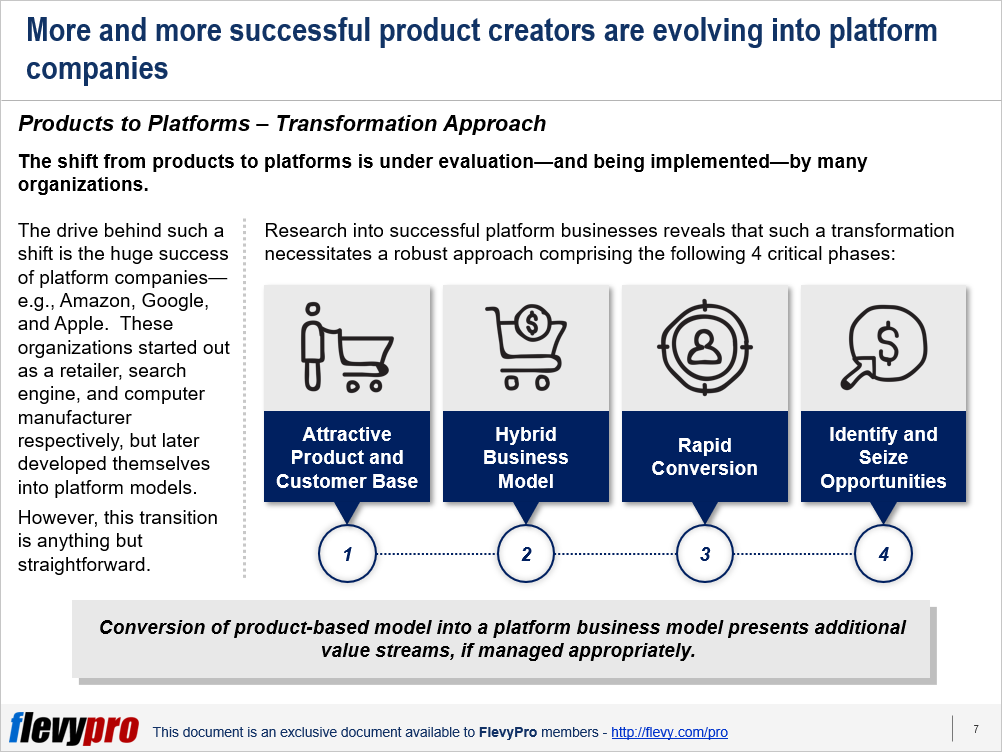 Let's dive deeper into the first two phases of the approach, for now.
Attractive Product and Customer Base
A platform model is not a remedy to resuscitate products that are on a downward slide.  It necessitates an attractive product that offers a significant customer base and value to help improve customer loyalty and resist rival offerings.  The critical mass of customers also allows the platform company to create value for—and attract—third parties that are crucial for the platform to flourish.
Qihoo 360 Technology, a large internet firm in China, commenced its operations in 2006 by selling an antivirus software, 360 Safe Guard.  To build a broad user base and to gather customers' feedback on improving the product, the company started giving away the product free.  The company maintained a list of malware as well as a "whitelist" of programs that were safe for the users.  The critical mass of customers allowed Qihoo to:
Quickly identify viruses on scanning computers
Improve the antivirus
Introduce new products
Attract new customers
Create new platforms
Attract 3rd-party software companies to make Qihoo a channel for reaching customers.
Hybrid Business Model
The notion that an organization has to embrace either a product-based or a platform-based business model is far from reality.  Although, both the product-based and platform-based business models need a framework to assign dedicated resources and manage operations, however, Business Transformation from a product-based model to a platform-based model gets simplified utilizing a hybrid approach.  A product-based business model calls for organizations to have differentiated products catering to customers' needs, to create value.  Whereas, a platform-based business model creates value by linking users to 3rd parties and charging fees for using the platform.  The focus of Platform models is on:
Inspiring mass-market acceptance
Increasing the number of interactions rather than meeting specific customer needs
Connecting users and 3rd parties to create competitive edge instead of relying solely on product differentiation (product model).
For example, Apple converted itself from a product model to a platform model within a year after the launch of the first iPhone.  Initially, Apple reacted defensively to any hacking attempts and precluded 3rd party apps on the iPhone, but then decided to create an open platform, and launched the App Store.  The hybrid model and platform mindset created additional income streams and significant revenue for Apple.
Rapid Conversion
To make a product and business model profitable, the conversion of product users into platform users is of utmost importance.  To enable this, an organization needs to develop its platform in such a way that it should present enough additional value for the customers to adopt it and become its users.  Three key elements are critical to accomplish this:
Deliver adequate value
Launch connected products consistent with the brand
Allow 3rd parties to perform upgrades
If the platform does not offer adequate value for the customers they are not going to embrace it the way they do to a great product.  Similarly, addition of new offerings that are coherent with the brand has a strong correlation with new platform adoption.  New offerings gain traction from a firm's image and strengthen the brand further.  Likewise, allowing 3rd parties to make upgrades, improve product offerings, and develop the platform further helps in rapid conversion, additional revenue, and growth.
Interested in learning more about the phases of the approach to Products-to-Platforms Transformation?  You can download an editable PowerPoint on Products to Platforms Transformation here on the Flevy documents marketplace.
Are you a Management Consultant?
You can download this and hundreds of other consulting frameworks and consulting training guides from the FlevyPro library.
Subscribe to our Newsletter

PowerPointing Templates

Error: Twitter did not respond. Please wait a few minutes and refresh this page.