Currently viewing the tag: "Business Models"
Research by PwC indicates that leading companies are in a near perpetual state of Reorganization.  This upsurge in Organizational Design initiatives is owing to the accelerating pace of strategic change caused by disruption of industries, changing competitor landscape, customer behaviors, and distribution channels.
Companies opt to commence efforts to restructure their organization in the hopes of enhancing efficiency, perpetuating growth, and surviving in future.  Some shift their Business Models, few alter their focus from products to customer-centric; whereas others adopt new behaviors, systems, or IT architecture.  However, merely a quarter of the Organizational Design initiatives succeed in achieving their anticipated objectives.
The reason for this high failure rate is simple.  Reorganization is not about changing a company's organogram.  It's a methodical processes that necessitates transforming / streamlining the decision-making process, mindsets, talent pipeline, reward structures, reporting lines, and the way responsibilities are assigned.
There is no cookie-cutter approach to Reorganization that can work across all organizations.  However, research and management best practices reveal 10 principles that are critical for developing an effective Organizational Design, applicable to any enterprise:
Don't get caught in past Reorganization initiatives
Consider Organizational Design elements
Transform Organization Chart in the end
Don't overlook top talent
Converge attention towards controllable factors
Encourage responsibility
Use best practices with care
Harmonize organizational hierarchy with Strategic Objectives
Give due emphasis to intangible elements of organization
Make efficient use of company culture and practices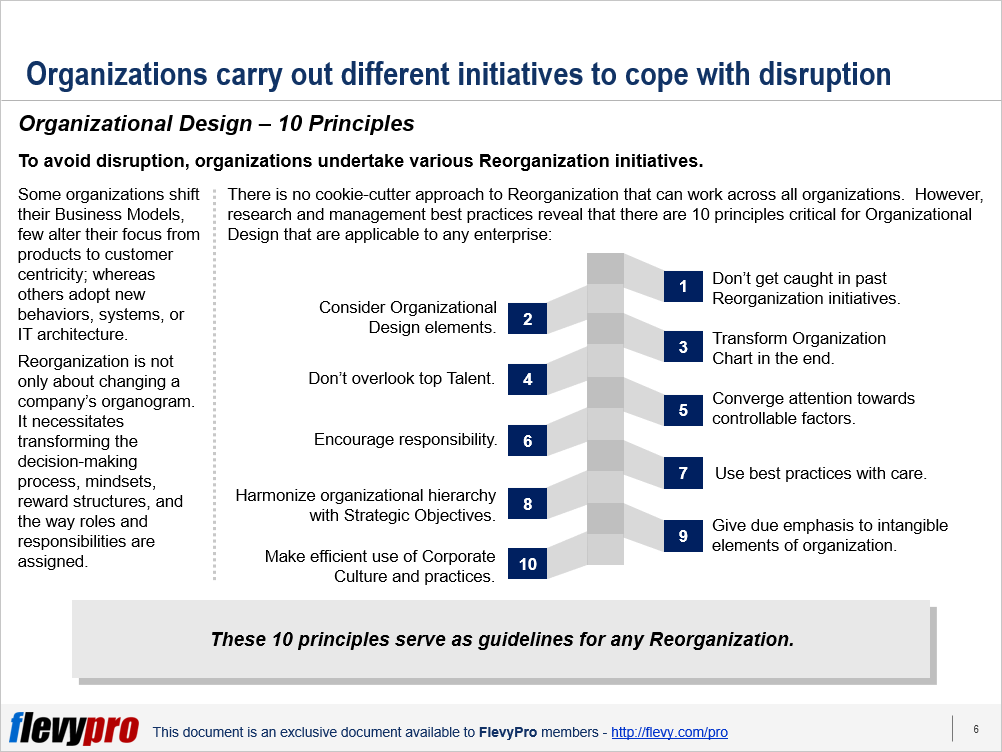 Let's dive deeper into these guiding principles.
1. Don't Get Caught in Past Reorganization Initiatives
Leaders at most organizations tend to keep discussing and focusing on the old reorganization initiatives.  This takes away much of their time and energy which should rather be spent on making the current Organizational Design a success.
Organization Design should be created on the basis of an enterprise's sense of purpose, strategy, core competencies, products, competitive advantage, and experience offered to customers and employees.  Senior leaders need to be able to see the broader perspective, set clear organizational objectives, and steer the workforce to achieve their personal as well as organizational objectives.
2. Consider Organizational Design Elements
Reorganization is a complex undertaking, but a structured approach to Organizational Design assists in identifying and prioritizing key priorities.  Organizational Design has 8 fundamental elements that are important for all organizations, Business Models, sectors, or regions.  These elements can be categorized into 4 pairs.  Each of these 4 pairs constitute a formal (tangible) and an informal (intangible) element:
Decisions team up with Norms (the way people act).
Motivators (the way people are influenced to work) pair with Commitments (what affects people's thoughts about work).
Information (the way data is processed) pairs with Mindsets (how people process knowledge and meaning).
Structure (reporting lines) pairs off with Networks (how people collaborate).
Leaders should select fewer, prioritized Organizational Design elements to work on that have the most impact on their organizations.
3. Transform Organization Chart in the End
Most leaders consider Organization Structure to be the most critical element to Business Transformation.  In reality, there are other key organizational elements that need to be tackled first to improve effectiveness.  Revisiting the organogram does not have much effect on the way business is done—or to improve it.  Structure depicts reporting lines and changing it can reduce costs temporary.  Changing structure alone—without transforming other organizational elements—allows the redundant reporting lines to reappear and put the organization back to its earlier state of affairs.  Instead of changing the organogram, core organizational issues should be prioritized and confronted first.  Structure will adjust accordingly once the issues resolve.
4. Don't Overlook Top Talent
Top talent often go unnoticed when it comes to Reorganization.  The skills and traits of the senior leadership has a profound impact on Organizational Design.  Mapping of technical capabilities and leadership abilities of top leadership is an important step to Reorganization.
Interested in learning more about the guiding principles critical for Organizational Design?"  "You can download an editable PowerPoint on 10 Principles of Organizational Design here on the Flevy documents marketplace.
Do You Find Value in This Framework?
You can download in-depth presentations on this and hundreds of similar business frameworks from the FlevyPro Library.  FlevyPro is trusted and utilized by 1000s of management consultants and corporate executives.  Here's what some have to say:
"My FlevyPro subscription provides me with the most popular frameworks and decks in demand in today's market.  They not only augment my existing consulting and coaching offerings and delivery, but also keep me abreast of the latest trends, inspire new products and service offerings for my practice, and educate me in a fraction of the time and money of other solutions.  I strongly recommend FlevyPro to any consultant serious about success."

– Bill Branson, Founder at Strategic Business Architects
"As a niche strategic consulting firm, Flevy and FlevyPro frameworks and documents are an on-going reference to help us structure our findings and recommendations to our clients as well as improve their clarity, strength, and visual power.  For us, it is an invaluable resource to increase our impact and value."

– David Coloma, Consulting Area Manager at Cynertia Consulting
"FlevyPro has been a brilliant resource for me, as an independent growth consultant, to access a vast knowledge bank of presentations to support my work with clients.  In terms of RoI, the value I received from the very first presentation I downloaded paid for my subscription many times over!  The quality of the decks available allows me to punch way above my weight – it's like having the resources of a Big 4 consultancy at your fingertips at a microscopic fraction of the overhead."

– Roderick Cameron, Founding Partner at SGFE Ltd
Transformation from a product-based model to a platform model is a dream for many executives.  More and more product companies are now shifting into a platform model.  The drive behind such a shift is the huge success of platform companies—e.g., Amazon, Google, and Apple.  These organizations started out as a retailer, search engine, and iPod manufacturer respectively, but later transformed into platform models.
However, bringing this transformative vision into reality is anything but straightforward.  Research into successful platform businesses reveals that this necessitates a robust approach comprising the following 4 critical phases:
Attractive Product and Customer Base
Hybrid Business Model
Rapid Conversion
Identify and Seize Opportunities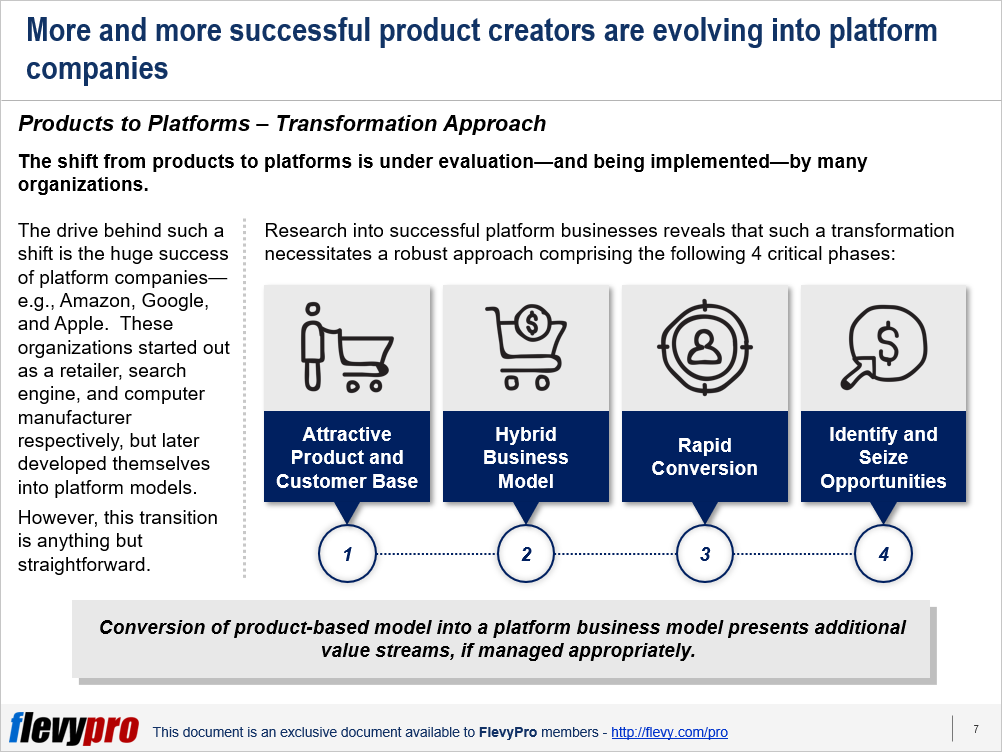 Let's dive deeper into the first two phases of the approach, for now.
Attractive Product and Customer Base
A platform model is not a remedy to resuscitate products that are on a downward slide.  It necessitates an attractive product that offers a significant customer base and value to help improve customer loyalty and resist rival offerings.  The critical mass of customers also allows the platform company to create value for—and attract—third parties that are crucial for the platform to flourish.
Qihoo 360 Technology, a large internet firm in China, commenced its operations in 2006 by selling an antivirus software, 360 Safe Guard.  To build a broad user base and to gather customers' feedback on improving the product, the company started giving away the product free.  The company maintained a list of malware as well as a "whitelist" of programs that were safe for the users.  The critical mass of customers allowed Qihoo to:
Quickly identify viruses on scanning computers
Improve the antivirus
Introduce new products
Attract new customers
Create new platforms
Attract 3rd-party software companies to make Qihoo a channel for reaching customers.
Hybrid Business Model
The notion that an organization has to embrace either a product-based or a platform-based business model is far from reality.  Although, both the product-based and platform-based business models need a framework to assign dedicated resources and manage operations, however, Business Transformation from a product-based model to a platform-based model gets simplified utilizing a hybrid approach.  A product-based business model calls for organizations to have differentiated products catering to customers' needs, to create value.  Whereas, a platform-based business model creates value by linking users to 3rd parties and charging fees for using the platform.  The focus of Platform models is on:
Inspiring mass-market acceptance
Increasing the number of interactions rather than meeting specific customer needs
Connecting users and 3rd parties to create competitive edge instead of relying solely on product differentiation (product model).
For example, Apple converted itself from a product model to a platform model within a year after the launch of the first iPhone.  Initially, Apple reacted defensively to any hacking attempts and precluded 3rd party apps on the iPhone, but then decided to create an open platform, and launched the App Store.  The hybrid model and platform mindset created additional income streams and significant revenue for Apple.
Rapid Conversion
To make a product and business model profitable, the conversion of product users into platform users is of utmost importance.  To enable this, an organization needs to develop its platform in such a way that it should present enough additional value for the customers to adopt it and become its users.  Three key elements are critical to accomplish this:
Deliver adequate value
Launch connected products consistent with the brand
Allow 3rd parties to perform upgrades
If the platform does not offer adequate value for the customers they are not going to embrace it the way they do to a great product.  Similarly, addition of new offerings that are coherent with the brand has a strong correlation with new platform adoption.  New offerings gain traction from a firm's image and strengthen the brand further.  Likewise, allowing 3rd parties to make upgrades, improve product offerings, and develop the platform further helps in rapid conversion, additional revenue, and growth.
Interested in learning more about the phases of the approach to Products-to-Platforms Transformation?  You can download an editable PowerPoint on Products to Platforms Transformation here on the Flevy documents marketplace.
Are you a Management Consultant?
You can download this and hundreds of other consulting frameworks and consulting training guides from the FlevyPro library.
Scalability is defined as possible meaningful changes in magnitude or capacity.  In business terms, it's the capability of a system to enhance productivity upon resource augmentation.  Scalability provides an organization the capabilities to develop compelling value propositions—that are hard to imitate by the rivals—and achieve profitable growth even in the wake of external threats, cut-throat competition, stringent laws, or financial downturns.
Today's challenging business ecosystems and economic outlook demand from the enterprises to develop novel and Scalable Business Models that are able to leverage positive returns on investments.  To accomplish this, leaders need to identify and eradicate any capacity issues, enhance collaboration with existing partners, build new partnerships, or develop platforms to work with their opponents.
Executives should invest in scaling options only when they are sure to boost returns.  They have to be quick to exit a business when returns on investment to scale backfire.
5 Patterns of Business Model Scalability
Benchmarking a number of successful organizations reveals that their Business Models were flexible enough to sustain internal and external pressures.  Business Model Scalability hinges on aligning the strategic partners and Value Propositions to serve the customers.
To drive Business Model Innovation (BMI), leading organizations consistently display 5 critical patterns of Business Model Scalability:
Operate with multiple distribution channels
Eliminate typical capacity limitations
Outsource capital investments to partners
Allow customers and partners assume multiple roles in the business
Create platform models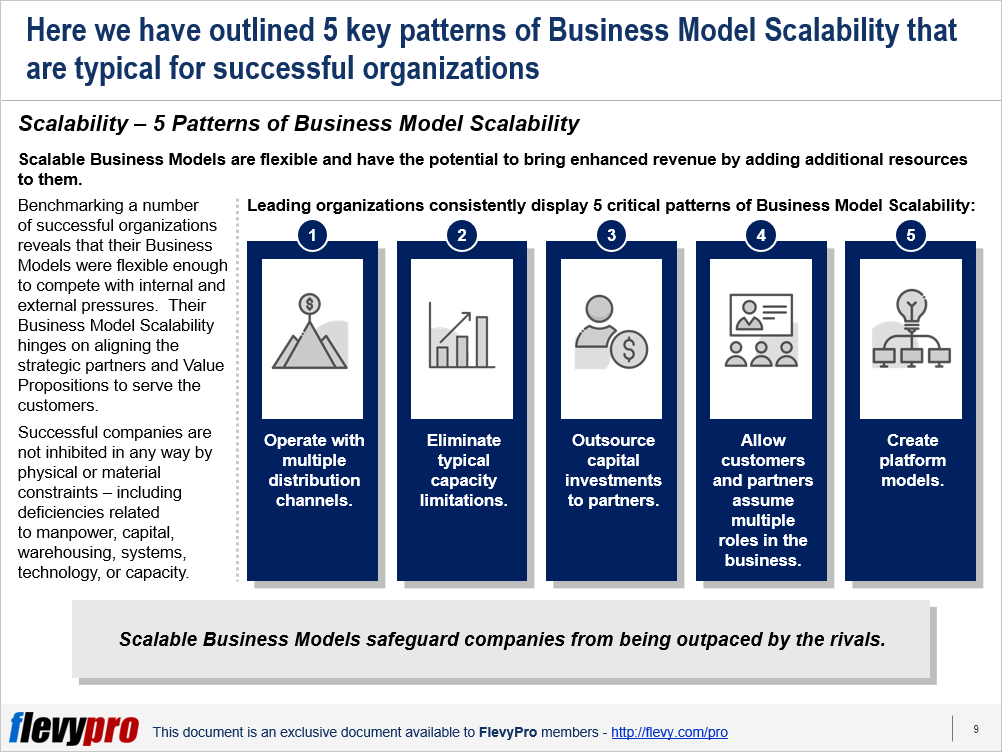 Operate with multiple distribution channels
Successful businesses achieve scalability by selling through multiple distribution channels.  Well-known businesses—e.g., Google and Apple—have extensively studied and implemented adding additional distribution channels.  By avoiding cannibalization of sales through existing channels, this has allowed them to spread overhead costs and profit from increased sales.  Additional channels help businesses expand clientele and uncover new opportunities.
Eliminate typical capacity limitations
Scalability necessitates finding ways to overcome capacity limitations that hamper various industries.  Well-known companies achieve scalability by overpowering any limitations that constrain various businesses.  Successful companies are not inhibited in any way by physical or material constraints—including deficiencies related to manpower, capital, warehousing, systems, technology, or capacity.  For example, managing costs related to creating R&D facilities and innovating new products that often impede the entire pharmaceutical industry.
Outsource capital investments to partners
Top businesses achieve scalability by transferring or sharing cash flow and working capital requirements with the partners.  They optimize their capital and cash flow limitations and prioritize their crucial investments.  They adopt Business Models geared toward creating open platforms that allow them to shift these expenditures to their strategic partners.
Allow customers and partners assume multiple roles in the business
Scalable businesses work in conjunction with their strategic partners and customers.  They offer multiple roles to them and leverage mutual resources for growth of their businesses.  They collaborate with each other through joint ventures or through informal mechanisms—e.g., core platforms—which they utilize to share distribution methods, loyalty programs, and resources.  They have a "laser" focus on the factors that are of value to their customers, and develop (and enrich) their value propositions based on that.
Create platform models
Top businesses build platform-based Business Models that work on the principles of partnership and scalability.  They use their platform-based Business Models to foster relationships with and convert their rivals into partners—by letting them share their platform and generate incremental revenues, for instance, through benchmarking data and "ease of use" sales.  Visa Inc. is an example of how businesses connect with shoppers using Visa's credit card platform.
Scalable Business Models are more likely to generate rapid returns.  However, these Business Models demand utilization and alignment of capabilities that the organization, its strategic partners, and customers possess.  Execution of the patterns of Business Model Scalability involves categorizing key resources and initiatives required to enable synergistic collaboration and superior product / service offerings.
Executives can make use of these 3 potential levers to achieve Business Model Scalability that provide an implementation roadmap for both novel or revamped Business Models:
Determine potential strategic partners
Brainstorm a scalability plan
Select viable and scalable Business Model options
Interested in learning more on the 3 potential levers to scalability?  You can download an editable PowerPoint on Business Model Innovation: Scalable Business Models here on the Flevy documents marketplace.
Are you a Management Consultant?
You can download this and hundreds of other consulting frameworks and consulting training guides from the FlevyPro library.
Subscribe to our Newsletter

PowerPointing Templates

Error: Twitter did not respond. Please wait a few minutes and refresh this page.