Currently viewing the tag: "Quantitative Multiple Scenario Tools"
Do people always follow a rational linear process to come to a decision?  Studies have suggested that a combination of Decision Making Models are used by people to reach quality decisions.
Strategic Decision Making is a complex process with a lot riding on those decisions.  Eliminating risk from Decision Making is unthinkable but radically enhancing chances of success is a realistic goal.
In making Strategic Decisions, executives tend to rely only on those Decision Support Tools they know best.  The usage of non-optimal Decision Support Tools is, in part, due to lack of knowledge about which tools work best in a particular scenario and, in part, due to lack of information regarding what tools are available out there.
Having access to a variety of Decision Support Tools increases the likelihood of making a successful decision provided the decision maker has knowledge of which tool to employ or a combination thereof in various scenarios.
The following 5 Decision Support Tools or their combination is applicable in a variety of Decision Making scenarios:
Conventional Capital-Budgeting Tools
Quantitative Multiple Scenario Tools
Qualitative Scenario Analysis
Case-based Decision Analysis
Information Aggregation Tools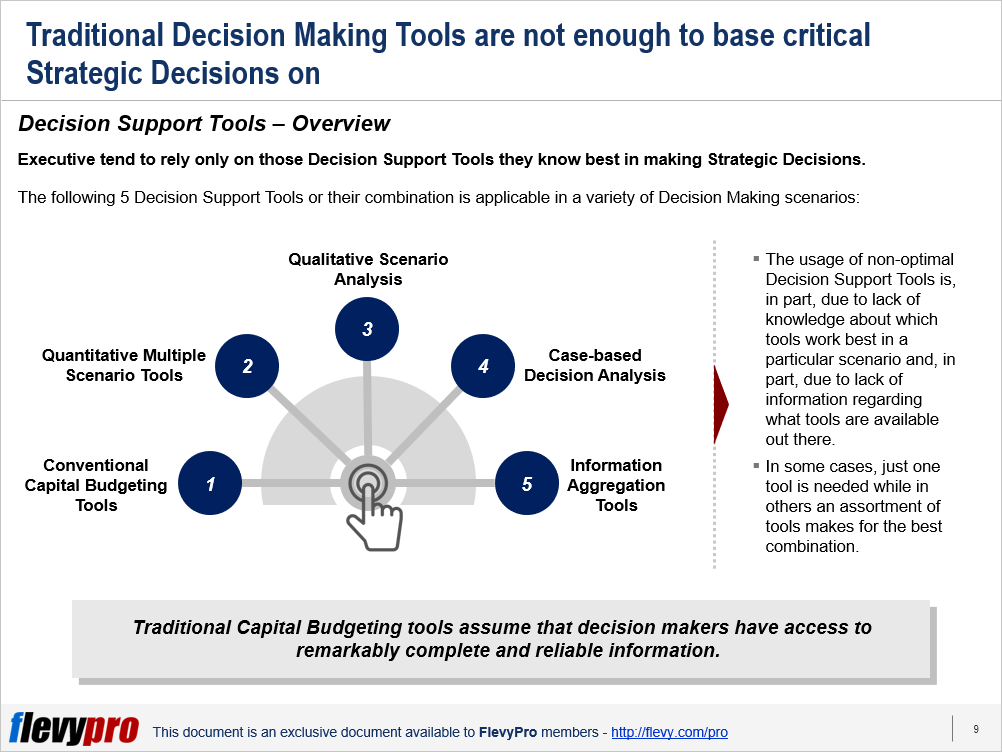 In some cases, just one tool is needed while in others an assortment of tools makes for the best combination.
Let us delve a little deeper into some of these tools.
Conventional Capital Budgeting Tools
Projected Incremental Cash Flows are used from likely investments to ascertain whether a project merits being funded through the firm's Capitalization Structure.  Included in it are Discounted Cash Flow, Expected Rate of Return, and Net Present Value models. 
Quantitative Multiple Scenario Tools
Decisions are analyzed by completely specifying possible outcomes and their probabilities. Mathematical, Statistical, and Simulation methods are employed to distinguish the Risk and Return properties of prospective choices.  The tools include:
>  Monte Carlo Methods
>  Decision Analysis
>  Real Options
Qualitative Scenario Analysis
These techniques are beneficial to decision makers who encounter excessive levels of uncertainty about outcomes because the techniques do not assume a conclusive and entirely specified set of possible outcomes.
Real-life business Decision Making often comprises of judgments that are based on incomplete and uncertain information.  This can be mitigated by using appropriate Decision Support Tools.  However, which tools are appropriate will depend on the answer to the following critical questions:
Do I know what it will take to succeed?
Can I predict the range of possible outcomes?
The Causal Model question—combination of Critical Success Factors (CSFs) and economic conditions leading to success—needs settling before we can proceed to answer the 2nd question regarding Outcome Prediction.
Managers need to ask the following in order to clarify the state of the Causal Model hence the answer to the question:
Do I comprehend what combination of Critical Success Factors will decide if my decision leads to a successful outcome?
Do I recognize what metrics need to be met to guarantee success?
Do I have an accurate understanding of how to attain success?
The other question to answer is: Can I predict the range of possible outcomes?
Managers should ask the following in scenarios predicting various outcomes and probabilities:
Can I outline the range of outcomes that may result as a consequence of my decision, both as a whole and for each Critical Success Factor?
Can I measure the probability of each outcome?
Even where the CSFs and Model for Success are understood, it sometimes becomes difficult to predict range of outcomes and their probabilities due to uncertain conditions.
Interested in learning more about Decision Support Tools?  You can download an editable PowerPoint on Decision Support Tools here on the Flevy documents marketplace.
Want to Achieve Excellence in Organizational Leadership (OL)?
Gain the knowledge and develop the expertise to become an expert in Organizational Leadership (OL).  Our frameworks are based on the thought leadership of leading consulting firms, academics, and recognized subject matter experts.  Click here for full details.
For both the current executives and leaders of tomorrow, our frameworks address 2 facets of Leadership:
1. How to elevate your management skills to becoming a Leader in your organization.
2. How to elevate your organization to becoming the Leader in your Industry.
Learn about our Organizational Leadership (OL) Best Practice Frameworks here.
Do You Find Value in This Framework?
You can download in-depth presentations on this and hundreds of similar business frameworks from the FlevyPro Library.  FlevyPro is trusted and utilized by 1000s of management consultants and corporate executives.  Here's what some have to say:
"My FlevyPro subscription provides me with the most popular frameworks and decks in demand in today's market.  They not only augment my existing consulting and coaching offerings and delivery, but also keep me abreast of the latest trends, inspire new products and service offerings for my practice, and educate me in a fraction of the time and money of other solutions.  I strongly recommend FlevyPro to any consultant serious about success."

– Bill Branson, Founder at Strategic Business Architects
"As a niche strategic consulting firm, Flevy and FlevyPro frameworks and documents are an on-going reference to help us structure our findings and recommendations to our clients as well as improve their clarity, strength, and visual power.  For us, it is an invaluable resource to increase our impact and value."

– David Coloma, Consulting Area Manager at Cynertia Consulting
"FlevyPro has been a brilliant resource for me, as an independent growth consultant, to access a vast knowledge bank of presentations to support my work with clients.  In terms of RoI, the value I received from the very first presentation I downloaded paid for my subscription many times over!  The quality of the decks available allows me to punch way above my weight – it's like having the resources of a Big 4 consultancy at your fingertips at a microscopic fraction of the overhead."

– Roderick Cameron, Founding Partner at SGFE Ltd
Subscribe to our Newsletter

PowerPointing Templates

Error: Twitter did not respond. Please wait a few minutes and refresh this page.