Currently viewing the tag: "Machine Learning"
Strategy Development has followed a set path since the last century where a predetermined, rectilinear, and inflexible approach defined the process.
In the 21st century, however, business leaders are devising Strategy by evolving it into a probabilistic, repeated, and multifaceted process.  An approach that can both endure and adapt to the growing pace of Change and Disruption that is manifesting itself in all industries.
Using gaming, AI, unremitting execution, and adjustment, with numerous scenarios to deliberate on, leaders create "Flywheels" that successfully tackle the not so deterministic world where the future is highly uncertain.
Flywheel is a concept originally used in the power industry to explain an origin of stabilization, energy storage, and momentum.  The concept was propagated in the Strategy context by author Jim Collins.  Employing the Flywheel concept, executives are able to validate assumptions through simulations as well as in the real-world scenarios.
Rather than using past assumptions and relying on instincts, using the Flywheel Strategy, decision makers exploit the power of Artificial Intelligence (AI) and Advanced Analytics. They model the multitude of variables and produce a sizable number of simulations that propose many strategic bets, option-value bets, and no regret moves.
Instead of numbing decision-makers with a profusion of options they created, the simulations render elucidative insights.  Also, the AI system is made more capable through learning mechanisms called Reinforcement Learning by selecting from the above strategies.
The collection of strategic choices is increased exponentially and cost of experimentation is diminished by this approach.  Decision-makers are also empowered by this tool to make better decisions.  Likewise, organizations are able to select accurate market approaches, pricing, advertising, and customer strategies for several cities and communities, over a time span.
Strategy Flywheels can be used as a basis for developing Growth Flywheels by organizations.  The Flywheel Strategy approach consists of the following 3 phases:  
Sense: Market Sensing
Think: Strategy Formulation and Investment Planning
Act: Performance Evaluation and Learning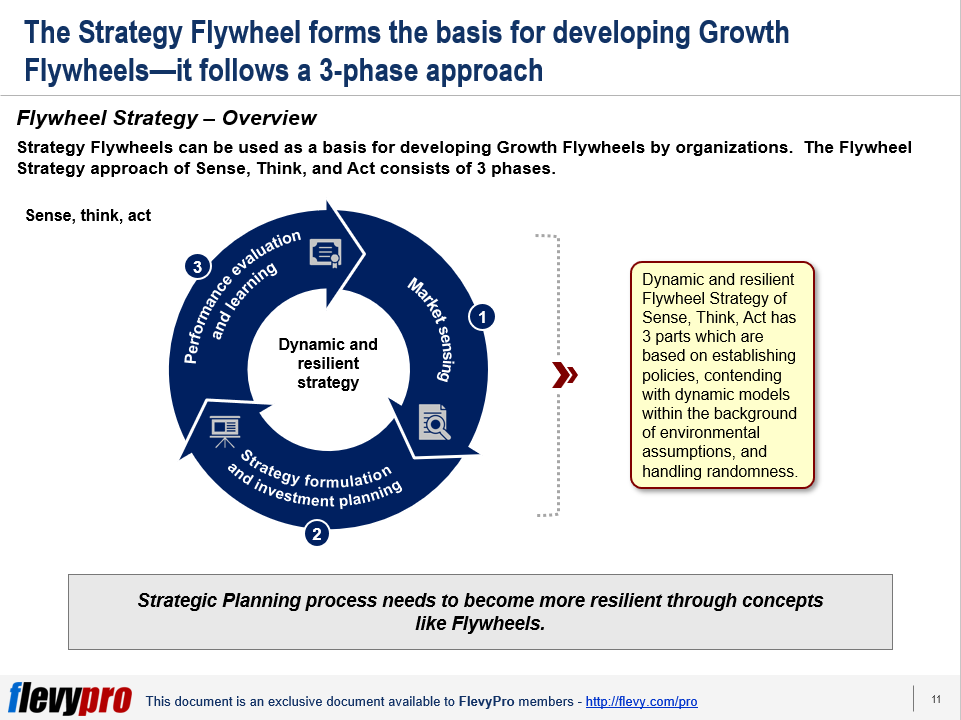 The dynamic and resilient Flywheel Strategy of Sense, Think, Act has 3 parts, which are based on establishing policies, contending with dynamic models within the background of environmental assumptions, and handling randomness.
Let us delve a little deeper into the 3 phases.
Sense: Market Sensing
Environmental assumptions are formulated through this procedure of extraneous Market Sensing.
Uncertainties to which probability assignment is difficult are the target of Market Sensing activity.  Most urgent strategic matters can be detected and senior leaders consistently engaged in devising a response to them by recurrently sensing extraneous market changes.
Improvements in Machine Learning and cutting-edge AI can aid in not only expanding the quantity of information scanned but also enhancing the quality of content evaluated.
Think: Strategy Formulation and Investment Planning
Conventional strategic thinking can be aided in the new way of strategizing by the 3-phase process for Gamification—Design and Build, Simulate, and Evaluate.
A stable strategy consists of a portfolio of investments and projects with diverse risk profiles.  Diverse risk profile of performance is a mix of:
No-regret moves
Strategic bets
Option-value bets 
Act: Performance Evaluation and Learning
Performance Evaluation and Learning from the efforts has to be carried out so that improvement in proficiency to sense the market and experiment with new ideas occurs.
Interested in learning more about how Amazon and Uber used Flywheels, how the Gamification approach is used in Flywheel Strategy formulation, and what constitutes a diverse risk profile?  You can download an editable PowerPoint on Flywheel Strategy here on the Flevy documents marketplace.
Editor's Note:
If you are interested in becoming an expert on Strategy Development, take a look at Flevy's Strategy Development Frameworks offering here.  This is a curated collection of best practice frameworks based on the thought leadership of leading consulting firms, academics, and recognized subject matter experts.  By learning and applying these concepts, you can you stay ahead of the curve.  Full details here.
Want to Achieve Excellence in Strategy Development?
Gain the knowledge and develop the expertise to become an expert in Strategy Development.  Our frameworks are based on the thought leadership of leading consulting firms, academics, and recognized subject matter experts.  Click here for full details.
"Strategy without Tactics is the slowest route to victory.  Tactics without Strategy is the noise before defeat." – Sun Tzu
For effective Strategy Development and Strategic Planning, we must master both Strategy and Tactics.  Our frameworks cover all phases of Strategy, from Strategy Design and Formulation to Strategy Deployment and Execution; as well as all levels of Strategy, from Corporate Strategy to Business Strategy to "Tactical" Strategy.  Many of these methodologies are authored by global strategy consulting firms and have been successfully implemented at their Fortune 100 client organizations.
These frameworks include Porter's Five Forces, BCG Growth-Share Matrix, Greiner's Growth Model, Capabilities-driven Strategy (CDS), Business Model Innovation (BMI), Value Chain Analysis (VCA), Endgame Niche Strategies, Value Patterns, Integrated Strategy Model for Value Creation, Scenario Planning, to name a few.
Learn about our Strategy Development Best Practice Frameworks here.
Do You Find Value in This Framework?
You can download in-depth presentations on this and hundreds of similar business frameworks from the FlevyPro Library.  FlevyPro is trusted and utilized by 1000s of management consultants and corporate executives. Here's what some have to say:
"My FlevyPro subscription provides me with the most popular frameworks and decks in demand in today's market.  They not only augment my existing consulting and coaching offerings and delivery, but also keep me abreast of the latest trends, inspire new products and service offerings for my practice, and educate me in a fraction of the time and money of other solutions.  I strongly recommend FlevyPro to any consultant serious about success."

– Bill Branson, Founder at Strategic Business Architects
"As a niche strategic consulting firm, Flevy and FlevyPro frameworks and documents are an on-going reference to help us structure our findings and recommendations to our clients as well as improve their clarity, strength, and visual power.  For us, it is an invaluable resource to increase our impact and value."

– David Coloma, Consulting Area Manager at Cynertia Consulting
"FlevyPro has been a brilliant resource for me, as an independent growth consultant, to access a vast knowledge bank of presentations to support my work with clients.  In terms of RoI, the value I received from the very first presentation I downloaded paid for my subscription many times over!  The quality of the decks available allows me to punch way above my weight – it's like having the resources of a Big 4 consultancy at your fingertips at a microscopic fraction of the overhead."

– Roderick Cameron, Founding Partner at SGFE Ltd
The Data Analytics Revolution is here. It is transforming how companies organize, operate, manage talent, and create value. In fact, advanced
data analytics is now a quintessential business matter. It is important for CEOs and top executives to be able to clearly articulate its purpose and translate it into action. Yet, this is not so.
CEOs and top executives are finding it difficult to articulate the clarity of purpose and act on it. It must not just stay in an Analytics department but must be embedded throughout the organization where the insights will be used. Leaders with strong intuition do not just become better equipped to kick the tires on their analytics efforts.  Leadership Development now calls for leaders to be capable of addressing many critical top management challenges. It now requires employing a range of tools, employing the right personnel, applying hard metrics, and asking hard questions.
Data Analytics is a means to an end. It is a discriminating tool for identifying and implementing a value-driving answer. It can unleash insights that could be the very core of your organization's approach to improving performance. This, however, cannot be achieved if there is no clarity in the purpose of your data.
Data Analytics Revolution: Are We Ready?
The Data Analytics Revolution is transforming how companies organize, operate, manage talents, and create value. But are we ready for this? A number of companies are reaping major rewards from Data Analytics. But this is far from the norm. More CEOs and top executives are avoiding getting dragged into the esoteric weeds.
Data Analytics have complex methodologies and there is a sheer scale of data sets. Machine Learning is becoming increasingly more important. For us to be ready in the onset of Data Analytics Revolutions, we need to be capable of addressing many critical and complimentary top management challenges. We need to be able to ground even the highest analytical aspirations in traditional business principles and deploy a range of tools and people.
To be properly equipped on the proper use of Data Analytics, we just need to develop a mindset for Purpose-driven Analytics anchored on 4 guiding principles.
The 4 Guiding Principles of Purpose-driven Analytics
Ask Clear and Correct Questions. The first principle focuses on generating impact the soonest. Hence, precise questions are asked based on the company's best-informed priorities. Here, clarity is essential.
 Identify Small Changes for Big Impact. The second principle focuses on generating gains even on small improvements. There is a need to identify small points of difference to amplify and exploit because the smallest edge can make the biggest difference.
Leverage Soft Data. The third principle focuses on getting quality insights and generating sharper conclusions. It is at this point wherein the use of softer inputs such as industry forecasts, predictions from product experts, and social media commentary are given more emphasis. Soft data is essential when trying to connect the dots between more exact inputs.
Connect Separate Data Sets. The fourth principle focuses on capturing the untapped value. This principle emphasizes the need to combine sources of information to make sharper insights. When different data sets are examined, the greater is the probability that problems can easily be fixed.
From Learning to Doing: Connecting the Dots
It is not enough that organizations learn about Purpose-driven Analytics. One also needs to be able to put these into effective use. Companies undergoing Digital Transformation must take a multi-faceted approach to analyze data to minimize overwhelming complexity. There are 4 guiding principles for Purpose-driven Analytics implementation. Using these principles will facilitate the effective use of analytics and transform outputs into action.
Interested in gaining more understanding of Purpose-driven Analytics? You can learn more and download an editable PowerPoint about Purpose-driven Analytics here on the Flevy documents marketplace.
Are you a management consultant?
You can download this and hundreds of other consulting frameworks and consulting training guides from the FlevyPro library.
Disruptive technologies are helping companies automate work. Robotic Process Automation and Artificial Intelligence are taking up jobs which were in the past earmarked only for smart humans. Driver-less cars, automated check-in kiosks at airports, and autopilots steering the aircrafts are just few instances of how automation is transforming our world.
However, automation presents unique challenges that organizations need to identify and mitigate appropriately. These include costs associated with job losses; confidentiality of data; quality and safety risks stemming from automated processes; and regulatory implications.
Other critical factors to consider before investing in automation are adoption, pace of development of automation, and readiness of organizational leadership in redefining processes and roles to support automation.
The key question is how automation will impact our work in future. Should we anticipate benefits — e.g., efficiency gains and quality of life improvements — or dread further disruption of established business and job cuts?
Research by McKinsey suggests that Robotic Process Automation will impact 4 workplace areas the most:
Workplace Activities
(Re)definition of Work
High-wage Jobs
Creativity and Meaning
Now, let's discuss the first two key areas in further detail.
Workplace Activities
Research findings (based on the US labor market data) reveal that the future does not likely hold complete automation of individual jobs, but rather automation of certain activities within specific occupations. The assumption that only routine, codifiable activities can be easily automated — and those that necessitate implicit knowledge will be unaffected — is misleading. Automation has already reached (or surpassed) the median level of human performance in some cases.
Capital or hardware-intensive industries — under stringent regulatory control — are slow and expensive to automate and need more time to reap return on investments. Whereas, the sectors where automation is mostly software based (e.g., financial services) may create value at a far lower cost and within rather shorter span of time.
(Re)definition of Work
The current level of automation can potentially transform a number of occupations to a certain level, but it requires redefinition of job roles and activities. Research reveals that only about 5% of occupations can be completely automated with the current level of technology.
In spite of this, automation can boost human productivity even in the highest paid occupations by taking care of repetitive daily tasks — e.g., analyzing paperwork, reports, data and evaluating applications based on criteria — and freeing up time for people to focus more on high value work that involves human emotions and creativity.
For instance, Automation and Machine Learning can automate diagnosis of common ailments, thereby enabling the doctors to concentrate more on acute or complicated problems. Likewise, lawyers can employ data mining tools to sift through piles of documentation to isolate the most relevant cases for their review.
Interested in learning more about the other key areas most impacted by Robotic Process Automation? You can download an editable PowerPoint on Impact of Robotic Process Automation here on the Flevy documents marketplace.
Are you a Management Consultant?
You can download this and hundreds of other consulting frameworks and consulting training guides from the FlevyPro library.
Subscribe to our Newsletter

PowerPointing Templates

Error: Twitter did not respond. Please wait a few minutes and refresh this page.