Currently viewing the tag: "Artificial Intelligence"
Today's C-suite is making a significant investment in new technologies.  Yet, it is failing to achieve full value. Technologies are being deployed in pockets or silos
without a Strategy for scaling the Innovation from these technologies across the enterprise. Unable to scale their Innovation, organizations are not realizing the full benefits of their technology investments.
An Innovation Achievement Gap exists. What is the Innovation Achievement Gap? This is the difference between potential and realized value from technology investments. When new technology does not achieve its full value, the Innovation Achievement Gap exists.
What Companies are Facing Today
The enormous challenge of Innovation Management with legacy systems is facing companies today.  The conventional IT stack is not built or designed for the world of tomorrow. These are our software applications, data, hardware, telecommunications, facilities, and data centers.  Today's cloud-oriented world is full of analytics.  There are sensors, mobile computing, AI, the Internet of Things (IoT), and billions of devices. Digital Transformation is changing the face ob business.
True, companies have started in the cloud. But the systems have not been adopted at the pace of technological change.  As a result, there are distinct Leaders and Laggards when it comes to the adoption and penetration of technologies. Leaders are seeing more than 2X the revenue growth of Laggards. Laggards, on the other hand, often adopt technologies as individual point solutions without a strategy for enabling systems than can achieve enterprise-wide, game-changing innovation. While they might have pockets of brilliance, Laggards cannot maximize the value achieved. To be a Leader is to have an Innovation Leadership Mindset.
Simply said, adopting technologies does not guarantee success. This requires a systematic and sequential strategy in line with Next-gen Enterprise Systems. This needs an Innovation Leadership Mindset.
Doing Things Differently: The Innovation Leadership Mindset
Leaders differ much from Laggards. Embedded within their whole being is the Innovation Leadership Mindset.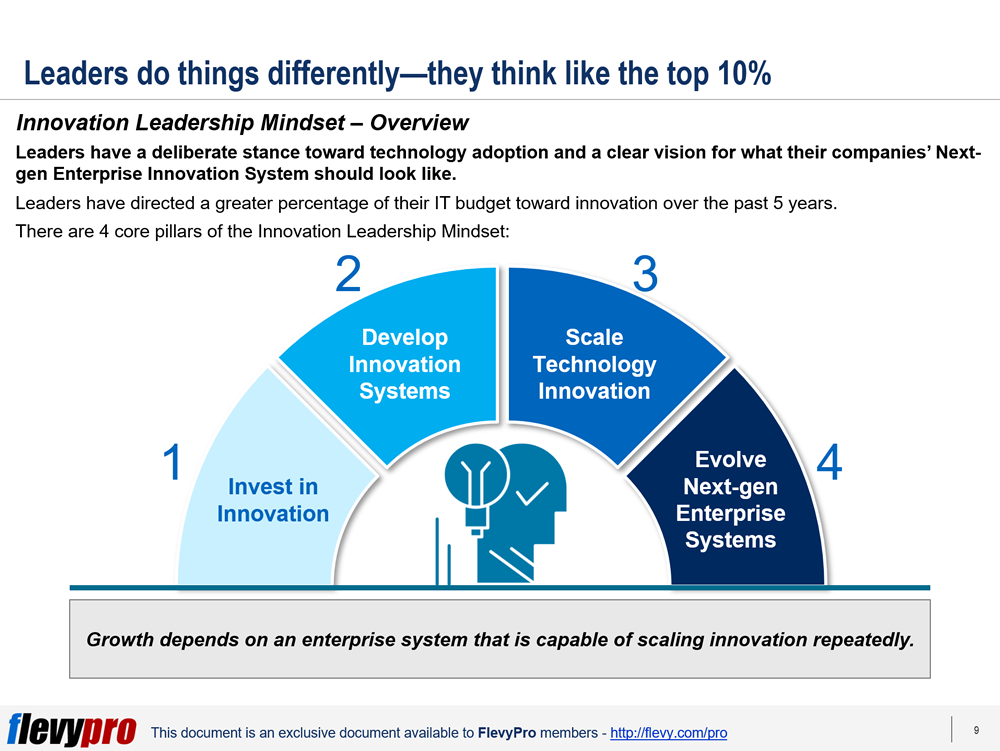 Having an Innovation Leadership Mindset is clicking the future into place. There are 4 core pillars of the Innovation Leadership Mindset.  Let's define the first 2:
Invest in innovation. Leaders invest more in innovation. Organizations with Innovation Leadership Mindset direct a greater percentage of its IT budget toward innovation.  They accelerate investment innovation over the next 5 years. Leaders are far advanced from Laggards when it comes to investing in innovations. Leaders invest 93% on innovation and are expected to increase this to 97% in the next 5 years. On the other hand, laggards invest only 64% on innovation with a planned investment of 74% in the next 5 years.
Develop Innovation Systems. Leaders show a consistently higher rate of technology adoption.  Organizations with Innovation Leadership Mindset adopt new technologies earlier and develop higher levels of expertise. They prioritize and sequence implementation in optimal ways. Leaders have been found to adopt a fundamental general-purpose technology at a rate of 98%. An example of this is Artificial Intelligence. Laggards, on the other hand, have faith in a fast follower approach. They take technology haphazardly leading to patchwork across the organization.
There are 2 other core pillars that are equally important. One is Scale Technology Innovation and the other is Evolve Next-gen Enterprise Systems.  Leaders that set their sights on innovating at scale target 3 times more business processes with technologies. Leaders have also drummed up their resources towards building the Next-gen Enterprise Systems.
Next-gen Enterprise Systems are systems that are capable of repeatable and scalable innovations. It is Boundaryless, Adaptable, and Radically Human. Outpacing others calls for organizations to start envisioning their own version of Boundaryless, Adaptable, and Radically Human Next-gen Enterprise Systems.
Interested in gaining more understanding of the Innovation Leadership Mindset? You can learn more and download an editable PowerPoint about the Innovation Leadership Mindset here on the Flevy documents marketplace.
Are you a management consultant?
You can download this and hundreds of other consulting frameworks and consulting training guides from the FlevyPro library.
Disruptive technologies are helping companies automate work. Robotic Process Automation and Artificial Intelligence are taking up jobs which were in the past earmarked only for smart humans. Driver-less cars, automated check-in kiosks at airports, and autopilots steering the aircrafts are just few instances of how automation is transforming our world.
However, automation presents unique challenges that organizations need to identify and mitigate appropriately. These include costs associated with job losses; confidentiality of data; quality and safety risks stemming from automated processes; and regulatory implications.
Other critical factors to consider before investing in automation are adoption, pace of development of automation, and readiness of organizational leadership in redefining processes and roles to support automation.
The key question is how automation will impact our work in future. Should we anticipate benefits — e.g., efficiency gains and quality of life improvements — or dread further disruption of established business and job cuts?
Research by McKinsey suggests that Robotic Process Automation will impact 4 workplace areas the most:
Workplace Activities
(Re)definition of Work
High-wage Jobs
Creativity and Meaning
Now, let's discuss the first two key areas in further detail.
Workplace Activities
Research findings (based on the US labor market data) reveal that the future does not likely hold complete automation of individual jobs, but rather automation of certain activities within specific occupations. The assumption that only routine, codifiable activities can be easily automated — and those that necessitate implicit knowledge will be unaffected — is misleading. Automation has already reached (or surpassed) the median level of human performance in some cases.
Capital or hardware-intensive industries — under stringent regulatory control — are slow and expensive to automate and need more time to reap return on investments. Whereas, the sectors where automation is mostly software based (e.g., financial services) may create value at a far lower cost and within rather shorter span of time.
(Re)definition of Work
The current level of automation can potentially transform a number of occupations to a certain level, but it requires redefinition of job roles and activities. Research reveals that only about 5% of occupations can be completely automated with the current level of technology.
In spite of this, automation can boost human productivity even in the highest paid occupations by taking care of repetitive daily tasks — e.g., analyzing paperwork, reports, data and evaluating applications based on criteria — and freeing up time for people to focus more on high value work that involves human emotions and creativity.
For instance, Automation and Machine Learning can automate diagnosis of common ailments, thereby enabling the doctors to concentrate more on acute or complicated problems. Likewise, lawyers can employ data mining tools to sift through piles of documentation to isolate the most relevant cases for their review.
Interested in learning more about the other key areas most impacted by Robotic Process Automation? You can download an editable PowerPoint on Impact of Robotic Process Automation here on the Flevy documents marketplace.
Are you a Management Consultant?
You can download this and hundreds of other consulting frameworks and consulting training guides from the FlevyPro library.
Subscribe to our Newsletter

PowerPointing Templates

Error: Twitter did not respond. Please wait a few minutes and refresh this page.