Currently viewing the tag: "Scalability"
The introduction of emerging, digital technologies has ushered in the Fourth Industrial Revolution.  To keep the competitive advantage in this era of Digital Transformation, leveraging contemporary technology is an absolute necessity.  Using cutting-edge technology means not just augmenting, but in fact, revamping the whole Quality outlook.
Quality 4.0 is the complimentary Quality approach to the Industry 4.0 era.   Quality 4.0 is about transforming and improving Organizational Culture, collaboration, competency, and Leadership Development among other things through the application of technology.
Quality 4.0 is characterized by:
Transforming and improving culture, collaboration, competency, and leadership through the application of technology.
Digital Transformation of Management Systems and compliance.
Enabling technology and processes necessary to maximize value, resolve customary Quality impediments, and provide innovative solutions.
Quality 4.0 is not just about Digitalization, but more importantly about the impact of that Digitalization on Quality technology, processes, and people.
Companies can use the 11 pillars of Quality 4.0 Framework to identify how the existing capabilities and initiatives can be transformed and then educate, plan, and act accordingly.  The framework uses the traditional Quality methods to build upon and improve them.  The 11 pillars of Quality 4.0 include:
Data
Analytics
Connectivity
Collaboration
App Development
Scalability
Management Systems
Compliance
Culture
Leadership
Competency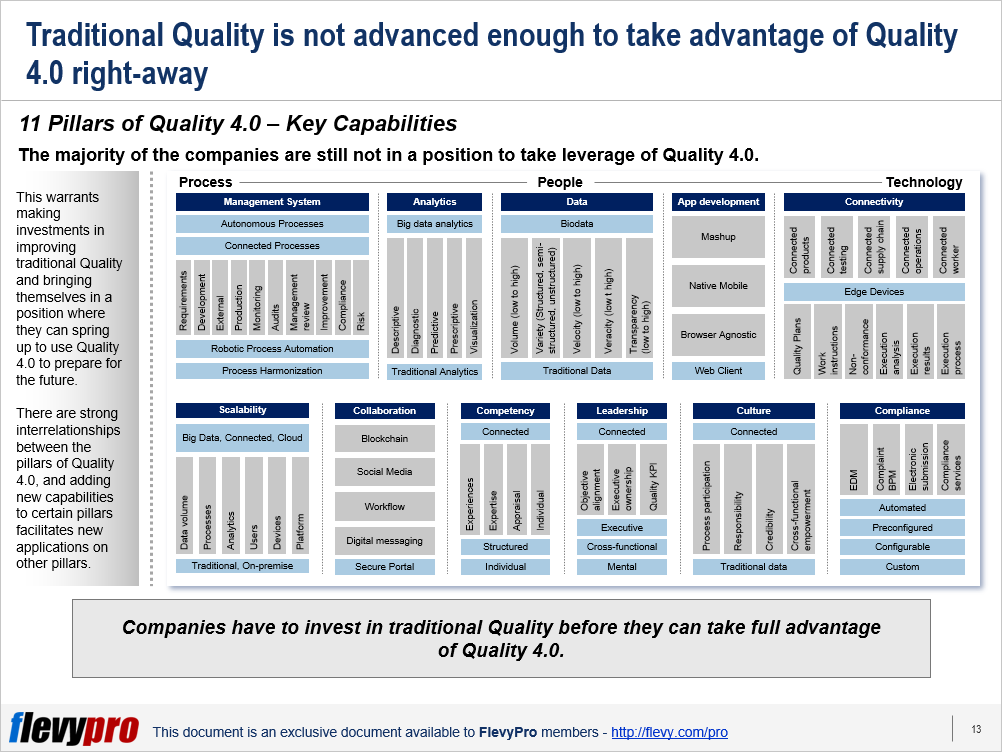 The majority of the companies are still not in a position to take leverage of Quality 4.0.  This warrants making investments in improving traditional Quality and bringing themselves in a position where they can spring up to use Quality 4.0 to prepare for the future.
There are strong interrelationships between the pillars of Quality 4.0, and adding new capabilities to certain pillars facilitates new applications on other pillars.  Let us delve a little deeper into a few of these pillars
1. Data and 2. Analytics
Data and Analytics form the first 2 pillars.  Data is key to informed decision making.  Most companies are still using fragmented data while the innovating market leaders have progressed to taking leverage of Big Data.  Data can be better understood by understanding its 5 components:  Volume, Variety, Velocity, Veracity, and Transparency.
Analytics help reveal the insights contained within raw data.  Correct metrics are key to uncovering correlations and patterns—meaningful information.  Big Data Analytics using Machine Learning and Artificial Intelligence is beneficial if the Analytics Framework—comprising Descriptive, Diagnostic, Predictive, and Prescriptive Analytics—is understood clearly.
3. Connectivity
Connectivity encompasses the link between Business Information Technology—e.g., Enterprise Quality Management Systems (EQMS), Product Life-cycle Management (PLM), Enterprise Resource Planning—and Operational Technology that is used in Manufacturing, Labs, and Services.  Connectivity is achieved through abundant and inexpensive sensors providing real-time feedback from Connected People, products, edge devices, and processes.
4. Scalability
Scalability creates uniformity in Quality.  It is the ability to harmonize processes, best practices, competencies, and lessons learnt across the organization, be it global.  Cloud Computing has played a pivotal role in harnessing scalability by providing Software as a Service (SaaS), Infrastructure as a Service (IaaS), Platform as a Solution (PaaS), and connection of databases.
The reality of the future is Quality 4.0.  It is being adopted very swiftly.  Those who remain unfamiliar with it or are slow to adopt run the risk of being marginalized very quickly.
Interested in learning more about Quality 4.0? You can download an editable PowerPoint on Quality 4.0 here on the Flevy documents marketplace.
Do You Find Value in This Framework?
You can download in-depth presentations on this and hundreds of similar business frameworks from the FlevyPro Library.  FlevyPro is trusted and utilized by 1000s of management consultants and corporate executives. Here's what some have to say:
"My FlevyPro subscription provides me with the most popular frameworks and decks in demand in today's market. They not only augment my existing consulting and coaching offerings and delivery, but also keep me abreast of the latest trends, inspire new products and service offerings for my practice, and educate me in a fraction of the time and money of other solutions. I strongly recommend FlevyPro to any consultant serious about success."

– Bill Branson, Founder at Strategic Business Architects
"As a niche strategic consulting firm, Flevy and FlevyPro frameworks and documents are an on-going reference to help us structure our findings and recommendations to our clients as well as improve their clarity, strength, and visual power. For us, it is an invaluable resource to increase our impact and value."

– David Coloma, Consulting Area Manager at Cynertia Consulting
"FlevyPro has been a brilliant resource for me, as an independent growth consultant, to access a vast knowledge bank of presentations to support my work with clients. In terms of RoI, the value I received from the very first presentation I downloaded paid for my subscription many times over! The quality of the decks available allows me to punch way above my weight – it's like having the resources of a Big 4 consultancy at your fingertips at a microscopic fraction of the overhead."

– Roderick Cameron, Founding Partner at SGFE Ltd
Scalability is defined as possible meaningful changes in magnitude or capacity.  In business terms, it's the capability of a system to enhance productivity upon resource augmentation.  Scalability provides an organization the capabilities to develop compelling value propositions—that are hard to imitate by the rivals—and achieve profitable growth even in the wake of external threats, cut-throat competition, stringent laws, or financial downturns.
Today's challenging business ecosystems and economic outlook demand from the enterprises to develop novel and Scalable Business Models that are able to leverage positive returns on investments.  To accomplish this, leaders need to identify and eradicate any capacity issues, enhance collaboration with existing partners, build new partnerships, or develop platforms to work with their opponents.
Executives should invest in scaling options only when they are sure to boost returns.  They have to be quick to exit a business when returns on investment to scale backfire.
5 Patterns of Business Model Scalability
Benchmarking a number of successful organizations reveals that their Business Models were flexible enough to sustain internal and external pressures.  Business Model Scalability hinges on aligning the strategic partners and Value Propositions to serve the customers.
To drive Business Model Innovation (BMI), leading organizations consistently display 5 critical patterns of Business Model Scalability:
Operate with multiple distribution channels
Eliminate typical capacity limitations
Outsource capital investments to partners
Allow customers and partners assume multiple roles in the business
Create platform models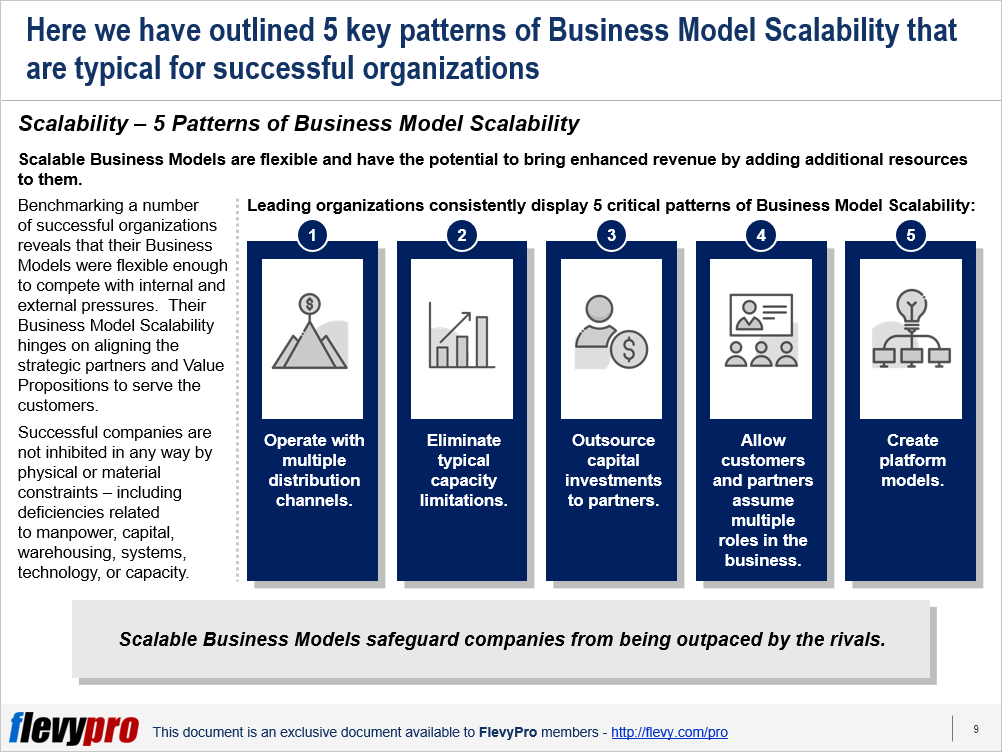 Operate with multiple distribution channels
Successful businesses achieve scalability by selling through multiple distribution channels.  Well-known businesses—e.g., Google and Apple—have extensively studied and implemented adding additional distribution channels.  By avoiding cannibalization of sales through existing channels, this has allowed them to spread overhead costs and profit from increased sales.  Additional channels help businesses expand clientele and uncover new opportunities.
Eliminate typical capacity limitations
Scalability necessitates finding ways to overcome capacity limitations that hamper various industries.  Well-known companies achieve scalability by overpowering any limitations that constrain various businesses.  Successful companies are not inhibited in any way by physical or material constraints—including deficiencies related to manpower, capital, warehousing, systems, technology, or capacity.  For example, managing costs related to creating R&D facilities and innovating new products that often impede the entire pharmaceutical industry.
Outsource capital investments to partners
Top businesses achieve scalability by transferring or sharing cash flow and working capital requirements with the partners.  They optimize their capital and cash flow limitations and prioritize their crucial investments.  They adopt Business Models geared toward creating open platforms that allow them to shift these expenditures to their strategic partners.
Allow customers and partners assume multiple roles in the business
Scalable businesses work in conjunction with their strategic partners and customers.  They offer multiple roles to them and leverage mutual resources for growth of their businesses.  They collaborate with each other through joint ventures or through informal mechanisms—e.g., core platforms—which they utilize to share distribution methods, loyalty programs, and resources.  They have a "laser" focus on the factors that are of value to their customers, and develop (and enrich) their value propositions based on that.
Create platform models
Top businesses build platform-based Business Models that work on the principles of partnership and scalability.  They use their platform-based Business Models to foster relationships with and convert their rivals into partners—by letting them share their platform and generate incremental revenues, for instance, through benchmarking data and "ease of use" sales.  Visa Inc. is an example of how businesses connect with shoppers using Visa's credit card platform.
Scalable Business Models are more likely to generate rapid returns.  However, these Business Models demand utilization and alignment of capabilities that the organization, its strategic partners, and customers possess.  Execution of the patterns of Business Model Scalability involves categorizing key resources and initiatives required to enable synergistic collaboration and superior product / service offerings.
Executives can make use of these 3 potential levers to achieve Business Model Scalability that provide an implementation roadmap for both novel or revamped Business Models:
Determine potential strategic partners
Brainstorm a scalability plan
Select viable and scalable Business Model options
Interested in learning more on the 3 potential levers to scalability?  You can download an editable PowerPoint on Business Model Innovation: Scalable Business Models here on the Flevy documents marketplace.
Are you a Management Consultant?
You can download this and hundreds of other consulting frameworks and consulting training guides from the FlevyPro library.
Subscribe to our Newsletter

PowerPointing Templates

Error: Twitter did not respond. Please wait a few minutes and refresh this page.